A round-up of openings, closings, and other news about West Hartford businesses.
By Ronni Newton
Happy May Day!!
May Day happens to be my son's birthday, and as of today he is 19 – a birthday he says is "pretty boring" and meaningless compared to turning 18 last year (which sort of meant becoming an adult and he could buy a lottery ticket and has to be in charge of conversations with the doctor and dentist) or turning 20 (end of being a teenager) or 21 (actual adulthood).
The bad thing about having May 1 as a birthday during college is that it's during exam time. But Sam will be done for the semester as of Thursday – hard to believe it went by so quickly – and heading home for the summer. We will celebrate his birthday next weekend …
But next weekend – even harder to believe – is my daughter Katie's college graduation. She's come up with a creative design for her mortarboard, indicating her achievement of a B.S. at UConn this year but her plans for a DPT in 2020. I'm holding it together for now regarding graduation, but I think a purchase of waterproof mascara may be needed before next Saturday.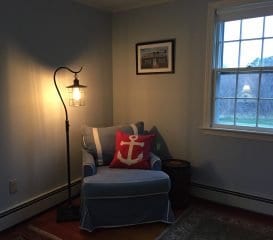 Lots of transitions happening in our family all at once, and I haven't even mentioned my father's plans to move from Connecticut to Florida, but that's not for a few months. The other major transition we are in the middle of right now began when my husband and his brother inherited their parent's house in Nantucket last fall when their parents moved to senior living. It's an incredible privilege, but it's also a major project and we spent this past weekend at the house readying it for the first renters in more than two decades. The house was built in the early 1970s, and I've spent at least part of every summer here for more than 30 years. It's a bit strange to think about strangers staying in the house, but it has been a combination of fun and hard work fixing things up. And in the spirit of reusing, boy was I happy to score this great chair for free at the "take it or leave it" (aka "Madaket Mall") today. Bought the pillow for half price!
If you have tips about businesses opening or closing, or doing something worth sharing, please provide that information in the comments or email Ronni Newton at [email protected].
Here's this week's Buzz:
There is so much business news to share this week that I had trouble figuring out which item to feature. Last week was the Economic Development Update luncheon – and that's kind of like a giant business buzz presentation – but there was one soon-to-open business that has come to light but wasn't mentioned so that's the one that gets the nod for the first bullet point. I don't have much information yet, but the sign just went up on Saturday for Icy Rolls in the space at 56 LaSalle Rd. where Center Framing was located before it moved to 968 Farmington Ave. Icy Rolls will serve "stir-fried" ice cream, custom-crafted from fresh fruits and other natural ingredients. The West Hartford shop will be opened by the owner of Ichiro Hibachi and Sushi on Farmington Avenue. I will provide an estimate about the opening date as soon as that's available.
There were two planned business openings that came as a total surprise to me during Director of Community Development Mark McGovern's presentation last Thursday, but they are actually linked as part of one overall operation. Deadbolt Bar & Grill will be opening across from the existing REI store at 63 Raymond Rd., in what has been the temporary Delamar West Hartford Hotel office that was formerly GNC. Deadbolt Bar & Grill will pair up with a new "experiential" business and will have the same ownership as Skeleton Key, which will take over the former Verizon store on the corner at 61 Raymond Rd. Skeleton Key is an escape room concept and the two businesses will be connected internally through a door. "They wanted to be able to combine it into one operation but our zoning regulations do not provide for indoor recreation and food working together easily," McGovern said during his presentation. 

McGovern said that the town needs to find out a way to facilitate more of the new types of entertainment businesses along with the full experience of food and drink, and he said that town staff will be working on a draft ordinance to permit that flexibility. Timeframe to be advised.

Two new tenants for the Corbin Collection (former Sears and Sears Automotive property in Corbin's Corner) have been announced, and that project will soon begin. The two new businesses that will occupy the lower level of the former Sears building (below REI and Saks Fifth Avenue Off 5th) are Cost Plus World Market and buybuy Baby.  Cost Plus World Market is an international bazaar which according to its website  offers original and high quality items from around the world for a small percentage above cost, including "

eye-catching, trend-setting home accents, an awe-inspiring array of international foods." This will be the company's first store in Connecticut. 

Cost Plus World Market is owned by Bed, Bath & Beyond, Inc. – as is the Christmas Tree Shop and several other retailers including buybuy Baby, which according to its website provides everything that new and expectant parents "

need to confidently welcome their baby and navigate the transitions of life as a family." This will be buybuyBaby's second Connecticut store.
A few instances of giving back by our local businesses that deserve mention include the $8,000 raised through the inaugural "WE CARE Card" late last year. West Hartford Center Business Association President Barbara

Karsky 

planned, organized, and implemented the fundraiser, and the check was recently presented to the beneficiary, Foodshare, at BK&CO in The Center.

Karsky

added that the WE CARE Card, which will return next year, was a perfect opportunity for shoppers to save with the card – good for a limited number of shopping days with nearly 50 participating businesses – while a portion of the proceeds benefited

Foodshare

. West Hartford Magazine, We-Ha.com, and Eat IN Connecticut all combined to help make this happen. At the check presentation, Diane 

Goode

and Al 

Marino

of

Foodshare

noted that nearly 20,000 people will be helped based on the $8,000 check made possible by the greater West Hartford community.
Another instance of a major "giving back" effort was the 4th Annual

WeHa

Whiskey

Festival, which was delighted to donate $11,000 to the Camp Courant last year.
More giving back will be on tap late this spring, with a portion of proceeds from this year's West Hartford Wine & Food Festival benefitting a number of independent schools of West Hartford. The list of participating restaurants and wineries is incredible. Click here for all of the details, and to purchase tickets for the June 17 event.
Noble & Co., the speakeasy -themed restaurant which opened last November at 43 LaSalle Rd., was just named as Connecticut's representative in USA Today's "50 States: 50 Hidden Restaurants and Bars" feature. Click here for more details.
Here's a unique educational opportunity: Hartford Flavor Company (across the town line, but owned by a West Hartford native) is hosting a "Mixology 101" class on

May 3, beginning at 6 p.m. According to an email, "m

ixologist extraordinaire Dave Rudman will lead everyone through the basics of making a great cocktail. You'll also enjoy cocktail samples and pizza bites. This will be great fun, very educational, and delicious! The cost is $20. Email Tom Dubay at tom@hartfordflavor.com to be added to the guest list.
Mother's Day is coming up, and that's prime brunch time! Arugula has informed us that they will be serving Mother's Day b

runch from 

10:30 a.m.-2:30 p.m.

; and dinner from 

4:30-8:30 p.m. (

reservations recommended, 860-561-4888;

www.arugula-bistro.com). Any other restaurants serving special Mother's Day meals can add the details in the comment section!
Congrats to West Hartford resident and FOX 61 reporter Jim Altman, who has been awarded a Regional Edward R. Murrow Award by the Radio Television Digital News Association for excellence in news writing. According to a news release, Altman "won for a composite of reports which included his coverage of a West Hartford Baseball team's groundbreaking trip to Cuba and his story featuring the remarkable triumphs of a disabled piano player who debuted in a concert at Kingswood Oxford's Roberts Hall.

Altman

will advance to the National Edward R. Murrow awards competition and a winner will be announced in June."
In the ICYMI department, most people probably already heard the news but in case you missed the shouts of joy, Moe's Southwest Grill will officially return to West Hartford on Friday, beginning at 11 a.m., and will hold a fundraiser for Conard High School Class of 2017 Safe Grad the night before. Moe's will now be located in Crossroads Plaza in Bishops Corner. For all of the details, click here.
Finally, for a summary of pretty much all of the business openings in the past year, and news about what's opening very soon and plans on the horizon, click here to read the article about the Economic Development Update provided by Director of Community Development Mark McGovern (and hosted by the West Hartford Chamber of Commerce) that was held last Thursday.
Remember, if you have any business news to share, add it in the comments section below or email Ronni Newton at [email protected].
Like what you see here? Click here to subscribe to We-Ha's newsletter so you'll always be in the know about what's happening in West Hartford!