A round-up of openings, closings, and other news about West Hartford businesses. 
Business Buzz is sponsored by NBT Bank, and we are very thankful for their support!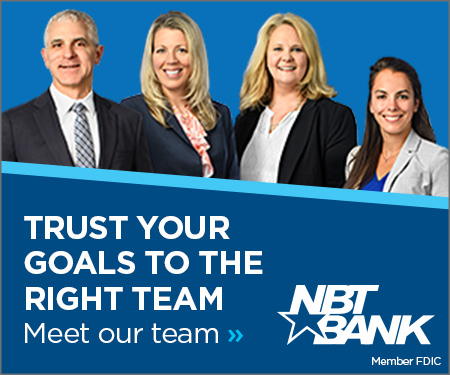 By Ronni Newton
I generally write this column on Sunday – but I tried to get most of it done this week on Saturday because Sunday we had Katie's baby shower!
It was wonderful to use so many of our local businesses for the event, and a special thanks to Rockledge Grille for the great venue and food, Pink Flamingo Party Co. for the spectacular balloon displays, and Little Owls Bakery for the amazing cookies that look just like the jungle animals on the invitation.
We are so excited about the arrival of "Champ," who is due on July 22.
We had a houseful of guests in town for the shower and staying with us for the weekend – Ted's college roommate and his wife (who are Katie's godparents) who came up from DC, and Sam's girlfriend's parents (who are longtime friends) from Pennsylvania – and in advance of having houseguests we had embarked on some long-overdue house projects. I shared a photo of our reglazed bathtub and tiles last week, but we also had two of our plaster ceilings repaired (that bathroom and a bedroom), and like the story "If You Give a Moose a Muffin" we also ended up replacing the fixtures in the bathtub, and I decided we needed new accessories, and new towels …
Thanks to Dante Cistulli at Zephyr's Street Pizza who accommodated our group of seven people on Saturday night – several of whom had driven hours in the pouring rain through awful traffic with a feast of delicious pizza and some cold beers.
Housekeeping note: We are not planning to publish a newsletter next Monday, which is Memorial Day – unless there is serious breaking news to report. Look for the next Business Buzz to appear on Wednesday, May 31.
West Hartford is back off the COVID-19 map – meaning there are fewer than five cases in town. I'll still keep the tab open and check for the next few weeks, but soon there won't be anything to check. With the expiration of the COVID-19 public health emergency on May 11, the governor's office announced the end of the reporting as of June 1. Going forward, the plan is to report on COVID-19 seasonally, like the reporting of influenza.
If you're looking for news about West Hartford in print please note that many stories from We-Ha.com, as well as other local news, is published in the twice-monthly issues of the West Hartford Press.
If you have information to share about local businesses, please provide details in the comments or email Ronni Newton at [email protected].
**************************************************
Here's this week's Buzz:
We have a bunch of updates this week, one of which is the opening of Bohdii in the space that was formerly Philip David Jewelers at 968 Farmington Avenue. The sign just went up on Friday, and owner Justice Pellegrino said the store will be opening at noon on June 3. This will be the third location of Bohdii Boutique with the others in East Longmeadow, MA (34 Center Square), which opened in the winter of 2019, and another in South Boston (398 West Broadway) which opened in the spring of 2021. The overall aesthetic at Bohdii Boutique is "Boho-Chic," Pellegrino said. The price point is moderate and she they are known for carrying casual, everyday styles, event dresses, athleisure, footwear, jewelry, hats, and much more. When I first spoke with Pellegrino about her plans to open the store in West Hartford, she said, "My target demographic ranges from 18 to 45, however I have always said my goal is to have a daughter, mother, and grandmother be able to leave with purchase! I typically find myself telling people that 'There's something for any woman, of any size or age, at Bohdii.'" Pellegrino said she has always had a "passion for fashion" – which is why she was inspired and driven to open the first Bohdii Boutique. "Throughout college and shortly after, I interned for a few small businesses and truly fell in love with the sense of community small businesses create and the love the owners have for their businesses. I started Bohdii in hopes of making the store a special place for women of all ages to feel welcome and comfortable to shop! She is very excited about the plans to open in less than two weeks. For more information about the business, check out their website.
The sign also went up last week for More Than Just Sharkbite, and Lonnie Arnold, who is partnering with Courtney Pavlick to open in the space that was formerly a Pizza Hut at 1037 Boulevard, said he is going through the inspection process now. Opening should be sometime in the next few weeks. The restaurant is an offshoot of Arnold's successful Shark Bite New England food truck, which offered fried seafood and fish and operated in Hartford, combined with Pavlich's successful More Than Just Lobster operation. More Than Just Sharkbite will offer a combination of menu items that will include seafood steamed in bags with vegetables, lobster rolls, fried lobster tails, fried scallops, and other dishes made from fresh fish. Everything will be fresh, not frozen, Arnold said, and will be primarily grab and go.
Right next door, also at 1037 Boulevard in the space that was formerly Subway, work is progressing on the build-out of BUD-R, which is owned by Derrick Gibbs Jr. who is partnering with co-founder Carl Tirella. When I stopped by last week to check on the progress I met the contractor who was working on the space and he said he anticipates the business will be ready to open by mid-July. Permits need to be obtained not just from the town, but also from the state because of the nature of the business and security requirements, etc. The sign should be going up very soon, and here's a few peeks at the interior!
Ellen Piccolo launched The Homemaker earlier this year – an interior design business that is based in West Hartford that offers services throughout the state. "After working at a full-scale design firm for a few years I saw a need for those seeking design help without the designer price tag," she said. "A business in which clients receive detailed design direction but are able to purchase at their own pace while paying a nominal one-time fee. Hence the birth of The Homemaker." Below are a few images that she shared, and many more can be found on her website. To contact Piccolo, email

[email protected]

or call 860-966-6168.
West Hartford resident Dr. Mitra Kabakoff, a board-certified pediatric dentist with 20-plus years of experience, is thrilled to be opening her own practice right across the line in Farmington as of June 12. She has worked as an associate in a multi-location practice (West Hartford and Farmington) for most of her career. "It's been a journey filled with dedication, passion, and hard work," she said, and said and she can't wait to welcome patients and their families into her new office. Dr. Kabakoff, who has three children of her own, said she is deeply committed to having a positive impact on the lives of children and teens and has developed relationships with patients and their families outside of the office, too. She takes her passion as a mom and puts it into her work, she said. "This translates into providing a loving environment and making sure each patient receives a quality experience every time they are in the office," Kabakoff said. She is accepting new patients, and said she "can't wait to meet you!" To schedule an appointment, visit the website www.mitrakabakoffdds.com or call the office 860-269-0949.
Congratulations to FOX61 which has been honored with two prestigious 2023 Radio Television Digital News Association (RTDNA) Regional Edward R. Murrow Awards for Excellence in Innovation and Excellence in Writing. The station was awarded a Regional Murrow for Excellence in Innovation for Innovations in Weather Storytelling featuring FOX61 Chief Meteorologist Rachel Frank and Meteorologists Ryan Breton (both of whom are West Hartford residents) and Rachel Piscitelli. FOX61 received a second Regional Murrow Award for Excellence in Writing for From Pen to Paper to Pixels: Jim Altman Writes, a compilation of writing from FOX61 reporter (and West Hartford resident) Jimmy Altman. "This is a proud moment for Connecticut's News Station," said Humberto Hormaza, president and general manager of FOX61. "We salute Jimmy Altman, Rachel Frank, Rachel Piscitelli, Ryan Breton and everyone who worked on these award-winning entries, which serve as examples of our commitment to serving the greater good of our Connecticut communities," he said. "The Regional Murrow Awards recognize the best in our industry, and we are honored to win two of these prestigious awards this year," said Richard Washington III, vice president of news at FOX61. "It is gratifying to know our work is considered to be among the best in local journalism." Winners of Regional Edward R. Murrow Awards immediately advance to the National Murrow Award competition, the winners of which will be announced later this year. The winning entries can be viewed here: Excellent in Innovation: Innovations in Weather Storytelling; Excellence in Writing: From Pen to Paper to Pixels; Jim Altman Writes 2022.
Boost Bowls had its ribbon cutting with the Chamber of Commerce and town officials on Wednesday and is now fully open, offering Açaí bowls, other types of bowls, wraps, salads, and smoothies. Visit the website (or last week's Business Buzz) for more details.
Speaking of the Chamber of Commerce, the winners of the Noah Webster Award, Elizabeth Gustin Basil Award, and multiple spotlight award winners were announced on Thursday. All will be celebrated, and new Board members will be sworn in, at the annual meeting and dinner on Monday, June 26. Click here for the complete details, including all of the award winners.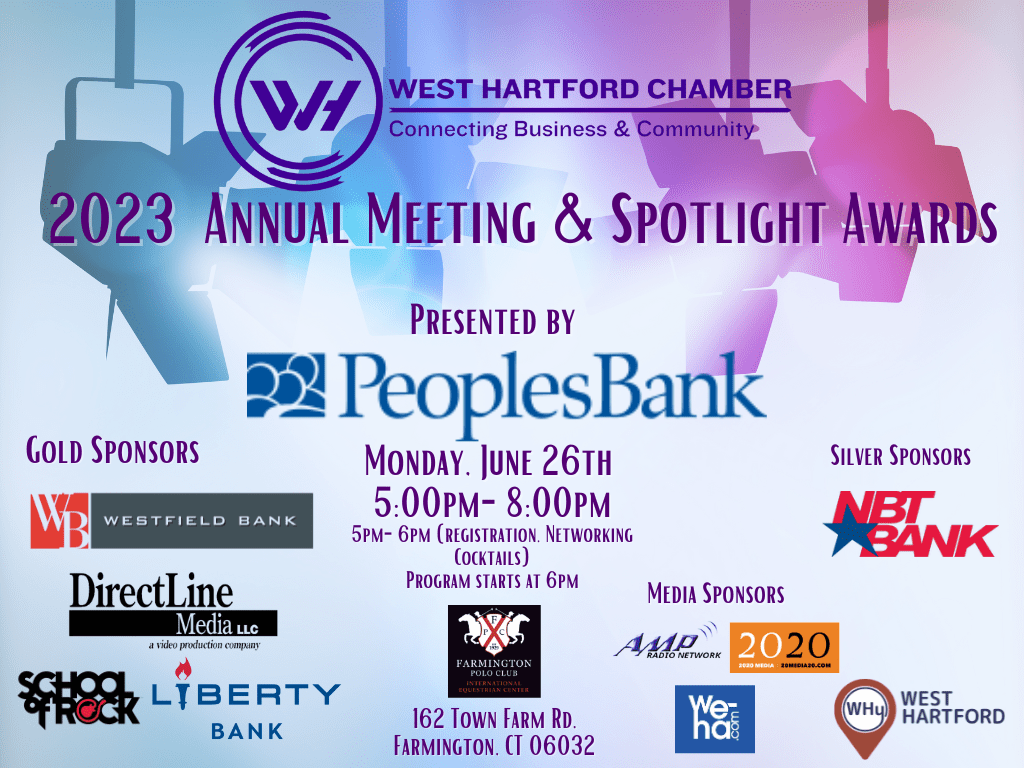 Essential Health will be relocating from the current location at 74 Park Road in two different phases over this summer, and as you can see from the photo below, they are hard at work getting the former Mayflower Drapemasters space ready for occupancy by the retail portion of the business. The location of the natural food store at 266 Prospect Avenue will technically be on the Hartford side of the road, but it's no less convenient. "We are overjoyed with the outpouring of support and acceptance of truly natural and quality foods and in order to serve you even better we are doubling the size of our store! We are thrilled to be able to do this without raising costs to you, our loyal customers," Essential Health said in an email to customers. In addition, Essential Health also shared that Dr. Allie, the massage therapists, yoga classes, detoxing sauna, and red-light therapies "continue to meet a massive need for healing and staying healthy. In order to meet the demand, all healing practitioners will be serving your from a professional office building at 645 Farmington Ave., Hartford starting on May 30, 2023. Please note, practitioners will be closed for the move from May 26-May 29, 2023."
What's Up WeHa is coming up this week! The evening of music and arts will feature a variety of participants from throughout the community, on stage as well as in booths, and will be headlined by Latanya Farrell – always a crowd favorite – who will appear on stage with her band from 7 to 8 p.m. The event take place in Blue Back Square on Thursday, May 25, from 6-8 p.m. Click here for more details.
Rosa Mexicano (51 Isham Road in Blue Back Square) hosted a media night last week, with a cocktail-making class and Vice President of Culinary Manuel Trevino was also on hand demonstrating how the restaurant's signature guacamole is made. "No lime" is the key, he said, along with adding the tomato at the end of the process so it's not too watery. They're hosting a cocktail class tonight for the public (learn to make four signature margaritas), and you can find out more by clicking here.
Remember, if you have any business news to share, add it in the comments section below or email Ronni Newton at [email protected].
Like what you see here? Click here to subscribe to We-Ha's newsletter so you'll always be in the know about what's happening in West Hartford! Click the blue button below to become a supporter of We-Ha.com and our efforts to continue producing quality journalism.