A round-up of openings, closings, and other news about West Hartford businesses. 
Business Buzz is sponsored by NBT Bank, and we are very thankful for their support!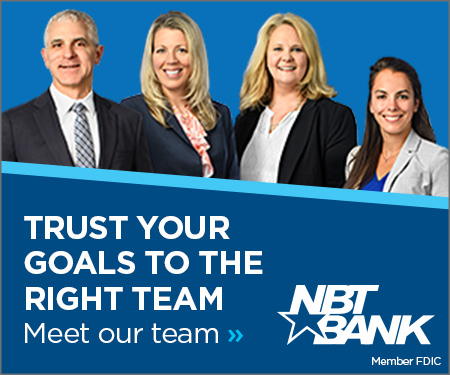 By Ronni Newton
At last we had a picture-perfect spring weekend!
I finally put some flowers in my planters and we (Ted) did some other work around our yard and patio, and then I watched Ted finish the Burlington to Collinsville 10K on Sunday morning. It was a strange experience to be neither running in nor reporting on a race (and definitely enjoyable to be a spectator), and I am very proud of Ted for his first-place age group finish!
Welcome to Bridget Bronsdon, a Conard graduate and journalism student at UConn who will be interning with We-Ha.com this summer. She started late last week, and look for her bylines on the site soon!
I attended fundraisers three nights in a row last week – the retirement party for Essie Labrot that was a fundraiser for WHCI, Journey Home's Fiesta, and the Noah Webster House War of the Words – three totally different types of events that were all so well-organized, fun, and successful! I did take some photos of the event for Essie/WHCI, but the one below that was taken by Dawn Ennis and shared with me is my favorite. I totally forgot to take photos at the other fundraisers.
I did have a great happy hour experience with my running group at Americana Restaurant & Bar on Monday night, and have lots of other food photos that appear below from the preview of Gran Gusto (I can't wait to go back and sample more items on the menu and have another "tiny tini") and the "Build Your Own Salad" at Sparrow. Also, when I was at the Teacher of the Year finalists' reception at Town Hall on Tuesday evening, there was some other "food" that was so beautiful I had to take photos of it.
West Hartford is back on the COVID-19 map with 13 cases as of Saturday and a positivity rate of 11.6%. I'll still keep the tab open and check weekly at least for a while.
If you're looking for news about West Hartford in print please note that many stories from We-Ha.com, as well as other local news, is published in the twice-monthly issues of the West Hartford Press.
If you have information to share about local businesses, please provide details in the comments or email Ronni Newton at [email protected].
**************************************************
Here's this week's Buzz:
I was a fan of Rizzuto's (which closed the 111 Memorial Road location in April 2022) so I was a little bit nervous about Gran Gusto opening in that Blue Back Square space, but I was blown away by how good the food was and the attention to detail, and I love the modern-yet-traditional Italian atmosphere of the decor. I had a chance to preview some of the food and drink on Saturday, in advance of the grand opening which is at 4 p.m. on Tuesday, May 9. Gran Gusto is a partnership between Raffaele Gallo and chef Giuseppe Castellano, who own a Gran Gusto location in Cambridge, MA, which opened almost 17 years ago. They also own several restaurants under the Gallo name in Fairfield County. Castellano will be the executive chef, and will remain on site at least for the near future, he said. The photos (below and at the very end of the column) tell a good part of the story … but let's start with the drinks. Josue, the lead bartender, said he uses as many organic ingredients as possible, and everything has a unique twist. "We're bringing back some of the old school cocktails," General Manager Mary Johnson said. The Negroni incorporates equal parts of three spirits crafted in a "winestillery" in Chianti and there is house-made sangria (Chianti, dark rum, pineapple juice, peach schnapps, and garnished with fresh fruit – and there is a white sangria as well) which are very refreshing. Also refreshing is the Limoncello Mint Collins (their take on the traditional Tom Collins). The "1920 Select Apertivo" is an Italian spritz similar to an Aperol spritz but with an Italian liqueur. All of the martinis come in full size and "teeny-tini" half-size – and there are a variety including watermelon, peach, strawberry, espresso, cosmopolitan, and several botanicals. The watermelon (the teeny-tini is the perfect size for me) martini includes watermelon vodka, Quattro, and fresh lime juice. "We are traditional Italian. We start from scratch and definitely make everything in house," Castellano said. That includes the pasta, which is all hand cut, and the bread. There is no cutting corners, said Castellano (a former James Beard 40 under 40 honoree). The eggplant parmigiana takes 24 hours to make. Even the noodles for the lasagna are made from scratch. The arancini is vegetarian (made with green peas, parmigiano, and tomato sauce), and there are multiple vegetarian, vegan (like the roasted acorn squash stuffed with quinoa, zucchini, pistachios, raisins, and scallions), and gluten-free options available for every course, including a gluten free ricotta cheesecake for dessert. Castellano, who said he grew up eating a largely vegan diet, said, "We created a friendly menu for everyone." Most important, he said, is "product, technique, and recipe." I didn't get to try them, but there are also white and red pizzas (Castellano said he uses seven to eight Italian flours to make the dough, which then goes through a 48-hour permutation process), and a variety of salads on the menu. Gran Gusto is soon opening a restaurant in New Haven, which was in the works when they learned about the vacancy in the former Rizzuto's space in West Hartford, but "we didn't want to miss out on the opportunity," Castellano said. Johnson, who just moved to West Hartford from the Fairfield County area, said Gran Gusto is very much planning to be "a big part of the community." Over the weekend they held a reception for the residents of The Heritage (who live right above the restaurant), and Johnson said everything went really well. There is also a private dining room which will be used for events as well as overflow, and Johnson said they will be opening the patio soon (all along the side that borders Town Hall) which will double the capacity. There are already live herbs in the planters by the front door and more herb planters to come, which they will be able to make use of to add to the fresh farm-to-table experience. Some of the staff are former Rizzuto's employees who have returned to the space, and other than Josue who is from Fairfield County, all are local. Gran Gusto will open Tuesday at 4 p.m., and will initially be open for happy hour and dinner on Tuesdays and Wednesdays, but will add "Italian lunch" on Thursday through Sunday, and will also have a late night menu on Thursday, Friday, and Saturday nights. For more information, including the menu, visit the website.
I am definitely going to have to return to try the food, but didn't want to miss sharing the news tht 504 Honduran Cuisine (589 New Park Avenue) opened on Saturday night. It's owned by Katie Soler, and managed by her daughter, Ashley Avila-Soler, who is also the chef. They previously had an ice cream shop at Buckland Hills, but said they are very excited to bring Honduran food to West Hartford – and are the only Honduran restaurant in the state. "The best traditional plate is Balleadas," said Ashley, a folded tortilla with beans, creamy cheese, avocado, and a choice of meats. The restaurant is staffed primarily by family, and they serve breakfast, lunch, and dinner. More information and photos can be found on Facebook and Instagram (@honduran_cuisine504), or call 860-519-1055.
Sparrow (977 Farmington Avenue) has added a new element to its menu: Build Your Own Salad. They were looking for a way to increase the lunch crowd, and in the post-COVID world where salad bars have essentially disappeared, BYOS is the perfect option, and also available for take-out, Chef Adam Greenberg said. A server will bring over an order form and review it, and you can choose from a variety of options (base price is $9). There is a choice of greens; many mix-ins like cucumbers, carrots, chickpeas, artichoke hearts, and croutons (the first three are included in the base price, other than some special items like avocado), crunchy toppings like sunflower seeds or almonds (or hand-boiled eggs, which are definitely not crunchy), and a choice of dressings. You can also add cheese or proteins (chicken, shrimp, tofu, etc.) for an extra charge. Greenberg said he's also planning to add some vegetable small plates featuring springy vegetables like asparagus and baby carrots, and some spring pizzas. "We want to give people a reason to come back," Greenberg said.
It was announced this past week that Dominican restaurant Caribe, which opened in January 2021 in the former Prospect Cafe location at the corner of Park Road and Prospect Avenue, is closing after dinner service on May 21. After hearing the news last week I was in touch with Berlin Pineda, who said she wanted to be sure "to express our true and profound gratitude to the community, for the warm welcome we received, ongoing support, and so much love! We are overwhelmed with thankfulness and will miss our regulars and meeting new people so so much!" I spoke with her later that day, and she said the Hartford location of Caribe will remain open (686 Park Street), but it was a family decision that it was necessary to give up the West Hartford space. When it first opened, she said she put her real estate career on hold to help her mother, Milagros Pineda, who owns the restaurant. "We really wanted to come in and do something bigger, and we did," Berlin said. She and her niece originally planned to help get the restaurant up and running for the first year, but that has stretched to more than two years, and her niece has now moved into a career in accounting and she wants to get back to real estate. "It became obvious that we couldn't do the West Hartford restaurant without family support, and with the language barrier," said Berlin, whose mother doesn't speak much English, and it was too overwhelming for her to run the restaurant alone and she was missing so much time with her seven children and multiple grandchildren. "It was time to let it go," Berlin said. "It's been so sweet, the people here have become like family. It's very hard for us, but it's going to be hard for us regardless. There have been lots of tear," Berlin said. They are going to bring some menu favorites from West Hartford to Hartford, she said.
Seguing into what is taking over the soon-to-be vacated space after Caribe closes … Sweetspot will be opening there as West Hartford's second cannabis retailer. Town Planner Todd Dumais confirmed that he has approved the site plan application in accordance with the town's cannabis ordinance. Sweetspot had originally applied in February to open at 983 New Britain Avenue, in a space that had been used for storage in the shopping center where PriceRite is located but Dumais said the location "could not comply with the applicable zoning standards" so the application was withdrawn. West Hartford is limited to having two cannabis retailers until the statewide limit on the number of establishments per 25,000 residents sunsets on June 30, 2024, and with Budr opening at 1037 Boulevard (no date set as far as I know, but it should be relatively soon) this will be it. The two retail locations will be very close to each other (less than a quarter mile apart), but although an earlier version of the town's cannabis ordinance had recommended a specific distance between businesses, that was not part of the ordinance that the Town Council passed.
Congratulations to West Hartford Yoga (23 Brook Street) which this month is celebrating their 20th anniversary! "West Hartford Yoga (WHY) is celebrating 20 years as your destination for all things healing! We're here to support the health and vitality of everybody, with a variety of classes that meet you where you are. Release expectations, befriend your body, and join us on the mat," the business said in an email. Through May 31, WHY will be offering a variety of specials and discounts as well as weekly raffles, free classes, and a 20-day yoga challenge. On May 13, there will be an open house with bonus classes between 1-4 p.m., more discounts, and healthy snacks. More information can be found on the website.
West Hartford-based Environmental Systems Corporation, a leading provider of building technology solutions throughout Connecticut has been recognized by the Connecticut Green Bank with the C-PACE and Solar PPA Outstanding Project award. This award recognizes ESC's energy efficiency contributions, including HVAC, lighting and building automation in collaboration with Verogy Solar (also a West Hartford company) at the Mystic Aquarium. This project reduced the Aquarium's energy usage and costs, saving an estimated $1.8 million over the expected useful life of the measures. "We would like to primarily thank Mystic Aquarium's Senior VP of Facilities and Capital Projects Keith Sorensen and his staff for partnering with us on this extremely ambitious project. I would also like to thank the Green Bank and Mackey Dykes for lining up the financing. We are also pleased to have been able to partner with Verogy Solar, for adding a new roof and solar array." said Jack Cunningham, Director of Energy Solutions Sales at ESC. "We met with the Aquarium on weekly basis for project status updates and worked with the Aquarium to ensure as little disruption as possible to their operations and day to day business. The project had a lot of moving parts but is a great example of the teamwork ESC can offer through our multiple service offerings." states Daniela Iozzo, Director of Energy Solutions Operations at ESC. Overall, this was a great project with great partners and people, as well as equally great savings and a path to a sustainable future. "ESC is excited to receive this award in partnership with the Green Bank and Mystic Aquarium. We are committed to providing financially attractive, clean energy projects to our customers." said Mike Amedeo, VP of Sales at ESC.
J.McLaughlin in West Hartford Center (981 Farmington Avenue) will be hosting a "Sip and Shop" event with Interval House President and CEO Mary-Jane Foster. The event will take place on May 11 from 3-7 p.m. The store will donate 15% of purchases to

Interval

House – the state's largest domestic violence agency. Anyone who can't

get to the store during the event call call 860-216-5148 during those hours and mention

Interval

House

to direct 15% of your phone order to the agency.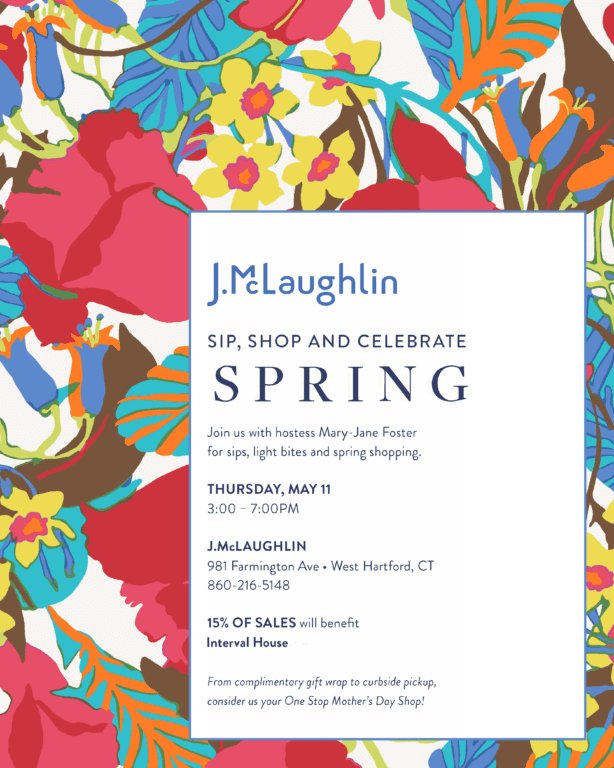 Congratulations to the West Hartford residents who have been nominated for Emmy Awards by the National Academy of Arts And Television Sciences, Boston/New England Region! They include West Hartford filmmaker, Jeffrey

Teitler

as well as Rebecca Stewart, the VP of Content Strategy at Hartford HealthCare. Three of the pieces which earned the nominations feature West Hartford trauma surgeon Lenworth Jacobs, MD; Jane Keating, Director of Research, Acute Care Surgery Division at Hartford Hospital; and Emergency Physician Cynthia Laverne Price, MD. "It is an extraordinary privilege to document the work, humanity and care within the medical arts at Hartford HealthCare," Teitler said in an email. "I am extremely grateful to our partners at Hartford HealthCare and Medscape, including Rebecca Stewart, Nick Dethlefsen, Anya Romanowski, Audrey Silver, Ken Robinson, Jonathan Gates, Greg Frani and Patricia Veronneau.  Most importantly, to our film participants: the gifts you give are entirely indelible and the highest honor to capture."
As many people know, it has been widely announced that buybuy Baby (as part of the Bed Bath & Beyond closing, but our local one already closed a few years ago) is closing all of its stores, including the one in The Corbin Collection in West Hartford. I stopped by last week to buy a gift and indeed there are "store closing" signs everywhere, and everything is at least somewhat discounted and final sale, but a store employee told me that the closing will not be until at least June or July, and they remain hopeful that there will be a buyer. Fingers crossed that I will still have a nearby source for all the things I will need/want to buy for "Champ" once he arrives in July!
I didn't want to share the news that I heard recently that Park Road Pasta Kitchen (14-16 Oakwood Avenue) was for sale until I was able to connect with co-owner and chef Tony Camilleri to find out more details. According to Camilleri, who also owns Toro Loco in Farmington and Mexican Street Food on Raymond Road in West Hartford, one of his partners has had to step away from the business for personal reasons, and that left Camilleri pretty much running three restaurants by himself which is nearly impossible. He plans to continue to focus on the two Mexican concept restaurants, and said there are several groups very interested in Park Road Pasta Kitchen, which was revamped last November to have an Italian concept. Camilleri is hopeful about the sale taking place. "Until then we are still open and fully operational and looking forward to Mother's Day," he said Sunday.
Hoffman Auto Group co-chairman Bradley Hoffman has announced that company will be breaking ground on the single largest facility investment in its 100-plus-year history. "While the official groundbreaking ceremony will be held at 630 Connecticut Boulevard in East Hartford on May 22, our pre-construction activities are starting now," said Sam Pines, Hoffman's head of construction. "The next 100 years of Hoffman starts now," said Hoffman. "We're leading with a totally new, 'next generation' Porsche facility making it one of the first of its kind in the world. Where our clients will get the pure expression of the Porsche experience with more cars, climate-controlled drive-thru and other amenities – only at Hoffman." Construction will also include Lexus (construction starting in June) with a complete physical brand refresh plus planned investments in both Audi and Ford/Lincoln facilities that are also on Connecticut Boulevard. At the same time, the entire Hoffman Auto Group statewide is undergoing a massive infrastructure investment to prepare all its brands for electrification. "While our construction is underway," Hoffman added, "we will maintain the convenience and quality experience customers trust from Hoffman and will continually update them through an interactive online site (link) to facilitate a concierge level of service."
The Manchester Scoop has shared the news that a former West Hartford business, Hibachi Grill Buffet, which was formerly located in Prospect Plaza in the space now occupied by Planet Fitness, opened Friday at 165 Slater Street in Manchester, in the former Hometown Buffet location. The buffet features all-you-can eat Asian and American cuisine, hibachi, and sushi. Details on prices and offerings can be found on their website: https://hibachibuffetwesthartford.com/
ICYMI, the petition for closure filed by Hughes Health and Rehabilitation with the state Department of Social Services has been accepted. Click here for the details.
The WeHa Wellness health and wellness fair is on Wednesday from 4-7 p.m. in Blue Back Square. Complete details can be found here.
Remember, if you have any business news to share, add it in the comments section below or email Ronni Newton at [email protected].
Like what you see here? Click here to subscribe to We-Ha's newsletter so you'll always be in the know about what's happening in West Hartford! Click the blue button below to become a supporter of We-Ha.com and our efforts to continue producing quality journalism.