A round-up of openings, closings, and other news about West Hartford businesses. 
Business Buzz is sponsored by NBT Bank, and we are very thankful for their support!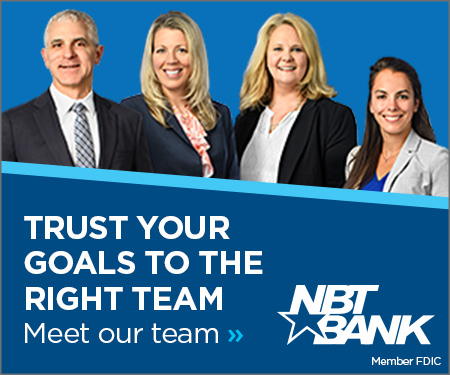 By Ronni Newton
I feel like I blinked and suddenly it was the middle of November – and even though I am usually very reluctant to even welcome autumn, I'm already embracing the build-up to the holiday season.
On Friday I met Westfarms spokesperson Amanda Sirica for our annual visit with Santa, something we have done every year (we think it's at least 10 years) on the day the big guy arrives at Center Court. Of course I do need to admit that I have not yet taken down most of the Halloween decorations in my house, and there are still sandals resident in my closet because I haven't made the time to fully transition my clothing for the season – so maybe I'm not all that ready yet … even though by the time you read this it will be just 10 days until Thanksgiving.
Last week was a whirlwind, and I always say that on the Monday after Election Day. Not only was there the local races to cover, but there was also a Board of Education meeting, soccer playoff games, letter of intent signings, and the Veterans Day ceremony to report on – plus catching up from having been on vacation for a few days the previous week.
It had been a few weeks since we had a "normal" Saturday night dinner at a local restaurant, and Saturday night Ted and I had a fantastic dinner at Zaytoon Mediterranean Kitchen in Elmwood. The Tahini Cauliflower, Jordanian Mansaf and Chicken Maftoul were delicious, and I'm looking forward to the leftovers, too!
If you're looking for news about West Hartford in print please note that many stories from We-Ha.com, as well as other local news, is published in the twice-monthly issues of the West Hartford Press.
If you have information to share about local businesses, please provide details in the comments or email Ronni Newton at [email protected].
**************************************************
Here's this week's Buzz:
There are a few recurring themes that appear from time to time on social media (I don't mean complaints about roads and taxes), regarding types of eateries that West Hartford lacks, and I'm excited to report that we will soon have a true "sports pub" in town. I met with Bob Mercier last week, and he shared with me his plans for opening Iron Horse Sports Pub in the space at 14-16 Oakwood Avenue, most recently occupied by Park Road Pasta Kitchen. There are some approvals still needed from the town but what he is planning is a two-story restaurant and pub! An elevator will be installed so that the ground floor and second floor will be combined into the same establishment, and Mercier said the pub will have three pool tables, four dart boards, and 20 TVs featuring live and recorded sporting events. He would also like to expand the existing patio in the front (facing Oakwood Avenue) and build a second-floor covered porch. The building has a basement, too, but that will be used as the kitchen. Mercier has his own extensive collection of Whalers memorabilia which will provide some of the décor, along with other sports-related items. There are already two Iron Horse Sports Pubs in the area – one in Simsbury and a smaller location in Unionville – and Mercier said he's aiming for a "Cheers" type establishment – encouraging a following of locals who have their "usual" tables or seats at the bar. Mercier's background is with People's Choice, and he became the pizza delivery company's first franchises in 2005. Iron Horse Sports Pub was born from the People's Choice business and its relationship with the community, and the desire to not only bring food to people but to provide people with a space to gather. Mercier is from Manchester, but said getting into West Hartford – where family members grew up and where his father previously owned West Hartford Stair and Cabinet – has been a long-standing goal, and the new pub will be very similar to the Simsbury location, featuring apps, wings, pizza, and other pub-type food, and likely 24 beers on tap including a good selection of local brews. They will also operate the People's Choice pizza delivery out of the West Hartford space. First-floor updates will be minor. "We like the wood, the lighting," he said, and renovations will otherwise include the elevator, and building out the second floor into a modern space with lighter color walls. The goal is to open by spring, he said. They've signed a 20-year lease, Mercier said. "We're going to be here for a while," he said, and are looking forward a very long relationship with the Park Road neighborhood, including the new residents of One Park, who live within walking distance. Mercier will be hosting a neighborhood outreach meeting on Thursday, Nov. 16, from 7 to 9 p.m., and he and his partners will be there to discuss their plans prior to the Town Plan and Zoning hearing to grant a special use permit for the business and permission to have just 16 paved parking spaces – which is more than most Park Road area establishments have.
Biberon is now open at Westfarms in the Center Court space formerly occupied by AbleMade, "Revamp your wardrobe with fun, bright, and unique style! All designs are high quality, cruelty-free, and locally designed. Be bright, be bold, set the trend!" states the shops description on the Westfarms' website.
The signs are up for The Bakery by The Place 2 Be in the former Spot Coffee space on Memorial Road in Blue Back Square. Build-out is moving along and while there is not yet an opening date set, a spokesperson from Blue Back Square said they are "anxious to open." I really miss having a coffee shop at that location, and will definitely keep tabs on the progress.
Congratulations to Tagliarini Chiropractic on the grand opening of their new and larger space (expanding from 1,500 square feet to 2,400 square feet) in the Armory building at 836 Farmington Avenue, which was celebrated with a ribbon cutting with the Chamber of Commerce and Mayor Shari Cantor and other officials on Friday. They have added a doctor and expanded some of their services to include spinal decompression and massage, Jessica Tagliarini said, with a specialization on service for athletes, pregnancy, and children. "As part of our love for the West Hartford community," and as part of the grand opening celebration, a check for $500 was presented to Al Marino Connecticut Foodshare, who said it will supply 1,000 meals for the hungry and food insecure. Tagliarini Chiropractic will also be hosting a toy and food drive, and anyone who brings in 10 non-perishable food items or an unwrapped toy will be eligible to win a raffle basket.
Last week I reported on the closing of Overflow in Bishops Corner (in that strip of storefronts in the shopping center on the southwest corner, that faces Albany Avenue), and it appears that the franchise business Nautical Bowls will be moving into that space. The West Hartford location does appear among the "coming soon" locations on the Nautical Bowls website, and I'll provide additional details as soon as they are available.
I completely forgot to share these ribbon cutting photos in last week's column. I was away and sad to personally miss the dual ribbon cutting held to celebrate the arrival of Green Tails Market and Lil Hope, next door neighbors at 16 and 18 LaSalle Road in the Center that both opened earlier this fall. Thanks to the Chamber of Commerce for sharing the photos – and click on the names of the businesses to read more about these great additions to the Center!
Congratulations to the West Hartford Department of Public Works, which has received the Distinguished Service Award for 2023 from the Connecticut Association of State Highway Officials (CASHO) in recognition of their outstanding contributions to the community and the state's transportation infrastructure. "This prestigious award is presented to an organization that has demonstrated unwavering commitment, innovation, and excellence in maintaining and improving their Public Works systems. West Hartford Public Works has been recognized for its dedication to enhancing the safety and quality of life for residents and travelers in Connecticut. Most notable West Hartford Public Works action on Vision Zero Transportation/Pedestrian safety improvements, Sustainable Material Management practices, and over all commitment to Public Works maintenance excellence," CASHO said in an announcement. "West Hartford Public Works has consistently exemplified its commitment to service, maintaining and improving the roadways, and public infrastructure. Their tireless efforts have contributed to the overall well-being of the community and have made a significant impact on the town's transportation and recreational land networks."
Ten Thousand Villages (967 Farmington Avenue) will be hosting their annual fundraiser for the Jewish Association for Community Living (JCL) from Monday, Nov .13 through Thursday, Nov. 16, "Customers just need to mention they are shopping for JCL and 15% of their purchase price will be donated to JCL. It's a win all around:  customers will find beautiful gifts that support makers in developing countries, and support our local community as well," Ten Thousand Villages manager Teri Osborne said. For those not familiar with JCL, the organization helps people with developmental disabilities participate in community life as independently and safely as possible, with programs that include group homes, supported living, day support, and Judaic programs. Services are open to people of all faiths (although they do help adults with special needs observe and reinforce their Jewish heritage), and more information can be found at jcl-ct.org.
YHB Investment Advisors, Inc. would like to welcome Jazmine Solomon-Melendez as our afternoon receptionist. Jazmine has over 13 years' experience in customer facing administrative roles. Jazmine lives with her family in New Britain and is a wonderful addition to YHB. She is very friendly and professional, and always has a smile on her face.
Silk Nails has closed their Bishops Corner location – at least temporarily. The sign on the door says the business is under new management and "closed for a month for remodeling," but I am actually pretty sure that while there will still be a nail salon in that space, it will be a completely different business. Town records indicate the registration of "Bliss Nails" at the 333 North Main Street location, and from the small glimpse I could get of the interior it appears that there is quite an extensive update underway. I haven't had a chance to do further follow up but I will. Does anyone have more details?
The West Hartford-based Ron Foley Foundation will be holding events throughout the month of November to raise funds and awareness for pancreatic cancer. In addition to the We Care Card event (underway now, and highlighted in last week's coluimn), the Battle of the Bars is a friendly competition between participating restaurants and bars during the month of November in support of Pancreatic Cancer Awareness Month. Bartenders will create a signature purple cocktail, and proceeds from the drink sales go to the Ron Foley Foundation. The bar that raises the most will be the winner of the RFF trophy and will be able to display it proudly throughout the year! Snap a photo of your purple cocktail and tag the Ron Foley Foundation (@ronfoleyfoundation) for a chance to win two tickets to their annual Kentucky Derby gala in May! Participating West Hartford restaurants are: Artisan, Beachland Tavern, Barcelona, Fleming's Prime Steakhouse, Rockledge Grille, Rosa Mexicano, Sparrow Pizza Bar, and Zohara – as well as several eateries in other area towns. There is also the annual Purple Candlelight Vigil of Hope on World Pancreatic Cancer Day, Nov. 16 at 5:30 p.m. The Candlelight Vigil will take place at Veterans Memorial Park in West Hartford Center to honor and remember those touched by pancreatic cancer. All are welcome to attend. If you would like to include the name of a loved one to be read aloud as part of the evening, please email 

[email protected]

.
McDonalds has indeed already completely stripped the furnishings and signage from the now-closed Bishops Corner location. I took a few photos. Look away if it makes you too sad.
ICYMI, Santa Claus has arrived at Westfarms and is now ready to visit with children of all ages (and pets as well on a planned "Santa Paws" day. Click here for the details.
Remember, if you have any business news to share, add it in the comments section below or email Ronni Newton at [email protected].
Like what you see here? Click here to subscribe to We-Ha's newsletter so you'll always be in the know about what's happening in West Hartford! Click the blue button below to become a supporter of We-Ha.com and our efforts to continue producing quality journalism.