A round-up of openings, closings, and other news about West Hartford businesses. 
Business Buzz is sponsored by NBT Bank, and we are very thankful for their support!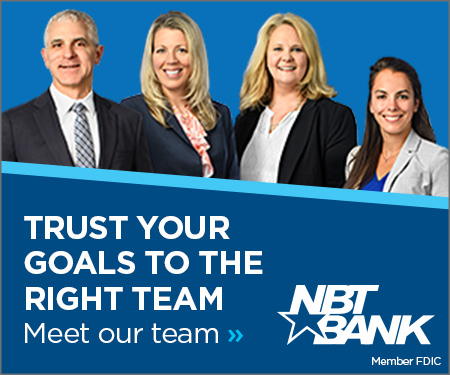 By Ronni Newton
We are in intense baby watch status in our household right now, awaiting the arrival of our first grandchild! Katie and Matt's baby was due on Saturday, so unless something happened overnight he is now two days late and she is very ready to evict him from his current location.
After another week in the rain forest, this weekend featured some beautiful weather! I was very thankful for the lower humidity as I began my half marathon training on Saturday morning. It's been 5½ weeks since my foot injury (when I was tripped by a dog while running) but I have been back to running 3 miles at a time without much pain for the past few weeks and after a 4-mile slog in the humidity earlier in the week I tentatively joined the Fleet Feet half marathon training group for 5 miles on Saturday morning. The run felt pretty good, but I will have to see how it goes as the mileage increases.
I've had a couple of delicious lunches in restaurants this week, including a Mediterranean summer salad at a restaurant called Gaetano's on Main in Wallingford, which was a good halfway point for meeting one of my oldest friends (since age 3) who lives in Fairfield County. I also enjoyed a great lunch at Zaytoon Mediterranean Kitchen on Friday with some colleagues. I love their hummus, and the lentil bowl was a perfect healthy and refreshing meal.
Saturday night dinner was not as healthy, but it was very yummy! Ted and I went to Americana on Park Road and sat out on their beautiful flower-lined patio for some cold beers (and of course fried pickles, which I order pretty much any time they are on the menu) and a burger (for me) and buffalo chicken sandwich for Ted which he said was "awfully good …" Outdoor dining at the restaurants in the Center was packed on Saturday night (we took a drive through on our way home just to see), but if you're looking for other outdoor dining on a nice night, Park Road is an excellent option for avoiding crowds and parking hassles.
If you're looking for news about West Hartford in print please note that many stories from We-Ha.com, as well as other local news, is published in the twice-monthly issues of the West Hartford Press.
If you have information to share about local businesses, please provide details in the comments or email Ronni Newton at [email protected].
**************************************************
Here's this week's Buzz:
This is one of those pieces of news that made me literally feel like jumping for joy when I heard about it: Hope & Stetson is taking over the space at 18 LaSalle Road recently vacated by SockStarz, and will be using the roughly 550-square-foot space to expand their current baby and toddler offerings, and add some maternity items, too! Hope & Stetson's current owners, West Hartford residents Emma and Mike Muchin, took over the store from its original owners just days before the pandemic hit in March 2020, but as people returned to in-person shopping in the Center, business picked up and things have been going well at the boutique and Emma said they have been looking for ways to expand and there aren't any shops in the Center right now devoted to kids' items. Her first grandchild, 16-month-old Jayce, also provided inspiration. "It will be the same model as this store, from basics to special," Emma said, plus some pregnancy-related and maternity pieces. Emma said she will be buying for the new store in August, and plans to stock sizes from infant through 5T, as well as some small toys, books, and accessories. The Hope & Stetson store at 982 Farmington Avenue features primarily moderately-priced women's clothing and accessories (including a great collection of vegan leather bags that I have trouble resisting). They also have a corner that features an adorable collection of baby clothing and other items, including blankets hand-knit by their daughter, Lia, who had been knitting for and working in the store even before the Muchins bought the business and has been busy knitting even more blankets (they extraordinarily soft, and my daughter already received one as a shower gift) to stock in the new store. "We definitely want to build up some of the bigger sections of the store," said Brianna Borg, the longtime manager. "We're really excited about that," Emma added regarding the ability to expand into the children's corner, and said most likely that will be for the denim collection. "This is a great story, a second retail store in the same market. There's not a lot of that," said Mike Mahoney, owner of RLM Co. who handles the property where the existing store is located as well as the LaSalle Road space. Build-out should begin this week, and they hope to be ready to open by mid-September, definitely by the first day of fall. "We want it to be the same happy place that it is here," Emma said, a child-safe place parents want to come visit. "Chocolate, dogs, and babies," Brianna said of the three stores that will be a row on LaSalle Road, noting that should be a draw for anyone.
The "dogs" referenced in the above post are related to Green Tails Market – and we announced in this column on June 26 that owners Ann and Paul Fryer plan to open a second location at 16 LaSalle Road in West Hartford Center. "We will carry a mixture of sustainable pet supplies including food (kibble and wet food, freeze dried and frozen raw) and treats (decorated for special occasions as well as every day functional), chews, toys for dogs and cats, beds, collars and leashes, grooming items as well as what we like to call 'people products' including soy candles, customized t-shirts that we make ourselves, hand made ID tags made by my husband, leash hooks, and more," Ann told me last month. In a social media post over the weekend, Green Tails Market announced that they will be leaving their current Farmington location in late August and opening both the West Hartford shop as well as a new Farmington spot in early September.
A few weeks ago in this column we mentioned that the former Arethusa Farm Dairy & Cafe would be transformed into Le Mazet – a cafe that would also maintain the Arethusa ice cream counter and the dairy store, but add a French country-inspired full service cafe, and a full bar. I ran into Le Mazzet owner Jared Cohen last week as he was hanging up the sign indicating that their liquor license application is pending, and he said work has started on the minor interior renovations and things are still moving ahead for an early September opening.
We (We-Ha.com, in collaboration with 2020 Media, the Jewish Ledger, and West Hartford Magazine) are in the process of launching "On the Scene," a B2B-focused p

odcast

sponsored by NBT Bank. The introduction to the podcast is now live on Spotify (click here to listen), and features Tom Hickey and Bob Carr discussing what the podcast will be all about. I interviewed NBT Bank Regional President for Connecticut Andreas Kapetanopolous last week at the regional headquarters and bank branch location at 433 South Main Street, and will share the link to that episode once it is live. The West Hartford business-focused podcast will eventually be available on more than 100 platforms, including Apple, Google, Spotify, iHeart Radio, Audible, Amazon, and more.
While it's vacant, the former West Elm space in Blue Back Square continues to be an event venue and last month was the site of "Cars & Cocktails," which was also a fundraiser and a prelude to the Concorso Ferrari & Friends event scheduled for the following day at the Farmington Polo Grounds. A curated selection of the cars that were entered in the Concorso lined Memorial Road that night. "It was a wonderful event and we raised over $25K for Connecticut Children's," said Elizabeth Zigmont of Image Marketing.
In real estate news, 199 Oakwood Avenue, currently occupied by DeSai Group's headquarters, was recently sold to West Hartford Dynasty Cuisine Group, LLC – the owners of West Hartford restaurants Song and Shu – for $640,000. I don't have any further information at this point about whether or not there are any plans to change the operations at the building.
Congratulations to West Hartford

design

firm,

Firebrick

Design

, which won the highest honor at the 47th Annual Connecticut Art Directors Club Awards held on July 11 in New Haven. According to a news release, the annual award show honors excellence in design created throughout Connecticut. The organization gathers once a year to spend an evening celebrating the achievements of creative professionals throughout the state, honoring excellence in eight main categories: advertising, environmental design, graphic design, illustration, online/interactive, photography, student, and video. As the highest accolade at the show, the Best in Show award is selected unanimously by the judges from a pool of pieces that have all received Gold awards. Along with the Best in Show honor, Firebrick Design also received two Golds and an Excellence award. Pam Howard, Creative Director of Firebrick Design, created an event identity system for the annual fundraiser for The Bushnell Center for the Performing Arts in Hartford; an event that supports crucial arts, education, and enrichment programs in the local community. This year, the gala event honored the spirit of rock and roll royalty. Firebrick Design took inspiration from the incredible contemporary music and themes in The Bushnell's season of Broadway shows (Tina – the Tina Turner Musical, Six, Jagged Little Pill, Ain't Too Proud – the Life and Times of the Temptations). The evening event is sophisticated — but fun. The invitation singled out for the Best in Show award draws on traditional print techniques leveraged in a thoroughly modern manner. The invitation mailed flat – but the recipient was able to build a paper castle to keep around as a reminder for the event and as a keepsake after the gala evening. The language and art playfully lean into the high energy of rock and roll and the sophistication of "royalty"… musical royalty, that is.
West Hartford photographer Allegra Anderson, who took the above photo of Pam Howard, was also honored at the Connecticut Art Directors Club's 47th Annual Award Show where she received two Silver Awards –  one for her photography in the Books/Publishing category "for my images in the stunning book recently published by my client: Intersection of Nature and Art by James Doyle Design Associates. The second award was also for my work for James Doyle Design Associates for my photographs of their Greenfield Hill project in the Commercial and Advertising – Lifestyle category," she said.
West Hartford native Leonardo Dionicio, 21, a 2019 graduate of Hall High School, is a member of the cast of Love Island USA, now available for viewing on Peacock. The Peacock website states: "Leonardo has always been pushed to be the best, growing up in a very competitive family." His twin sister, Giovanna, plays soccer at Yale, and his older brother played baseball in college. Leonardo also played college baseball at Division I University of Dayton, and at Hall played both baseball and football (see photo below of him scoring a touchdown during the Hall vs. Conard game). "He believes he is single because he can 'see a red flag from a mile away.' Leonardo thinks men these days have trouble getting women because they rely on cheesy pickup lines. He instead relies on eye contact, his funny sayings, and the fact that he is fluent in Spanish to get dates," the Peacock website states. I have reached out to him and hope to speak to him at some point about his experience on the show.
I get so many emails that provide rankings in all sorts of categories ranging from best towns in the country for vampires, to …. but I do often glance at them to see if West Hartford is included. Last week a place in West Hartford made one of the lists, with the Elizabeth Park Rose Garden (yes, I know that the City of Hartford owns Elizabeth Park, but the Rose Garden is physically in West Hartford) which was ranked 99th out of 250 on a list of "America's Top Landmarks for a Marriage Proposal" by The write-up noted: "As one of the oldest and most renowned rose gardens in the United States, it offers a breathtaking display of vibrant and fragrant roses in full bloom. The meticulously landscaped garden, with its charming pathways and picturesque gazebos, creates a romantic and intimate atmosphere that is perfect for a heartfelt proposal." The research was conducted by Mixbook.
Remember, if you have any business news to share, add it in the comments section below or email Ronni Newton at [email protected].
Like what you see here? Click here to subscribe to We-Ha's newsletter so you'll always be in the know about what's happening in West Hartford! Click the blue button below to become a supporter of We-Ha.com and our efforts to continue producing quality journalism.