A round-up of openings, closings, and other news about West Hartford businesses. 
By Ronni Newton
It's the Monday before Thanksgiving – which seems to have come up very quickly!
As usual I looked back at my previous year's column from the Monday before Thanksgiving, and last year I wrote a lot about what a difference a year makes, and how different the holiday was going to be in comparison to "normal." I'm thankful that I can once again say what a difference a year makes, and while our holiday celebrations may still not be what they were in the years before the pandemic, most families are more comfortable gathering in some type of group.
Last year we had just four people at our Thanksgiving table, and this year we will be part of a group of 17. I will still make my too-large turkey (I really like leftovers, and I really like to make turkey soup), but I will be bringing that turkey to Katie and Matt's house where they will be hosting their first ever Thanksgiving gathering for both sides of the family. And Ted and I (and Millie) will once again resume our tradition of heading to Nantucket the next morning to spend some time with his parents.
Something else back to normal this year is that the annual Conard vs. Hall football game was once again played on the Saturday before Thanksgiving after being canceled – along with the entire regular high school football season (there were some 7 vs. 7 contests) – in 2020. We-Ha.com sports reporter Paul Palmer wasn't available, so Ted and I tag-teamed covering the game this year, which we have done in some previous years as well. The game was exciting as usual, and there was a huge crowd of several thousand people who were very excited for the return of this community event. The story and photos can be found here.
It meant another Saturday at our computers, but we did finish our football story in time to go out for a later dinner, and we chose Plan b, where we had not been in quite a long time. Some great draft beers, the "3 Shrooms" burger" with sweet potato fries, and the fish 'n chips (really the fish 'n tots) were a delicious ending to the day. We also enjoyed snacking on the pickle chips our server brought to the table when we arrived.
Sam's girlfriend was visiting for a few days last week, and we all went out to brunch at The Place 2 Be on Wednesday morning – the only time last week we could find to have a meal together. While Ted and I had to work so we couldn't partake in their famed mimosas, Sam and Kate were able to have one and we all had some great food! Next time we're going on a day where we can enjoy the mimosas, too!
Please note that we will only be sending out two newsletters this week, on Monday and Wednesday. While the news doesn't take a holiday, the We-Ha.com team is trying to take Thursday and Friday off for some much-needed family time, and we hope our readers will also be relaxing and/or holiday shopping. Of course we will be responding if there is breaking news.
Please also note that if you have Thursday or Friday trash and recycling collection, it will be delayed a day this week.
Please continue to support our local businesses, wear your masks indoors if you are not vaccinated – and stay safe and healthy.
If you have information to share about local businesses, please provide details in the comments or email Ronni Newton at [email protected].
**************************************************
Here's this week's Buzz:
Homegrown Studio is on the move, and planning to expand their offerings to tweens and adults as well! The art studio – which focuses on the process and sensory exploration – is currently located at 1026 Boulevard but as of Jan. 2, 2022 will open in their new space at 13 Sedgwick Rd. in the former Kitchen + Bath Design space. The current session of classes will end on Dec. 17, and the move will take place after that, owner Meredith Magee Donnelly said. "We are excited to move closer into town and into the neighborhood my family and I live and go to school in," said Donnelly, whose children attend Duffy and Sedgwick. "We will continue to provide process art and sensory play classes for children 14 months to 10 years and weekend birthday parties, but will also be expanding into offering Tween Nights and Adult Craft Nights as well," she said. She envisions the tween nights to take place on Fridays, and include pizza and a craft, offering those ages 9-12 a safe and supervised but "cool" place where they can spend time with friends. Adult classes will likely be on Thursday nights, once a month. Donnelly, who has a master's in early childhood education and formerly taught Pre-K through grade 1 students, had taken some time off to raise her children. She really enjoyed holding play groups at her house, and blogging about it, and everyone enjoyed the experiences she provided. "We really embrace 'mess,'" she said with a laugh. She launched Homegrown Studio in December 2019, just months before the pandemic forced the closing of the in-person space, but she was able to keep it going. "We had such a loyal group of clients," she said, and they attended classes virtually, reopening to the maximum allowable capacity in September 2020. As people are more comfortable attending in person events, classes have been full, and birthday parties are booked up four months in advance. The new space, which was a black canvas that Donnelly got to design, includes an area for birthday parties, and she's excited to now have an office as well as more storage space. The "flower boxes" outside the windows have already been artfully decorated by Donnelly, with the assistance of her dad, who built the large "popsicle sticks" that are the basis for "flowers." Homegrown Studios has expanded to now include four employees who lead the classes – a mix of former educators who are looking to work part-time, as well as a few artists. "We are looking forward to continuing to be part of the West Hartford community," said Donnelly. "I love that the things we do in the studio will inspire kids for life." Registration for the January session of classes in the new space begins Nov. 28, she said.
The space in the Vanderbilt Building at 772 Farmington Avenue, which was formerly occupied by Colonial Shoe Service (the owner retired) is now home to Solany Skin and Beauty, an elegant skin care salon and spa, the building manager advised. "With almost two decades of experience in make-up and skincare, Dimari Flores, known as Gipsi to her customers, has almost two decades of experience in make-up and skincare, working at Nordstrom and Sephora before opening her own space on Park Road five years ago. The beautiful new, and much larger location at the recently-renovated Vanderbilt Building (named for the Vanderbilt Drug Store, owned and operated by the grandfather of current building manager Debbe Greenspan) is next to The Laundry Room on the Ave and Cheers Wine and Spirits. "This is the perfect time of year for my customers to indulge in a relaxing facial, waxing or makeup service," Flores said. The beautiful, relaxing, and welcoming spa features "elegant and luxurious lighting, soothing sounds of a bubbling fountain and a heated and vibrating facial table." The skincare products used by Flores are pharmaceutical grade and available to purchase by customers. Solany is open by appointment only, Wednesday 

through Saturday with

 evening appointments available, and follows strict COVID protocols. Appointments can be made on the Solany website  www.mysolany.com. Gift certificates for facials, waxing, or even a whole makeover (holiday gift idea!) are also available at https://www.mysolany.com/gifts.
The WEHA Bear Fair is on the move, and reveal part 2 will take place today at noon, on the second floor of Westfarms in the Nordstrom wing. Sponsored by 20/20Media, the WEHA

Bear

Fair

first brightened West Hartford's Blue Back Square with a fabulous display of one dozen fiberglass

bears

, each one the creative work of a talented artist and sponsored by a local business that selected a nonprofit organization to benefit from proceeds raised by visitors. The bears have been getting a bit of a rejuvenating spa treatment in the parking garage at Westfarms. "Now, as winter descends – and much to the delight of the entire community, young and old! – we're keeping this fabulous FUNdraiser going by moving the

bears

indoors to Westfarms … just in time for the holidays!" organizer Tom Hickey said. The bears will remain on display through January 2022, and visitors can find out more about each one, and support the bears' beneficiary nonprofits by scanning the QR code at Westfarms, on the signage attached to each

bear

on display, or by visiting 20media20.com.
Thanks to Bob Macca and his family, owners of Macca Plumbing and Heating, the annual tailgate that precedes the Hall vs. Conard football game returned this year. The Maccas provide the food, and ask that those who attend give a donation to Connecticut Foodshare's "Turkey and a $30" Thanksgiving fundraiser. As of press time the amount of money raised, but in the past it's been well into the thousands. Thanks to all for their generosity!
This is the season of giving, and Max Cares Foundation, noting that food insecurity continues to be on the rise, is looking to expand the number of nonprofits that it will be assisting through the 5th annual "Roasts for the Holidays" fundraising campaign. "Since 2016, the funds raised provided the ingredients for a '

Max

-quality' holiday dinner to shelters and soup kitchens that prepare and serve meals to those in need in the Greater Hartford, Connecticut and Greater Springfield, Massachusetts regions," the organization said in an email. "We're looking for additional nonprofits to support this year," says Richard Rosenthal, President of the

Max

Cares

Foundation

. "The Roasts for the Holidays program is designed to make it easy for charities to receive the

foundation

's support." Nonprofit shelters and soup kitchens wishing to be considered for this year's Roasts for the Holidays program should email

[email protected]

with the name of the organization, contact information, the date of the holiday meal to be provided, and the number of people who are expected to be served. Organizations who wish to participate in this year's Roasts for the Holidays need to contact

Max

Cares

Foundation

by no later than Dec. 1, 2021 to be considered for program eligibility. Organizations who are selected to be a recipient in this year's program will be contacted by a member of the

Foundation

by Dec. 7, 2021.
Massage Envy, located at 333 North Main St. in Bishops Corner, is an official drop off spot for Toys for Tots this holiday season and it is collecting new unwrapped gifts starting immediately. The deadline for the drop-off is Dec. 14, 2021. Toys for Tots is a program run by the United States Marine Corps Reserve which distributes toys to children whose parents cannot afford to buy them gifts for Christmas. The program was founded in 1947. "We are super psyched to be picked to be a drop spot for Toys for Tots," said store manager Ryan Tetrault. "We hope the residents of West Hartford and surrounding towns will come out and fill the boxes over and over again before the deadline. Just like we want to be the best in our area of business, we want to be the tops in this too." Toys can be dropped off Monday through Friday from 8 a.m. to 9 p.m., Saturday from 8 a.m. to 8 p.m., and Sunday 9 a.m. to 7 p.m. Call the store at 860-233-8890, option 3 with any questions.
If the other side of West Hartford is more convenient, Plan b (138 Park Rd.) is also a collection point for Toys for Tots, and there's a special mailbox where letters to Santa can be dropped off for direct delivery to the North Pole.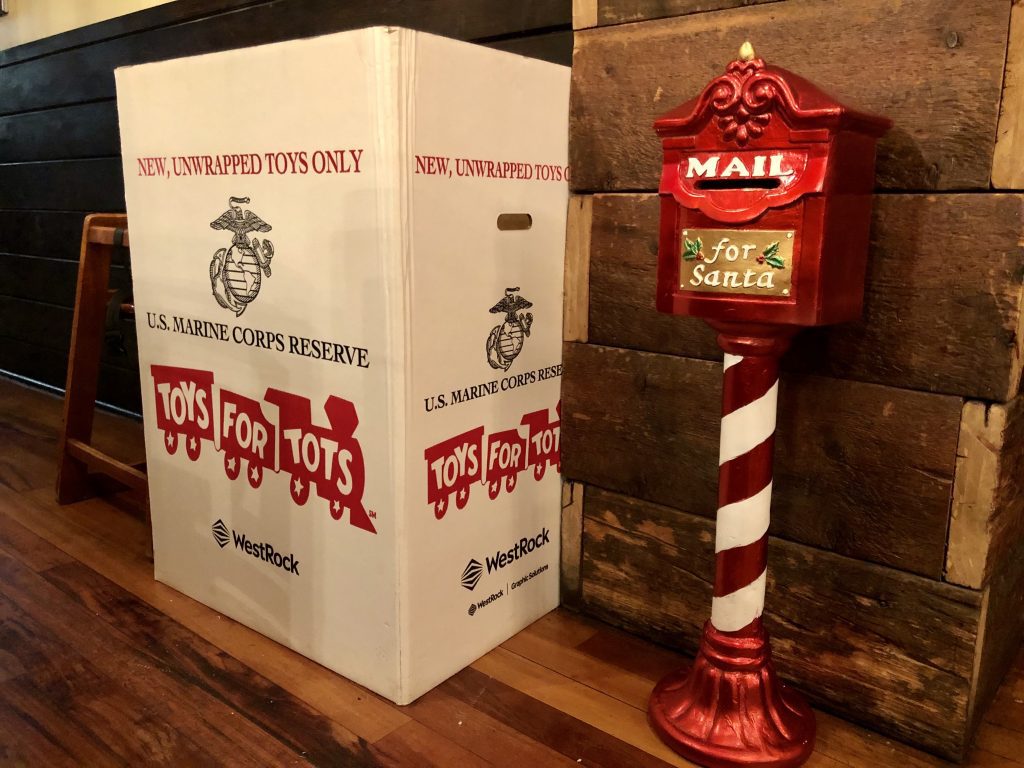 West Hartford-based nonprofit Friends of Feeney, which assists local families and children who are undergoing hardship, also has several charitable events coming up. On Saturday, Dec. 4, from 1-4 p.m., Friends of

Feeney

 will partner with Connecticut Foodshare and Journey Home for a wonderful collaborative event at Lyon's Auto Service, 1056 New Britain Ave. in West Hartford. There will be a mural celebration with live music from '06 (Oh Six), a collection of returnable bottles and cans, non-perishable food items for Connecticut Foodshare, and gently-used furniture for Journey Home. In addition, on Saturday, Dec. 11, from 1-4 p.m., Friends of

Feeney

 will be hosting a toy drive at SockStarz (18 LaSalle Rd.), collecting toys and board games for the Wolcott Caring School Committee.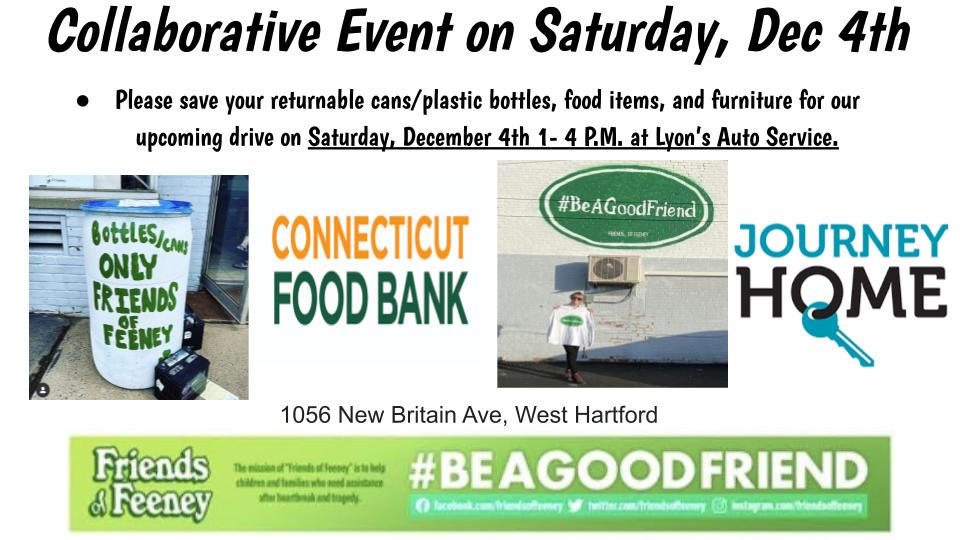 Congratulations to West Hartford resident Erin Monroe, announced recently as the Krieble Curator of American Paintings and Sculpture at the Wadsworth Atheneum Museum of Art. Monroe has served in the American art department at the Wadsworth Atheneum in various capacities since 2007, most recently in the role of associate curator. "It is beyond exciting to me to be an ambassador to this astounding collection of American art," said Monroe. "At a time when there are incredible changes underway in the field of American art, I look forward to collaborating with my colleagues at the Wadsworth to propel a more inclusive, more diverse view of history through art." Jeffrey Brown, CEO and Interim Director at the Wadsworth, said, "In Erin's 15 years with the Wadsworth she has developed a deep understanding of our renowned American collection, and the stories they tell. She has a masterful way of translating her scholarship in humanistic terms and insightfully putting it into a broader context."
West Hartford-based Fuchs Financial has announced the hiring of East Hartford resident Gina Mazzadra as an associate financial Advisor. Mazzadra has more than eight years of experience in the financial industry, focusing primarily on client needs. She has expertise in client services, and retirement plans, having acquired her Series 6, 66, and 7 licenses. She has her Life and Health Insurance license and is an Accredited Retirement Plan Specialist. She is also currently pursuing her RICP designation. Prior to joining Fuchs Financial, Mazzadra was a Client Service Associate at Morgan Stanley and a 401(k) Plan Manager with Voya Financial.
West Hartford resident and attorney Jaimie Russell has recently joined the Hartford location of law Halloran Sage. She practices in Litigation & Dispute Resolution and Insurance Defense, representing clients in personal injury, motor vehicle accidents, product liability, and premises liability matters. She earned her JD from Roger Williams University School of Law and her BSBA from Western New England University.
Dr. Steven Luger, a West Hartford resident who been working with Lyme disease patients since 1982, has announced the opening of an online Lyme disease information and consulting service, TheLymeDiseaseExpert.com. Over the last five years, until this past June, Dr. Luger, who attended the Royal College of Surgeons in Dublin, Ireland, and graduated with his MD from the University of Rochester, has concentrated his practice in a Lyme disease clinic that he established at ProHealth Physicians. His passion is sharing a proper understanding of the disease with the public and with other providers.  He has given Lyme disease lectures in many public venues and appeared on radio (NPR) and television programs (including Good Morning America) to discuss the disease and other tick-related issues. Services include complimentary video visits; comprehensive video evaluation of a client's history, treatment, lab results and ongoing concerns; and free virtual video presentations for nonprofits. More information can be found on his website.
Remember, if you have any business news to share, add it in the comments section below or email Ronni Newton at [email protected].
Like what you see here? Click here to subscribe to We-Ha's newsletter so you'll always be in the know about what's happening in West Hartford! Click the blue button below to become a supporter of We-Ha.com and our efforts to continue producing quality journalism