A round-up of openings, closings, and other news about West Hartford businesses.
By Ronni Newton
I hope everyone enjoyed the balmy weather on Saturday, and I hope many readers are also enjoying a nice three-day weekend.
Ted and I escaped to Nantucket for the weekend. It's not officially a long weekend for either of us, but we had some fall tasks to do around the house here and we wanted a chance to see Ted's parents (finally indoors, but distanced and masked). Also, we had both signed up for the Hartford Half Marathon and, since the race is virtual this year, we thought it would be fun to run on Nantucket.
Those plans didn't expect 25-30 mph steady winds, with even stronger gusts.
Ted came up with a great route – an out-and-back to one of the south shore beaches that was mostly on bike paths – but from mile 4 through almost mile 7 it was more uphill than downhill, and heading straight into that wind. It was also in the upper 60s and somewhat humid, which isn't really ideal long-run weather.
It wasn't so much a problem for Ted, who had trained well for the 13.1-mile distance and isn't so much phased by the wind, but it nearly did me in. Since I've been running alone I'm somewhat [very much] less motivated to run longer distances, and my longest training runs were a 10-miler and an 11.5-miler, with everything else 8 miles or less. And I woke up with a sinus headache (excuses, excuses) but decided that no matter what, I was running that race Saturday morning. It was by far my slowest half marathon ever (by about a minute a mile) but through sheer will and determination I managed to finish.
We usually enjoy a beer at the beer tent in Bushnell Park after running the Hartford Half Marathon, and thought we would celebrate at Nantucket's Cisco Brewers – but when we arrived there was a 2-hour wait for a table! The Chicken Box, a famed night spot on Nantucket, was a great afternoon alternate for our celebratory lunch, and they serve Cisco's brews there.
Although it's still windy, the weather has been great for walking on the beach, and it's been prime seagull chasing conditions for Millie.
It's great to have a fall getaway, but we'll be back in West Hartford early in the week.
Beginning next week, we will have a new feature included each week in Business Buzz! "Keeping it in the community" will include tips for how you can support local businesses, as well as a mini-feature on a local business.
Please continue to support our local businesses, and please wear your masks if you are in public places, and stay safe and healthy.
If you have information about businesses changing their operations due to COVID-19, or doing something worth sharing, please provide that information in the comments or email Ronni Newton at [email protected].
Here's this week's Buzz:
I've been waiting to say this for several years: GastroPark is now open! I was afraid I was going to already be out of town and miss opening day, but then it was moved up from Oct. 9 to Oct. 8, and Ted and I had a chance to stop by on Thursday night and enjoy some great food and drink. The outdoor area is open, and the community is now able to "gather and graze" from an assortment of food trucks, in a fun and casual atmosphere appropriate for people of all ages. Craft beer and wine is also available. GastroPark is dog-friendly, too! There are propane heaters to keep people warm outdoors, and the indoor seating area should be open sometime in November, owner Tate Norden said. Hours are currently Thursday through Sunday, 11 a.m.-8 p.m. Visit the website, and follow GastroPark on Facebook or Instagram (@thegastropark) for food truck schedules and listing of special events such as Oktoberfest, coffee and yoga, and other seasonal events and vendor exhibits. For much more information about GastroPark, here's the link to the story I did in August. More photos are below.
A transformation of the former Park Tavern space (140 Park Rd.) has been ongoing since the late spring/early summer – and Beachland Smoke will be opening in a matter of days, owner Chip Kohn advised! Kohn said previously that he had been considering the transformation for a while, and the pause in business caused by the pandemic was a good time to do it. Beachland Smoke will offer some of the smoked foods that are available on the Beachland Group's menus at Beachland Tavern and Rockledge Grille – and much more. Look for a full feature story to come later this week.
There is new ownership of Philip David Jewelers – well not really that new, but because of everything that has happened this year I didn't realize it until recently! Back in May 2019, Pamela Rosin announced her plans to retire from Philip David, the business started by her parents, and where she worked for more than four decades. At the time she said she would close the store if she couldn't find a buyer who shared her vision and passion for hand-crafted jewelry, but she successfully found a great new owner. Kymrie Zaslow purchased Philip David from Rosin in January, and after spending the month of February really learning the business, was then shut down for several months. Now, with the help of associate and social media guru Sevim Bakir, things are going really well at the 968 Farmington Ave. store. "I was a customer of Pamela's for 25 years. I fell in love with the store when I was first living in West Hartford, and when I found out she was returning and was going to close, we started talking. … I've always loved shopping here," Zaslow said. She had a background in the floral business and in education, and was eager to become a business owner. "There has not been any change in what Philip David has always been," said Zaslow, with the same handmade jewelry that the customer base loves – although they are stocking more stud earrings because they work better with wearing a mask. In February, before the pandemic shut things down, Zaslow had a chance to go to a New York show with Rosin, who returned to work part-time at the store once they reopened, and together they found some new designers whose work is also now featured in the store. Bakir has helped add an e-commerce site to the store, as well as an active social media presence which allows customers to shop through Facebook and Instagram. "The artists we continue to find … they're amazing," said Zaslow. "Its not just about the workmanship, it's about great relationships." Bakir said future plans include some virtual shows on how to wear and care for jewelry. See lots of photos below.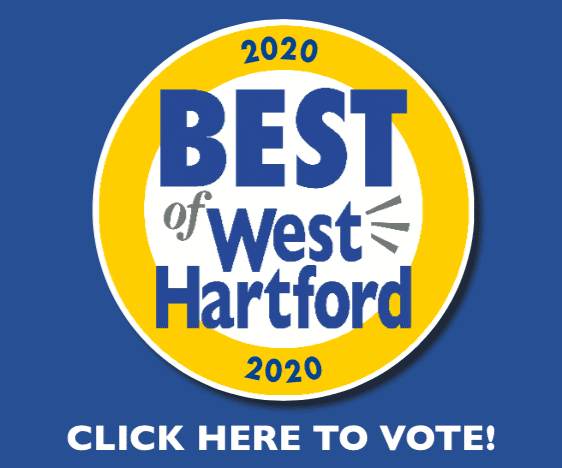 Best of West Hartford voting ends at midnight tonight, so don't forget to vote for your favorite business in a variety of categories. Click here to vote. Finalists and winners will be announced at an event on Friday, Nov. 13 – details to follow!
In case you missed it above, beginning next week, we will have a new feature included each week in Business Buzz! "Keeping it in the community" will include tips for how you can support local businesses, as well as a mini-feature on a local business. Chamber of Commerce Executive Director Chris Conway and West Hartford Economic Development Coordinator Kristen Gorski will collaborate with me on this feature!
Congratulations to West Hartford-based Legrand, which has been recognized with a Silver Award for outstanding innovation by Cable Installation & Maintenance. An article in Virtual Strategy magazine noted: "

Judges were impressed with the fiber solution's potential to deliver increased optical headroom, and ability to deliver advanced network performance, with a variety of density, enclosure, and application options — for a 67% improvement over standard systems.

F45 Training West Hartford will have its grand opening in November or December in Crossroads Plaza in Bishops Corner, and is currently offering founders rate memberships, owner Lauren Lansing said. "

We went above and beyond to make sure our staff and members are safe by purchasing a list of COVID-19 disinfectant and cleaning products. We will be following the Connecticut COVID guidelines. Masks are always recommended, but optional for members and required for staff. Our new workouts are designed with COVID-19 in mind to minimize classroom flow," Lansing advised.

 Click here for details. More information is also available on the F45 website.
Congratulations to the Town of West Hartford, which was awarded the Certificate of Achievement for Excellence in Financial Reporting by the Government Finance Officers Association of the United States and Canada (GFOA) for its comprehensive annual financial report (CAFR) for the fiscal year ended June 30, 2019. According to a news release: "The CAFR has been judged by an impartial panel to meet the high standards of the program, which includes demonstrating a constructive 'spirit of full disclosure' to clearly communicate its financial story and motivate potential users and user groups to read the CAFR. The Certificate of Achievement is the highest form of recognition in the area of governmental accounting and financial reporting." The award was presented to Director of Financial Services Peter Privitera and Accounting Manager Lisa Newton, as well as the rest of West Hartford's accounting staff.  "The GFOA established the Certificate of Achievement for Excellence in Financial Reporting Program (CAFR Program) in 1945 to encourage and assist state and local governments to go beyond the minimum requirements of generally accepted accounting principles to prepare comprehensive annual financial reports that evidence the spirit of transparency and full disclosure and then to recognize individual governments that succeed in achieving that goal. The goal of the program is not to assess the financial health of participating governments, but rather to ensure that users of their financial statements have the information they need to do so themselves."
This year's version of Hartford Rib Off features a "Week of BBQ" from Oct. 19-25 at a variety of area restaurants. "

BBQ Pit Masters, and restaurateurs from all over great Hartford will come together to serve dishes and drinks inspired by anything BBQ, with 50% of the proceeds from those dishes or drinks, going to the Hartford

Rib

Off

charities," which include Journey Home, the Hole in the Wall Gang Camp, and the Hartford Rib Off Scholarship Fund, a news release announced. Among the restaurants participating are West Hartford's Flora, Mecha Noodle Bar, Plan B Burger Bar, and Union Kitchen. 

For more information and a full list of participants, visit

www.HartfordRibOff.com

 or follow on social media @hartfordriboff.

Now for some sad news … Rizzuto's, which finally reopened the popular Blue Back Square restaurant in early August and had a great summer with its outdoor dining cabanas, closed last week and will remain closed "temporarily" – but there is no reopen date set as of this point. "

Unfortunately, we will continue to stay closed for the foreseeable future. We appreciate your continued patience and look forward to reopening as soon as possible," Rizzuto's said in a Facebook post.

Also closed – and this one is permanent – is Joe Cornfield's Wallpaper and Window Treatments (485 New Park Ave.). "

It is with the deepest sadness that we announce the closing of Joe Cornfield's Wallpaper & Window Treatments. The current economic climate has proved too harsh for us to weather. We thank our loyal customers for 31 years of business..we appreciate all of you… – Jerry and Susan," the business posted on Facebook last week.
Remember, if you have any business news to share, add it in the comments section below or email Ronni Newton at [email protected].
Like what you see here? Click here to subscribe to We-Ha's newsletter so you'll always be in the know about what's happening in West Hartford! Click the blue button below to become a supporter of We-Ha.com and our efforts to continue producing quality journalism.