A round-up of openings, closings, and other news about West Hartford businesses. 
Business Buzz is sponsored by NBT Bank, and we are very thankful for their support!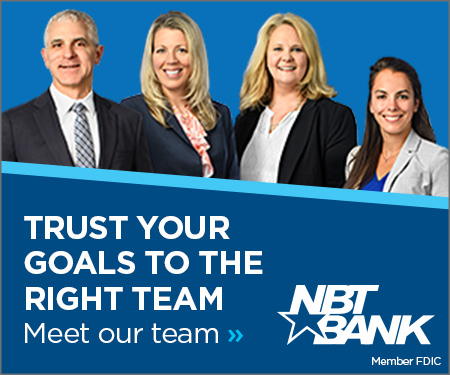 By Ronni Newton
Oct. 16 already! I can't believe the month is half over already, but between being away last weekend and into the first part of last week – and then gearing up for and then running the half marathon on Saturday – I have been very delinquent in getting set for fall. My sandals and summer clothes are still in my closet, and I haven't bought a single pumpkin (unless you count Trader Joe's pumpkin coffee).
Now that the race is over (you can see photos here, thanks to Craig Rosenberg) I can get back to a more normal schedule and workout routine – once my ankle feels better, that is. I've dealt with a number of injuries over the past few months, and probably running 13.1 miles didn't do much good for the inflamed tendon in my right ankle (not the foot I hurt back in June when I was on crutches). I thought it was pretty much all better and was having a great race on Saturday (meaning that I was running too fast even though I should know better) until about mile 7 when it really started to hurt.
Hobbling didn't keep me from going out with Ted (who volunteered as a bike marshal for the half and full marathon this year) and my sister (who also ran the half marathon) for what has become a customary post-race dinner at Beachland Tavern. Eating that burger and sweet potato fries was one of the things I was thinking about while running!
Earlier in the week I had a chance to sample some of the food at Boqueria, which opens today! I linked the story in a bullet point below, but here's a tease …
I'm looking forward to attending the West Hartford Chamber of Commerce's Economic Development Update luncheon on Tuesday – along with an assortment of other events and meetings to cover this upcoming week.
If you're looking for news about West Hartford in print please note that many stories from We-Ha.com, as well as other local news, is published in the twice-monthly issues of the West Hartford Press.
If you have information to share about local businesses, please provide details in the comments or email Ronni Newton at [email protected].
**************************************************
Here's this week's Buzz:
I have not been able to tour the inside yet, but have confirmed that Arhaus is opening this week at Westfarms – in the part of the mall that's in West Hartford, right next to the Macy's men's/furniture store. The exterior work is nearly complete (there are a few pieces of construction equipment in the parking lot that will probably be put to use on Monday to finish the job) and while I wasn't able to get close enough to take a decent photo through the window (and the barriers are still up inside), I was able to see inside the store when I stopped by on Sunday and it appears to be all set up and ready to go. The store is 9,700 square feet and the project incorporated a significant refresh of the monochromatic two-story façade and Westfarms entrance facing New Britain Avenue. In April 2022, the Town Council approved updates to the Special Development District to accommodate the exterior renovation. This will be the first location in the Hartford market for Arhaus, which offers premium home furnishings that "are sustainably sourced, lovingly made, and built to last." I hope to have an interior tour in the next week or so and will share photos and details!
In other Westfarms news, I have confirmed that Everything But Water has started construction of their new location in the former Yogibo space next to Tory Burch, Kilim Design has reopened after relocating to the former abercrombie kids/Go Calendar space on the lower level near Macy's, and trendy sneaker/streetwear/sportswear retailer Snipes will be opening in the EbLens/Disney space on the upper level near Macy's.
SDSS Martial Arts is now open in the former Relax the Back space at 982 Farmington Avenue in West Hartford Center. SDSS formerly had a location in West Hartford (Crossroads Plaza in Bishops Corner) that closed in 2021 due to COVID. Logan Bernard – who was part owner and manager of an SDSS location in the Boston area – is now the franchise owner in West Hartford and said in a recent interview that he had been wanting to open in West Hartford for a while, and it was a "stroke of luck" when he contacted Mike Mahoney of RLM Co. and found the Farmington Avenue space that was just the perfect size and location. SDSS had a soft opening over the summer, and now offers classes Monday through Saturday. They are open Monday through Thursday from noon to 8 p.m., Friday from 2 to 6 p.m., and Saturday fro, 9 a.m. to 1 p.m. Classes are separated by ages (3-6, 7-10, 11-15,, and 16-adult). "I can also speak from experience that my 6-year old son has been attending SDSS and Logan's classes and it has been such a wonderful experience for him," reader Laura Maulucci shared in an email to me. More details about SDSS can be found on the website.
The West Hartford Chamber of Commerce celebrated the opening of Hibiscus & Honey with a ribbon cutting on Thursday at the 12 North Main Street location. Carla Gunn-Samson, MD, who has 16 years of experience as a practicing ob-gyn, is the founder of the business which provides services that include hormone and testosterone therapy, medical weight loss, laser hair removal, and women's intimate wellness. More information can be found on their website.
No opening date yet, but plans are progressing for The Bakery by The Place 2 Be in the former Spot Coffee space in Blue Back Square. I'll keep following up!
Congratulations to West Hartford resident and FOX61 Reporter Jim Altman who received the National Edward R. Murrow Award for Excellence in Writing on Monday, Oct. 9 at Gotham Hall in New York City. He earned the award for a series of reports from Altman's compilation called "From Pen to Paper to Pixels: Jim Altman Writes 2022."
Congratulations to Darin Reisler, owner of West Hartford's Plus One Defense Systems, on his induction earlier this month into the United Martial Arts Hall of Fame!
The Bridge Family Center has welcomed Judy Halpern as its director of Performance and Quality Improvement. According to Executive Director Margaret Hann, in this newly-created role, Halpern will gather data to support decision-making and ensure best practices. She will conduct a comprehensive business analysis to identify areas for improvement and develop strategies to enhance performance, collaborate with cross-functional teams to implement performance improvement initiatives, and monitor their effectiveness. "The Bridge is very excited to welcome Judy to this role," Hann said. "One of our great strengths is our ability to grow and evolve as the needs of the community change. The creation of this position is another example of our commitment to continuous quality improvement. With Judy's expertise and skills in gathering informed data and identifying key performance indicators, we can analyze opportunities and challenges within our programs and adapt our services to provide best possible outcomes." Halpern holds a bachelor's degree in political science from Eastern Connecticut State University and a master's in public administration from Northeastern University. For the past seven years, she has been engaged in assessing pharmacy higher education at the University of Connecticut and the University of Saint Joseph.
Best of luck to West Hartford resident Ray Lamoureux, who has been named director of marketing TEGNA's television stations in Hartford, FOX61 and CW20 announced earlier this month. According to the announcement, Lamoureux will lead brand and marketing initiatives across the two stations' television, digital, social, and streaming initiatives. "We are thrilled to welcome Ray Lamoureux as the newest addition to our FOX61 and CW20 family. With his innovative vision, extensive expertise, and track record of success, we are confident Ray will lead our marketing efforts to new heights, ensuring our viewers stay informed and engaged," said Humberto Hormaza, president and general manager. Lamoureux, who most recently was senior director of Marketing Strategy and Planning for The Travelers' Business Insurance portfolio and previously served as marketing director at Westfarms, has more than 15 years experience developing and implementing integrated marketing strategies and innovative marketing solutions. He began his career at ESPN. Lamoureux studied fine arts at the  University of Hartford and is an accomplished photographer who has had his work exhibited throughout Connecticut.
Congratulations to

Dr. Shyamala Raman

,

USJ

professor emerita of economics and international studies, and

Rohan Freeman

, a

USJ

trustee, who were inducted into the Immigrant Heritage Hall of Fame Thursday, Oct. 12 at the Aqua Turf Club in Plantsville, the

University of Saint Joseph

(

USJ

) announced. Presented by the National Immigrant Heritage Center, this honor celebrates immigrant heritage and cultural diversity and promotes those who have made tremendous strides in contributing to American society. As the former co-chair of the Connecticut Council for Interreligious Understanding and a board member of the World Affairs Council of Connecticut, Dr. Raman strongly believes in dialogue between faiths and the importance of building bridges of understanding. She has also hosted lectures from exiled writers from Syria and other countries in partnership with the City of Asylum program. For Dr. Raman, "teaching is a spiritual exercise." Freeman is a successful entrepreneur and civil engineer who established the Freeman Companies and has used his success to give back through endowed scholarships. He has been on the

USJ

Board since 2018. "These individuals are a perfect example of perseverance, dedication and commitment," said

USJ

President Dr. Rhona Free. "We cannot thank them enough for not just the contributions they've made to our society but also to the

USJ

community."

This week's sad news: Phở 135, which opened in August 2018 at 135 South Main Street, will be closing for good at the end of the day on Monday, Oct. 30. I'll miss this restaurant – which is right in my neighborhood! Owner Tiffany Nguyen told me that the business has been sold, and I'll share the details about the new restaurant that will be opening in the space as soon as they are available.
Another closing to report – which is not in West Hartford but is nearby and frequented but West Hartford residents, is Design Forum. After 50 years in business at their 902 Farmington Avenue, Farmington location, owners Bill and Joan Handler said they are retiring. "We are an eclectic gift shop which was awarded by Connecticut Magazine the title of Best Gift Shop for two years in a row. We have distinctive jewelry and a variety of wonderful and creative gift items," they said. The closing is planned for November, and currently everything in the store is 25-50% off.
ICYMI, Boqueria officially opens today, but I got a sneak peek at the interior and got to sample some of the menu items last week. Click here for the details.
Juniper Homecare is celebrating their 25th anniversary and recently held a celebration of that milestone along with the unveiling of the most recent mural on their 1100 New Britain Avenue headquarters. Read the complete story here.
Remember, if you have any business news to share, add it in the comments section below or email Ronni Newton at [email protected].
Like what you see here? Click here to subscribe to We-Ha's newsletter so you'll always be in the know about what's happening in West Hartford! Click the blue button below to become a supporter of We-Ha.com and our efforts to continue producing quality journalism.