A round-up of openings, closings, and other news about West Hartford businesses.
By Ronni Newton
I've seen some absolutely incredible autumn photos of Connecticut over the past few days, and this is certainly the time of the year when people truly appreciate the beauty of our state.
I've been out of town over the past few days, on a quick visit to my in-laws on Nantucket. There was plenty of fall color when we were heading east on I-84 on Friday morning, but the monsoon-like rains that lasted almost all the way to the Cape made it hard to see anything, and even following the lane markings on the highway was a challenge.
Saturday and Sunday on Nantucket, however, were "chamber of commerce" type days – warmer and certainly sunnier than many of the days we see here in the summer. While I've still been working, in addition to spending some quality time with Ted's parents, to me there is nothing better than being able to take a break for a walk on the beach. Millie has also been having a fabulous time in her happy place – and has chased not only seagulls on the beach, but also quite a few deer.
We are in the midst of election season, and last Monday John Lyons and I hosted a We-Ha Roundtable discussion with statewide Democratic candidates Stephanie Thomas (secretary of the state) and Sean Scanlon (comptroller). If you missed it, you can click here to view the video. Later today (Facebook Live at 2:30 p.m.) John and I will be hosting Republican candidates for the same offices – Dominic Rapini (secretary of the state) and Mary Fay (comptroller). If you can't watch live, the video will be available for viewing at any time on WHCI's website or YouTube channel.
Last week I was also honored to have been invited to provide post-debate analysis on CT Public (along with Frankie Graziano , at left in photo below, and Dan Haar) for the 1st Congressional District debate between Democrat U.S. Rep. John Larson and his Republican challenger, West Hartford resident Dr. Larry Lazor. That debate can be viewed on demand here.
Not only did I not have the opportunity to have dinner (or any meal) at one of our West Hartford restaurants last week, but I also missed dinner on a few of the nights. I'm not proud to say that Tuesday night's dinner was an oatmeal raisin cookie that I pilfered from the stash in one of the candidate's green rooms prior to the debate, and I enjoyed a granola bar for dinner during Tuesday night's marathon public hearing and Town Council meeting.
Thankfully this weekend was a bit less hectic, and Ted and I enjoyed some frosty beers at the original Cisco Brewers on Saturday afternoon (off-season means no long line to get in, and no cover charge even though there was live music), and while we weren't willing to wait more than an hour for a table Saturday night at The Brotherhood of Thieves (I thought it was crazy since it's mid-October, but the iconic restaurant did just reopen this year), we did have a yummy dinner at The Charlie Noble where we were seated immediately.
There were 46 positive cases COVID-19 in West Hartford over the past seven days (as of Saturday), and a positivity rate of 14.2%. The numbers continue to fluctuate slightly, but remain in the same range in West Hartford as well as statewide. One day I hope to be able to delete this paragraph completely, but in the meantime, please continue to have patience since not everyone has the same level of comfort, continue to look out for each other, support our local businesses – and stay safe and healthy.
If you're looking for news about West Hartford in print please note that many stories from We-Ha.com, as well as other local news, is published in the twice-monthly issues of the West Hartford Press.
If you have information to share about local businesses, please provide details in the comments or email Ronni Newton at [email protected].
**************************************************
Connecticut Physical Therapy Specialists is the sponsor of this week's Business Buzz!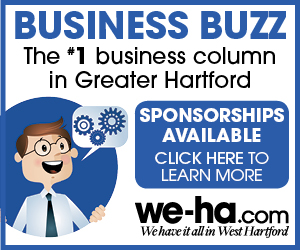 Here's this week's Buzz:
It sometimes seems overwhelming to me just how much business news about West Hartford takes place on a weekly basis, and it's astounding how much has happened in the past 17 months. Last week's Economic Development Update, presented by Economic Development Coordinator Kristen Gorski, was an outstanding overview of business developments that have taken place since her last update – which due to the pandemic took place via Zoom in May 2021. There were definitely a few businesses that haven't been mentioned in this column, which I'm highlighting today. One is Store More Outdoor – which does exactly what the name implies. Store More Outdoor, located at 179 South Street, opened this past summer and is the transformation of what had been a contaminated property into something for which there is a definite need. "This is a really interesting project," Gorski told the audience at the Chamber of Commerce luncheon last week. The former Honeywell factory building on the site had been demolished but due to remaining contamination the site remained vacant with limited opportunities for development until some local business owners purchased the 12-acre property in 2021. It's now been turned into a facility for much-needed secure storage of large items ranging from tractor trailers, to boats, campers, RVs, and construction equipment. There are also 30-foot storage containers available on site, and a truck wash.
Mark Buskey and Carmen Perez have just opened Gypset Salon, in Crossroads Plaza in Bishops Corner, and had a grand opening celebration on Oct. 8. Both have worked in West Hartford for more than 30 years. "Carmen and I have worked at two previous places together, first at Moda Rey, then we were at Fringe," Buskey said. "We both have over 30 years experience. … We wanted to open up a small, upscale, boutique salon where one feels comfortable and invited, where there is no attitude or judgement," he said. "We just want good energy, positive vibes and to put out into the world  beautiful, modern hair – and where else can you get your hair done under a disco ball!" For more information about Gyspet Salon, visit their website.
The physical location of this business is not in West Hartford, but Gather 55, the "pay what you can" initiative of Hands On Hartford which is located at 55 Bartholomew Ave. in Hartford, opens to the public for dinner on Oct. 19. Gather 55 has the support of many local chefs, including West Hartford restaurateurs. Chef Tyler Anderson of Millwrights is the first of a series of rotating chefs who will be preparing a prix fixe menu. The fixed price is $42, but 20-25% of reservations are available for diners who are unable to pay. Those who would like to dine at no charge are invited to email (

[email protected]

) and make a request. The initial dinner menu – which I think sounds amazing – can be found below.
Another of the new businesses coming to West Hartford that was mentioned in last week's Economic Development Update is West Hartford Winair, which has leased 35,000 square feet at 9 Andover Drive, a roadway in the industrial park off Oakwood Avenue. Winair – which has a significant presence in Windsor – will be one of the largest industrial occupancies in town, Economic Development Coordinator Kristen Gorski said. According to their website, "Windsor Winair is the premier service delivery wholesaler for Hartford county and surrounding areas. Founded in 1995 by Glen Baskin, who saw the need for a quick, accurate, and knowledgeable HVAC supply company in the heart of the state. Since then, we have served the area with the utmost in professional service." Work has started on the build-out – although there is not yet any signage – and after driving around for quite a while, and with a bit of assistance, I finally located the correct building!
Another new business opening in town, mentioned during the Economic Development Update, is LINK Scooters, which will be using 14 Grassmere Avenue for storage of scooters that are not in use, as well as for other purposes. LINK scooters has an operational program in Hartford, but not in West Hartford at this point.
Another business mentioned during the Economic Development Update by Economic Development Coordinator Kristen Gorski, which will be opening in West Hartford, is Cha Papi. There's not much information available yet, other than that Cha Papi offers "tea and sweets" and will be opening in the Shield Street Plaza at 150 Shield Street, a few storefronts down from the A Dong Supermarket.
It was great to see a feature in the most issue of Runners World on Stephanie Blozy, co-owner with her sister, Carrie, of Fleet Feet Sports West Hartford! The article "Changing My Trajectory – and Helping others Do the Same" chronicles the journey of Blozy's diagnosis of lupus and how she rediscovered her love of running, bought the West Hartford store, and was empowered to grow and support the area's incredible running community. Click here to read the complete story.
Congrats to Smoke Public House (140 Park Road), which will be celebrating their first anniversary this weekend, owner Rich Sin-Clair said. I've been there a number of times, and it's really one of West Hartford's hidden gems!
A free

Halloween Workout Bash & Social

will be held on Friday, Oct. 21, from 5-6 p.m. at

WeHa Brewing and Roasting

, with socializing to follow. The workout will be led by

Lori-Ann Marchese

of

Body Construct Fitness

and

Antony Atallah

of

Knockout Fitness

. Advance registration is required (

click here for details

) because space is limited. The event includes a free small beer or coffee, raffle, and workout class with a live DJ! Participants are invited to wear costumes, and fun is definitely part of the plan.
I was never able to find out why it was closed, but I have been advised by several readers that Boston Market (1240 Farmington Ave.) has reopened.
Congratulations to West Hartford resident Shannon Marimón, CEO of statewide nonprofit ReadyCT, who was recognized as a 2022 C-Suite Honoree by the Hartford Business Journal. ReadyCT works to improve the educational experience for K-12 public school students, with a focus on advocacy and programming that sets them up for success relative to their career journey. "By forming thoughtful partnerships, ReadyCT can advance education policy and offer leading-edge programming that helps teachers teach their best so that every public high school student in Connecticut graduates confident in their ability to pursue a wide range of college and career pathways," the organization's website states.
Congratulations to West Hartford resident Devon Bohm, a winner in the L. Ron Hubbard Writers of the Future Contest The honor has earned her a trip to Hollywood, a week-long master-class workshop, and her winning story will be published in the international bestselling anthology, L. Ron Hubbard Presents Writers of the Future Volume 39. According to a news release, Bohm is a poet and writer who received her BA from Smith College and her MFA in Poetry and Fiction from Fairfield University. At Fairfield, Bohm became increasingly frustrated with the denial of genre fiction as "Literature" and began exploring the big question of why people were attracted to different forms of speculative fiction. The answer she found didn't surprise her, as it was what she'd always valued about her favorite writers: genres like fantasy or science-fiction perform the same function of all good literature by finding new and inventive ways to help the reader see their world (and self) more clearly. Bohm lives in West Hartford with her husband, son, and dog – Harry Dresden Pawter – where she spends any time she can find reading and writing. Her first full-length collection of poetry, "Careful Cartography," was published by Cornerstone Press in 2021 as part of their Portage Poetry series. The book was shortlisted for the 2022 Eric Hoffer Award, winning both the First Horizon Book Award for a debut poetry collection and the distinction for a publication by an academic press in the contest. Additionally, her poetry has been featured in numerous publications, but this is her first professional sale in fiction. She looks forward to you reading not only this story, but hopefully much more (and many more genres) from her in the future. For more information about the Contests, go to www.WritersoftheFuture.com.
Remember, if you have any business news to share, add it in the comments section below or email Ronni Newton at [email protected].
Like what you see here? Click here to subscribe to We-Ha's newsletter so you'll always be in the know about what's happening in West Hartford! Click the blue button below to become a supporter of We-Ha.com and our efforts to continue producing quality journalism.