A round-up of openings, closings, and other news about West Hartford businesses. 
By Ronni Newton
I was only in town for half of last week, but it certainly felt like a long week! I heard a lot of people say the same thing.
I was happy for the continued warm weather, but it does look like fall is now here to stay, and Ted has taken out the window air conditioners so I hope we don't have an unexpected heat wave.
Although it was a busy and compacted week, I did have a chance over the past few days to finally catch up on a few stories where I had done the interviews and taken lots of photos but just needed to write them. In case you miss the ICYMI bullet point below, here are the links for the stories about the newly-opened Toro Mexican Street Kitchen and Zephyr's Street Pizza – both of which, in my opinion, are great additions to the West Hartford Center and Blue Back Square area.
I didn't have the credentials to attend any of the events where President Joe Biden spoke when he visited the state on Friday, but other West Hartford residents were very much a part of the programs. Commissioner of the Office of Early Childhood Beth Bye, Mayor Shari Cantor, and opera singer Nadia Aguilar-Steinberg shared their experiences for this story.
On Saturday we went to the UConn football game, and thanks to The Miale Team for the invitation to their great tailgate, catered by Black Eyed Sally's, that was also a fundraiser for Connecticut Foodshare. It was also an exciting game, and nice to see UConn finally get the win!
I've been eating a lot of Mexican food and pizza the past few weeks, and was really craving a burger and fries for dinner Saturday so we went to one of our favorite neighborhood hangouts, Beachland Tavern. We were able to watch the Red Sox game during dinner, and neither disappointed!
Please continue to support our local businesses, wear your masks indoors (regardless of vaccination status) – and stay safe and healthy.
If you have information to share about local businesses, please provide details in the comments or email Ronni Newton at [email protected].
**************************************************
Here's this week's Buzz:
When I first arrived to interview the owner of Toro Mexican Street Food, I was shocked (in a very good way) to see the transformation of the property next door at 18 Raymond Rd. Economic Development Coordinator Kristen Gorski told me "something amazing" was going to be coming to that space, and she is oh so right. Last week I had a chance to speak with Rosy Kapur, owner of Liquid Nirvana Juice and Smoothie Bar, who purchased the property and plans to eventually develop it. The process of acquiring the property, which closed in August, took Kapur about a year and a half, she said. The former site of a heating and cooling company and dance studio that was torn down after a fire in January 2005, the garage where the mural is now located was the only remaining property. The owner of the property had died, Kapur said, and when she first became interested she asked about renting it, but the person who inherited it wanted to sell. She decided to go for it. "I didn't think it was going to happen, but then, it happened," she said. "My initial thought was that I wanted to do the juice bar out of the garage," and open it by early next spring, she told me, but as her discussions have continued with West Hartford town officials and with an engineer and architect, she said, that plan has become less likely. Liquid Nirvana is definitely going to open there, but Kapur said there may be additional retail, and maybe office and/or residential development on the 0.21-acre site. The site has already been improved, and in addition the mural created by artist Ben Keller – which Kapur loves – there has been some environmental remediation. She doesn't have a timeline yet for the full project, "but I'm hoping that maybe we will break ground sometime next spring." For those not familiar with Liquid Nirvana, it's a business that Kapur launched in 2014, which now has locations in Glastonbury (2333 Main St.) as well as in Avon (39 E. Main St.). When she started the business, Kapur said, her husband, an oncologist, had been making a lot of smoothies from scratch because they wanted to avoid chemicals as much as possible, and their daughter was getting older so she had more time to pursue opening a business. Liquid Nirvana's product is "as close to homemade as possible," she said, with about 80% of the ingredients organic as well, with a base of almond milk or coconut water and no added sugar or frozen yogurt used. "I feel like we have the cleanest product around," she said, and added that they also use produce from local farms in their juices and smoothies. She lived in West Hartford for 15 years (she's now a Glastonbury resident) and has been wanting to open a West Hartford location for years but said the rents are high. Now she owns the property and is ready to take the next step.  "I'm very excited. It will be a great location," Kapur said.
Congratulations to GastroPark on their grand opening last Thursday – the culmination of years and years of planning and work. There were several celebrations, including the planting of trees to honor those who donated as "Tree Givers" during a crowd funding campaign held in 2020. Other than the commercial kitchen, virtually all of the elements of GastroPark are now in place: two levels of patio, interior seating, a bar, and vending space now occupied by Small State Provisions and Perkatory Coffee Roasters. GastroPark is open Wednesday through Sunday, for breakfast through dinner at a variety of ever-rotating food trucks. (See website for updates.)
At their meeting last week, the Town Council unanimously approved a resolution authorizing Town Manager Matt Hart to apply for a $953,646 Municipal Brownfield Grant from the Connecticut Department of Economic and Community Development (DECD) Office of Brownfield Remediation and Development for the property at 1051-1061 New Britain Ave., currently occupied by Ashley HomeStore Outlet. The program allows municipalities – not businesses – to apply for grants that would assist with brownfield redevelopment projects that could then result in significant economic impact to the community. The grant monies can then be passed along to the developer through a pass-through or sub-recipient agreement, Hart said. The New Britain Avenue property has contamination that needs to be remediated, and the property itself is currently under-utilized, said Hart. Sami Abunasra, president of NASRA Enterprises and the owner of Ashley HomeStore Outlet as well as the building, has expressed an interest in redeveloping the property as a mixed-use transit-oriented development, adding apartments on upper levels, maintaining the furniture store on the ground level, and perhaps adding a restaurant on the ground floor as well. Hart said the project would align with the town's 2020-2030 Plan of Conservation and Development (POCD), and would meet the goals of expanding higher-density, mixed-use development in proximity to the CTfastrak station. Grant applications are due by the end of this week, and if approved, an application to the Town Council for a Special Development District for the project itself would need to be submitted, Hart said.
Stephen Calarco recently opened a new personal training studio, The Strength Spot, (formerly Calarco Training Systems) at 635A New Park Ave. (Building 2A-3). According to Calarco, the studio offers one-on-one personal training as well as semi-private small group training. For more information, contact Calarco at

[email protected]

or through Instagram (@StephenCalarco).
I've gotten quite a few questions this past week about construction taking place outside Fleming's Prime Steakhouse and the former Balos. The project, by Blue Back Square's new owner, Charter Realty & Development Corp., is an expansion of the patio area to accommodate expanded outdoor dining for both restaurant spaces. While the patio expansion is significant – more than doubling the size to 1,950 square feet with a roughly 1,200 square feet addition – there is not at this time a new lease for the vacant restaurant space. "We are actively marketing the former Balos space and have significant interest in the space although all potential tenants are requesting additional outdoor seating area," Charter said in their application to have the patio expansion approved. The changes, which include some new landscaping as well, were within the authority of Town Planner Todd Dumais to approve, and the Town Council was informed of the plans at their Sept. 14 meeting.
Bria Day has launched a new business, Disheveled Diva, which provides "a dose of happiness through designer treats that taste great and actively support local charitable organizations." Day, who is currently president of the Junior League of Hartford, says on her website: "After years of baking and entertaining for friends and family, I realized I could use my talent to raise money for local charitable organizations. Not soon after, I was receiving requests to create sweet treats for neighbors, colleagues, and other sugar-loving folks. The brand 'disheveled diva' was born as a way to champion creative expression, imperfections and all. Plus, 'diva' is a female opera singer, which is my educational background (and who doesn't enjoy a good alliteration?)." Our family had a chance to sample the assortment below (of course I loved the custom We-Ha cookies!) and give everything a major thumbs-up!
Congratulations to Mayor Shari Cantor and her husband, Michael Cantor, who were recognized by the National Conference for Community and Justice during a virtual Human Relations Award banquet last week. NCCJ is a human relations organization that promotes inclusion and acceptance by providing education and advocacy while building communities that are respectful and just for all, and celebrates "the diversity of races, religions, cultures, genders, abilities & sexual orientations."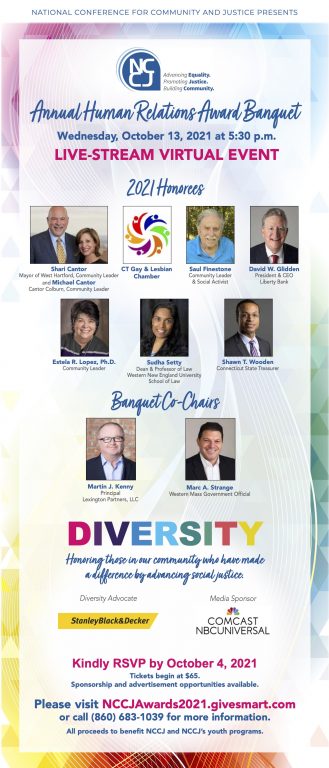 West Hartford Center based YHB Investment Advisors, Inc. advised in an email that they are excited to welcome Diana Dudley as a part-time administrative assistant. Dudley has extensive experience supporting corporate offices and small businesses. Her most recent position was at Ensign Bickford Industries in Simsbury. She also has a wide range of volunteer and leadership experience at several non-profit organizations. She is a graduate of the University of Saint Joseph and resides in Simsbury.
It's Breast Cancer Awareness Month, and West Hartford retailer J.McLaughlin (981 Farmington Ave.) is hosting a fundraiser this Friday and Saturday for the Connecticut Breast Health Initiative. Details can be found on the flier below.
The West Hartford Chamber of Commerce Board of Directors and committee leaders were profiled in the the most recent issue of West Hartford Magazine, and we are going to spotlight one of them each week in this column. These are the people who are working hard – often behind the scenes – to facilitate support for our area businesses. I planned to feature one person per week but inadvertently left it out last week, so we have two people today: Chip Janiszewski, first vice chairperson of the West Hartford Chamber of Commerce and owner of Happiness and Success GPS, and Jeffrey Brine of Kurien Ouellette, the Chamber's legal counsel. You can find all of their headshots and bios (beginning on page 48) in the magazine by clicking here.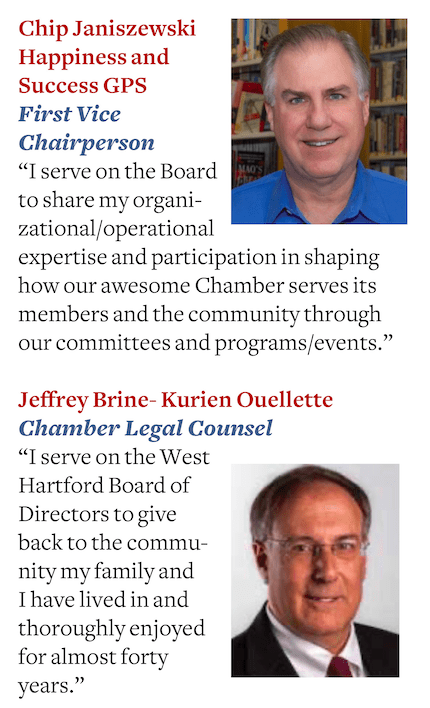 Remember, if you have any business news to share, add it in the comments section below or email Ronni Newton at [email protected].
Like what you see here? Click here to subscribe to We-Ha's newsletter so you'll always be in the know about what's happening in West Hartford! Click the blue button below to become a supporter of We-Ha.com and our efforts to continue producing quality journalism.