A round-up of openings, closings, and other news about West Hartford businesses. 
Business Buzz is sponsored by NBT Bank, and we are very thankful for their support!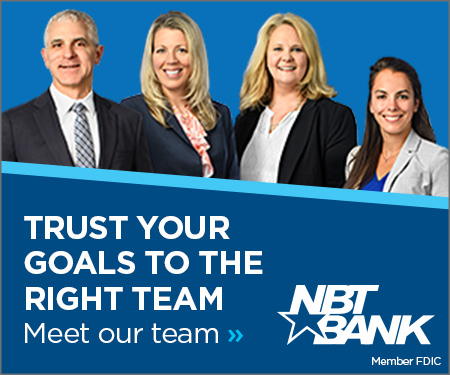 By Ronni Newton
Instead of my usual sadness about turning the calendar over when the new month is neither a spring nor summer month, I'm going to be optimistic that maybe, just maybe, October will be less rainy than the past few months have been.
Our [insert any or all of the following words here: basements, roadways, playing fields, storm drains, mental sanity] need a break from the torrents of rain. I've lost track of how many 100-year storms we have had just since July.
There were a few bright spots in the sky during the middle of the week, and I did manage my 12-mile run (actually went 12.3 miles) early on Wednesday morning when it started off foggy but was thankfully not raining. I did get out there to join the Fleet Feet group for Saturday morning's run, slogging through some major puddles. We're officially in the "taper town" segment of the training program – and while many runners find it difficult to cut back their mileage, I have no problem with that.
Cutting back eating while tapering, on the other hand, is a bit more challenging. Last week's activities included being one of the judges for the Blue Back Burger Bash. It was a blast, and yes, I did eat (well at least sample) six different burgers on Thursday. I tried hard to keep up with my fellow judges – all of whom are just a bit bigger than I am.
The inaugural Blue Back Burger Bash was very well-attended (I'm not a good judge of crowds, but definitely more than 1,000 people must have been there), and it was tough to choose a winner. Rosa Mexicano's burger – that included pico, guacamole, and crunchy tortilla strips – was the winner, closely followed by the Spanish-style Hamburguesa that will be on the bar menu of the soon-to-open Boqueria. I loved the red onion confit on the Fleming's burger, the presentation of The Place 2 Be's burger which included a rubber Duckie (and the quail egg on top), the pure juiciness of the Vinted cheeseburger, and the classic cheeseburger from World of Beer. I've never put onion straws on a burger before but they were on many of the burgers we sampled and I am definitely going to add them in the future.
I was also impressed that owners and/or general managers from pretty much all of the restaurants were at the event and helping out in their tents. This was a serious competition! Photos of all can be found below.
I had another great dinner at a local restaurant last week, but I'm saving it for a feature story.
Saturday's lunch was from the Ted's food truck at the UConn football game (I would have had a cheeseburger but after Thursday I was still burger-out so I had chicken tenders which were truly delicious), and Saturday night we enjoyed a barbecue dinner at the Saint James's Church FallFest. I forgot to take photos of any of those meals.
I'm judging an apple dessert contest at Coldwell Banker this Thursday – and am sure there will be photos to share from that event!
A few housekeeping notes: If you've been wondering where "From the West Hartford Archives" has been, author Jeff Murray has had a few extraordinarily busy weeks with other obligations, but it should return this week. And I hope you have been enjoying our newest column, "Consumer Diary," authored by West Hartford resident Harlan Levy.
If you're looking for news about West Hartford in print please note that many stories from We-Ha.com, as well as other local news, is published in the twice-monthly issues of the West Hartford Press.
If you have information to share about local businesses, please provide details in the comments or email Ronni Newton at [email protected].
**************************************************
Here's this week's Buzz:
In addition to having a fun time and sampling some delicious burgers, one of the other pluses of attending the Blue Back Burger Bash was getting the scoop on a business that just signed a lease last week! The space that had been Oath Pizza but has been empty since April at 67 Memorial Road in Blue Back Square will become Chip City! This will be the chain's third location in Connecticut, and the first in Hartford County (the Fairfield location opened Friday and Darien is opening later this year), with an anticipated opening in 2024. "We are thrilled to be bringing the joy of freshly baked cookies of our childhood to West Hartford as we expand across the Tri-State region, said Teddy Gailas, Chief Brand Officer and Co-Founder of Chip City. "We love the energy and vibrant scene that West Hartford has to offer and can't wait to open our doors next year in Blue Back Square." They were handing out samples at the Burger Bash and I chose the autumn M&M cookie (and ate it over the course of a few days, because the cookies are very large!) and it was thick and gooey – and absolutely delicious! Chip City provided the following details about their business: "Chip City was born in Queens, New York in July of 2017 as a hobby between two childhood friends who sought to recreate the simple taste of their childhood. What began as a fun challenge to see who could create the best cookie turned into the Chip City we know and love today. They rotate more than forty unique flavors every year, such as Peanut Butter & Jelly, the Everything Cookie, Oatmeal Apple Pie, Blueberry Cheesecake, S'mores, Lemon Berry, the Cannoli Cookie and more. Each week, the menu changes to offer classic flavors and seasonal varieties. The brand currently has 22 locations across Manhattan, Brooklyn, Queens, Long Island, New Jersey, Connecticut, and Florida with plans to enter into new markets, including Massachusetts, Virginia and more. Learn more at www.chipcitycookies.com." Oh, and they also ship the cookies nationwide, offer catering, and have a cookie truck available for rental!
I was also excited to learn last week that Rosa Mexicano has just acquired a taco cart – which was on display for the first time at the Burger Bash. "The cart is available for any type of backyard function that you are having," said Julie Nosal, the general manager of the Blue Back Square location. She said it's great for birthday parties, graduations, or other gatherings. "We bring it in, I have one of my chefs there, and the whole night you can just 'taco it,'" she said. All of the details and pricing are available on the website.
Lil Hope is opened for business at 18 LaSalle Road. The interior of the store is adorable (I just *may* have had to buy something) with a selection of cozy fall attire for babies and toddlers, as well as a variety of accessories. It's a spin-off of Hope & Stetson, which is on Farmington Avenue. As a new grandmother, I am pleased to see multiple advances in baby attire since my kids were little – including sleep sacks and magnet closures that appear to be buttons but don't require you to hold a wiggly child still for quite as long. There's also a cozy reading nook in the front of the store and some books where caregivers can hang out for a little while and read. Owner Emma Muchin said they will probably hold a grand opening celebration sometime soon with their also recently-opened next-door-neighbor, Green Tails Market. More photos at the end of the column.
Congratulations to WIP Fitness on their official ribbon cutting held last Friday with the West Hartford Chamber of Commerce, celebrating the re-launch of the business under the leadership of new owners Paul and Julia Ducey. They celebrated over the weekend as well, with an open house held at New Park Brewing. For more information about WIP Fitness, check out last week's Business Buzz column.
The efforts of a West Hartford-based brand helped save a life! ABLE MADE, which was founded by West Hartford resident Suzanne McKenzie – whose husband died of cardiac arrest while playing soccer – is not only an emerging fashion brand but is also an advocate for heart health, CPR, and AEDs. ABLE MADE shared the following story: At a Kendall Wanderers men's soccer game held at Medford High School on Sept. 17, a dire situation unfolded reminiscent of a tragic event from 2009. A player collapsed and fell unconscious from sudden cardiac arrest. The very same fate befell Ucal, husband of ABLE MADE Founder Suzanne McKenzie, while playing against Kendall in Boston in 2009. However, this story took a different, life-affirming turn. In an inspiring response to Ucal's passing, the Kendall Wanderers ensured that each of their five teams was equipped with an Automated External Defibrillator (AED). According to Kendall leadership, this move was also influenced by the dedicated advocacy and education efforts of ABLE MADE, Ucal McKenzie Breakaway Foundation, and In A Heartbeat Foundation. John O'Toole, President of the Kendall Wanderers comments, "Without the inspiration of Ucal and the steadfast dedication of Suzanne and the foundations, it's doubtful we would have had even one AED within the club, let alone five." Able Made was launched in 2012 to support the Ucal McKenzie Breakaway Foundation (UMBF), a foundation inspired by her late husband Ucal McKenzie—a Jamaican-born mentor and soccer enthusiast who died of sudden cardiac arrest on the field playing the game he loved. Able Made is a soccer-inspired luxury clothing brand that blends style, sustainability, and social responsibility. They use portions of their profits to fund UMBF's annual soccer & health camps and clinics, emphasizing hands-only CPR and AED education, health education, and personal growth for city-youth. This past July, Able Made and UMBF joined forces with Boston Parks and Recreation and In A Heartbeat Foundation to begin a program to distribute Automated External Defibrillators (AEDs) across public fields in Boston. Suzanne McKenzie and her company Able Made are honored to have played a role in helping equip Kendall's Bay State Soccer League (BSSL), Boston public parks, and more with these life-saving devices. "Our team's unwavering commitment to education and AED advocacy truly shone this past Sunday," says McKenzie.
The third annual "Fall Into Blue Back Market" will be held at Blue Back Square on Saturday, Oct. 7, from 11 a.m.-3 p.m. The festive, fall market will provide the opportunity to shop from local vendors offering a wide range of handmade goods including jewelry, decor, plants, woodworking crafts, bath & body products, and more. There will be something for everyone with kids entertainment, live music, festive fall treats, and more – happening all afternoon. And, there will also be a collection of food or monetary donations to support Connecticut Foodshare. Vendors will include: Center Street Soap Co., Scrunched Up, The Lil' Plant Shop, Sew Cute & Comfy, Tranquility Threads, Kyann's Crafts, A Touch of Rose CT LLC, The Savage Daughter Within, B&B Designs, KWB Leathercraft, Saige and Solder, Crocheted by Bianca, Paola Prints, KatMcreations, Capo Tribe, and more!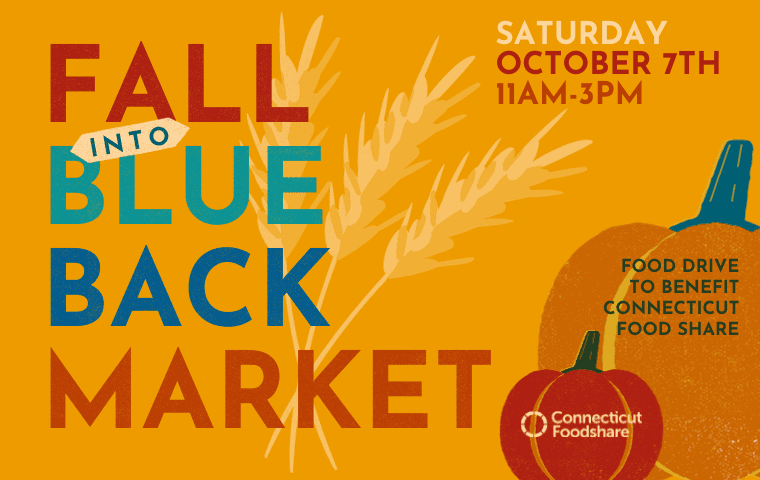 Congratulations to West Hartford Center-based YHB Investment Advisors, Inc., which was recently ranked at No. 39 in the 5th annual CNBC Top 100 Financial Advisor rankings. The CNBC Top 100 Financial Advisor rankings recognize firms that help clients successfully navigate their financial lives and highlights the benefits of working with an advisor.  "This type of recognition reflects the hard work, focus on quality client service, and extensive knowledge that is shared by our team. We are excited and proud to achieve our first-time appearance in the ranking, and be one of only two Connecticut firms appearing this year", said Anne A. Space, CFA, Vice President & Senior Portfolio Manager of YHB Investment Advisors, Inc. More information about the ratings, including the methodology, can be found here.
The University of Saint Joseph has announced that two representatives from the university were among those celebrated by colleagues, family, and friends as among the Hartford Business Journal's newest class of "40 Under Forty." The celebration was held on Sept. 28 at Aqua Turf Club in Plantsville. The two outstanding young professionals from USJ include alumni Berta Zack, principal at Slalom and experienced strategist and a Military Intelligence Staff Sergeant in the Connecticut National Guard and Dr. Kaydian Reid, assistant professor of Public Health and Director of Public Health Graduate and Undergraduate Program at USJ. Both were applauded for their significant achievements and impact in the state. (I know there are others on the list with ties to West Hartford, and I will list them all as soon as I can!)
This is a unique event tailor-made for coffee and culinary aficionados: J.René Coffee Roasters has announced that they are thrilled to partner with Kristiann Vargas of Distinctive Ideas for a one-of-a-kind Chef's Table event on Nov. 4, at 6 p.m. at 320 Park Road in West Hartford. The news release notes that this intimate dinner experience promises an exceptional evening filled with gourmet delights that blend the artistry of coffee and cuisine. Kristiann Vargas, the visionary behind Distinctive Ideas, brings her passion for celebrating special moments with exquisite food and drink to the forefront with exceptionally creative menus and tablescapes. At this Chef's Table event, guests will embark on a culinary journey prepared by Vargas featuring six coffee-inspired mini courses expertly paired with four masterfully curated wines. "Coffee is a sensory experience that brings people together for connection," said José René Martínez, owner of J.René Coffee Roasters. "We couldn't think of a better way to highlight the relationship between coffee and cuisine than through Kristiann's spectacular creations. Her menu not only highlights her exceptional talents, but her creative ability when given ingredients such as our coffee. "This will be our first dinner event and we hope to offer many more in the future!" echoed Marie Engel, owner of J.René Coffee Roasters. Tickets can be purchased online.
October is Breast Cancer Awareness month, and at the J.McLaughlin store in West Hartford Center (981 Farmington Avenue) there will be a shopping fundraiser on Friday Oct. 6 that will include a donation to Middlesex Health. Details in the flyer below.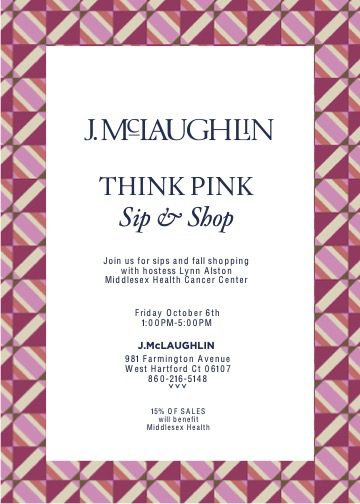 ICYMI, one of the biggest stories happening in West Hartford right now involves the the planned Oakwood Park development at the former UConn campus property being proposed by West Hartford 1 LLC. The developer held a neighborhood outreach meeting last week, and clearly there is a lot of interest in the project. I attended the meeting as well, and here are the details.
ICYMI, West Hartford resident Kevin Masse continues to expand Small State Provisions – which he launched as a cottage food business in his kitchen in 2019. Click here for complete details.
Remember, if you have any business news to share, add it in the comments section below or email Ronni Newton at [email protected].
Like what you see here? Click here to subscribe to We-Ha's newsletter so you'll always be in the know about what's happening in West Hartford! Click the blue button below to become a supporter of We-Ha.com and our efforts to continue producing quality journalism.