A round-up of openings, closings, and other news about West Hartford businesses. 
Business Buzz is sponsored by NBT Bank, and we are very thankful for their support!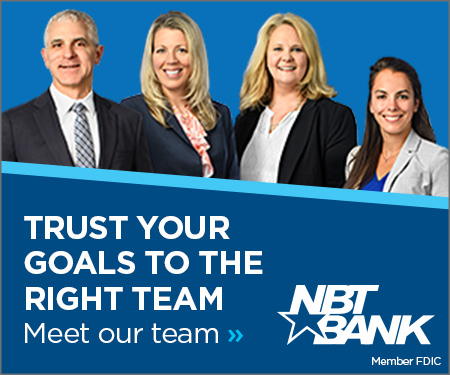 By Ronni Newton
Even I can't deny that it's now fall, but I will take a moment to complain about the weekend weather which can best be described by the word "yucky."
We went to the UConn vs. Duke football game on Saturday, and at least it didn't rain until late in the game. Ted and I (both Duke alumni) were a bit conflicted because we are both Connecticut natives, and we returned to the state 25 years ago, and we financed the better part of 13 years worth of UConn tuition between our two kids, and we have UConn football season tickets – but we said would root for the losing team. I wore a UConn sweatshirt over my Duke sweatshirt (a good move to stay warm as well), and I didn't have occasion to switch them, but we were at least hoping for a good game.
We enjoyed a tailgate with Sam and some of his friends, and other than that here are my two favorite moments:
I did some hardcore grandparenting last week – a few hours one day, and then an overnight! A few takeaways: falling into the pattern of rocking a baby comes back automatically; the velcro on today's diapers is far superior to the sticky tabs from the old days; today's infant carseats are extraordinarily heavy; doing squats to soothe a fussy baby is a great workout, as is the slow-motion walk to the crib and careful lowering of the baby without waking it up; and, most notably, that toothless smile will melt my heart every single time.
It was more a combination of a discombobulated schedule last week, some nagging pain in my ankle (not the same foot I hurt in June, this pain appeared out of nowhere), and a sinus headache – not just the yucky weather – that led me to blow off my 12-mile run on Saturday. I'm putting it in writing that I am going to try to get that 12-miler in one morning this week.
I did find time for eating out this week, at a few favorite spots. Dinner and margaritas with friends at Ocho Cafe during the week, and the comfort of Zephyr's Street Pizza late on a rainy Saturday night. I also had some fabulous food at West Hartford's new French restaurant, Le Mazet, as part of my research for the story that can be found here!
I haven't shared a Millie photo in a while. She is hoping for some cool, crisp fall days soon, and also dislikes this yucky weather.
If you're looking for news about West Hartford in print please note that many stories from We-Ha.com, as well as other local news, is published in the twice-monthly issues of the West Hartford Press.
If you have information to share about local businesses, please provide details in the comments or email Ronni Newton at [email protected].
**************************************************
Here's this week's Buzz:
Paul and Julia Ducey became the owners of WIP Fitness (485 New Park Ave.) on June 1, and this Friday will be having a re-launch ribbon-cutting celebration with the West Hartford Chamber of Commerce (which they just joined). I caught up with the Ducey's last week to hear more about their background, and the cool story of how they ended up owning the fitness business. When WIP was launched by Mary Kate Doyle and Laura Keever in 2013, it was called "Work in Progress," and while that's still the official business name, over the past five years or so that's morphed into "WIP Fitness" – and "WIP" definitely fits better on those magnets lots of devoted members have on their cars. "Work in progress" is still important to their mission however. "We are all working toward something," Paul said. A West Hartford native and lifelong athlete, he formerly worked at ESPN before deciding to pursue athletic training. He was a client of WIP from the early days, and eight years ago became a coach, transitioning about six years ago to coaching there full-time. "I just came kind of on a whim. I knew a girl who worked here," said Julia. That was six years ago. "He was coaching. I was a member," she said. "I've always been a PE/health teacher," said Julia, who works full-time as a teacher at Vinal Tech in Middletown. But Paul suggested she try coaching part time at WIP. They also started dating, and married in 2021, with many associated with WIP in attendance. "My best man introduced me here," Paul said, and a WIP client officiated at the wedding. As for how they came to own WIP Fitness, which is the fulfillment of a dream, "Covid kind of changed things up for us," Paul said. The membership had dropped to about 25% of its former level, they closed the Canton location, and Mary Kate and Laura took other full-time jobs, he said. After the mandated closing, they reopened with fewer classes, limited class sizes, and mask mandates. But Mary Kate and Laura, while still owners of the business, had other obligations as well. "Julia and I had talked abut doing something like this for years," said Paul, when they were approached to have an "after class discussion." "It was a really quick transition. We couldn't say no to the community," Julia said. Buying the business helped them achieve their dream of owning their own gym, in a place they already knew and loved. "They put 10 years into this community and helped build it," Paul said of Mary Kate and Laura. "We're lucky to have the foundation that they set," added Julia. The dedicated clients are the best salespeople, always talking about the community feel of working out at WIP. The workouts, held as group classes, Paul said, are full-body and adaptable to people's needs. "We really try to focus on programming with a purpose – workouts with a purpose," he said. Each day's workout is different, with typically strength on Monday, high intensity on Tuesday, core and cardio on Wednesday, skill strengths like box jumps and rope climbs on Thursday, and endurance on Friday. The gym is open seven days a week, with morning and late afternoon classes on weekdays as well as a noon class on Monday, Wednesday, and Friday. There are morning classes on Saturdays and Sundays, too, and offer yoga and Zumba classes. "We try to make it adaptable for everyone," said Paul, noting that for example those who may not be able (or want) to do outdoor sprints during a class will use one of the rowers. While he does a bit of personal training, the majority of clients participate in the classes. They do not offer open gym. "We're trying to move away from the 'boot camp' term," Paul said. "Boot camp has a beat-down connotation," he said, so they call it circuit training. Paul and Julia are excited for the ribbon cutting on Friday (3 p.m.), and for the relaunch party that begins Saturday, Sept. 30 at 8 a.m., and for their partnership with local food prep business Box Bistro, a physical therapist, Fleet Feet, and Balance Massage & Wellness Center – the other "pieces of the puzzle" that form a healthy lifestyle. Many of those partners will be at the relaunch party on Saturday. "We're more than just a gym. We want to focus on the community aspect of it. We know you will get a great workout," said Julia, but they also plan monthly happy hours and other events. "We're not weightless-based," said Julia, but rather want each client to come up with their own goals. "It's a great place to be." For more information, visit the website.
The Paley family of West Hartford, along with the Beit family of Glastonbury, were recognized last week as Middlesex Health dedicated a recently renovated building in recognition of a $1 million donation from the two local families. Roger Beit and Mark Paley co-own Harvest Investments LLC and both families have ties to Middletown and Portland – ties that span multiple generations. Previously known as The Crescent Center for Mental Health Services, the building is now known as the Beit Paley Center. This donation is the largest gift for mental health services in Middlesex Health's history – and the fifth largest gift ever. Paley said donating to Middlesex allows the Beit and Paley families to help people of all ages, especially young people, improve their lives by addressing the increased need for mental health services. "Mental health is a real problem, and instead of turning a blind eye, it needs to be highlighted," he said in a news release. "This is a good place for us to start," he said noting that giving back to the local community is very important. "Both of our families have been proponents of helping others. It's a different feeling when you do something locally in the community – when you see the impact you are making. The old adage is true. 'It is better to give than to receive.'"
Moms and More of West Hartford is planning the annual Halloween Stroll for 2023, scheduled for Saturday, Oct. 21 (rain date Oct. 22) from 10:30 a.m. to 12:30 p.m. "This well-attended community event attracts around 5,000 people to West Hartford Center, Blue Back Square, and the front lawn of Town Hall," shared the organizers, who are looking for businesses to sign up to be part of the annual event. "It is free for businesses to participate in the festivities – please just fill out the form you can find here: https://www.wehamoms.com/halloween-stroll-2023. If you do not have a location in town center, you are welcome to set up a table on the front lawn of Town Hall! We look forward to seeing you there!"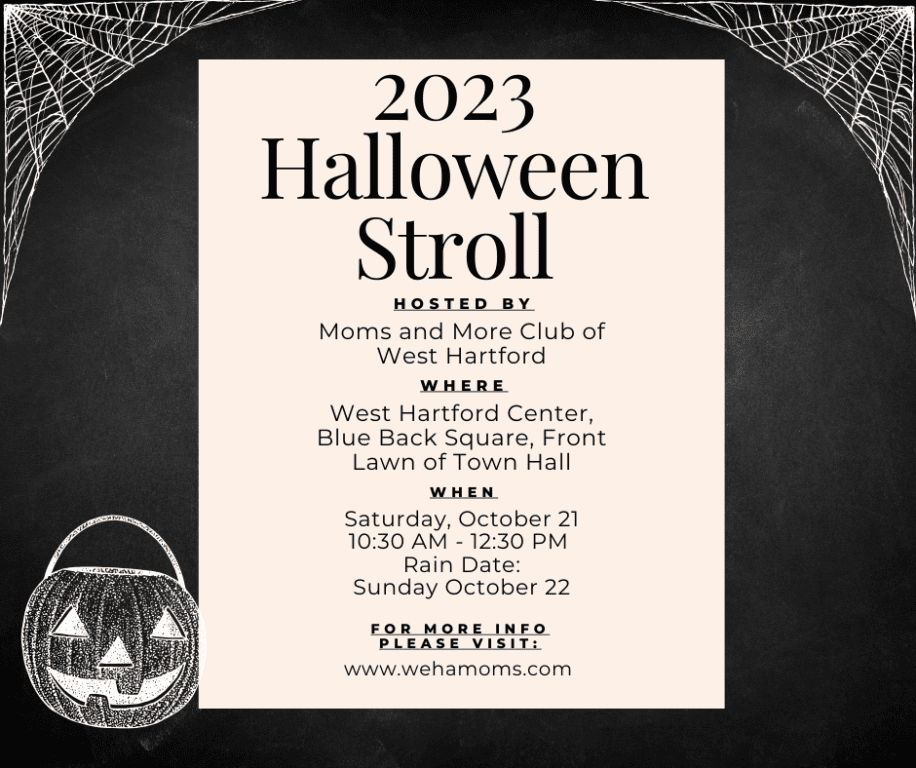 The Bishops Corner Neighborhood Association wants to ensure that the community is aware that on Sept. 26 there will be a public forum regarding the proposed Oakwood Park development on the former UConn campus at the intersection of Asylum Avenue and Trout Brook Drive. The following was part of the outreach distributed to neighbors by a representative of the developer: "Neighborhood meeting September 26th: We would like to invite you to join us and your neighbors at the University of Saint Joseph on Tuesday evening, September 26th, at 7:00 p.m. We will be in the Crystal Room, which is on the first floor of Mercy Hall to say hello and talk with you and hear your thoughts about bringing Oakwood Park to life. Please RSVP to

[email protected]

if you can join us so we can be sure to make accommodations for the meeting." The complete handout can be found as a PDF below.
They haven't picked a site yet, but more to come when Beloved Companions opens in West Hartford. Owner, CEO, and funeral director Dave Olson said he has just moved to West Hartford and is looking to open a third location for the family-owned pet aftercare business in a physical location in town as well. They already have locations in Avon and New Britain, where they work with veterinarians and pet owners to facilitate "final arrangements for their pets in a compassionate manner." More information can be found on the website.
Congratulations to Peter Macdonald, who was recently named president of the Bridge Family Center Board of Directors. In this leadership role, Macdonald will ensure the integrity and effectiveness of the board's governance role and processes and represent the Board and the Bridge within the community. Macdonald joined the Board in 2018 and has served as a member of the Governance Committee. Macdonald is currently head of Casualty Claims, North American General Insurance at AIG. He previously held senior positions responsible for workers' compensation claims at North American General Insurance and The Hartford. He received a Juris Doctor Degree from the University of Connecticut School of Law and a Bachelor's Degree in History from the University of Notre Dame. "Peter's outstanding commitment to our children and families, demonstrated leadership qualities, and intellect and experience will be a tremendous asset to the Bridge and the community. I have enjoyed working with Peter on the Board and look forward to strengthening our relationship during his tenure as President," said Margaret Hann, executive director of the Bridge.
Congratulations to the 34 "Women of Innovation" – the STEM leaders who will be honored on Oct. 25 by the Connecticut Technology Council. Four of the finalists have ties to West Hartford, including residents Laurie Caines (Associate Professor of Medicine, UConn Health Center) and Elise Courtois (Director, Single Cell Biology Lab and Senior Research Scientist, State of CT Endometriosis at The Jackson Laboratory). Ivana Milanovic works in West Hartford as Professor of Mechanical, Aerospace & Acoustical Engineering, University of Hartford, and Nancy Miller also works in West Hartford as Senior Manager. Project Engineering Systems Project Engineering Triumph Group."Since the first Women of Innovation event that I attended, I have been extremely impressed with the great contribution these outstanding women have had and continue to have on the technology ecosystem and our society. The class of 2023 certainly have earned this distinction," said Giovanni Tomasi, President/Chief Technology Officer of RSL Fiber Systems and Board Chair of CTC. "The winners and finalists in the High School category are especially astounding; they have accomplished more in 17 or 18 years than most people do in a lifetime," he said in a news release. "The Connecticut Technology Council is proud to host the Women of Innovation event with the support of our members, sponsors, and partners," said Milena Stankova Erwin, CTC's newly appointed Executive Director. "Congratulations to all the award finalists! We are excited to honor them and celebrate their impressive accomplishments and their noteworthy contributions." For tickets to the awards event and additional information, visit www.ct.org/womenofinnovation.

I've still been seeing sponsored ads from Arhaus indicating their plans to open at Westfarms on Oct. 6. I haven't been able to verify that information, but I did drive by one day last week and took this photo of the exterior, where work on the façade continues.
I've also been trying to find out whether or not buybuy Baby – which closed at the end of July in the Corbin Collection – will be reopening. The intellectual property was purchased this summer by Dream on Me, which also now controls 11 of the store leases (including the one in West Hartford) and previously indicated plans to reopen at least some of the stores. I checked out the premises in person a few days ago, and while the store is cleared of merchandise it doesn't look abandoned and even the lights were on so I take that as a positive sign. I'll continue to make calls and send emails and hope that I get some details.
It's getting to be pumpkin season and the first shipment of pumpkins is being delivered to the West Hartford United Methodist Church this Thursday, according to an announcement made at the most recent Town Council meeting by Town Council member Alberto Cortes. A total of 2,500 pumpkins, which are from a Navajo tribe in New Mexico, are being delivered and will be sold by the church in support of its missions. Cortes said the church would welcome support during the unloading process.
I mentioned in last week's column that Blue Back Square will be hosting the first ever Blue Back Burger Bash (and reportedly the first burger bash in the state) on Thursday, Sept. 28, from 5-7 p.m. – and I said I volunteered to judge for the Best Burger award next year. Well, I have been asked to judge this year, so I will definitely be in Blue Back on
Thursday! Come visit, and sample some great burgers! According to a media alert about the event: "All full-service restaurants at Blue Back Square including Gran Gusto, Rosa Mexicano, The Place 2 Be, Vinted, Boqueria, and World of Beer will grill-off and cook-out their own signature slider burger in a competition to win the coveted People's Choice for Best Burger award. And Boqueria, the hottest new restaurant coming to West Hartford, will also be on-site showing off their famous Spanish style Hamburguesa as a sneak preview to their new menu." Other judges include emcee Renée DeNino from iHeartRadio and representatives from WFSB, and burgers will be judged in various categories including "Most Creative" and "Best Overall." The burgers will be available for sampling by the public, and all voters will be entered into a drawing for a $250 gift card to the Blue Back Square restaurant of their choice. There will also be plenty of free activities, including music and other entertainment for kids and people of all ages. And, all proceeds from the evening will be donated to Connecticut Foodshare, which is partnering with Blue Back Square for the event. More information can be found on the Blue Back Square website.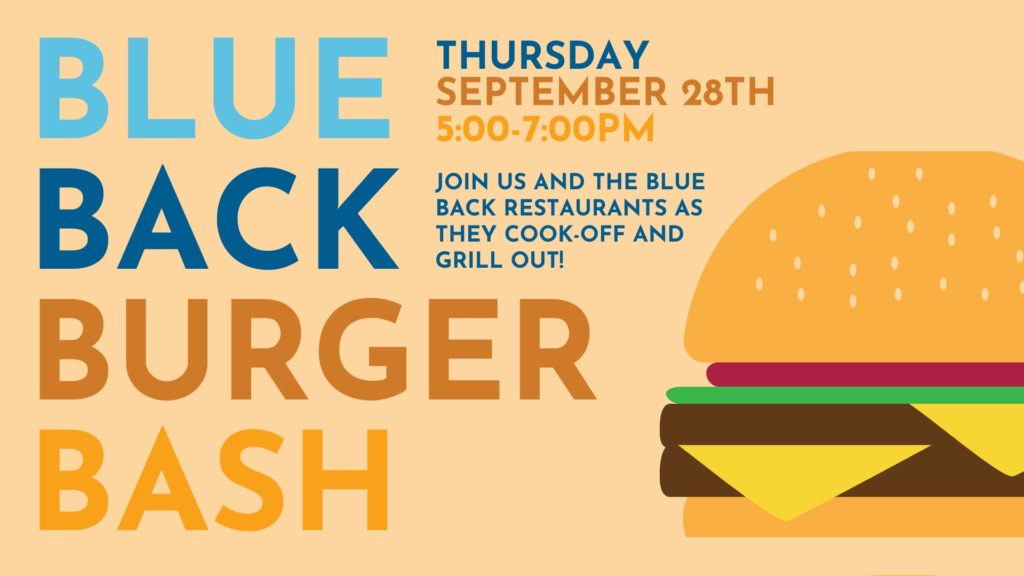 ICMYI, Le Mazet officially opened on Tuesday, and I interviewed the owner, Jared Cohen, collaborator Jacob Studenroth of The Wise Old Dog, and executive chef Joe Cusano on Wednesday – and also sampled several of the menu items – for a story. The restaurant is getting excellent reviews already! Click here to read the full story.
Business opportunties for kids, and shopping opportunities for the rest of us, will be available Oct. 14 at the NexGen Innovators Entrepreneurial Market in the Town Hall Parking lot. Click here for the details.
Remember, if you have any business news to share, add it in the comments section below or email Ronni Newton at [email protected].
Like what you see here? Click here to subscribe to We-Ha's newsletter so you'll always be in the know about what's happening in West Hartford! Click the blue button below to become a supporter of We-Ha.com and our efforts to continue producing quality journalism.