A round-up of openings, closings, and other news about West Hartford businesses.
By Ronni Newton
Happy Halloween!!
It's nice to see that the weather is cooperating for the trick-or-treaters this year. My Facebook memories over the past few days have provided many reminders of late October in 2011 and 2012 – when much of the town was without power for an extended period of time, roadways were full of downed power lines and tree limbs, and Halloween was canceled for safety reasons.
Those who follow me on social media know that I was away for most of last week. Ted and I finally took a trip we had been planning for a few years but delayed due to the pandemic, and went to Charleston, SC. Despite having gone to college in North Carolina and living in Northern Virginia for more than a decade, I had never been to Charleston and Ted had only been there once, for a quick business trip.
It was a great city to explore by foot and we walked pretty much everywhere – and anywhere from 8-12 miles per day! The architecture is just spectacular, and with unique features on even the smallest of homes. We learned about the "Charleston single" style of home, where the narrow side of a home, that may be just one room wide, faces the street and what appears to be the front door actually opens onto the piazza (porch) – just one of many different styles of architecture in neighborhoods throughout the city. We visited a plantation which had beautiful grounds and gardens, as well as several of the original dwellings where enslaved men, women, and children lived. I thought this particular plantation tour did a very good job of not sugarcoating the grim aspects of the area's history. We also toured Fort Sumter, where the Civil War began.
In addition to learning a lot of history, it was good that we were doing a lot of walking because we ate a lot of fabulous Southern cooking! I've been a fan of grits since my college days, and was very happy to eat them in various forms at least once a day, along with quite a few biscuits and seafood of every type. We had some amazing breakfasts at Toast and Millers, brunch at Amen Street, and dinners at 82 Queen, Poogan's Porch, Magnolias, and Husk. (Tip: We heard you had to make reservations at Husk two months in advance, but they also take names "day of" beginning at 4:45 p.m., and since Husk was literally next door to our inn, we were able to snag a great table, and enjoyed a meal that lived up to its reputation!) For those who enjoy food photos (and my very patient husband is NOT one of them) here's what we had at Husk.
We will definitely return to Charleston, and not just because there are many more restaurants on the must visit list!
I came back to plenty of activity in West Hartford, and a few controversies, (in the overall scheme of things "nothing more than a bump on a pickle," as a friend dared me to say), and with just eight days until the election and plenty on the agendas of the Board of Education and the Town Council, I'm sure things aren't going to be quiet over the next few weeks.
While it was a quick return to reality, we did enjoy watching UConn's defeat of Boston College on Saturday afternoon. We definitely had our fill of fine dining last week, and a fresh and fast casual dinner from Salsa Fresca was the perfect end to the day.
Please note that the deadline for election-related letters to the editor is next Sunday, Nov. 6. That's to ensure that the letters will be able to appear in the Monday, Nov. 7 newsletter, which is the last newsletter prior to the Nov. 8 election. The deadline for letters written by candidates has already passed. Here's the link to our letters policy, and please don't hesitate to reach out with any questions.
Please also remember when submitting comments that your full name (your real name) is required. Not surprisingly when I emailed "Jane," whose email address was "JaneDoe@….," to advise her of that policy my email was undeliverable.
There were 39 positive cases COVID-19 in West Hartford over the past seven days (as of Saturday), and a positivity rate of 10.9%. The numbers locally have been trending in the right direction lately, but we're really just hitting the season of respiratory viruses. One day I hope to be able to delete this paragraph completely, but in the meantime, please continue to have patience since not everyone has the same level of comfort, continue to look out for each other, support our local businesses – and stay safe and healthy.
If you're looking for news about West Hartford in print please note that many stories from We-Ha.com, as well as other local news, is published in the twice-monthly issues of the West Hartford Press.
If you have information to share about local businesses, please provide details in the comments or email Ronni Newton at [email protected].
**************************************************
Connecticut Physical Therapy Specialists is the sponsor of this week's Business Buzz!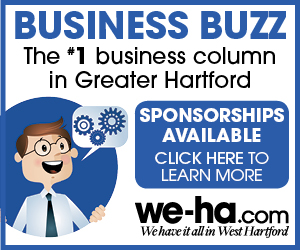 Here's this week's Buzz:
Anna Landi, co-owner with her husband, Davide Di Pietro of MORE Italian Pasta Lab, said they are eagerly anticipating the opening of their new business at 54 LaSalle Road (former Freshii space), and said it should be just a few more weeks. Landi and her husband, along with their 7-year-old daughter, have chosen to relocate from Rome (yes, Rome, Italy) to West Hartford. And not only are they moving here, but they are also changing careers (she has been a senior controller for a business in Rome and Di Pietro is a biologist) and launching a new business – a brand that they hope will expand in the region and beyond. I got a peek at the space which is just about ready, with only a bit more electrical work and inspections left to be done, and Landi said she hopes to open within a few weeks. The pasta machines have just arrived from Italy, along with the design for the mural that was installed with some help from Darin Senna at Hartford Sign & Design. Landi said the three pasta machines will be used to create the dough, and then pasta in various shapes including long (like spaghetti and linguini) as well as rigatoni, fusilli, gnocchi, and ravioli in square or half moon shapes, as well as in custom shapes. All pastas will be available in colors – made with all-natural vegetable-based dyes, including beet, pumpkin, and tomato, allowing for a custom product that cane used for team events, weddings, and other celebrations. MORE Italian Pasta Lab will also offer a variety of sauces – including fresh-made pesto on a seasonal basis. Landi is committed to making the shop fun as well, and there is an Instagramable space (which currently has an image of Rome), and wheel for people to spin. Her daughter will get to spin it weekly and those who land on the same "emotion" will earn a special tasting of one of MORE's products. With the plans to open in November, MORE Italian Pasta Lab is hiring, and those interested should reach out via Facebook (@MoreItalianPastaLab).
The West Hartford Center Business Association's We Care Card returns this week, and from Nov. 3-13 can be used at a variety of participating businesses for discounts of up to 20% and other specials. There's a new partnership this year – the Ron Foley Foundation, which raises awareness and supports pancreatic cancer patients and their families – and which will receive proceeds from the cards (donations start at $50). "From the day the Ron Foley Foundation opened our doors in West Hartford Center, we have felt a part of an amazingly warm and supportive community," said Barbara Foley, founder and president of the Ron Foley Foundation, who said she hopes this is the start of a long partnership. "What an honor it is to be named the 2022 We Care Card partner. We want to thank everyone for helping us raise awareness and funds for pancreatic cancer patients in need." Kimberly Moster of Kimberly Boutique said, "This is a great way for all of us to give back. Everyone has been energized by this new partnership with the Ron Foley Foundation, especially with November being Pancreatic Cancer Awareness month, it's such a perfect fit." We Care Cards can be purchased beginning Nov. 3 at Kimberly Boutique and other participating locations, as well as online here. The list of participating businesses (to date) is on the image below.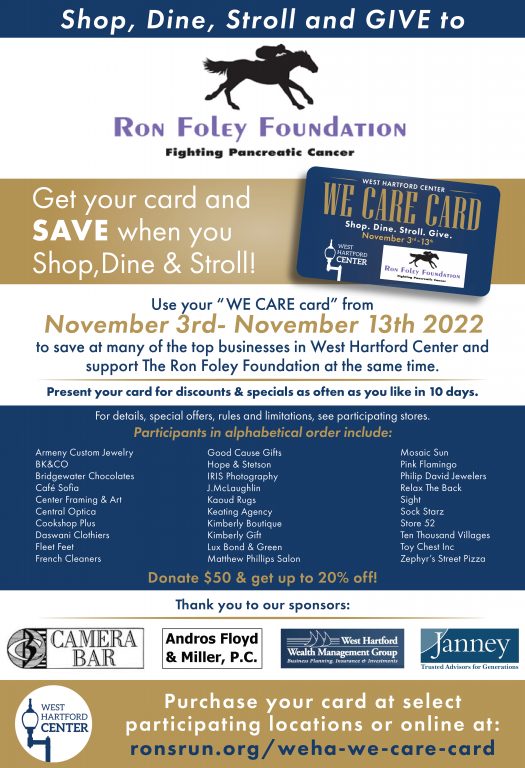 Showcase, known as "Home of the Hottest Trends," opened its second Connecticut store Thursday on at Westfarms,  on the lower level, Nordstrom wing. (The other location, which opened in 2018, is at the Danbury Fair Mall). In a news releases, Showcase, which was founded in Edmonton, Alberta, in 1994, states that the company "is an award-winning retailer, product developer and marketer, specializing in new and hard-to-find consumer trends in health, beauty, home, toys, novelty candy and food. Catering to teens, preteens and their parents, Showcase trend stores are designed to be fun, interactive, and demo-friendly environments. Customers are encouraged to 'try it before you buy it' with the majority of products open and on display." The experience includes knowledgeable staff, time-sensitive promotions, flash discounts, and product demos, the news release states, with online live shopping and DoorDash delivery coming soon. "We are thrilled to open our first Showcase trend store in central Connecticut," said Samir Kulkarni, CEO, Showcase. "We are very excited to introduce customers in West Hartford, Farmington, and the surrounding communities to the unique Showcase brand. Shoppers will now have convenient access to a store filled with the hottest social media trends they won't find elsewhere." Showcase said its proprietary trendspotting technology uses sophisticated techniques, powered by algorithms and AI, to understand and identify trending products quickly. The company's agility allows them to be first and fastest to market: on average, each trend goes from concept to shelf in 53 days, with some of the top 10 items launching in as little as 16 days. Examples of hot viral products Showcase has introduced quickly include Dalgona Cookies inspired by Netflix's hit Squid Game, and Hot Chocolate Bombs which dominated holiday season sales in 2020. Showcase is in expansion mode, and currently has 136 locations in multiple stores in top U.S. malls across 13 states, including 27 brick and mortar stores in the U.S. Northeast. The company said that by the end of 2022, Showcase will have grown its store count to 150, completing the largest and fastest single expansion in the Canadian company's 28-year history. The store is open Monday to Saturday from 10 a.m. to 9 p.m. and Sunday from 11 a.m. to 6 p.m. More information can be found on the Showcase website.
IHOP, which is being built out in the former GoldRoc Diner space at 61 Kane Street, looks almost ready to open. I took a drive by on Friday and signage is in place, the parking lot is newly striped, and a peek inside the door revealed that furniture is in place.
The second annual "

Sweat for Vets

" will be held on Nov. 12, at 9:45 a.m. and 11 a.m., and is being organized by one of West Hartford's youngest entrepreneurs/philanthropists, 10-year-old George Udal, who formed the organization Fitness Class Training (FTC) to not only encourage fitness but also to raise funds for local charities. Sweat for Vets is being hosted by

Fleet Feet West Hartford

. "It's an amazingly sweaty event at Thomas Hooker Brewery in Bloomfield, CT! It's a family friendly event where you are literally sweating for our Veterans! All proceeds do to ODO [Open Doors Outdoors] to bless those we have been faithfully serving since 2018!," Fleet Feet posted on Facebook. All donations will be matched by Ameriprise Financial – which is the office of Betsy and Matthew Udal (who are George's parents).

More details can be found here

.
Tidewater Wealth Management, a boutique investment and wealth management/financial planning firm, opened a new location at 10 North Main Street, Suite 207 in West Hartford on Oct. 18. The firm is also celebrating its first anniversary, Bill McDonald, senior wealth manager and partner in the firm, as well as a West Hartford resident, said in an email. "We are excited to formalize our presence in Greater Hartford and solidify our commitment to this community," McDonald said. "Many of our clients are higher education and nonprofit professionals who live and work in the Greater Hartford area. It is important for us to have a local presence." Other founders and partners include Tim O'Shea, and David Wheatley, with the practice supported by NewEdge Advisors, a rapidly growing, New Orleans-based partnership RIA. The team provides holistic financial planning to individuals, small businesses, and foundations. They specialize in retirement and estate planning, portfolio management, and customized investments, including solutions for ESG and other social impact investing. The office is open from 8:30 a.m.-5:30 p.m., Monday through Friday. Meetings are by appointment only. For more information about Tidewater Wealth Management, visit their website.
Congratulations to Elizabeth D. Kaeser, a West Hartford native and Conard High School graduate, who has been appointed as executive director of the Connecticut River Museum in Essex. She will begin her new role on Dec. 1, 2022. "We are extremely pleased and grateful that Elizabeth has agreed to take this assignment," said John Bennet, chair of the Museum's Board of Trustees, in an email. "We are all looking forward to her inspired leadership of our great staff as the Museum approaches its 50th year." She replaces Olivia White, who has been acting as interim executive director since March. "I find deep resonance with the Connecticut River Museum, a place that tells the stories of how lives have been intertwined with the ebb and flow of this long tidal river for centuries. A historian by training, I look to the past to better understand the world around me today. As the museum looks forward to its 50th year, it is poised to chart a course to make us better stewards of our rivers, so that new river stories will be shared for generations to come," commented Kaeser. "I look forward to returning to my home state of Connecticut and to conversations and collaboration in the years ahead with the patrons and supporters of the museum, the greater Essex community, and all who love the Connecticut River valley."
Several ribbon cuttings were held last week while I was out of town, including at G-Monkey and Awaken180º Weightloss. Thank you to the West Hartford Chamber of Commerce for sharing the below photos!
There was also a ribbon cutting last Thursday at Rosa Mexicano, which officially opens today at 51 Isham Road in Blue Back Square. The photo of the ribbon cutting is below, but in case you missed the story all of the details can be found here.
Jar+Bar (179 Park Road) is closed and the business owner has said they are looking for a new space. There appears to be a dispute with the landlord.
Remember, if you have any business news to share, add it in the comments section below or email Ronni Newton at [email protected].
Like what you see here? Click here to subscribe to We-Ha's newsletter so you'll always be in the know about what's happening in West Hartford! Click the blue button below to become a supporter of We-Ha.com and our efforts to continue producing quality journalism.