West Hartford's Design Review Advisory Committee held its first study session Thursday afternoon, reviewing options shared by the owner of the former UConn campus for a mixed-use development that includes residential, retail, restaurant, and office uses, as well as parkland.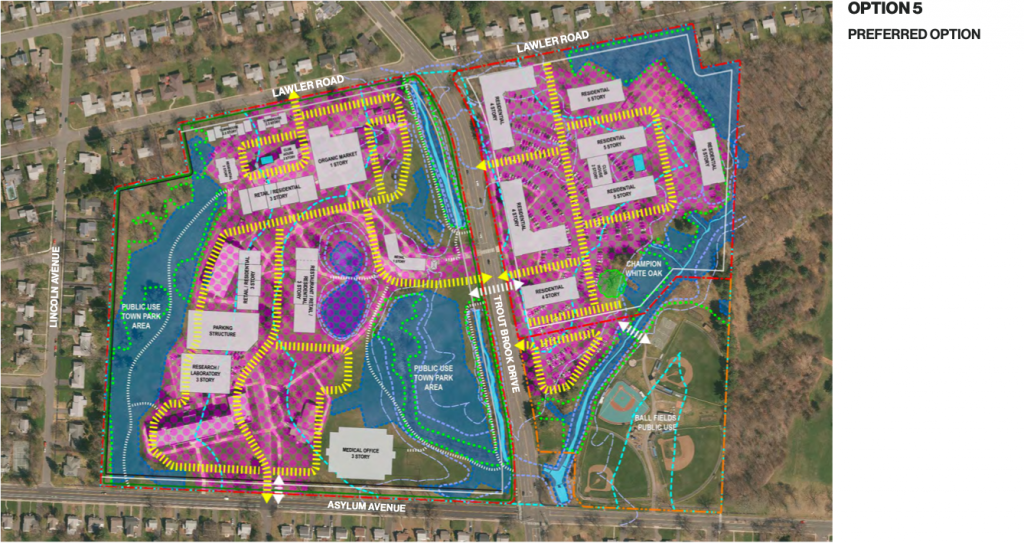 By Ronni Newton
One of the most oft-asked questions during any discussion of West Hartford economic development is about what is going on with the former UConn campus property at 1700 and 1800 Asylum Avenue, and some answers are now coming into focus following an initial study session the owner and developer had with the town's Design Review and Advisory Committee (DRAC) on Thursday afternoon.
The preliminary plans shared with DRAC indicated multiple options for commercial, retail/restaurant, residential, and office uses on the portions of the property that are already developed, while maintaining the existing Little League and Miracle League fields and playground and setting aside area for use as a public park and multi-use trail.
It's been a full decade since the University of Connecticut announced plans to vacate its West Hartford campus, throwing the future of the bucolic 57-plus-acre parcel – a rare large tract of land strategically located in Central Connecticut – into flux.
Ten months ago West Hartford 1 LLC finalized the purchase of the property, on an "as is" basis, from then-owner Ideanomics, for $2.75 million. Although until now there had not been any indication of ultimate plans for the property, since February, West Hartford 1 LLC has been permitting St. Francis Hospital employees and providers to use a significant portion of the parking lot on the east side of Trout Brook Drive as a short-term solution to an emergency situation created when the hospital's Collins Street parking garage was abruptly closed.
Plans shared with DRAC indicate that the developer's preferred option is to develop the east side of the property as primarily residential – with several buildings of four and five stories. Sources estimate there may be roughly 300 to 400 residential units in that portion of the development.
The preferred option for the west side of the property includes mixed-use residential and retail, medical offices, a research and laboratory facility, a small organic market, and a cluster of townhomes.
"We are excited about taking this first step with the West Hartford Design Review Advisory Committee at today's initial study session to gain their comments and guidance on building a formal proposal," West Hartford 1 LLC said Thursday evening in a statement shared with We-Ha.com.
"The people who live and work in this area have waited a long time for the empty UConn campus to re-emerge in a way that befits the size, scale and natural features of this property. As we begin discussions and idea-sharing with the Town of West Hartford, we will also begin engaging with neighbors, residents and community organizations so we can ultimately shape and bring to the community a plan that is worthy of this neighborhood and contributes to West Hartford's vitality."
West Hartford 1 LLC is a development group that is led by Domenic Carpionato – a private investor and a third-generation real estate developer who has extensive experience and whose companies have developed and redeveloped millions of square feet of property, across multiple asset classes, primarily in New England.
Carpionato is a senior vice president of the Carpionato Group based in Johnston, RI – which recently developed Avon Village Center, where Whole Foods is located. As an entity, however, the Carpionato Group is not involved with the West Hartford development. For this project, Carpionato has created West Hartford 1 LLC – a seasoned team that includes multifamily development and management company Garden Homes (which recently developed Country Walk at Windsor), Connecticut-based Newman Architects, BL Companies, and business and real estate law firm Alter & Pearson, LLC.
The property is currently in a single-family residential zone – and as an example West Hartford 1 LLC provided DRAC with a proposal of what could be done "as of right" without any zoning changes – but indicated that's not what they plan to do. A significant portion – more than 12 acres – of the property is considered wetlands, which greatly impacts the area that can be developed.
Town Manager Rick Ledwith said West Hartford 1 LLC understands the importance to the town of preserving the ball fields and playground area, and has committed to doing that.
West Hartford 1 LLC has also committed to preserving the Champion White Oak tree on the east side of the property.
In addition, Ledwith confirmed that the developer will be paying for the cost of remediation of environmental hazards on the site – which include polychlorinated biphenyls (PCBs) and asbestos. One of the five buildings on the former campus was demolished by Ideanomics' contractor in 2019 as part of the remediation process, and some additional clean-up has also taken place.
The plans shared with DRAC also involve removing silt from the ponds, which will become a focal point for the development of the west side of the property.
In addition, Ledwith said, plans are for the wetlands areas to be maintained as parks, with walking trails and benches for public use.
West Hartford 1 LLC also indicated to DRAC that they would like to extend the Trout Brook Trail, which currently is planned to end at Asylum Avenue, all the way through the property.
Ledwith said he appreciates that the developer's approach in beginning the process through the informal DRAC study sessions. Future sessions will involve refinement of the plans over the next several months, before an actual site plan is submitted to the Town Council with a request for zoning amendment.
"We look forward to continuing to work with them and exploring options that will be the best fit for the town," Ledwith said. "Right now this is very preliminary," he said, noting that there are not yet any architectural drawings but just concept plans.
The entire proposal submitted by West Hartford 1 LLC to DRAC can be viewed on the town's website.
Background
Prior to the purchase by West Hartford 1 LLC, Ideanomics purchased the former UConn campus "as is" for $5.2 million in October 2018. At the time they indicated their intention of building Fintech Village – a $400 million center for global technology and innovation – on the property, and creating jobs for upwards of 300 people. They committed to assume all responsibility for remediation of the contamination which occurred when the state owned the property and constructed the buildings for UConn.
A $10 million loan through former Gov. Dannel Malloy's First Five Plus program for capital renovations, which could have been forgivable if job creation targets were met, was part of the original plan but the project never reached a stage where the funds were provided.
The project ultimately stalled for a host of reasons, and in financial reports Ideanomics eventually stated that the company shifted its focus from financial services to the electric vehicle sector.
UConn initially announced its plans to relocate its Greater Hartford campus downtown in 2012 – and opened the downtown Hartford campus in 2017. Although the Town of West Hartford, which had the right of first refusal, ultimately chose not to purchase the campus several years ago, it undertook a robust community engagement process to develop a vision statement for the property, which was adopted by the Town Council in April 2018.
Any changes to the existing single-family zoning would require approval of the Town Council.
For information and background about West Hartford's previous history with the campus, click here.
Like what you see here? Click here to subscribe to We-Ha's newsletter so you'll always be in the know about what's happening in West Hartford! Click the blue button below to become a supporter of We-Ha.com and our efforts to continue producing quality journalism.