A round-up of openings, closings, and other news about West Hartford businesses.
By Ronni Newton
Wishing a happy and healthy Rosh Hashanah to all who celebrate!
The month has been flying by, and I'm in the final phase (taper!) of my training for the Hartford Half Marathon, which will in part head through West Hartford on Oct. 8. Some of the people who have been running with our Fleet Feet group completed the Berlin Marathon on Sunday – and a huge congratulations to all of them! Having completed two full marathons (and gotten injured training for two more) I understand what an enormous achievement it is to train for and run a marathon, and traveling to another country multiple time zones away just adds to the challenge. I'm sticking to the half – which is challenging enough while trying to keep up with everything happening in West Hartford.
We were excited to have Sam home for the weekend – and Millie was so happy to have her boy back. But every time he left the house to do something with friends, she stared at us, hedgehog in her paws, as if we were hiding him somewhere.
It certainly felt like fall this week, and I will admit to turning on my car's heated seats. I did resist (just barely) wearing mittens for my 9-mile run on Saturday morning. It was a brisk 46 degrees at the start, a few degrees below my threshold, but it did warm up enough after a few miles.
Summer flowers are still blooming, however! I saw these beautiful roses along Webster Hill Boulevard on Saturday afternoon.
It had been many months since we dined at The Russell, and Ted and I had a great dinner and some cocktails there on Saturday night!
I also had to take this photo of the egg sandwich Sam made himself rather early on Sunday morning – mostly because he had an early tee time, but also he's no longer a student so he is on a more "normal" schedule. He used to make eggs of some sort almost every morning when he still lived at home, and it's amazing how much longer a dozen eggs lasts in our house these days.
Commenters: Please include full names or your comments won't be approved. We've gotten a number of first-name only submissions in the queue this week. I'd also love it if the few frequent commenters who are grandfathered because their initial comments were approved before we changed our policy would edit their profiles to include their full names, too.
My final gripe of the week concerns people who don't bother to read a story before making an assumption about what's written there – or have read it and gamble on the fact that others won't read the article so they can post it on Facebook with a completely made-up introduction regarding what it contains. My article about campaigns planning to send out unsolicited absentee ballot applications – which is legal and subject to strict protocols – was posted on the Facebook page of a candidate for statewide office with the completely false assertion in the introduction that West Hartford was sending out 42,000 ballot applications, and footing a bill of perhaps $25,000 or more at taxpayer expense – both completely false statements which anyone who read the article would know. It was clear, sadly, that those who commented, and the 15 that shared it, didn't bother to read the article or were also being deliberately misleading. When notified through various channels the candidate's page administrator removed the post and apologized to Town Clerk Essie Labrot, although not to me, but I'm still upset that someone would misappropriate any article so blatantly.
There were 45 positive cases COVID-19 in West Hartford over the past seven days (as of Saturday), and a positivity rate of 8.2%. The numbers have gone up and down a bit over the past few weeks, but seem to be on an overall downward trend in West Hartford as well as statewide. One day I hope to be able to delete this paragraph completely, but in the meantime, please continue to have patience since not everyone has the same level of comfort, continue to look out for each other, support our local businesses – and stay safe and healthy.
If you're looking for news about West Hartford in print please note that many stories from We-Ha.com, as well as other local news, is published in the twice-monthly issues of the West Hartford Press.
If you have information to share about local businesses, please provide details in the comments or email Ronni Newton at [email protected].
**************************************************
Connecticut Physical Therapy Specialists is the sponsor of this week's Business Buzz!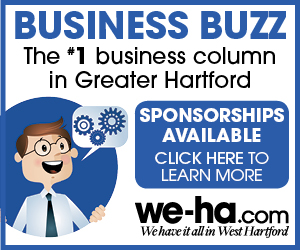 Here's this week's Buzz:
Chef Adam Greenberg, a partner in Sparrow Pizza Bar with David Boyajian, said he is preparing to open BDK (Back Door Kitchen) in the rear of the 977 Farmington Ave. restaurant, accessible through the Farmington Avenue parking lot where several spaces will be set aside for those picking up food. "BDK is realistically 3-4 weeks away from opening," Greenberg said. "We'll be starting with just 'subbies' and salads. It will be all grab-and-go or you will be able to order online through Toast. We will also do catering which should be perfect for all the offices in and around the Center. Right now a quick sandwich or salad is hard to find here and we're going to change that," he said. Sparrow Pizza Bar continues to add to its offerings, with more pizzas as well as bruschetta and other items on the expanding menu, and is now open for lunch daily at 11:30 a.m. Click here to read the full feature on Sparrow, which opened earlier this month.
Andreas Kapetanopolous, regional president of NBT Connecticut, presented a very generous donation of $10,000 to Futures Inc. on Friday in front of Good Cause Gifts at 973 Farmington Ave. in West Hartford Center. Good Cause Gifts – which also has stores in Berlin and at the Hospital for Special Care in New Britain – is a social enterprise business supporting Futures Inc., which is an ARC affiliate providing services and opportunities for people with disabilities. NBT is the title sponsor of Futures Inc's annual fundraiser, The Fashion Show Gala, which will be held this year on Nov. 3, 2022 at the Aqua Turf in Southington. Futures Inc. is headquartered in West Hartford, and operates multiple programs including a school. If you haven't browsed through Good Cause Gifts yet I definitely recommend it. I don't think I have ever gone into there and NOT bought something, and Friday was no exception!
Congratulations to GYL Financial Synergies on the official opening of their new headquarters offices at 75 Isham Road in West Hartford's Blue Back Square. Mayor Shari Cantor helped GYL's CEO and Co-Founder Gerry Goldberg and President of Private Client Services and Co-Founder Jonathan Yolles cut the ribbon, at a celebration also attended by other company representatives and associates. GYL was previously located in a much smaller space in Blue Back Square, and now occupies a 9,000-square-foot headquarters, "a major milestone in the firm's history," GYL said in a news release. Other offices are in Westport and Parsippany, NJ. According to company information, 

GYL

Financial

Synergies, LLC is an independent registered investment advisory firm with $4.7 billion of assets under management and $3.5 billion of assets under advisement as of December 2021.

GYL

Financial

Synergies is a part of Focus

Financial

Partners, a leading partnership of independently managed wealth management firms. More information about the business can be found at www.gylfinsyn.com.
An official ribbon-cutting – and ribbon hammering – with the West Hartford Chamber of Commerce and town officials was held last week at Iron Shop by Superb Steel, which recently opened at 2575 Albany Ave. in Bishops Corner, where West Hartford Ornamental Iron Works had previously been located. The shop features decorative iron items such as railings and arbors, and they do custom work as well.
We've got quite a few Westfarms updates this week, including the reopening of Parade of Novelties Sports on the lower level of the Nordstrom wing. "We're excited to have them back, and just in time for the holiday season," Westfarms spokesperson Amanda Sirica said.
A few openings coming up at Westfarms include Abercrombie & Fitch, which will include the abercrombie kids store inside one expansive space, will opening soon, also on the lower level of the Nordstrom wing. Their social media is already active, and follow @westfarms_abercrombie on Instagram for updates.
Lovisa, which according to its website is a "fashion-forward jewelry brand that caters to every woman," will also be opening soon at Westfarms, on the upper level of the Nordstrom wing right next to Kiels Since 1851.
Jon Scher, who many in West Hartford know as the former owner of Lollipop Tree Nursery School in West Hartford, has formed a new company that operates on the other end of the age spectrum – Trusted Companion Senior Concierge Care. "I was inspired to create this service by a few recent health scares with my parents. With this first-hand experience, there are many things to consider when seeking elder care, and the task can seem overwhelming, confusing, and frustrating," Scher said. "Family is everything. I know we all want the best care for our parents. Finding a patient, caring, flexible, and trustworthy caregiver and companion is essential. Allow me to be your support system so your parents can thrive while you have peace of mind. The following is a list of the types of services Trusted Companion Senior Concierge Care will provide: Move Management, Decluttering / Organizing, Companionship, Transportation, Local Errands, Bucket List Adventures, Event Chaperone, Physical Activities / Walking, Household Chores / Meal Preparation, Home Safety Checklist, Bill Payment, Computer / TV Assistance, and more. Anyone needing these types of services, or who knows someone who needs this type of support, can contact Scher at 917-566-7458 for more information or to set up an initial consultation to discuss any unique situation or needs. Scher provided the photo below of a fishing trip, where he organized and accompanied 90-year-old local resident, Sonny.

I don't have many the details about this one, but I had been advised by a reader and confirmed through the website that Showcase, which is in rapid expansion mode, will also be opening at Westfarms. According to its website, "Showcase is the Home of the Hottest Trends, and the world's largest retailer of its kind. With 100+ permanent stores in North America's best shopping centres, Showcase offers the most fun, interactive, new, and unique products ever – all in a retail environment where you can 'try it before you buy it.' We call it retail-tainment! Founded in 1994 in Edmonton AB, Showcase now is coast-to-coast in every major market across Canada, now expanding in the USA." More details to come!
YHB Investment Advisors has a history of strong support for the West Hartford Food Pantry, and recently, in response to an urgent plea, Senior Portfolio Manager Jessica Kott organized an internal food drive. Many staff members quickly and generously donated, and the collected items were delivered to the Food Pantry on Monday, Sept. 19. Thanks for stepping up so often, and so generously!
Daniel Friedman, a resident and 1982 High School graduate, recently organized a carwash fundraiser – a joint effort with the University of Hartford baseball team and WMGNA, LLC that was then matched by WMGNA– that raised $1,586 for the Miracle League of CT.
Congratulations to West Hartford resident Elana MacGilpin, who has been promoted to senior development officer at the Jewish Community Foundation of Greater Hartford. Since February 2019, she has been an integral part of the Foundation's development and community-building work – including staffing an emergency food delivery effort during the pandemic, managing the Foundation's giving circles, and launching and overseeing Greater Hartford's LIFE & LEGACY program. Under MacGilpin's leadership, LIFE & LEGACY has secured commitments for an estimated $7.5 million in after-lifetime gifts to support the vibrant future of Greater Hartford's Jewish community, the organization noted in a news release. In her new position, Elana will help the Foundation expand its reach by stewarding more donors and deepening their engagement with the Foundation, and leading the next phases of LIFE & LEGACY. "Elana has extensive knowledge of our Jewish community, an impressive history of building trusting relationships among lay leaders, and the business acumen to create and execute projects that increase engagement and investment in our community," said Jacob Schreiber, president and Chief Executive Officer of the Jewish Community Foundation of Greater Hartford.
Ben Fuchs of West Hartford, a local Certified Financial Planner and founder of Fuchs Financial, is now being featured on Hartford newsradio station WPOP (1410AM and 100.9FM), Saturday mornings at 7:30 a.m.  The new hour-long program, "How to Retire," debuted on the station on Sept. 24, and is also streamed online. Fuchs Financial, which has offices in West Hartford (433 South Main St.) and Middletown, provides wealth management, planning and retirement services that help individuals build, preserve, and manage their wealth. Founded by Ben Fuchs in 2019, the firm is focused on helping retirees and people preparing for retirement to maximize their finances, providing a full range of short and long-term retirement planning services, including income planning, investment planning, tax planning, healthcare planning, and estate and legacy planning.
Just outside of West Hartford,

Dog

Star

Rescue's Annual Bark & Brew fundraiser will be held on Saturday, Oct. 1, from 3-8 p.m., at the nonprofit's Bloomfield headquarters at 12 Tobey Road. The event will feature a BBQ meal (vegetarian options available), Hooker Brewery beer, live music, games, puppy cuddling, raffles, and more. Further information, including the link to purchase tickets, can be found on the website.
ICYMI, there were several workshops hosted by the town's consultant, Stantec, to obtain input for the West Hartford Center Infrastructure Master Plan. Details, including how you can still offer input, can be found here. Those involved with the project have also been advised that there are a few threads on Facebook (thanks to Rocky Holland for facilitating the great crowdsourcing) with some important opinions from members of the community.
Remember, if you have any business news to share, add it in the comments section below or email Ronni Newton at [email protected].
Like what you see here? Click here to subscribe to We-Ha's newsletter so you'll always be in the know about what's happening in West Hartford! Click the blue button below to become a supporter of We-Ha.com and our efforts to continue producing quality journalism.