A round-up of openings, closings, and other news about West Hartford businesses.
By Ronni Newton
Happy Labor Day!
I looked back at the Business Buzz intro I wrote last year on Labor Day, and everything is still relevant, so I'm copying most of my own words before I get to the really, really exciting news we have to share today!
Parking is free today on West Hartford streets as well as in all municipal lots. There is also a one-day delay for trash and recycling pick-up this week.

The

U.S. Department of Labor

defines the holiday as: "

Labor Day, the first Monday in September, is a creation of the labor movement and is dedicated to the social and economic achievements of American workers. It constitutes a yearly national tribute to the contributions workers have made to the strength, prosperity, and well-being of our country." 

Labor Day is also the unofficial end of summer, but those who know me know that I will hang on to summer before letting go, kicking and screaming, at the autumnal equinox at 9:54 p.m. on Saturday, Sept. 22. You'll find me crying into my pumpkin spice coffee the following morning, but I may still be wearing my white pants (cue eye-roll from my sister, who will likely put them away as the clock strikes midnight on Labor Day).
And as I wrote in this column on Labor Day last year, while we've often delayed Business Buzz on Monday holidays and are otherwise keeping our newsletter brief, there is just way too much business news to share this week to wait for Wednesday – plus there's our exciting announcement …
We-Ha.com and WHsquared are forming a new partnership! Coinciding with We-Ha.com's fourth anniversary, a new, free, app called "Experience We-Ha" will launch on Friday, Sept. 7, 2018, and WHsquared founder Jeff Lovanio and I are so excited!
It's kind of like in that old Reese's Peanut Butter Cup commercial. Each item is great on their own, but in combination … kaboom! We consider our partnership a natural synergy.
I like to think that We-Ha.com, since its launch four years ago, has developed a strong following and a reputation in the community for providing thorough and accurate news coverage of business, police, community events and meetings, town government, schools, real estate, and local sports.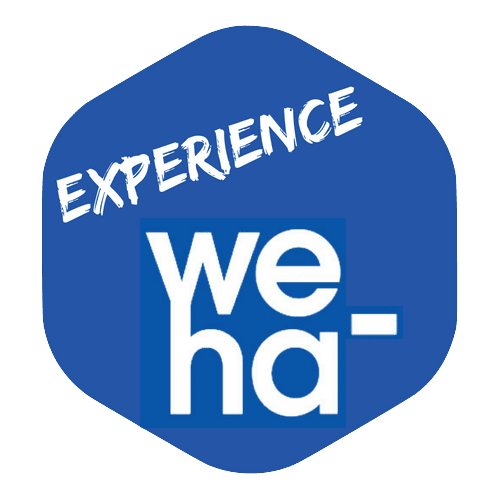 WHsquared has also built a great reputation in an overlapping area – as a mobile app with its own vibrant community social media following – giving users instant access to detailed information about local happenings such as restaurant menus and happy hours, music and theater productions, athletic and fitness events, recreational classes, retail, discounts and promotions, and community fundraisers.
Jeff and I have both lived in West Hartford for years, and we know this town really, really well. We've been talking about a way to collaborate since we first met several years ago, and we're not only doing that but taking it one step further, with WHsquared's app actually becoming part of We-Ha.com, as "Experience We-Ha." We know you all like to use your phones for everything, and now you will find both the news (all We-Ha.com stories are immediately and automatically loaded onto the app) and what you need to know to plan your activities at your fingertips.
Now we can really say in West Hartford that "We Have it all" – and it's all in one place from people you know and trust.
Mobile device users may download the existing WHsquared app immediately. On Friday, Sept. 7, users of the existing WHsquared app will simply upgrade the free app to receive all the benefits of Experience We-Ha. To download the WHsquared free mobile click on the appropriate link: iTunes   Google Play.
Many thanks to both the We-Ha.com and WHsquared teams, including the IT gurus and web developers who have spent many hours working behind the scenes to make this combination a reality. And a shout out to Janice Gucciardi at Jabberhead for her expert advice and above-and-beyond support throughout the process – and for taking the goofy photo of me and Jeff!
To learn more about the app, click here. Comments about the app? Please let us know!
You'll find a jam-packed Business Buzz column below, but there are actually a few other business stories that I am anxious to share. I don't mean to tease, but in one case I'm still waiting for confirmation from a business owner because I want to be sure I have the complete story. In the other case, look for a standalone story on Tuesday about the exciting expansion of a West Hartford business, and details about a newly-opened restaurant!
If you have tips about businesses opening or closing, or doing something worth sharing, please provide that information in the comments or email Ronni Newton at [email protected].
Here's this week's Buzz:
Blue Back Square takes the cake in this edition of Business Buzz – and because I couldn't figure out which one of these exciting news items was most deserving of a feature photo, I decided to use the Blue Back Square sign. But since I used the word "cake" in this last sentence … NoRA Cupcake is coming back to West Hartford, and even if it's not a forever thing (at least not yet), it's still great news. West Hartford was so excited when the opening of NoRA was announced in November 2015, and so sad when what was originally intended to be a holiday pop-up closed at the end of 2017. "We are back for a four-month pop-up starting later this month," NoRA owner Carrie Carella confirmed over the weekend. "We are thrilled that Blue Back is giving us this opportunity and are looking forward to being back in West Hartford through the holidays." NoRA will be located in the former Goldberg's Gourmet space, right in the courtyard at 38 Isham Rd. We will announce the opening as soon as the date is set, and in case you've forgotten what an "Irish Car Bomb" is like, here's a link to NoRA's 125 different cupcake flavors. Also, according to Blue Back Square management, there will be a "Welcome Back" grand opening party sometime in October.
Now that extraordinary cupcakes are returning to town, the need to work out will be even greater, but another opportunity to do will be able to be taken care of right in Blue Back Square with the planned opening of CycleBar – an indoor cycling studio that will be located at 55 Memorial Rd. (former Giftology space). "They have a pretty aggressive timeline, and plan to open in October," said West Hartford Economic Development Specialist Kristen Gorski. CycleBar bills itself as "

pedal-turning, heart-stopping, music-pumping fun every single time you ride," and the West Hartford location, which is owned by Carrie Touchette Ladden, will be only the second franchise location in the state, closely following Canton which is slated to open on Sept. 13.

 Follow the CycleBar West Hartford Facebook page for updates on the opening plans.
When NoRA Cupcake left Blue Back Square, Kennedy's All-American Barber Club also vacated its space to make room for the Tempur-Pedic store that opened in late May. Kennedy's, which temporarily operated at Salon's by JC in Bishops Corner, has also returned to Blue Back Square, with new space at 66 Memorial Rd., in the former Persian Rug Gallery Space. In addition to offering men's haircuts and shaves – using the "lost art of straight-razor shaves" – Kennedy's has a number of membership options, including for students and families. They also offer grooming products, hair color maintenance, mini-facials, beard and mustache trims, and are putting the finishing touches on the chain's first-ever MANicure and pedicure room. 

"Kennedy's offers a throwback to old-fashioned barber shops," said Blue Back Square Marketing Director Amy Cholawa. "We really appreciate the guys who belong to the community that Kennedy's has created at Blue Back Square. We're so excited that they're getting a bigger location so they can continue their growth and success."

That horrifying moment when you drop your phone and the screen shatters … It happened to me while traveling in Seattle last fall, and it wasn't easy to find a place that could quickly replace the screen. There's now no need for worry in West Hartford, with the opening Saturday of Mobile Rescue Tech Repair at 63 Raymond Rd., between Eyeglasses.com and the newly-opened Deadbolt/Skeleton Key. According to Blue Back Square management, Mobile Rescue fixes mobile devices and sells services and accessories for Apple products (iPhones, iPads, MacBooks, Mac Minis, iPod Touch) as well as Android products and and Google Chromebooks. They offer in-store repair of cellphones, tablets – and will even make visits to homes and businesses for virus removal services. 

"We are so excited to bring Mobile Rescue Tech Repair to the community," said Blue Back Square Marketing Director Amy Cholawa. "Their services are absolutely critical for residents who are looking to repair their mobile devices, which are now essential to daily life for so many. We look forward to having them at our property."

Things are moving right along with Spaces, the co-working facility which will open in the former REI store at the end of the year. As mentioned in last week's column, Morgan Hilyard has left her position at the West Hartford Chamber of Commerce to become community manager for Spaces. A temporary leasing office has opened in Suite 210 of the Lexicon Building at 75 Isham Rd. in Blue Back Square.
Blue Back Square Marketing Director Amy Cholawa said that things are moving right along with the build-out of Balos Estiatorio

, the upscale Greek restaurant that 

George Chatzopoulos is developing in the former Besito space at 46 South Main St. I took a peek inside late last week, and it's totally transformed, with lots of white and wood. According to Cholawa, the owner is awaiting delivery of a large piece of marble that is coming from Greece, and plans are to open sometime in September. We will definitely keep on top of this one!

The sign is now up for Poké-Man

, which is still under construction right next to SPoT Coffee on Memorial Road in Blue Back Square, and should open early this fall.

While we're on a Blue Back Square roll, there are also two great [eating-related] activities coming up: Gabriella's Scoop Night, the 10th annual fundraiser that Gabriella Giordano has held for Connecticut Children's Medical Center, will be held on Thursday, Sept. 6, from 6-9 p.m. Celebrity scoopers will be preparing ice cream treats – and if you attend between 7-8 p.m., I'll be there scooping and will be happy to create your special treat! There is also music, and other fun family activities. And at lunchtime on Wednesday, Sept. 12, the Cream Puff Truck will be parked in Blue Back Square as it makes its way north to the Big E. Free Big E Cream Puffs will be given out from noon-2 p.m., and Kiss 95.7 will be broadcasting live.
I noticed that the signs for buybuy Baby and Cost Plus World Market have been put up at the Corbin Collection. I don't have any further details about the opening (fall, maybe mid-October for buybuy Baby and November for Cost Plus World Market), but seeing the signs makes it seem closer to reality.
Seven Stars Cloud Group, which plans to develop the former UConn West Hartford campus into Fintech Village, is changing its name to Ideanomics. "Next-generation technologies such as blockchain and artificial intelligence have begun to unlock capabilities in intelligent prediction and trust mechanics by providing enhanced transparency, security, and traceability, while simultaneously making the data smarter," Bruno Wu, Executive Chairman & CEO, said in a press release. "The combination of the 'idea' and the "field of economics," yields Ideanomics – a new paradigm and model for solving problems, creating efficiencies, and more equitably distributing wealth and knowledge. Ideas create value. With ideas, there is a future. Ideanomics, we are digitizing tomorrow!" For now, shares will continue trading on the Nasdaq as SSC. The company also recently announced a $24 billion deal with National Transportation Capacity Co Ltd to issue fixed income lease financing-based products for the electric bus industry in China, and a joint venture with Hong Kong-based parent company of I-House (IHT), Aladdin Fintech Company Limited to deliver global real estate asset digitization and post-digitization services.
GoNetspeed announced last week that it had completed its initial build-out of its high speed fiber optic network in West Hartford as well as in New Haven and Bridgeport, "providing residential customers and small businesses access to Internet speeds up to 1 Gigabit (Gbps) per second (both download and upload), the fastest in the area. The company has constructed an initial footprint of more than 50 miles of high-speed fiber optic network in Connecticut with the ability to serve over 12,000 homes – and plans to quickly expand to nearby communities as part of its multi-year, multi-million dollar private investment in Connecticut." Has anyone signed up yet? My understanding is that the network has been built in the eastern part of town, but I'd love to hear some feedback! For more information, visit the GoNetspeed website.
Have you voted for the Best of West Hartford yet? Local business owners are counting on their loyal customers! Click here for the link to this year's easy-to-complete ballot.
Finally, the West Hartford Food Pantry is looking for the public's help again to stock its shelves. They are in need of large cans of soup, canned fruit, pasta (including spaghetti), peanut butter, canned pasta, rice, and canned corn. Please consider purchasing a few extras of these items when you go to the grocery store. I bought some items on Sunday and there was a bin right at Stop & Shop where I left the items – and ShopRite and Whole Foods also have bins. Donations may also be left in the Town Hall lobby (

Monday

–

Friday

,

8:30 a.m.-4:30 p.m.

) If you have questions, or need assistance with a large donation, contact Food Pantry Coordinator Nancy Stockman at 860-561-7567 or email 

[email protected]

gov

. 
Remember, if you have any business news to share, add it in the comments section below or email Ronni Newton at [email protected].
Like what you see here? Click here to subscribe to We-Ha's newsletter so you'll always be in the know about what's happening in West Hartford!