The West Hartford Center Business Association is encouraging the community to shop at local businesses through a photo contest.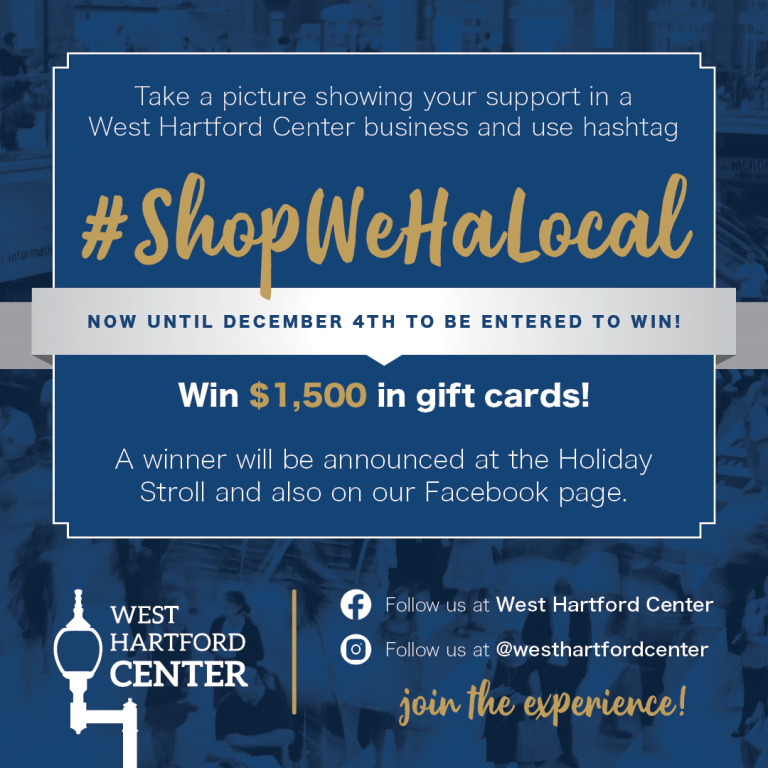 By Ronni Newton
The holidays have arrived in earnest, and West Hartford merchants are banding together to encourage the community to shop local, on Small Business Saturday (Nov. 30) and throughout the season, and are adding extra incentive with a giveaway of $1,500 worth of gift cards and other donated prizes.
The West Hartford Center Business Association is encouraging shoppers – and diners – to visit businesses in West Hartford or Blue Back Square, take a photo of themselves supporting one of the businesses, and post it to Facebook or Instagram with the hashtag #ShopWeHaLocal.
Photos can be taken, and posted, any time from now through Dec. 4.
Posting the photo will enter you in the contest to win $1,500 worth of gift cards/services at the following local businesses:
Central Optica ($150)
The Fix ($150)
Kimberly Boutique ($100)
Blueprint CT Home ($100)
DeRobertis Jewelers ($100)
Daswani Clothiers ($100)
Lux Bond & Green ($100)
BK&CO ($100)
Fleming's ($100)
Ooh La La ($50)
Ten Thousand Villages ($50)
Toy Chest ($50)
J.McLaughlin ($50)
Restaurant Bricco ($50)
Vinted ($50)
Larsen Ace Hardware ($25)
Hope & Stetson ($25)
SockStarz ($25)
b. Kind ($25)
Bella Gusta (olive oils)
Barcelona (dinner for two)
Cookshop Plus (cooking class)
Several other businesses may be added to the list.
"The retail environment is changing rapidly across America," said Deputy Mayor Leon Davidoff, who has previously served as a Small Business Saturday ambassador. "Our neighborhood small businesses rely on local support to remain viable. Before you decide to shop online, take a moment and ask: Is there any place in my town where I can make a purchase? Shopping local and small truly makes a difference."
"I think a lot of people don't realize the difference they can make by choosing to 'Shop Small,'" said Kimberly Mattson Moster, owner of Kimberly Boutique. "If you shop locally most of your dollar stays in the community. Plus it's more fun!"
Mattson Moster said this "Shop Small" promotion is a great way for West Hartford Center to give back. "We have so many loyal customers who 'Shop Small' all year, and we so appreciate that. They really enjoy the experience in the Center and value the personal service. It will be fun to see someone win!" she said.
When you spend $100 at a small business 68% stays in the community; at a corporate or big box store it's 48%; online … nothing," said Mattson Moster.
And that's not all, she said. It's also about "the personal connections formed, environmental impact of all that shipping, ability to find unique merchandise, benefit of having local business to support local charities …"
The grand prize winner will be announced at the Holiday Stroll on Thursday, Dec. 5, and will also be posted on the West Hartford Center Facebook page.
Like what you see here? Click here to subscribe to We-Ha's newsletter so you'll always be in the know about what's happening in West Hartford!