The Town of West Hartford recently welcomed a delegation from the South Korea, looking to learn about virtual net metering and other programs the town has implemented.
By Ronni Newton
West Hartford's sustainability efforts have previously led to national recognition, and now the town's actions have reached the international stage, with a visit earlier this month by a delegation from Korea.
In December 2020, at a virtual meeting of the U.S. Conference of Mayors, West Hartford Mayor Shari Cantor accepted the annual "Climate Protection Award," as the town garnered the top honors in the category of small cities with populations below 100,000. The town was recognized for its innovative virtual net metering program which harnesses renewable solar energy produced offsite in Thompson, CT – roughly 50 miles away – and those credits are then used on a virtual basis to power eight of the town's buildings and schools.
Towns and cities in Korea that are looking to forge a path to greater sustainability, working through the Korean Consulate General and the Governors Association of Korea, were putting together their annual educational trip for this fall, and efforts by the Town of West Hartford caught their attention. The Governo's Association of Korea – an organization of 17 metropolitan and provincial governments in South Korea – organizes the annual research trip to provide officials with a comprehensive view of sustainability strategies around the world, including advanced policies focused on climate change and sustainability in local governments in the U.S.
"About three weeks ago they reached out to us," Bernie Pelletier, chair of the town's Clean Energy Commission, said on the day of the visit. On Nov. 9, on the last stop of a tour that had also brought the group of 18 to Philadelphia, New York City, and Burlington, VT, the group visited West Hartford where they toured the solar array on the roof of Town Hall, and met with Pelletier, West Hartford Energy Specialist Catherin Diviney, Town Manager Rick Ledwith, Cantor, and other officials.
"Once they looked at us they wanted to investigate more deeply," Pelletier said.
The delegation had exposure to different elements of U.S. energy programs on each visit. In Boston they met with representatives of the development authority, and in Burlington they toured a generation plant. In New York City they met with small business services.
"This is the last stop for us," other than a final visit to the University of Connecticut's Hartford campus, said Minji Ham, a researcher with the Korean Consulate in New York, who traveled with the group and also served as translator. They were interested in West Hartford's Clean Energy Plan, she said, as well as the virtual net metering program.
"We don't have a lot of programs like that [in Korea]," Ham said,. Not all cities have space for a large solar array, she said, and the idea of harnessing the energy and using it elsewhere on a virtual basis was intriguing.
The Korean delegation began their day in West Hartford with a tour of the solar array on the roof of Town Hall, which was activated in 2019 and provides 20% of the building's energy, Diviney advised them. She pointed out how the array works, and how it differs from what might be found on other buildings, including in West Hartford where a much larger solar energy project, a 527 kWh array, roughly five times larger than the one on Town Hall, was installed on the expansive roof of King Philip Middle School in 2020.
The visit also included a presentation by Ledwith on the town's collaborative approach to sustainability, details provided by Diviney about the net metering program as well as efforts to improve energy efficiency in municipal operations, and an outline of the town's Clean Energy Plan provided by Pelletier.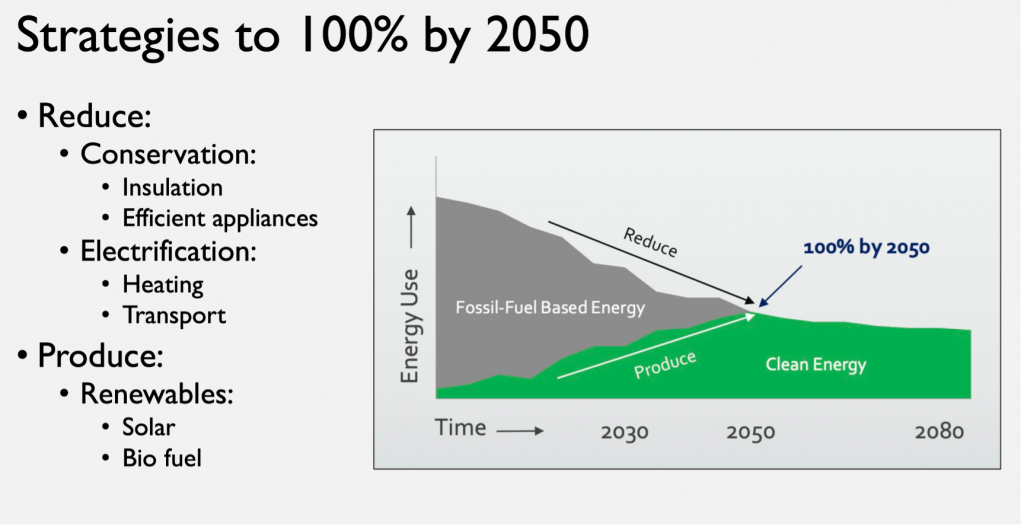 Members of the delegation shared details of their own sustainability plans. Representatives from the cities of Dangjin and Goyang in particular shared their approaches to sustainability, which involve reduction of pollution, adoption of green energy, and moves to achieve social sustainability. While South Korea's federal government sets many of the parameters, "there was a lot of 'ground up' local work to be done just as we see here in West Hartford," Pelletier said.
"We're very proud of what we've done and want to also learn from what they have," he said.
Pelletier said one of the biggest takeaways from the visit is the reminder that people around the globe are wrestling with the same types of issues. "It was comforting to see a whole nation engaging on the issue of sustainability," he said.
"Another big takeaway is the issue of sustainability is broader than just clean energy. We have come to this realization in West Hartford and are currently looking to form a Sustainable West Hartford commission that has a broad charter, just as we saw in the case of the two Korean cities." That proposed commission, which will be considered by the Town Council, will be a combination of some of the town's existing organizations, including the Conservation and Environment Commission and the Clean Energy Commission.
"Finally, this visit left us with a feeling of pride that our little town drew attention from a nation on the other side of the earth," Pelletier said. "When the delegation left to visit UConn in Hartford and then return home, we agreed to stay in touch with each other as each of us progressed on the journey to a sustainable future. The only way to 'win' in this planet wide initiative is for all of us to succeed."
West Hartford was also honored this month by Sustainable CT, which named the town a "Climate Leader," one of five municipalities statewide to be included in that inaugural group.
Like what you see here? Click here to subscribe to We-Ha's newsletter so you'll always be in the know about what's happening in West Hartford! Click the blue button below to become a supporter of We-Ha.com and our efforts to continue producing quality journalism.