The West Hartford Chamber of Commerce will host the Mayor's annual 'State of the Town' address live, via Zoom and other virtual platforms, on Thursday, Feb. 11, 2021.
By Ronni Newton 
West Hartford Mayor Shari Cantor will present the annual "State of the Town" address as a virtual event this year, providing a look back at the past year – with a focus on the town's response to the COVID-19 pandemic – as well as her vision for the future.
The annual event traditionally includes a sold-out luncheon at the Delamar Hotel, but due to the coronavirus pandemic will be held virtually this year. It will still be hosted by the West Hartford Chamber of Commerce, and will take place on Thursday, Feb. 11, from noon-1:30 p.m., via Zoom, Facebook Live, YouTube Live, and on West Hartford Community Interactive.
"The pandemic has changed everything – how we live, how we learn and how we do business. Through it all, West Hartford is resilient, solution-oriented and most of all, compassionate," Cantor said.  "The outlook for West Hartford continues to be strong," she said, adding that she is looking forward to sharing her report.
Chamber of Commerce Executive Director Christopher Conway said 2020 was challenging for everyone. "As part of our commitment to be West Hartford's community and business connection, the West Hartford Chamber of Commerce is proud to facilitate this important community forum."
Since the event cannot be held as an-person, Conway asked attendees to support local businesses by considering ordering their own lunches via takeout or delivery from a local restaurant. A list of West Hartford Chamber of Commerce member restaurants can be found here.
This is the fifth time that Cantor, a lifelong resident of West Hartford, will give the annual State of the Town speech. She has been mayor since May 17, 2016, and prior to that was deputy mayor (2011-2016) and has been a member of the Town Council since 2004.
There is no charge to attend the online event, which is open to the public and should be engaging and informative to residents as well as those who do business in West Hartford. Presenting Sponsor is TD Bank, and Gold Sponsors include The Mercy Community and UHY Advisors. Silvers Sponsors are the American School for the Deaf and Crystal Restoration Services of Connecticut. Westfield Bank is Technology Sponsor and 20Media is the Media Sponsor for the event. Additional sponsorship opportunities are available, and contact Kate Kobs via [email protected] for more details.
Attendees will be able to post questions via the chat function of Zoom as well as through Facebook Live.
Click here to register for the event.
For more information, visit www.whchamber.com or call the Chamber offices at 860-810-5663 or email [email protected].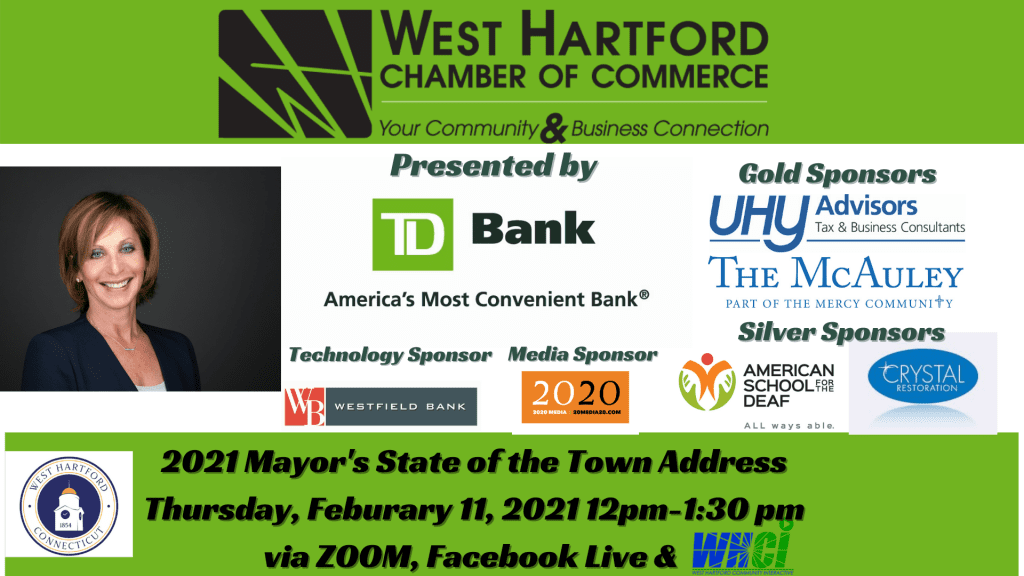 Like what you see here? Click here to subscribe to We-Ha's newsletter so you'll always be in the know about what's happening in West Hartford! Click the blue button below to become a supporter of We-Ha.com and our efforts to continue producing quality journalism.