[Updated, Feb. 23, 2022] The West Hartford Chamber of Commerce will host the Mayor's annual 'State of the Town' address at the Pond House Cafe, and due to predicted weather the event has been postponed to Friday, March 4.
By Ronni Newton 
West Hartford Mayor Shari Cantor will present the annual "State of the Town" address at the Pond House Cafe in Elizabeth Park, marking the event's return to in-person format after a virtual presentation in 2021. Due to the weather forecast, the luncheon has been moved from Friday, Feb. 25 to Friday, March 4, and all tickets will be honored.
She will provide a look back at the past year – including the town's continued response to the COVID-19 pandemic – as well as her vision for the future.
The annual event, which will run from 11:30 a.m.-1:30 p.m., is hosted and facilitated by the West Hartford Chamber of Commerce, and traditionally sells out. It promises to be engaging and informative for residents as well as those who do business in West Hartford, organizers said.
"2021 was a year of highs and lows but we have come through it stronger, more focused and optimistic," Cantor said. "West Hartford's economy continues to be steady and home values are among the highest in the region. With strategic budgeting and funds from the American Rescue Plan Act, I am excited to share with you on Feb. 25 March 4 the town's plans for development, innovation, and solutions for 2022 as well as a reflection on 2021."
West Hartford Chamber of Commerce Executive Director Christopher Conway said, "As part of our commitment to be West Harford's community and business connection, The West Hartford Chamber of Commerce is proud to facilitate this important community forum. West Hartford has done a great job navigating the shifting tide of the pandemic for the past two years. We look forward to hearing Mayor Cantor's update and vision for our community going forward."
A question and answer session will follow the presentation. Lunch will be provided by the Pond House Cafe, and pre-registration is required. Tickets are $45 for West Hartford Chamber of Commerce Members and $55 for non-members.
Anyone who purchased tickets and is now unable to attend on the new date should contact the Chamber of Commerce to receive a refund.
This is the fifth time that Cantor, a lifelong resident of West Hartford, will give the annual State of the Town speech. She has been mayor since May 17, 2016, and prior to that was deputy mayor (2011-2016) and has been a member of the Town Council since 2004.
West Hartford Community Interactive TV will broadcast the event on Comcast Channel 5, Frontier TV 6098, and their YouTube channel (https://www.youtube.com/user/whctv5) to accommodate anyone unable to attend in-person.
This year's Presenting Sponsor is TD Bank. Gold Sponsors include: American School for the Deaf, Blue Back Square, UHY Advisors, Westfield Bank, and WHy West Hartford. Additional sponsorship opportunities are still available and further details can be found here.
Please visit www.whchamber.com to register or call the Chamber offices at 860-521-2300 for more information.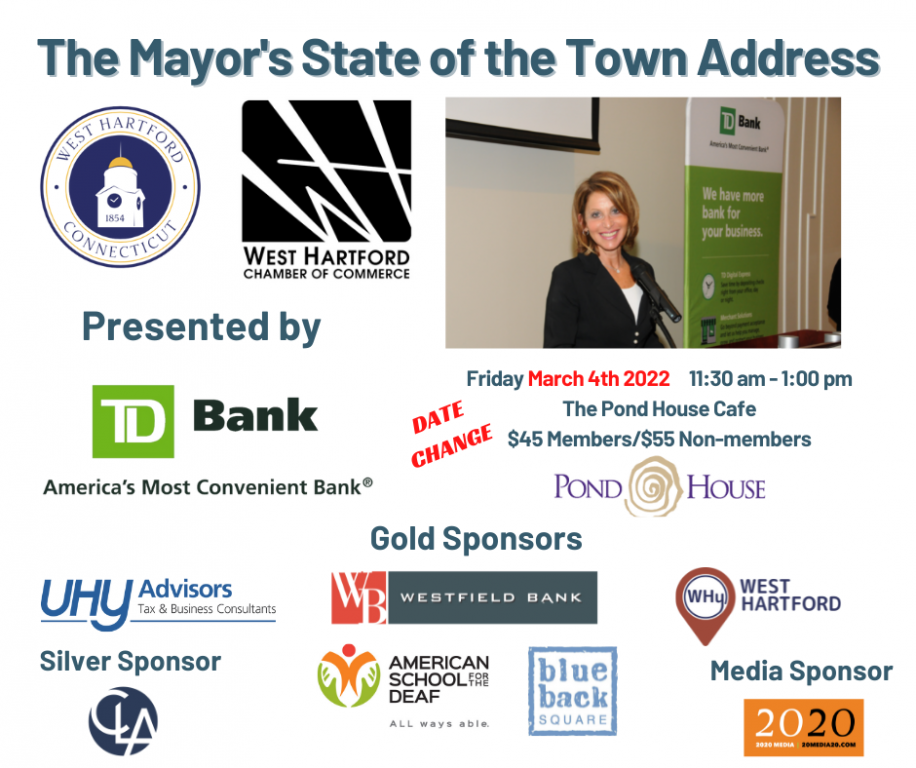 Like what you see here? Click here to subscribe to We-Ha's newsletter so you'll always be in the know about what's happening in West Hartford! Click the blue button below to become a supporter of We-Ha.com and our efforts to continue producing quality journalism.