'Unnecessary Farce,' written by West Hartford native and Conard graduate Paul Slade Smith, will have its Connecticut premiere at Playhouse on Park on Nov. 4, 2016.
By Ronni Newton
The next show in the Main Stage Series at West Hartford's Playhouse on Park was written by a West Hartford native – but that actually had nothing to do with why it was chosen.
Playwright Paul Slade Smith didn't even know that his play was going to be performed in West Hartford until his sister told him.
"I heard about it from my sister, who lives in Plainville. She noticed it on the Playhouse on Park schedule," Smith said.
Smith, a 1984 graduate of Conard High School, now lives in Brooklyn. But many family members, including his mother and brother, still live in West Hartford. In addition to his sister in Plainville, other family members also live in the area.
Playhouse on Park Executive Director Tracy Flater said that "Unnecessary Farce" has been gaining popularity, and has had great reviews in the regional theater scene where it has won nine awards. When Russell Treyz, who has directed several other popular comedies at Playhouse on Park, brought up "Unnecessary Farce" as a possible show the team loved it, Flater said, and decided to produce it.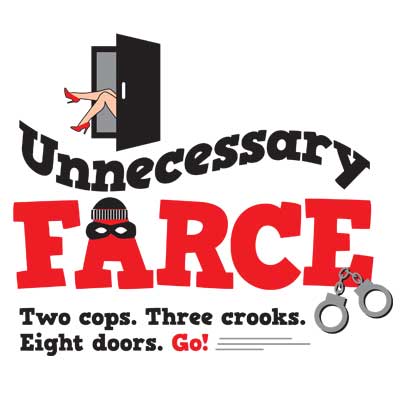 "It was not until after we added it to our eighth season that we realized the author is from West Hartford," Flater said. His sister reached out and said, "Did you know …"
"It's the first performance in the whole state, which is remarkable," Smith said. The show has been performed 247 other times, but never in Connecticut, he said. "It's so exciting for me to have it happen [in West Hartford]."
"Unnecessary Farce" features "two cops, three crooks, and eight doors." It's set in side-by-side rooms at a cheap motel, and Playhouse on Park provided the following synopsis: "In one [room], an embezzling mayor is supposed to meet with his female accountant, while in the other, two undercover cops wait to catch the meeting on videotape. But mishaps arise when there is confusion as to who's in which room."
Smith said he wrote the play while touring as part of the cast of Phantom of the Opera. "I was living in lots of hotel rooms, and could imagine the setting of this play," he said.
While West Hartford had no particular impact on "Unnecessary Farce," Smith said there is a West Hartford reference in the next play he's writing. "I had a character with the initials 'AC,'" Smith said. "And I decided to make his last name Petersen," said Smith, giving a nod to AC Petersen Farms, which is located right next door to Playhouse on Park.
Smith said AC Petersen Farms was where he and his friends would go after choir concerts when he was in high school. The Friendly's at Sunset Triangle (next door to Stop & Shop at the time), was also a popular hangout, he said.
Smith said he was very active in theater at Conard, and fondly remembers performing in musicals directed by Bill Lauer and Beverly Jackson. He was also involved in the early days of the West Hartford Summer Arts Festival run by Haig Shahverdian, where he formed friendship with Hall students as well.
Smith is also getting ready for a new acting role that begins next month but can't yet be revealed, and in the meantime is working on his next play. "I'm primarily an actor – that's what I do most of the time," he said. His most recent role was as Captain Hook in "Finding Neverland."
He said it's funny because his very first acting role was as Mr. Darling in "Peter Pan" – when he was in fourth grade at Bridle Path Elementary School in West Hartford.
Smith is hoping to make it to Playhouse on Park to see the Connecticut premiere of "Unnecessary Farce."
"My family is really looking forward to it," Smith said.
"Unnecessary

Farce" is directed by Russell Treyz and stars

 Mike Boland as Agent Frank, John-Patrick Driscoll as Todd, Will Hardyman as Eric Sheridan, Ruth Neaveill as Mary Meekly, Everett O'Neil as Mayor Meekly, Julie Robles as Karen, and Susan Slotoroff as Billie.
"Unnecessary Farce" opens on Friday, Nov. 4, 2016, at 8 p.m. A complimentary wine and cheese reception will be held before the performance from 7-8 p.m. The show runs through Nov. 20, and there are preview shows on Nov. 2 and 3. All preview seats are just $18, and the show offers a specially-priced matinee on Tuesday, Nov. 15, at 2 p.m. with all seats for this performance at $22.50 per person, reserved seating. In addition, there is a talk back with the cast after Sunday matinees. 
Individual tickets are on sale now, ranging from $30 to $40. Seniors, Students, and Let's Go Arts Member discounts are available. All seats are reserved. Contact the box office for details on group sales and a 20 percent discount if you purchase a subscription to the remaining six shows in the season that include Unnecessary Farce, [title of show], A Moon for the Misbegotten, stop/time dance theater's Rockin' the Forest, and The Complete Works of William Shakespeare (Abridged) – Revised Edition. For tickets or more information, call the box office at 860-523-5900 x10 or visit www.playhouseonpark.org. Playhouse on Park is located at 244 Park Rd., West Hartford, CT 06119.