The annual Halloween scene on the front lawn of West Hartford resident Matt Warshauer's North Main Street home this season focuses on what he considers among the most alarming issue of the day.
By Ronni Newton
Matt Warshauer didn't include informational panels as part of this year's Halloween display in front of his North Main Street home because he didn't need think the scene needs any explaining.
The terrifying message needs no edification.
"It's an understated overstatement," said Warshauer, a professor at Central Connecticut State University and a political historian who has become known for the elaborate and message-laden Halloween displays he has created for nearly two decades.
There's no image of former Trump or any other politicians, and no signs that make any argument. The display is, however, huge.
The peaked roof symbolizing the east side of the Capitol building that now looms over North Main Street is between 14 and 15 feet tall. The display is 35 feet long, and the walls are 8 feet high.
Warshauer spent Friday and Saturday erecting his version of the Jan. 6 Capitol insurrection on his front lawn, with the building going up on Friday and the embellishments that make the meaning clearing added on Saturday.
"You're not going to miss what it is," he said.
The only writing at all is on the building: "These are not PATRIOTS. This is not DEMOCRACY."
The words "patriots" and "democracy" are in larger font than the others, which may cause some to initially think there's a different message while driving by, but when they really look it will be very clear.
"People are going to get it. The most reasonable Americans are going to get it. I don't know how people believe [that this wasn't an insurrection] and repeat it with a straight face," Warshauer said.
"I just don't know how anyone an explain away what happened on Jan. 6."
The stately Federal-style Capitol building was crafted from Warshauer's usual stock of materials: "cardboard and styrofoam, and more tubes of latex caulk than you can count," Warshauer said. He's spent the past several weeks pre-fabricating the building – using a table saw to cut the materials to the proper size and shape. Cardboard, once painted, is remarkably weather-resistant, he said.
And in keeping with the Halloween theme that co-exists with the political message, the mob of insurrectionists that were added to the display on Saturday are skeletons.
"There are 30-something skeletons climbing up the building," he said, with perhaps the most recognizable figure in the mob, the furred Q Shaman, perched on the top right corner of the roof.
On the top left of the roof is a vulture skeleton, "feeding off the rotting carcass of our democracy," he said.
Warshauer already had the Viking helmet – which he bought more than 25 years ago as part of a costume worn when he was part of a crew in a sailing race – and said all he had to do is add some fur.
Warshauer saves the elements from each year's display, using them over and over, but he didn't have anywhere near enough skeletons in his stash to create the necessary dramatic tableau that would bring Jan. 6 to life, so over the summer he launched the "Halloween House Needs Skeletons" GoFundMe campaign. With the full-size (nearly 5-feet tall) posable skeletons costing $30 each, he anticipated spending about $1,000, and wrote on the description of the crowdsourcing that "if I spend that my wife will kill me and I'll be a permanent part of the display." In less than 24 hours, he exceeded the goal, raising $1,265 which he used to purchase 34 skeletons.
"The impact of that many skeletons is going to be mind-blowing, sort of overwhelming," he said.
Adding to the visual impact, at the top of the stairs are six skeletons dressed as Capitol Police officers.
Warshauer has been training in martial arts for more than 30 years, and has a fully-equipped dojo on the third floor of his house. That's where he found the chest protectors and helmets used for the Capitol Police costumes. Plastic container lids became shields.
There were a number of ideas Warshauer considered for this year's display, even after the Capitol attack. He finalized his plans over the summer, and began work about a month ago.
The more he thought about, the more Warshauer felt it was important to have this year's display be about the insurrection, and although the display itself includes only minimal written commentary, in an interview he didn't hesitate to share his true feelings about what happened on Jan. 6 and the role of former President Donald Trump.
In a political history class Warshauer teaches at CCSU, that covers the period 1776-1876, the readings include documents like the Declaration of Independence and Federalist No. 10 – which warns about the danger of faction in a republic. "We can't get rid of factions, but we have to control them," Warshauer said, but the country today is facing the danger of uncontrolled factions.
He also has his students read not only former President George Washington's inaugural address, as well as his farewell address – which also warns about the danger of factions. Washington said in his farewell address that there must be a belief in the fidelity, and the connection of the separate states to the union itself.
Excerpts from Washington's farewell speech, and other background information, can be found in the artist statement Warshauer wrote to go with this year's display.
"No party or faction should go so far that they dismantle the system," Warshauer said, and that's what he believes the party of Donald Trump is doing.
"When it becomes impossible to reason with someone, where the most basic elements of their narrative are so fallacious that they're just fake, how can you continue that dialogue?" Warshauer said. He felt driven to put up a display about the insurrection, to say it happened, that it wasn't a hoax.
The U.S. Capitol has only been attacked twice in the country's history. "Once by a foreign enemy during the War of 1812, and once by a domestic enemy at the urging of a rogue president," Warshauer said.
While Warshauer himself hasn't added his own written thoughts to the display, there are two panels where visitors can share their thoughts. Between the two panels is a painting by his daughter, Samantha, a senior at Eastern Connecticut State University, an additional dramatic element that's a reference to Warshauer's recently-completed book on the 9/11 generation. If you look closely at the image, the bottom of the World Trade Center towers can be seen. The QR code provides a link to his website where there are eight essays Warshauer has published about 9/11.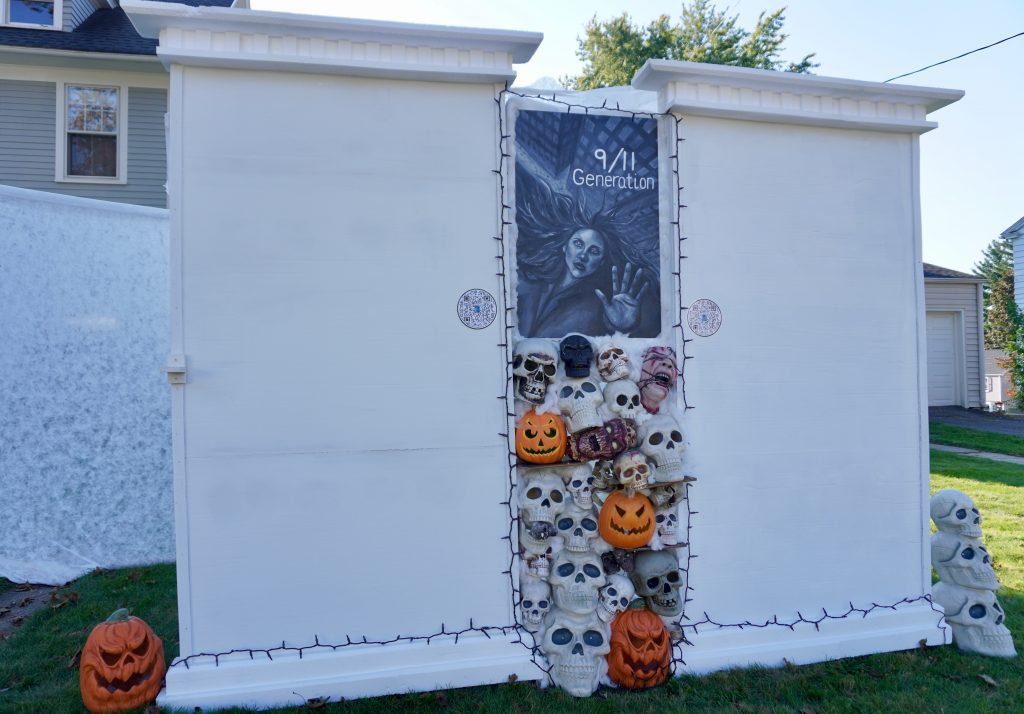 This is year 22 of a Halloween display, Warshauer said, and year 18 of having a political bent, which started with an Iraq War-themed display.
For last year's display he tackled two issues – both equally important and alarming – COVID-19 and Black Lives Matter. Four of his previous displays, he said, were actually a prologue to that one:
Of all his displays, Warshauer said the most complicated to construct was the pirate ship in 2017. His favorite? The  Vietnam scene complete with a downed helicopter in 2015, which commemorated the 50th anniversary of the United States' involvement in Vietnam.
Warshauer's house is located at 115 North Main St. in West Hartford, just north of Fern Street. There is no parking on North Main Street, but parking is available on some other side streets, including Hilltop Drive.
The North Main Street road diet runs right by Warshauer's house, but he doesn't think the traffic pattern will impact the viewing of this year's display other than to maybe keep traffic a bit slower. It's never caused a crash, he said.
Like what you see here? Click here to subscribe to We-Ha's newsletter so you'll always be in the know about what's happening in West Hartford! Click the blue button below to become a supporter of We-Ha.com and our efforts to continue producing quality journalism.