The West Hartford Town Council's Public Safety Committee discussed a resolution that will be introduced on Jan. 10 to implement the 'Vision Zero Initiative in Support of Safe, Healthy and Equitable Mobility' to address traffic and pedestrian safety in town, and also reviewed the process of investigating crashes and statistics. 
By Ronni Newton
The West Hartford community was shaken by an unprecedented string of tragic incidents, including five traffic fatalities, in December, and town leaders are taking both immediate and long-term steps to address safety for all who use the roadways.
"We've experienced some tragic incidents throughout town and certainly any loss of life on our streets is unacceptable," Town Manager Rick Ledwith said Wednesday morning at a meeting of the Town Council's Public Safety Committee.
Plans to convene a task force were announced on Christmas Day, just hours after a two-car crash on Simsbury Road at 6:49 a.m. resulted in the death of three occupants of the vehicles despite lifesaving efforts by emergency responders. In just over a week, a total of five people lost their lives as a result of several unrelated motor vehicle collisions in West Hartford, and another person was seriously injured. An incident in June resulted in the death of a pedestrian in West Hartford Center, bringing the total number of traffic fatalities in West Hartford for 2022 to six.
On Dec. 21, roughly 20 residents held a 'safe streets' rally at the site of one of the fatal incidents.
Following the announcement of the task force, the goals for the group have been further refined, and members will be working along with a consultant the town was already in the process of hiring, and will be implementing the "Vision Zero" action plan – a campaign that has been put into place in municipalities throughout the country and which has a goal of "eliminating all traffic fatalities and severe injuries — while increasing safe, healthy, equitable mobility for all."
"The premise of 'Vision Zero' is that traffic deaths are preventable," Ledwith said. "Through Vision Zero we would commit to eliminating all traffic deaths within a given timeframe." The Town Council plans to adopt the initiative through a resolution at its Jan. 10, 2023 meeting.
Ledwith said the Vision Zero Task Force will include 15 to 16 members, half of them staff with representation from the police department, engineering, public works, and equity advancement. The remaining members will be volunteers from the community (they must be West Hartford residents) who have some relevant background in planning or traffic fields.
Vision Zero looks to completely eliminate fatalities and severe injuries within a 10 year period, and there will be specific goals to be accomplished over the next 12-18 months – including establishing a website with up-to-date crash data that will be accessible to the community and facilitating public meetings to receive feedback – but there will also be immediate attention to roadways that have already been identified as sources of frequent crashes.
Road design as well as speeding will be addressed, and Ledwith said that the immediate focus will be on Boulevard, Mohegan Drive, and Simsbury Road – where the fatalities occurred last month, as well as Fern Street, Asylum Avenue, and Albany Avenue. "There will be immediate short-term changes to some specific roads … even while that action plan is being developed over the next year," Ledwith said during the Public Safety Committee meeting.
"Equity will play an integral role in that plan to make sure our entire town is represented," Ledwith added. Vision Zero also focuses on accountability, transparency, and enforcement.
The Vision Zero Task Force will include a Technical Advisory Committee and a Community Advisory Committee, Mayor Shari Cantor said. She said she had already spoken with the mayor of Stamford, which began implementation of Vision Zero in the fall, and has been advised that they are already seeing changes. West Hartford will be the second community in the state to adopt the program.
"The goal is to eliminate transportation fatalities and severe injuries involving pedestrian, bicyclists, transit users, motorists and passengers," Cantor told We-Ha.com.
In adopting the Vision Zero Initiative, West Hartford will be supporting the following five fundamental principles that are spelled out in the resolution:
"Deaths and serious injuries caused by traffic crashes are preventable;
"Human life and health should be prioritized in all transportation systems and in all aspects of transportation planning and design;
"Human error is inevitable and transportation systems should be forgiving;
"Transportation planning should focus on system-level changes to influence all individual's behavior; and
"Speed is a highly important factor in crash severity."
The direction to the task force is to develop a plan within the next 12 months focused on the goal of eliminating traffic-related deaths by 2033, Cantor said. "But during this year the task force will identify and recommend changes that can be made immediately and those that can be implemented expeditiously will be. We all want to see immediate change in certain locations throughout town. Our community and state have endured too many traffic related deaths. We are heartbroken by these lives lost too soon and families that are changed forever. We have to make all of our roads safer within our town and throughout our state."
Even before the latest string of tragic incidents, the Town Council had already appropriated $100,000 of its American Rescue Plan Act (ARPA) funds to hire a consultant to do a town-wide public roadway safety study – an overall assessment and evaluation of the town's roads and intersections, including an in-depth review of crash data. That RFP was issued last week, Ledwith said, and the consultant the town hires will be working directly with the task force and on the implementation of Vision Zero.
Ledwith said the hiring of the consultant was already in the works, and after the two pedestrian fatalities in December the focus was being narrowed. "After the Christmas incident, that cemented it," he told We-Ha.com.
West Hartford Police Accident Reconstruction Team and the Investigation Process
Before providing a review of crash statistics, Chief Vernon Riddick and Sgt. Ed Jacovino of the Traffic Division provided the Public Safety Committee with an overview of what goes into the investigation of serious collisions. The fatal crash on Christmas morning on Simsbury Road was one of the worst he had seen in years, Riddick said.
The process of investigation can be lengthy, and there are many components. While the community may be eager to find out the cause of a crash as well as other details to have closure, there are reasons why it can take an extensive amount of time.
"Let us not forget for one moment that these statistics represent people," Riddick said.
Jacovino said officers in the Traffic Division receive extensive training to be part of the Accident Reconstruction Team that investigates serious crashes – training that includes a study of physics, of vectors.
Investigation of any crash begins with the patrol officers, who close off the impacted roads to preserve evidence, and who are involved with interviewing witnesses and taking written statements.
Once the Accident Reconstruction Team arrives, the investigation moves from a narrow focus on where the incident ended to an expanded look at the road, where primary or perhaps secondary impact may have actually occurred, skid marks and other impacts on the road, gouge marks in the metal. Officers take photographs, and a drone is deployed to take images from different altitudes.
"We have a FARO scanner that makes a 3D measurement and documentation of the scene," Jacovino said. The FARO device, which is a cutting-edge piece of equipment that the department has recently acquired, takes into account the topography of the surrounding area, including the foliage, to determine the line of sight.
Officers also canvass the area for surveillance cameras that may have captured pertinent information.
If there are victims that have been transported to the hospital, getting updates from and about them is also part of the investigation. Officers personally notify next of kin in the event of injury or fatality, and prior to releasing any identification of those involved in the incident they wait until other family members have had a chance to be notified, to avoid them having to learn about a situation from the news.
Once the scene has been cleared and evidence has been obtained, the vehicles are impounded and a mechanical examination is undertaken, Jacovino said. A search warrant may be required, and available information is also downloaded from vehicle computers as part of the investigation, he said.
If driver impairment is a suspected factor, officers conduct that investigation. A higher level of expertise is now required to determine possible impairment from marijuana and other substances, Jacovino said.
Serious crashes involved a prolonged and involved investigation, and if there is a fatality any report must include the results of autopsies and toxicology reports as well.
"That's why some of reports take a long time. It doesn't end when road reopens," Jacovino said.
There are generally four to five members of the Accident Reconstruction Team at the scene, plus the drone team and members of the Patrol Division involved in an investigation, Jacovino said. As many as 10 officers may be recalled to a crash with a fatality.
Statistics
In 2022, there were 10 incidents that involved the Accident Reconstruction Team, more than in any of the past 10 years, Riddick said. The data, however, includes providing mutual aid to other towns, which has occurred more often since the acquisition of the FARO. As an example, he said West Hartford provided assistance to the investigation of a plane crash in Farmington. In 2021, there were eight incidents, according to information he shared with the Public Safety Committee in a PowerPoint on Wednesday morning.
Data from the past several years is somewhat skewed because of the pandemic and the reduction in traffic during 2020 and 2022, so Riddick presented at least five years of data to committee members,
In 2022, there were 2,414 motor vehicle crashes, an increase over the previous two years but still lower than in 2018 and 2019. The total number is 11% lower than it was in 2019, he said.
Since 2013, there have been an average of 1.8 motor vehicle-related fatalities, Riddick said. There were three fatalities in 2016, according to statistics he presented, and the trend had been positive until this year when there were five. "This is really a huge spike, it's an anomaly for us," he said.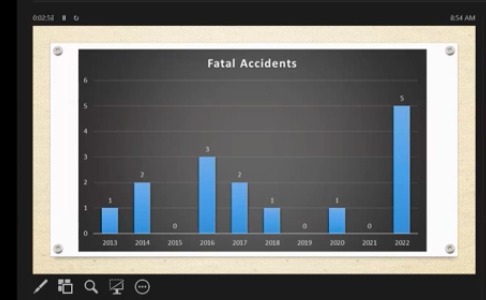 The actual number of crashes involving pedestrians has actually been declining, Riddick said. Looking at the pre-pandemic years, in 2018 there 32 and in 2019 there were 25. In 2021 there were 28, and in 2022 the total was down to 15. "But we still had three fatalities," Riddick said.
There have not been any recent fatalities involving motor vehicles and bicycles, Riddick said. There was one involving a skateboarder – that was a hit and run –  but which was classified as a bike incident due to coding.
The number of motor vehicle stops rose from 6,041 in 2018 to 7,921 in 2019, but then had declined dramatically during the pandemic to less than 3,000 per year. The number has ramped back up, with 4,675 for 2022, Riddick said. He noted that enforcement is not random, but rather focuses on key locations such as Albany Avenue at North Main, New Britain Avenue at South Main, Flatbush Avenue at New Park Avenue, the Westfarms area, and others. "We are aware of the accident locations and try to get out there," Riddick said.
He also said that contributing factors in fatal incidents have included speed, distracted walking and driving – and paying attention when walking is also important, he added – as well as violation of motor vehicle and pedestrian laws, lighting conditions, and decision making. "We're not placing blame but these are actual contributing factors," Riddick said.
Solutions to improve traffic safety, Riddick said, include traffic calming and other road design modifications, education and awareness, and increased motor vehicle enforcement activities.
"We're all accountable – walking, driving, biking," Ledwith told We-Ha.com. It's also important to determine how the town's roads contribute to the incidents, and the data being collected will help determine that.
Not unexpectedly there has been an outcry on social media following the recent incidents, but there are often comments on Facebook and Twitter about people speeding or running red lights in town. There are also often questions about why West Hartford does not have traffic cameras.
Connecticut would have to enact legislation to permit traffic cameras to be used for enforcement of red light violations or speeding, Ledwith said. According to the National Conference of State Legislatures, 18 states and the District of Columbia permit speed enforcement cameras, and 23 states plus DC allow the use of red light cameras for enforcement.
Regardless of whether or not they will be able to be used for enforcement, West Hartford will be installing surveillance cameras throughout town, Ledwith told We-Ha.com. An allocation of $500,000 from American Rescue Plan Act (ARPA) funds was made by the Town Council for that project in December 2021.
"I think we're taking the right step here to address an immediate concern that has affected our community so seriously in the past few weeks," Council member Leon Davidoff, who is a member of the Public Safety Committee, said Wednesday of the creation of the task force and Vision Zero. He also expressed concern for the first responders who witnessed the aftermath of the tragedies, and said he appreciates that a crucial component of Vision Zero is providing support services for responders.
Public Safety Committee Chair Carol Blanks said the number of incidents is reviewed every time the committee meets, and while the police and fire departments have great response time, the number of incidents seems to be growing. She also said she has personally observed more speeders, and motorists who are not paying attention.
"We'll get it right, it's going to take some time, it's not going to happen overnight," Blanks said. She said she is looking forward to what the community leaders and consultants will come up with.
"It's a work in progress and we will continue to be diligent," Blanks said.
"We are committed to working with all partners to make West Hartford roads safer," Cantor said.
Like what you see here? Click here to subscribe to We-Ha's newsletter so you'll always be in the know about what's happening in West Hartford! Click the blue button below to become a supporter of We-Ha.com and our efforts to continue producing quality journalism.