A round-up of openings, closings, and other news about West Hartford businesses.
By Ronni Newton
I had to double-check the date when I typed it above. August has certainly flown by, and while I have said on multiple occasions recently that I am ready to see the humidity end (I've probably said it multiple times a day over the past few weeks), I'm still sad about summer ending.
I returned home late Thursday night from being away for two weeks. While there was a good amount of beach time, our trip to Nantucket was not a relaxing escape from reality, and included assisting with my mother-in-law's move to a skilled nursing facility on the island. I also continued to write some stories for the We-Ha.com site, edited the work of other writers, and keep up our social media sites – although admittedly not quite as frequently as usual.
I kept up with my half marathon training, doing an 8-mile and a 9.3-mile long run while on vacation (plus shorter runs in between), and this Saturday completed a 10-miler with the Fleet Feet training group. It's been a few years since I hit double digits, and while it was a pretty good run, training in this weather is one of the reasons why I am anxious for the humidity levels to drop. Running with the training group is definitely far more motivating than running alone!
Last week I finally had the chance to meet author Elin Hilderbrand – who lives on Nantucket and bases a majority of her novels on the island. I'm pretty sure I have read all of her books, but have previously missed out on the opportunity to attend one of her book signings on more occasions than I can count.
We did make a point of sampling the offerings at Nantucket's new taco restaurant (NanTaco), and I thought the fish tacos were especially yummy. We also had a great meal at our dog's namesake restaurant, Millie's.
While Ted was still out running the Hartford Marathon Foundation's RiMaConn race on Saturday (a 95-mile relay with a six person team that starts in Rhode Island, heads into Massachusetts, and ends in Hartford), my sister and I both celebrated having run 10 miles earlier in the day with some comfort food at Beachland Tavern.
On Sunday, Millie, Ted, and I made a quick trip to "Dog Days" at the Blue Back Farmers' Market! She missed the Fidelco demonstration, but did get to sample some special treats.
COVID-19 has not vanished, but we are heading into the fall with much more of a sense of normalcy than in the past several years. West Hartford Public Schools re-open for the year on Wednesday, and today is the first in-person convocation since 2019. Look for my story about it later, and click here for a recap of my conversation with Interim Superintendent Andy Morrow with updates that took place over the summer and information about what to expect when students return to school.
There were 63 positive cases in West Hartford over the past seven days (as of Sunday), and a positivity rate of 12%. The numbers have gone up and down a bit over the past few weeks, but have hovered in the same zone. Statewide metrics have been relatively stable as well. One day I hope to be able to delete this paragraph completely, but in the meantime, please continue to have patience since not everyone has the same level of comfort, continue to look out for each other, support our local businesses – and stay safe and healthy.
If you have information to share about local businesses, please provide details in the comments or email Ronni Newton at [email protected].
**************************************************
Connecticut Physical Therapy Specialists is the sponsor of this week's Business Buzz!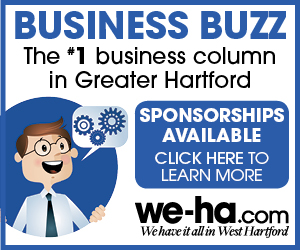 Here's this week's Buzz:
It's been nearly six years since Helen Brower and Cesar Contreras realized their dream when they purchased Sally & Bob's Eatery at 10 North Main St., and now that dream is growing even larger. The work is complete, and on Tuesday (they have fingers crossed!) the expansion of the restaurant that continues to be a local favorite for breakfast and lunch should open to the public. Helen and Cesar gave me a sneak peek on Saturday of the 600-foot addition that was formerly a portion of the now-vacant Woodward Insurance office in the suite next door. Sally & Bob's will have about 26 more seats, but a major advantage of the new space, Helen added, is that there are bigger booths and tables to accommodate larger groups. The expansion has also prompted some other updates, including restrooms located inside the restaurant (no need to get the key for the bathroom down the hall), and the transformation of the counter seating area. "We're also adding a fryolator," said Helen. "There's never been one." Cesar noted that now that will allow them to add French fries, wings, onion rings, and mozzarella sticks to the menu. Sally & Bob's remains popular for breakfast (pancakes are probably their top seller), but they've also continued to add to their lunch menu, with burgers, a very popular grilled chicken salad, and other salads that were added to the menu in March. Helen noted that while the space is expanding, their staff is shrinking with many employees returning to school this week. They are hiring, and contact information can be found on the website. Sally & Bob's is open Monday through Saturday from 6 a.m.-2 p.m., and Sundays from 7 a.m.-2 p.m.
Laz Davis, owner of the new business Flowers of Life Herbal Apothecary, is completing the build-out of her space and hopes to be able to open next week in the lower level of the Bishops Corner Shopping Center, 2529 Albany Ave., next to European Wax Center. A native of Connecticut who has been living in Brooklyn, NY, Laz said Flowers of Life specializes in plant-based medicine. The public is very much familiar with the medicinal properties of cannabis, she said, "But there are literally millions of other plants that are medicinal." Mint, rose, chamomile, and lavender are some of those she named. The shop will offer individual loose herbs as well as formulas prepared in tinctures and salves. "All modalities of plant medicine," she said. Laz has spent a good deal of her career working with homeless populations in New York, most recently managing a needle exchange through Cornell. She's also been a carpenter, worked for the Department of Health in New York, and worked in an apothecary in Brooklyn. Having children, and the pandemic, inspired her to return home to Connecticut. "What I learned in New York, I wanted to bring back home. This is my calling, my life work." Her carpentry skills have come in handy as well, as she's done a lot of hands-on work to fulfill her vision for the appearance of the Bishops Corner space, and said she'll continue to add some more personal touches. Flowers of Life hopes to have its soft opening around Labor Day weekend, and will be open Tuesday through Sunday, with hours being finalized. She said she's recruiting her sister, a student at the University of Hartford, to help staff the shop. Customers can come in during the hours they are open for purchases, and can also make appointments to speak with Laz for a private one-on-one consultation. Economic Development Coordinator Kristen Gorski said she's excited about welcoming a new retailer to West Hartford. I'll provide interior photos and more details once they are open.
Piyada (Piya) Phunsawat opened Moonchild Thai Spa By Piya on July 25 within Sola Salons at 61 Raymond Road in Blue Back Square, and said she is so happy and honored to be able to help others with her skills and knowledge. She shared that she has been been practicing healing arts like, massage and Thai traditional massage for approximately 10 years, and in February 2020 graduated from Cortiva Institute in Cromwell, CT as a Licensed Massage Therapist, and has passed her state exam. "Since I could remember, I have always drawn to holistic approach of healing, like Thai Traditional Massage is one of my specialties," Piya said. "Thai Traditional Massage has tremendous amount of benefits for clients and even practitioners as well. It's basically a practitioner's assisting client to do yoga alongside with them. Thai massage is an ancient sacred healing that only allowed in the Thai Royal family members back in the day. Thai Traditional massage is a combination of Ayurvedic prana healing (similar to Reiki; the energy healing), stretching, Chinese acupressure points, and lots of stretching." Piya suggests clients wear loose-fitting or workout clothing for the sessions, which are held on the floor on a Thai traditional mat. "I'm fortunate and grateful for this opportunity that I got to share the Eastern wisdom, knowledge, and philosophy of living lifestyle here in Connecticut, USA. … I'm giving my all," she said. Moonchild Thai Spa is open Monday through Saturday from 8 a.m.-8 p.m. and Sundays from 10 a.m.-8 p.m., and more information can be found on their website.
Sweet Frog announced back in the spring that they would be closing the location at 13 South Main Street by the end of August if no one purchased the business, and indeed they did close last week. Demolition of the interior of the space began almost immediately, and the sign is already down and a big "for lease" sign is hanging in its space. I understand that there has been interest in the space, but no lease executed yet. Realistically, what type of business do you think would work, and succeed, in that space? Please share your thought in the comments (and use your full name to have your comment approved).
The West Hartford-based Jewish Community Foundation of Greater Hartford has welcomed two new members to its Board of Trustees, one of whom is also a West Hartford resident. According to a news release, Merrill Mandell of West Hartford, chair of the Governance Committee, presented the nominations at the Jewish Community Foundation's recent Board meeting. The Board voted and approved Neil Kochen of West Hartford and Tracy Smith of Bloomfield as new trustees. Kochen is a seasoned corporate financial executive who recently retired from a 35-year career in the Greater Hartford area at Aetna Life and Casualty, Aeltus Investment Management, ING Financial Services, Alpha Equity Management, and most recently MassMutual Trust Company. His positions have included Portfolio Manager, Head of Strategy and Policy, Chief Asset/Liability Strategist, Chief Risk Officer, Chief Financial Officer, and most recently as Chief Investment Officer. Kochen and his wife, Sharon, are members of Beth El Temple in West Hartford and active members of the Greater Hartford Jewish community. Kochen, who has lived in West Hartford since 1986, has served on numerous other boards including Solomon Schechter Day School (SSDS, from which their four now-adult children all graduated), was head of the Ritual Committee of Beth El Temple of West Hartford, and treasurer of The Jewish Federation of Greater Hartford. He currently serves on The Harold Grinspoon Foundation Investment Committee and is also is a board member of Voices of Hope, a nonprofit that raises consciousness about the inhumanity of the Holocaust and other genocides. Kochen has a bachelor's in mathematics/economics from University of Rochester and a master's in business administration, accounting and finance, from Columbia University. Smith is a dedicated community leader committed to justice issues who worked as an Urban Fellow for the City of New York and then moved to Washington, D.C. to work for Gallaudet University, where she trained employers to accommodate the workplace for deaf students. Smith, who has a bachelor's in sociology and Spanish from Connecticut College earned a master's in social work from the University of Pennsylvania and worked in New York for the Victim Services Agency to establish effective abuse investigation teams statewide and later served as director of Community Initiatives at Planned Parenthood of New York City, where she developed and supervised programing in the South Bronx and Lower East Side to reduce teen pregnancy and improve sexual and mental health outcomes. Most recently, Smith worked in Hartford at Grace Academy designing and implementing a comprehensive health curriculum, and supporting Grace Students through their high school years. Smith and her husband, Dan Joseph – who have three children – are members of the Farmington Valley Jewish Congregation (FVJC) in Simsbury and dedicated to supporting the Greater Hartford Jewish community. She chaired FVJC's Education and Pulpit Search Committees, and served on the executive board before becoming president in 2018. During her three-year team, FVJC initiated outreach and in-reach efforts resulting in increased membership and the completion of a major capital renovation. Smith also serves on the board of the American School for the Deaf.
Congratulations to Daryl Richard of West Hartford, a member of the Marist Class of '97, who has been appointed by Marist to serve as its first Vice President of Communications and Marketing, effective Oct. 24. Most recently he served as Vice President of Marketing and Communications at Quinnipiac University. According to a news release, in this new leadership role at Marist, Richard will help drive the College's marketing and communications strategy and lead a team focused on highlighting distinctive stories and building Marist's national reputation. He will report directly to Marist President Kevin Weinman and serve as a member of both the President's Cabinet and Advisory Council. "I am grateful that Daryl has decided to return to Marist to lead our newly centralized communications and marketing function and look forward to working with him to enhance the institution's profile," said President Weinman. "Daryl is an extremely accomplished communications professional and leader who will help showcase the many reasons we have become a top place to study, teach, and work. He also will be instrumental in introducing Marist to new audiences while helping keep our current Red Fox community engaged and informed." "I am humbled and honored to be asked to come home to Marist at this pivotal time in the College's history," said Richard. "The school had such a profound impact on my own personal growth, professional development, and career-readiness, and I am eager to help future generations of students know how this first-class institution will prepare them for lifelong success while making the Marist brand a household name.

ICYMI, Dog Walk 2022 begins this Wednesday with the reveal of the dogs in Blue Back Square beginning at 4:30 p.m. Come check out the dozen dogs, sponsored by local businesses and members of the community and painted and otherwise embellished by talented artists, and which will help raise funds for nonprofits. Click here for all the details.
Remember, if you have any business news to share, add it in the comments section below or email Ronni Newton at [email protected].
Like what you see here? Click here to subscribe to We-Ha's newsletter so you'll always be in the know about what's happening in West Hartford! Click the blue button below to become a supporter of We-Ha.com and our efforts to continue producing quality journalism.