A round-up of openings, closings, and other news about West Hartford businesses.
By Ronni Newton
Happy Hanukkah to all who celebrate! The eight-day Festival of Lights began Sunday at sundown.
On a less celebratory note, winter officially arrives this Wednesday, at 4:48 p.m.
The good thing about the first day of winter, in my opinion, is it means that the days will start getting longer. I'm sure I will be sharing photos on social media of fun wintery things that I will partake in – like cross country skiing or snowshoeing, maybe some downhill skiing, but I won't stop craving the warm sunshine. And although I do walk on the beach in the winter, and admire the beauty of a stark landscape, I will choose summer any time.
I have braved the cold to cover some outdoor events lately, including participating in the  U.S. Marine Corps Toys for Tots Plainville campaign at Westfarms on Saturday morning. It was fun "elfing" along with Dennis House, Laura Hutchinson, Joe Furey, Lisa Carberg, Sarah Cody, and many others from WTNH News 8, as well as West Hartford Mayor Shari Cantor, Farmington Mayor C.J. Thomas, and the Westfarms team. It was wonderful to see the generosity of so many people who donated to help children in need receive Christmas gifts. See photos and more details in the blurb below.
Business usually slows down a bit by this time of year (other than at the stores) but last week was definitely not low key –  highlighted by a six-hour public hearing Tuesday followed by a Town Council meeting. I was there the whole time (until nearly 1 a.m. Wednesday), and then spent many hours on Wednesday writing up the story about the hearing on the Arapahoe Group's proposal to build condominiums and apartments on what is primarily surface parking in the LaSalle Road and Arapahoe Road area. In case you missed the detailed story, here's the link. The Council will vote at a special meeting this coming Wednesday.
There are other town-related events that I will be covering this week, along with a few ribbon cuttings. We are having an early Christmas celebration with my son Sam and his girlfriend on Thursday as they are heading to Pennsylvania for the weekend to see her family and this will be the first time that neither of our kids will be with us first thing Christmas morning.  (I can't help but be a bit wistful as we hit this new stage of life.)
Along with the rest of the We-Ha.com team, I am hopeful for some downtime over the next week or two, and please note that Business Buzz will NOT appear on Monday, Dec. 26 or Monday, Jan. 2. We will NOT be publishing newsletters on those two Mondays, and the column itself may take a break next week unless there is big news to report.
Ted and I were looking for a good place to have a beer and some casual fare and watch the UConn mens basketball game on Saturday night, and WeHa Brewing & Roasting was the perfect choice. Ted enjoyed a Shield Street NEIPA (the hazy beer) and I enjoyed "On a Dark Desert Highway), which was a West Coast pale ale.
We sampled the fare from the new Lucky 13 Kitchen including the Sweet Potato "Hummus" with grilled pita and chili oil, sliders (both the Sticky Maple Pork Belly and Crispy Chicken Sriracha), an order of the Roasted Chicken/Chipotle empanadas (with cilantro and mango salsa), and a Chicken Tinga taco (with tomato, chipotle salsa, cilantro, and onion). And we also tried the loaded Joho Potato Wedges with cheese fondue, bacon, and jalapeño. All very yummy – and more than we could eat in one sitting!
There were 56 positive reported cases of COVID-19 in West Hartford over the past seven days (as of Sunday), and a positivity rate of 15.4%, which is nearly the same as last week. It's also the season of respiratory viruses, and this year many more people seem to be sick with a variety of viruses. I have what seems to be my first cold in more than three years. (Click here for more information from the West Hartford-Bloomfield Health District about the symptoms of various viruses and how to protect yourself.) Public health officials also suggested wearing masks in crowded indoor spaces while gathering this holiday season. One day I hope to be able to delete this paragraph completely, but in the meantime, please continue to have patience since not everyone has the same level of comfort, continue to look out for each other, support our local businesses – and stay safe and healthy.
If you're looking for news about West Hartford in print please note that many stories from We-Ha.com, as well as other local news, is published in the twice-monthly issues of the West Hartford Press.
If you have information to share about local businesses, please provide details in the comments or email Ronni Newton at [email protected].
**************************************************
See your business name and ad below. Let us know if you're interested in sponsoring Business Buzz by emailing [email protected]!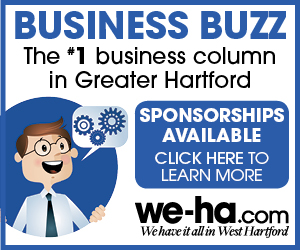 Here's this week's Buzz:
It's taken quite a while, but the owners of Zaytoon's Bistro are getting very close to opening their second location at 1126 New Britain Ave., where the Chalkboard was formerly located. I spoke to Zainab Hayajneh, who owns the business with her husband, Omar, and she said the second location should be open within 45 days. "I wish we could. open today. We are working very hard to achieve that date," she said. The space is being actively worked on now, and I even peeked in the window where the paper has fallen down a bit and saw someone working over the weekend in what looks like it's going to be a beautiful space. Hayajneh said they've built out from scratch what was a "vanilla box," and that included installing the kitchen and other equipment. After COVID-related delays and supply issues with materials and contractors, Hayajneh is very thankful the work is nearly complete. She confirmed that the 165 Park Road location that opened in 2017 will definitely remain, noting "This is my baby!" The New Britain Avenue location will have many of the same appetizers, but she said there will be "some surprises" on the rest of the menu.  Back in June 2020, the Town Council approved changes to the Elmwood Shopping Center façade and also approved outdoor seating for the new restaurant.
I don't have any details because there was no one inside and no answer when I called the phone number I found through Google, but it appears that Portobello Pizza Restaurant is very close to opening its doors at 132 Park Road. The signage is up, the paper has been taken down from the windows, and when I peeked inside the tables were fully set. I'll report back as soon as I have some more details.
Also on Park Road, the brick and mortar location of Fuego Picante remains closed. I reached out to owner Omar Bello – whom I've been in touch with regularly for updates – after reading in the Hartford Courant on Saturday that he planned to keep the restaurant closed until at least the spring. Bello said late Sunday night that he is continuing to use the Park Road location for food prep, and "our plans are to reopen by March or sooner," although that depends on the economy and the ability to staff both businesses with the right people. Bello will continue operate the very successful food truck, which can often be found at GastroPark in West Hartford.
More than 1,000 toys were collected at Westfarms on Saturday for the U.S. Marine Corps Plainville Toys for Tots campaign. Brittany Leghorn, a teacher at Bristow Middle School, brought by a large donation that had been collected at the school, and a group from Pratt & Whitney brought a van full of toys. There were many others who brought donated toys on behalf of groups, as well as their own personal donations, and the Westfarms team went shopping at the mall and purchased $1,000 of toys that they also donated. It was heartwarming to see the outpouring of generosity, and thanks also to those who participated as elves, including the mayors of West Hartford and Farmington, and a large contingent from WTNH and Hot 93.7.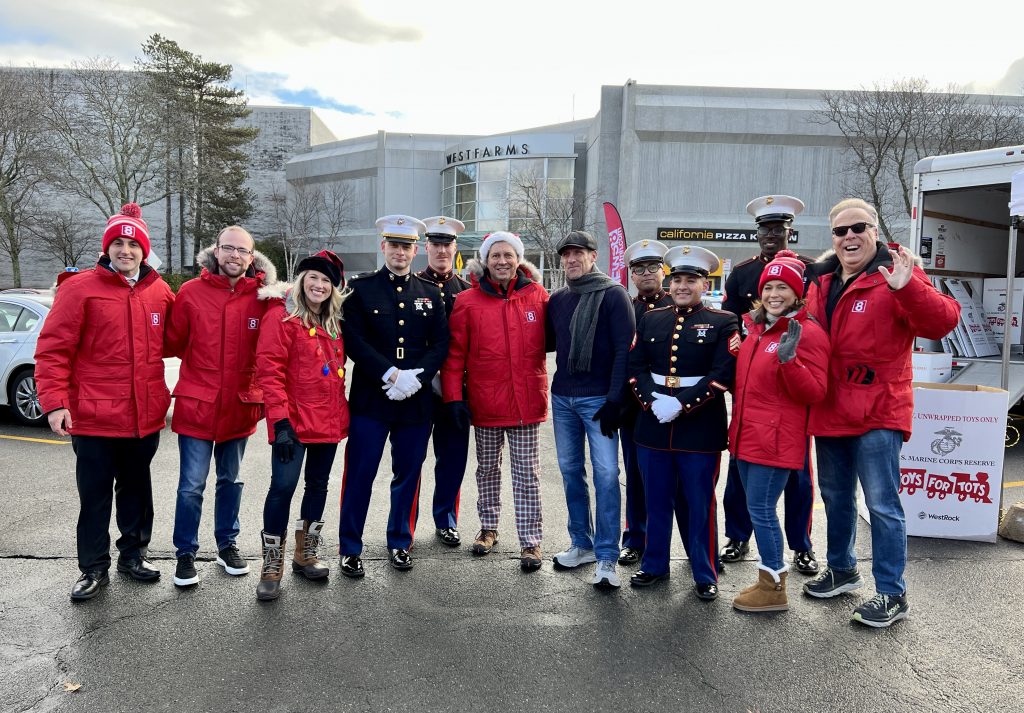 If you've still got holiday shopping to do (I definitely fall into that category), there are several places in town where your purpose supports the mission of a nonprofit. The

West Hartford Gift Shop

is the newest mission-based business to open, and it's located in and supportive of the mission of the

Noah Webster House & West Hartford Historical Society

(227 South Main Street). This holiday season, the shop is loaded with merchandise, including West Hartford-branded and literary-themed gifts, housewares, stationery, and apparel. Through Dec. 23, the West Hartford Gift Shop has expanded hours of Monday through Saturday, 11 a.m. to 5 p.m. and Thursday from 11 a.m. to 7 p.m. You can also shop anytime at 

www.westhartfordgiftshop.com

. Special items available this season are a limited-edition

West Hartford Collectible 2022 Holiday Ornament

, featuring the Tudor-style building in The Center that is perhaps best known as the location of Bennett's Card shop, Noah Webster House & West Hartford Historical Society Executive Director Jennifer DiCola Matos said. Quantities for this beautiful glass ornament ($20) are limited, but some still remain. In addition, Matos said, "Hilliards Candy returns! The Noah Webster House is proud to carry a special

5-pack of Hilliards chocolate bars

just for the holidays. Hilliards Candy was a fixture in West Hartford Center for over 60 years and one that many remember with great fondness. This attractively packaged sampler of chocolate bars is sure to delight the tastebuds – and bring a little nostalgia to a special person in your life. $25 per 5-pack. Supplies are extremely limited. Pre-order to ensure your sampler!" The ornaments are also available at the register at

SockStarz

, located at 18 LaSalle Road in West Hartford Center – which is another social enterprise business in town (suppporting Harc). "We are thrilled to introduce patrons and customers of the West Hartford Gift Shop to the magic of SockStarz and vice versa, with this holiday collaboration! And the ornaments are already selling well so this may be a sign of more collaborations to come," said Annisa Tech on behalf of SockStarz.

Here's a fun holiday activity that also encourages support of local businesses! Barbie Butler, a realtor with William Raveis, said the "

Elves

of the

Center

" Scavenger Hunt, which began at the Holiday Stroll, features 14 stores and restaurants in West Hartford Center that have joined the fun by hiding an elf somewhere on the premises. "Kids and adults will be on the hunt for each

elf

and will be rewarded with possible prizes from each location when the hunt concludes on Dec. 26, 2022 via a raffle drawing. For those that find all the

elves

they will automatically be added to the Grand Prize drawing! A $250 gift card to Max Restaurants!!" See the images below for the details on where to look for the elves and how to enter.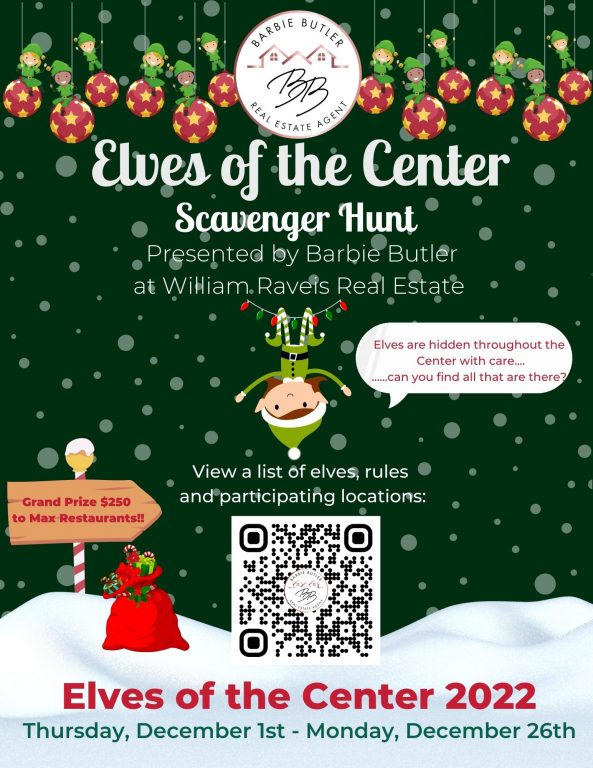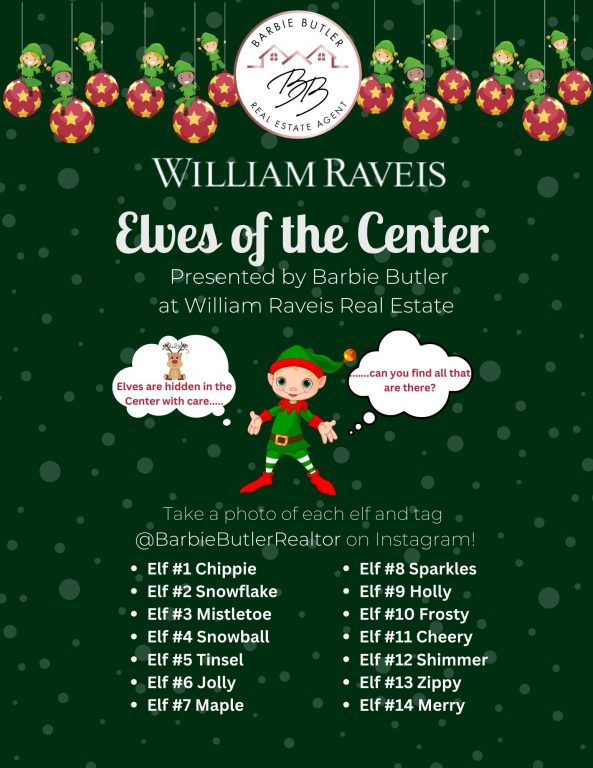 Congratulations to the fourth cohort of graduates of the Town of West Hartford's Community Emergency Response Team (CERT). The total number of volunteers now exceeds 160. According to the town, it to become full CERT members, 20 hours of training must be completed in eight modules of theoretical and practical content in disaster preparedness and response, taught by local emergency response/management personnel. The training concludes with a final exam with practical and written components. West Hartford CERT will have a spring training session that begins in March 2023, and more details can be found on their webpage on the town's website.
It's definitely the season of giving, and at their annual holiday brunch at the Pond House Cafe, financial services firm Johnson Brunetti donated 200 toys and $1,000 to the Salvation Army.
Congratulations to West Hartford resident Eric Bergenn, founder and president of the newly-launched Bergenn Financial Group – a firm he created serve local families and businesses with financial planning and investment management services. Bergenn Financial Group is located at 45 South Main Street, Suite 203, West Hartford. Bergenn, who has 10 years experience as a financial advisor, has spent the last four years with New England Financial Group in West Hartford Center. "I'm excited to build on my longstanding business relationships in town and to offer an experience tailored to better serve my existing clients and others who may be seeking advice in West Hartford and the surrounding areas," saidBergenn. "Although I'll miss working with some great people at New England Financial Group & Baystate Financial, I'm really excited to be able to build something that I think will benefit my clients and the community." Bergenn Financial Group is committed to being involved in the local community by joining the West Hartford Chamber of Commerce, the West Hartford Center Business Association, and supporting other local businesses and causes. More information can be found by contacting Eric Bergenn at 860-544-5729 or [email protected]. For more information on Bergenn Financial Group visit their website.

State Rep. Jillian Gilchrest, House Chair of the Human Services Committee and representative

 

for the 18th District, 

(D-West Hartford), recently participated in a White House meeting with State legislative leaders to discuss gender-based violence and to advance reproductive rights. Participating in the meeting was Jennifer Klein, Assistant to the President & Director of the White House Gender Policy Council. "I am honored to be among 50 Democratic state lawmakers from across the country who were invited to participate in meetings at the White House this week," said Gilchrest in a news release. "On Wednesday [Dec. 7], I participated in two meetings to discuss my past and current policy efforts to address gender-based violence and advance reproductive rights. It was wonderful to share the work being done in Connecticut and to learn from legislative leaders across this country." In the meeting, state legislative leaders discussed the affirmative steps they have taken so far, and shared proposals to address gender-based violence and to advance reproductive health and rights under consideration for the 2023 state legislative session. White House Senior Officials thanked the leaders for their efforts and ongoing partnership with the White House. Gilchrest is also a member of the Appropriations, Energy and Technology and Judiciary Committees and co-chairs the Legislature's Reproductive Rights Caucus.
Congratulations to Hammond Iles Wealth Advisors, a local financial planning and investing firm that was honored in ThinkAdvisor's LUMINARIES Class of 2022, a national program recognizing wealth management industry leaders. Longtime West Hartford resident Greg Hammond, the CEO of the firm, noted that Hammond Iles won the award for "Thought Leadership & Education" because of their unwavering commitment to financial literacy education that guides people to master their money mindset, explore their purpose, and feel confident about investing. With a mission to "Awaken dreams and empower investors across three generations to live a life of freedom and fulfillment," CEO, Greg Hammond, CFP, CPA and President, Scott Iles lead the firm's investor education programs and "Focus on Families Initiative." This includes financial planning services tailored to each generation's unique needs, a fun new family game night, online Power Hour investing classes, and experiences such as InvestED With Purpose, a half-day seminar where people at all stages of life learn to purposefully create the future they imagine, take control of their finances, and invest with confidence. "Over the past two years, our 'Focus on Families Initiative' and investor education helped ease the challenges and uncertainties brought on by Covid-19 and volatile financial markets. It encouraged our team, clients and community to celebrate a deep appreciation for family and the important people in our lives," Hammond said in a news release.
Some very positive news overall for West Hartford and the surrounding area: the Hartford-West Hartford-East Hartford housing market has been named the top market for 2023 by Realtor.com.
In recognition of its ongoing dedication to community service and philanthropy, Realized Solutions, Inc. of Southington was recently presented with the 2022 Community Care Award by the Better Business Bureau of Connecticut at its Annual Meeting, held at the Inn at Middletown. Highlighted during the presentation, was the company's support of Big Brothers Big Sisters of Connecticut though its donation over the past seven years of 70 custom-built bikes and other contributions to the statewide youth mentoring organization. As part of the Better Business Bureau's award, a $1,000 gift was made to Big Brothers Big Sisters in honor of Realized Solution's commitment to community service. Pictured below, from left, at the awards ceremony are, Ryan Matthews from West Hartford, Vice President of Programs at Big Brothers Big Sisters of Connecticut; Laura Beyer, Director of Marketing at Realized Solutions; John Beyer, President and CEO at Realized Solutions; and Joe Gleason, Vice President of Operations at Realized Solutions.
ICYMI, the Town Council held a very long public hearing on Tuesday night regarding a proposal from the Arapahoe Group LLC to build condominiums and apartments as infill development in West Hartford Center. I'll be attending the special meeting and have the full report on the vote that will take place on Wednesday night, but here are the details about the project and the information shared at the hearing.
Remember, if you have any business news to share, add it in the comments section below or email Ronni Newton at [email protected].
Like what you see here? Click here to subscribe to We-Ha's newsletter so you'll always be in the know about what's happening in West Hartford! Click the blue button below to become a supporter of We-Ha.com and our efforts to continue producing quality journalism.