A round-up of openings, closings, and other news about West Hartford businesses.
By Ronni Newton
I'm finding it hard to believe that it's already Dec. 5, and even though I did put wreaths on my doors and Ted and I got the boxes of decorations are down from the attic, I'm already feeling as if I am behind in preparation for the holidays.
Covering Holiday Stroll on Thursday (story and photo gallery here) and the Mitten Run on Sunday (story and photo gallery here), as well as attending the Turley Publications (publisher of West Hartford LIFE, for which I am also editor) holiday party last week certainly boosted my holiday spirit, but the news rarely takes a holiday break and there are plenty of non-holiday-related happenings still taking place in West Hartford.
One story I wrote last week was about the Town Council's approval of an application to amend a Special Development District to permit a Starbucks with a drive-through. I attended the public hearing and the subsequent Town Council meeting on Wednesday night (the only reporter actually in attendance, although a few others did watch on WHCI) and then spent a few hours writing the story when I got home, and then shared it on Facebook just before midnight.
I woke up to a few texts on Thursday morning from people wondering how I tolerate comments like one from a "reader" (quotation marks intentional, because it didn't seem like this person was really interested in reading the story) who commented (copied and pasted exactly as it appears on the We-Ha.com Facebook page): "Who ever writes WeHa articles smokes crack. Stop trying to sound fancy" – and then in response to a few who commented on Facebook in response and questioned why this particular person would make such a comment, she posted the following (spelling and punctuation copied and pasted exactly as they were posted): "at least Meriden journalists can get straight to the point. This is not High School, no need to stretch what can be said in one single paragraph into a two page essay." … "I'm sure Ronnie is a fine person, but that doesn't change the fact that WeHa overall fails in message delivery. No one is sitting by a fireplace, in cylinder hat, toking on a stogie reading WeHa, no matter how hard WeHa tried to come off, it's still a vehicle for news delivery, not a novel."
I know I tend to write longer than many digital journalists, but I do it because I believe it's important to be thorough and accurate. I believe it's important to provide context, and to include at least some of the comments made by members of the public who speak at hearings, as well as commentary from our elected officials who are making decisions that affect our town. Written news, in my opinion, is more than just soundbites, and I don't like to leave major questions unanswered in my reporting.
I'm not trying to sound "fancy," and unless it's Halloween I doubt many of our readers are wearing cylinder hats (although some may enjoy stogies from time to time), and I don't smoke anything (I do, however, drink way too much coffee), and I don't ever plan to write a novel. And even if it my articles are often more than 500 words, I will endeavor to follow the advice of my late 10th grade English teacher, Mrs. Susanne Price, and make them "terse, pithy, and to the point" while still being thorough in my reporting.
The reader's comments, while certainly not very friendly, were directed at me and I value freedom of speech as long as it doesn't cross a line. I also do very much appreciate those who take the time to read the content we publish on We-Ha.com!
After spending a rainy Saturday in the house catching up on a whole bunch of projects and beginning the Christmas decorating, Ted and I were happy the weather cleared up by evening. We headed to the Center and had a great dinner at Mecha Noodle Bar.
There were 41 positive reported cases of COVID-19 in West Hartford over the past seven days (as of Sunday), and a positivity rate of 10.3%, which is an increase from last week. It's also the season of respiratory viruses, and this year many more people seem to be sick with a variety of viruses. (Click here for more information from the West Hartford-Bloomfield Health District about the symptoms of various viruses and how to protect yourself.) One day I hope to be able to delete this paragraph completely, but in the meantime, please continue to have patience since not everyone has the same level of comfort, continue to look out for each other, support our local businesses – and stay safe and healthy.
If you're looking for news about West Hartford in print please note that many stories from We-Ha.com, as well as other local news, is published in the twice-monthly issues of the West Hartford Press.
If you have information to share about local businesses, please provide details in the comments or email Ronni Newton at [email protected].
**************************************************
See your business name and ad below. Let us know if you're interested in sponsoring Business Buzz by emailing [email protected]!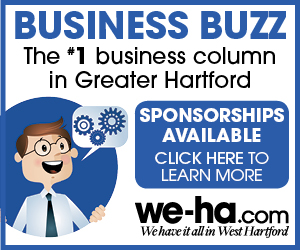 Here's this week's Buzz:
I rarely feature real estate transactions as the lead item in this column, but at $76 million this one is one of the largest, if not THE largest, property sale in West Harford history. New Jersey-based First National Realty Partners, LLC (FNRP) announced in a news release late last week that they have purchased the Bishops Corner shopping center at the southwest corner of North Main Street and Albany Avenue, formerly owned by Edens, as an addition to the firm's "grocery-anchored shopping center portfolio. This 259,104-square-foot asset marks the vertically integrated real estate firm's expansion in Connecticut and continues its nationwide growth in the open-air retail property sector." FNRP notes the 59,000 square foot Target store, which opened in 2019, as well as a strong mix of other "necessity-based national retailers including junior anchor Marshalls/HomeGoods, The Paper Store, Mattress Firm, Orange Theory, AT&T, Bank of America, TD Bank, Noodles & Company, GNC, Subway and Massage Envy." They mention 14,000 square feet of vacant space as future potential as well. Chop't is still being built out (as shown in the photo below) and the only vacancies I can think of are the remaining portion of the former Maximum Beverage space, and the space being vacated by the Yoga Shop at the end of the month. "Bishops Corner is the top-ranked strip/convenience center in Connecticut in terms of customer visits, according to Placer.ai," Stephen Joseph, director of acquisitions, said in the news release. "With its diverse lineup of destination tenants and strategic regional location, the property not only benefits from the submarket's exceptional demographics, but it is well positioned to attract customers from a wide geographic trade area." FNRP's announcement notes that Bishops Corner is "situated in a densely populated, highly affluent retail corridor approximately four miles west of the state capital of Hartford," with more than 40,000 vehicles per day passing through. The population within a five-mile radius is 216,000, and average household incomes within a one-mile radius exceed $176,000, the release states. The news release did not state the value of the transaction, but I found the $76 million total sale for the two totals that comprise the shopping center in the town's property transactions. According to town records, the building with the address of 333 North Main Street (where Target and Marshalls are located) was purchased by Edens in 1998 for $32,036,192, is appraised at $31,103,200, and was purchased by FNRP for $38,760,000. The other portion of the property, 2523 Albany Avenue, was purchased by Edens in 2006 for 24,947,021, is appraised at 30,093,000, and was purchased by FNRP for $37,240,000.
While we're on the topic of real estate, Malik Vyas the owner of Tilted Bottles at 10 Raymond Road, as the managing principal of an LLC with several other partners, last month purchased the strip shopping center where the wine store and a nail salon are located for $1.1 million. The property is 0.32 acres and includes the 5,384 square foot building at the eastern edge of West Hartford Center.
Demolition of the former Trollbeads space had been underway for a while but the build-out of Kilwins at 38 Isham Road in Blue Back Square began last week, and it should be open by late January or early February, according to Kathleen Allen, who along with her husband owns the West Hartford franchise. Kilwins is known for their high quality chocolates, ice cream, and confections (including Mackinac Island Fudge). Can't wait!!
The West Hartford Center Business Association's We Care Card event raised $20,000 for the Ron Foley Foundation. The check was presented last week. Pictured below (from left) are Judie Goldenthal and Barbara Foley from the Ron Foley Foundation, Kimberly Moster, Barbara Karsky, and Mike Mahoney.
There was plenty of excitement about the U.S. team in the World Cup, and last Tuesday night (Giving Tuesday) Able Made at Westfarms hosted an event in the store celebrating the win over Iran and raising funds for the city-youth soccer UMBF foundation that honors the legacy of Able Made owner Suzanne McKenzie's late husband, Ucal, a soccer player, coach, and educator. "Awesome night … and an inspiring conversation with soccer pros/former World Cup players and ESPN's Frank Leboeuf and Shaka Hislop, and Mini Books' Founder, Anthony Price. An appearance was also made by Hartford Athletic's Logan Gdula," McKenzie said. Able Made opened in September, and is a sustainable, soccer-inspired emerging brand offering "sophisticated sport" ready-to-wear and athleisure."
I wasn't able to attend the event at Able Made because I was participating in another Giving Tuesday event – a celebrity bartending fundraiser for the CT Brain Tumor Alliance held at Union Kitchen. It was my first-ever bartending experience, and I definitely learned a lot and have a great appreciation for how difficult it is! I also learned that high-heeled boots are not proper footwear for bartending, and I quickly ditched my jacket and rolled up my sleeves. The total we helped raise hasn't been finalized yet (there was well over $1,000 in the tip bucket, but a percentage of sales was also donated), but it was definitely a great success. Thanks to organizer Dan Tapper of Sullivan and LeShane ad the other bartenders, who included (I'm sorry if I missed your name) Bob Maxon from NBC-CT, Alyssa Taglia from News 8, Liz Barry and Jimmy Altman from FOX61, Brian Schactman fromWTIC-1080, Stephanie Simoni from WFSB, and Joe D'Ambrosio from WJMJ, Christine Stuart from CTNewsJunkie, and Mayor Shari Cantor.
West Hartford-based Environmental Systems Corporation (ESC), a leading provider of building technology solutions throughout Connecticut, has announced that Mike Jaworowski has been hired as Security Sales Manager. Jaworowski has been in the security industry for over 30 years, building and managing sales teams throughout New England for some of the largest security companies and integrators in North America. Specializing in account management, system design, and maximizing the customer experience, he has successfully provided security solutions to a broad range of customers, from Fortune 100 companies and government agencies to utility companies and local businesses. A strong client advocate, Jaworowski will ensure the Security division delivers stellar and consistent service, ECS said in an announcement. "Mike comes to ESC with over 30 years of industry related experience and was hired to lead our security sales efforts in the region," says vice president of sales Mike Amedeo. "He has been tasked with growing our sales and business development team, and we're very excited to have Mike on board and look forward to great things coming out of the security group." In his new role, Jaworowski will seek to build, develop, and manage the sales team, and develop annual sales plans that align with and are in support of ESC's strategies and objectives. He'll also work closely with ESC's other divisions to make recommendations for improvement based on market research and competitor analysis.

An interesting item even if it's not quite business … Aaron Enyong, a student at CREC University of Hartford Magnet School in West Hartford, has been appointed to the 2023 Kid Governor Cabinet by The Connecticut Democracy Center. Enyong, who was a final candidate in the 2022 Connecticut's Kid Governor Statewide Election in November, will work with The Connecticut Democracy Center's Kid Governor program staff and 2023 Connecticut's Kid Governor Ellie Mendez to promote youth civic engagement in the state, as well as the community issue at the center of his campaign platform: "Access to Healthy Food." You can watch Aaron's campaign video here and learn more about the Kid Governor's Cabinet here.
Remember, if you have any business news to share, add it in the comments section below or email Ronni Newton at [email protected].
Like what you see here? Click here to subscribe to We-Ha's newsletter so you'll always be in the know about what's happening in West Hartford! Click the blue button below to become a supporter of We-Ha.com and our efforts to continue producing quality journalism.