A round-up of openings, closings, and other news about West Hartford businesses.
By Ronni Newton
Only because it's expected (and even though my family gave me a hard time) …
"Nobody on the road. Nobody on the beach. I feel it in the air. The summer's out of reach. Empty lake, empty streets. The sun goes down alone …" (Don Henley's "The Boys of Summer")
I won't say I am ready for fall (what I really don't like is that it's followed by winter) but the heat and humidity really got to me this summer and I will admit it was absolutely delightful to feel that chill in the air when I did my long run with the Fleet Feet group on Saturday morning. I think it was the first time I didn't break a sweat during the warm-up stretches, and my running pace was much faster than it has been because of the lower humidity.
But while Labor Day is the unofficial end of summer, as usual I will hold onto summer until the autumnal equinox, which arrives this year on Thursday, Sept. 22 at 9:03 p.m. EDT. Until then, and likely well beyond, white pants will remain a staple of my wardrobe and I will shun any pumpkin-related food or drink. I do need to replace the contents of a planter on my side porch, and I am considering mums, but only because I probably can't get much else this time of year.
Don't forget that trash and recycling pick-up is delayed this week. Town Hall, the Yard Waste and Recycling Center, libraries, and the town's senior centers are also closed for Labor Day (as are schools), and the town has advised that Veterans Rink will be closed through Sept. 10.
Last week felt like it lasted a month, but I guess that's because not only was it my first full week back from vacation, but also it was back-to-school week in West Hartford and the level of activity, meetings, and events have ramped up quickly.
Ted and I realized we hadn't been to a Yard Goats game this year, and couldn't let the summer go by without that experience, so at the last minute we headed out to Dunkin' Donuts Park on Thursday night. The win for the Goats, and the Bears BBQ dinner and frosty beers made for an excellent outing!
While I may shun certain things about fall, I do enjoy fall sports and we once again renewed our season tickets for UConn football. Because of my running commitment Saturday morning we decided against grilling for our tailgate, and instead enjoyed some breakfast sandwiches from Goldberg's and what turned out to be a great game – and we're hoping to see some more wins this season! It's also fun seeing Noe Ruelas, a Hall High School graduate (and son of the owner of Ocho Cafe) playing a huge role this season as UConn's kicker.
Dinner Saturday night was at Zephyr's Street Pizza. It was a beautiful night to sit on the patio, and I loved that guitarist Numan Senman's playlist was pretty much the music of my high school and college years. Although Ted and I definitely should not have ordered two full pizzas for just the two of us (the Yard Bird is a favorite, and the Bus Gus sounded so good, and we couldn't decide), we are glad to have an ample supply of leftover pizza for the week. It is still really good reheated in a skillet.
Ted and I were responsible for the post-worship social hour "Lemonade on the Lawn" gathering at St. James's Episcopal Church on Sunday. I chatted with some devoted We-Ha.com readers (some of whom I had not met before) and am so appreciative of their comments about the site and the value it provides to the community. I also enjoyed meeting our new Assistant Rector Joe Rose and his wife, Heidi, and thanks in advance to them for becoming the newest subscribers to our newsletter.
We officially launched We-Ha.com on the Tuesday after Labor Day in 2014, and according to Google Analytics since then we have had nearly 17.5 million page views! Our readership continues to grow each year, and I'm so proud of the work we have done over the past eight years. Thank you to all of our readers – and our advertisers – for their support!
Can't get rid of the following paragraph yet …
There were 70 positive cases in West Hartford over the past seven days (as of Saturday), and a positivity rate of 13.4%. The numbers have gone up and down a bit over the past few weeks, but have hovered in the same zone. Statewide metrics have been relatively stable as well. One day I hope to be able to delete this paragraph completely, but in the meantime, please continue to have patience since not everyone has the same level of comfort, continue to look out for each other, support our local businesses – and stay safe and healthy.
If you have information to share about local businesses, please provide details in the comments or email Ronni Newton at [email protected].
**************************************************
Connecticut Physical Therapy Specialists is the sponsor of this week's Business Buzz!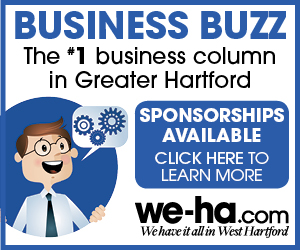 Here's this week's Buzz:
Welcome to new retailer – and emerging brand – Able Made which opened at Westfarms on Thursday! I count anything at Westfarms as part of West Hartford, but this new store is not only in the West Hartford section of the shopping mall, but it's also owned by West Hartford resident Suzanne McKenzie. Able Made is a "sustainable, soccer-inspired emerging brand offering 'sophisticated sport' Ready-to-Wear and athleisure," states a news release. The name is inspired by the mission: "Able," meaning "for all," McKenzie said, and "Made" in support of enabling those who craft the products. The vibe is athletic, inspired by soccer. McKenzie said she's very excited about bringing an "in-store experience" to Westfarms after operating her business as a pop-up at 1 Hotel in New York and in other kiosks. Being able to feel the ultra-soft fabrics is important, she said. The pieces are sustainably sourced and eco-friendly, crafted from certified organic cotton or Merino wool, with Tencel and a little bit of spandex, and 95% are manufactured in New York City. The socks, made from up-cycled yarn, are manufactured in North Carolina, she said, noting that as the business grows they will explore responsible off-shore manufacturing as well. The signature tote is crafted from up-cycled high-quality canvas, and forthcoming will be an introduction to the REMADE collection, which will include fabrics donated by Burberry. Able Made is the second emerging brand to open at Westfarms, following Impossible Kicks, and McKenzie said it's incredible that "a luxury brand will be partnering with an emerging brand" like Able Made and she appreciates the trust of Westfarms' owner Taubman.  The clothing can be worn for workouts, but is primarily intended for "off-pitch/game-on" wear. Able Made launched in 2013, McKenzie said, with limited edition pieces in collaboration with organizations in support of charitable efforts particularly related to education. McKenzie's late husband, Ucal, was a soccer player, coach, and educator, and she continues to honor his legacy, partnering with Hartford Athletic and recently hosting an annual camp at Dillion Stadium for nearly 100 kids through the Ucal McKenzie Breakaway Foundation. The colors of the store, and the merchandise, also honor Ucal's Jamaican heritage. Proceeds from retail sales – including roughly 65 pieces of original artwork – also help to fund local inner city youth health foundation

 

(UMBF). The camp also operates in Boston, where the couple lived previously, and will be coming to New York City next summer. Able Made is located on the lower level at Center Court, and McKenzie said plans are being made for a grand opening next weekend. More information about the company, and images of the variety of merchandise can be found on the Able Made website.
Welcome to Economic Development Specialist Dan Pesce, who joined the Town of West Hartford's Economic Development Division last Monday. Dan is the new full-time Economic Development Specialist for the Town of West Hartford, and reports to Economic Development Coordinator Kristen Gorski. A native of Waterbury, Dan most recently worked as the Downtown Development Specialist in Manchester, coordinating business recruitment, retention and expansion efforts, and previously worked for the City of Waterbury in several roles, including as interim director of the Development Agency. He's a UConn graduate, currently lives in Watertown with his wife and young child, and said he is really looking forward to "being the ears" of West Hartford's businesses, assisting with expansion and retention, and also sampling the offerings of our many fantastic restaurants all over town. I anticipate working closely with Dan (hopefully not driving him too crazy!) to continue to keep the community informed about our businesses.
Build-out is progressing for Club Pilates, which will be opening in one of two remaining vacant storefronts in the Corbin Collection (1445 New Britain Ave.) right next to REI in Corbin's Corner. According to a Facebook post, Club Pilates should be opening this November.
Although the sign isn't up yet, by process of elimination, Crumbl – a family-owned franchise business dedicated to the perfect cookie and featuring a rotating weekly menu of deliciousness served in an iconic pink box – will be in the only other vacant storefront in the Corbin Collection, between the future Club Pilates and the entrance to Buy Buy Baby and Cost Plus World Market.
Work is well underway on the property that was formerly a Sunoco service station at 898 Farmington Ave. (corner of Arnold Way and Farmington Avenue, right next to the West Hartford Inn, just east of the Trout Brook Drive intersection). The property was sold in June 2021 by Joe Gomes to Go West Hartford, Inc. Gomes told me when it sold that the new owner planned to convert the property into a convenience store and gas station –but not a repair shop – and it appears from the permit records on the town website that the work being done right now includes replacement of the underground storage tanks and construction of the convenience store. According to the permit records it also appears that it will again be a Sunoco station.
Congratulations to West Hartford-based logistics provider Pro Courier (25 Hurlbut St.), which has been named a member of Inc. 5000's class of 2022. According to a news release, Inc. 5000 lists the 5,000 fastest-growing private companies in the U.S., based on the percentage of revenue growth over the last the last three years.  The members of the Inc 5000 are among the 0.07% of companies in terms of growth. For ProCourier and all of those on the list it is a milestone of entrepreneurial success. The list is published online here. "We are honored to be recognized for our growth over the last three years," ProCourier President Michael Gualtieri said in the news release." The last three years have been particularly challenging and knowing that we beat the odds and achieved remarkable growth is a testimony to our team and our loyal customers." Inc. describes the 2022 Inc. 5000 Class this way: "The list represents a one-of-a-kind look at the most successful companies within the economy's most dynamic segment – its independent businesses. The companies on the 2022 Inc. 5000 have not only been successful, but have also demonstrated resilience amid supply chain woes, labor shortages, and the ongoing impact of Covid-19." Gualtieri, previously the owner of Connecticut Courier, which earned a spot in the Inc. 500 in 1993, formed ProCourier in 1997. A recognized industry leader since 1980, Gualtieri was inducted into the Customized Logistics & Delivery Association's Hall of Fame in 2014.  He served as the association's president in from 2008 to 2010.
Sometimes the best way to keep updated on business news in West Hartford is just to drive around and check on projects, and I did a bit of that over the weekend when I was taking other photos for this column. I checked on the progress of converting the Hibachi Grill into Planet Fitness and the build-out of DoorDash DashMart (the delivery hub and a pick-up location for convenience store type items) in a long-vacant storefront on Kane Street. Both of those projects were approved as part of a Special Development District amendment by the Town Council in March, but there's no visible work yet on either space. I did see that across the street the work continues to progress on the conversion of the former GoldRoc Diner into an IHOP.
I noticed a new sign where Fast Eddie had been located at 7 Sedgwick Rd., but it's still the same business. According to its website, Fast Eddie has changed its name to Golden Rule Gold Buyers. More information can be found here.
There's progress on the build-out of MORE Italian Pasta Lab, which will be opening this year in the former Freshii space at 54 LaSalle Road in West Hartford Center. The small hanging sign already has the new business' name, and the windows have been papered over, with a poster in the window indicating plans to open this autumn. MORE is owned by Anna Landi and her husband, Davide Di Pietro, who are relocating from Rome to open the business.
NBT Bank announced last week that it has welcomed John Kirkutis of West Hartford as Mortgage Loan Officer and the newest member of NBT's Connecticut team. Kirkutis is responsible for helping individuals and families in the Greater Hartford area to finance their homeownership journey in an ever-changing mortgage climate. A West Hartford native and graduate of Conard High School and Springfield College, he has more than 27 years of mortgage experience. Kirkutis is also a former Rotarian, and a middle school football and lacrosse coach. He has served as a Vail Board of Realtors Executive Board Member, volunteered with the Habitat for Humanity, and supports the Boys and Girls Club of Connecticut.
West Hartford resident Joe DeLutrie (on right in photo below) really enjoys being a mentor (Big Brother) with Big Brothers Big Sisters of Connecticut, the organization said in an email. "He finds it so rewarding that he was stoked about volunteering for a featured role in a 30-second public service radio announcement designed to recruit other great adult mentors just like him. Joining Joe at the recording of the radio spot was Ocean from New Britain, left, his "Little Brother" (mentee) in the Big Brothers Big Sisters program. Joe and Ocean recently taped the spot at Audacy Radio in Farmington. It's scheduled to run in heavy rotation during National Mentoring Month (January 2023) on Audacy's four Connecticut stations, WTIC-FM, WTIC-AM, WRCH-FM and WZMX-FM. Audacy generously donated both the production of the spot and its multiple playtimes to Big Brothers Big Sisters. If you're interested in becoming a great Big Brother like Joe DeLutrie – or becoming a great Little Brother like Ocean – you can learn how to do that by visiting the organization's website www.ctbigs.org."
West Hartford Fellowship Housing (WHFH), an affordable housing community located in Bishops Corner, is pleased to announce the appointment of Heather Zoeller to its Development Board, the organization announced in a news release. "We are thrilled to have the opportunity to add a dynamic new board member in Heather Zoeller," said WHFH Board President Clare Kindall. "Heather is a West Hartford resident with extensive experience in senior living and financial matters. She also understands the development process, which is essential as we continue to work towards our ultimate goal: redevelopment of the entire Fellowship Housing property into a community with more units and modern amenities." Zoeller has a master's of public administration from the University of New Haven and a B.S. in Management from the University of North Carolina at Asheville, both with concentrations in health care administration, and more than 20 years of experience providing a range of strategic planning, development, and financial advisory services to senior living and health care providers. She has participated in new campus developments, expansions and repositioning projects across the country as a feasibility consultant, development consultant, and banker. "I am honored and excited to serve the residents of West Hartford Fellowship Housing," said Zoeller. "Having worked in the field of senior living for more than 20 years, and as a longtime resident of West Hartford, it is especially meaningful to me to be able to use my experience to support this important asset in my own community during its very exciting time of transformation." West Hartford Fellowship Housing is actively recruiting additional members to fill vacancies on its Development Board. Interested parties with a background in low-income housing, development, construction, banking, or finance are encouraged to contact Mark Garilli at 203-889-6197 or by email at [email protected]. WHFH is committed to diversity and its board should reflect the broad demographics of the community and residents it serves.
A portion of the Apple Cinema movie theater at 330 New Park Ave. in Hartford (just over the West Hartford line) is being converted into District Social hartford, an entertainment venue offering ax throwing, arcade games, billiards, darts, live music, food, drinks, an outdoor cafe and more, Ted Glanzer and Ken Gosselin reported in the Hartford Courant last week. Click here for the complete story.
El Pollo Guapo, which is co-owned by West Hartford residents Matt and Heather LeBlanc and Roy and Heather Riedl (of Mercado Food Truck), has relocated its Wethersfield location to 1044 Main Street in Newington. The new space opened Sept. 1.
ICYMI, Dog Walk 2022 kicked off last Wednesday. Click here for complete details.
Remember, if you have any business news to share, add it in the comments section below or email Ronni Newton at [email protected].
Like what you see here? Click here to subscribe to We-Ha's newsletter so you'll always be in the know about what's happening in West Hartford! Click the blue button below to become a supporter of We-Ha.com and our efforts to continue producing quality journalism.