A round-up of openings, closings, and other news about West Hartford businesses. 
By Ronni Newton
The doldrums of winter are upon us, and once the holidays are over, the Christmas decorations are stored away (we enjoyed our tree through Sunday morning, but then un-decorated it and brought it to the curb because this is the last week the town will pick up trees), I am already dreaming of springtime.
This time of year I find myself humming (okay actually singing out loud) "Desperado," particularly when we've had a lot of gloomy weather. "Don't your feet get cold in the wintertime? (yes, even in the house) The sky won't snow and the sun won't shine (I prefer sun, thank you). It's hard to tell the nighttime from the day (although I have noticed a bit of extra daylight in the afternoon) …" Last Wednesday's ice situation was horrible, but at least Friday's snowfall was pretty, and I was working hard on being positive when I chose my "Let it Snow" coffee mug rather than the "Bah Humbug" mug.
Due to the surging COVID-19 cases (more than 400 current cases in West Hartford Public Schools, and more than 700 cases in town over the past week) many events and meetings are at least temporarily reverting to virtual (including both of this month's Town Council meetings), and while further limiting human contact doesn't help my winter blues, I'm trying to get out and about whenever possible. Ted challenged me to brave the cold on Saturday morning and go for a run (winter route because the sidewalks were a mess) and it ended up being a great decision and after a few minutes I wasn't cold at all. I'm hoping to do some cross country skiing and snowshoeing as well when the weather permits, rather than giving in to the urge to do what my dog gets to do …
As late as Friday afternoon I wasn't quite sure what the lead story for this column was going to be (my initial thought ended up being a feature story and that link can be found below), nor had Ted and I decided where our Saturday night meal would be. Then I learned that Toro Taberna had undergone a transformation, and that turned into both Saturday night dinner and the lead story for the column, which along with food photos can be found below. A sign on our table said "New Year, New Me, but With a Margarita," and my choice of the pineapple margarita was a good one!
A universal indoor mask mandate is back in place in West Hartford. (Click here or on bullet point below for the details.) Please comply, and please don't give our business owners and their staff a hard time about it. Really. Please continue to look out for each other, support our local businesses – and stay safe and healthy.
If you have information to share about local businesses, please provide details in the comments or email Ronni Newton at [email protected].
**************************************************
Here's this week's Buzz:
I had become quite the fan of Toro Taberna, and have eaten there numerous times since it opened not quite a year ago at 14-16 Oakwood Avenue (the driveway is on Park Road), so at first I was a bit skeptical when Tom Gale, who became director of Operation for Toro Restaurant Group in June, told me about the transition in the menu from Spanish to Mexican. But after Saturday night's experience, I am overwhelmingly enthusiastic about the new dishes and the change to a more Mexican and Latin American focus. The name has not changed, there's still a great selection of tapas and a tavern atmosphere (there was a good crowd on Saturday night, even though some people have gotten more reluctant to eat inside restaurants due to omicron), and I think the menu changes are a positive. "We decided to change Toro Taberna from Spanish cuisine to Mexican after the wild success of Mexican Street Food," Gale said, referencing the casual Toro Mexican Street Food casita which opened in the fall on Raymond Road, and is now also the site of the takeout only Loco Urban Street Food operation. The Toro Taberna menu is now very similar to the group's highly-regarded Toro Loco restaurant in Farmington. Paella – a favorite of many families – remains on the the menu, as do the molotes (masa pastries stuffed with potato and cheese) and hot chicken (now called cholula hot chicken, and topped with a sweet and spicy honey and cholula sauce), but the major changes include an extensive selection of tacos and and "Antojitos" ("little cravings") with much more Mexican flair. There are also full entrees (see feature photo at the very top of the column) which include a choice of grilled ancho chili marinated steak, chili lime garlic grilled shrimp, or pollo asada (grilled with chipotle, garlic, and cilantro), or a combo of the three. The entrees (Platos Fuertes) are served with black beans and rice (served in the cutest mini crock) plantains, avocado, and pico. We tried the "mixta" (minus the avocado, because I am allergic, and minus the shrimp, because Ted is allergic), and each bite was mouth-watering. We started off with chips and the fire-roasted and tomatillo salsas (I will be going back to purchase containers of both to go, and would have brought the remains home but we already had five containers of leftovers) also sampled the roasted beets with goat cheese (which I liked even though I don't like beets), the crispy pork chicharrón with guadhillo chili tamarindo, sweet potatoes with a red chimichurri tamarindo glaze and spicy peanuts (that was Ted's favorite dish because it was so unique), ajo chicken with salsa verde on a skewer from the "Street Pinchos" section of the menu, beef barbacoa (with pasilla chili adobo) and la gringa (crispy chicken, bacon, and poblano ranch cream) tacos on soft nixtamal tortillas, and the cholula hot chicken. The menu changed over on Dec. 16, Gale said, and has been well-received thus far. The prices remain in the same range (tacos are $7-$8.50 each, the tapas items are mostly $7-$10, and the Platos Fuertes are $17.50-$25.50 (for the mixta) – with generous portions for everything. See more photos at the end of the column, and click here for the menu.
It's not on the company website yet, but it is a recent addition to the Regency Centers website for the Corbin's Corner Shopping Center (which I check regularly), and although I couldn't get confirmation from the leasing manager my sources are fairly confident that J.Crew Factory Outlet has leased the former Dress Barn space in Corbin's Corner (a few doors down from Trader Joe's, where Spirit Halloween was temporarily located) and will be opening a store later this year. The space is 7,840 square feet, and I think it will be a great addition to that shopping center!
Photographer Cara Paiuk, who opened a second studio for her Face Forward Headshots business in Greenwich in July, has recently moved to a new West Hartford studio at 805 Farmington Ave. (southeast corner of Farmington and South Quaker Lane). "The new studio is in a central location, has ample parking, and everyone has a fun time at their session," said Paiuk, who lives in West Hartford but goes to the Greenwich location several times a month. Her business had to shut down completely early in the pandemic, but she said with so much more dependence on an online presence and virtual operations, many people have realized that using a mobile phone selfie as their headshot just isn't a good option anymore. Paiuk has trained and is focused exclusively on headshots, and was the first associate photographer of the Peter Hurley Headshot Crew in Connecticut. "Local companies with hybrid or work from home policies in place have been scheduling sessions for their teams at my studio rather than booking a large on-site shoot, so that has been one way I have been able to adapt to the current workplace landscape," she said. Below is a photo of Paiuk conducting a distanced photo shoot for a client, and some samples. Click here for her website and additional information.
Hwang's School of Martial Arts has relocated from Farmington Avenue, where they were on the second floor above the former SK Lavery store, to 19 Crossroads Plaza in Bishops Corner, behind Big Y. "We are the oldest and the leading provider of martial arts classes in Connecticut and we firmly believe that the martial arts classes will help you and your children develop the skills necessary to excel in school and in life," the Hwang's website states. The school was founded in West Hartford in the early 1980s, by the father of the current Master Hwang, and they now have five locations. Click here for more information on their website or call 860-233-3692.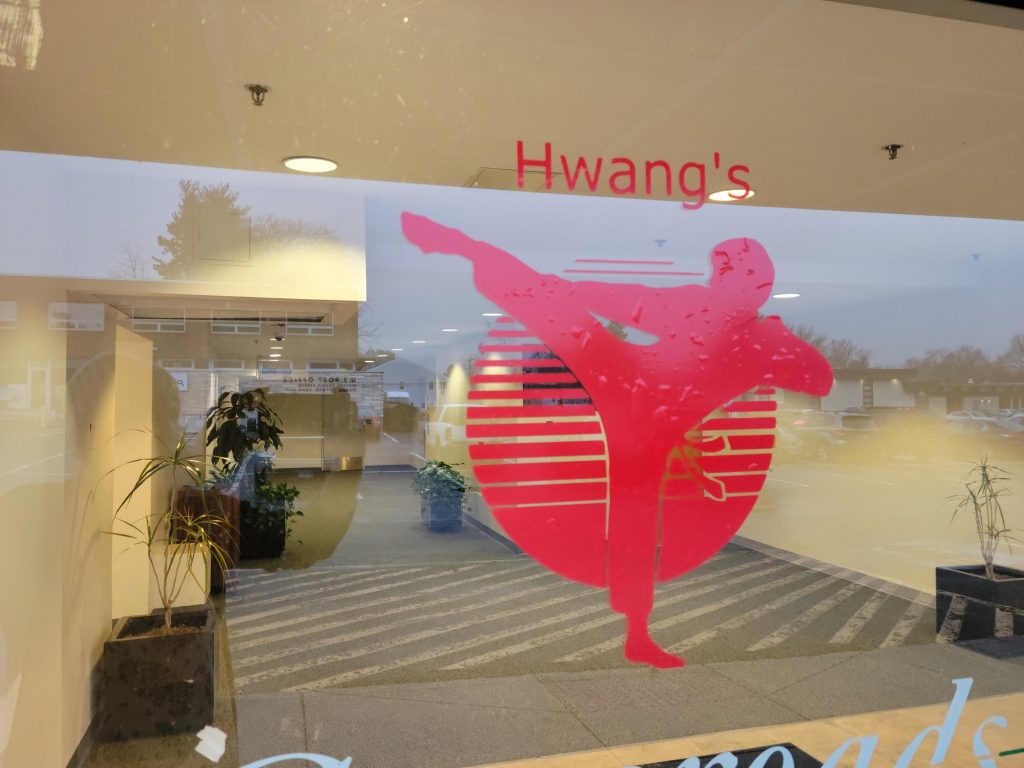 Also on the move to Crossroads Plaza in Bishops Corner, but not quite there yet, is Gillette Wine & Spirits, which will be relocating from Cottage Grove Road in Bloomfield to the space formerly occupied by the Salvation Army Donation Center. I snapped this photo over the weekend and while the sign is up there's still some outstanding work to be done. "We will be a full-service store with a very extensive wine collection, a large amount of spirits, mixers, kosher and dessert items. Also, we will have 20 doors of beer, seltzers and RTDs," manager Ian Spry previously said in an email.
It appears that West Hartford Apothecary is about ready to open! In the spring, owner and pharmacist Zahid Khan had indicated plans to open in the summer, but then for months part of the sign was partially shrouded with some sort of covering. That's gone, and based on the sign I saw on the door Saturday, and a listing of hours (Monday through Friday from 9 a.m.-6 p.m. and Saturday from 9 a.m.-4 p.m.), it appears the opening is now imminent. According to what Khan told me previously, the shop will be a compounding pharmacy and a specialty pharmacy, with also a wide range of vitamins and CBD products.
One more move to note, but this one sadly is a departure from West Hartford. Yoga from the Heart, which had a studio for nearly four years at Firehouse Square (21 Brace Rd.), had to close when the space flooded on Sept. 2, 2021. It was uninhabitable for four months, and owner Diane Couture said the changes that would need to be made to the space were not going to be feasible for her business, and she felt it was time to move on. Although she worked closely with Economic Development Coordinator Kristen Gorski to find alternative places in the Center that made financial sense, the studio has moved to Avon. "Yoga from the Heart has always been an advocate for community service, bringing 'yoga off the mat,'" Couture said. "In our four years in WeHa, we have sponsored 100% fundraisers to Foodshare, My Sister's Place, Pulmonary Fibrosis, CT Children's Hospital, The House of Bread, Prudence Crandall Center. We also loved our 3 years of free community yoga at Blue Back Square." They're just 10 minutes to the west, over the mountain, Couture said, at 41 East Main St. in Avon Village. Currently they limit attendance to nine students per class, require masks for all regardless of vaccination status, and offer several "vaccine only" classes. Click here for the website.
From a news release: West Hartford resident Mike Isko, at right in photo below, is an attorney in the New Britain Public Defender's Office. He's also a Big Brother (adult mentor) with the Nutmeg Big Brothers Big Sisters youth mentoring organization. Mike's Little Brother (mentee) in the program is 16-year-old Trey, left, from New Britain. Mike and Trey have been matched with Nutmeg since 2018. Thanks to the free admittance policy the Mount Southington Ski Area in Plantsville has extended to Nutmeg mentors and mentees for more than 20 years, Mike and Trey have developed a passion for snowboarding – so much so that Mike is a certified snowboarding instructor at Mount Southington. And he was thrilled recently when his mentee Trey earned his certified snowboarding instructor title as well, and was presented with an official bright orange jacket. When not on the Plantsville slopes, Mike and Trey are advocates for youth mentoring. During January, they're celebrating National Mentoring Month by saluting all Nutmeg Big Brothers Big Sisters, past and present. They're also asking other adults to consider becoming mentors – as a way of creating other amazing matches just like theirs. Learn more at: www.nbbbs.org.
West Hartford-based Environmental Systems Corporation (ESC), a leading provider of building technology solutions throughout Connecticut, has announced in a news release the hiring of Noelle Bellefleur as human resources manager. Bellefleur brings seven years of experience to this position, ESC said. Prior to joining ESC, she worked as a human resources manager and supervisor in multiple companies, where her responsibilities included managing compliance with employee guidelines, organizing training programs, and collaborating with leadership to ensure a successful work environment. At ESC, Bellefleur will manage staff development and recruiting, mentoring, cross training, and talent acquisition. She will also be responsible for maintaining updated guidelines and information in ESC's employee handbook as well as CHRO compliance. "I'm looking forward to continuing to foster ESC's great company culture," states Bellefleur, "and to helping our employees develop and grow, both as professionals and individuals." Bellefleur received her bachelor's degree in accounting from Saint Joseph College in 2012 and her master's in business administration from American International College in 2014.
Starbucks on LaSalle Road in the Center is back open! The location was closed for more than a week but reopened Friday, (which I confirmed by getting a coffee).
The annual Best of West Hartford was to have been celebrated with a live event on Jan. 19 at Center Court of Westfarms, but due to the surge in COVID-19 cases organizers have decided to postpone it until late February. The date will be announced shortly and all current tickets will be honored. The early registration date/price has been extended to Jan. 31 (click here). Masks, and proof of vaccination will be required, and a limited number of tickets will be sold.
From a news release: West Hartford-based Legrand North and Central America, manufacturer of electrical and digital building infrastructures, is pleased to announce two leadership changes starting in 2022. Brian DiBella, current president of Electrical Wiring Systems (EWS), will move into the role of president of Data Power & Control (DPC), while Ravi Ramanathan has been promoted to the leadership team to replace DiBella as president of EWS. Their new posts were effective as of Jan. 3, 2022. DiBella has been with Legrand since 2004, and Ramanathan joined the company in 2014. Congratulations to both!
ICYMI, a project that the property owner said will be likely be a "catalyst" for further redevelopment – and transit-oriented development – in Elmwood will be moving forward spurred on by a brownfield grant approved by the state last week. There's been a lot of discussion on Facebook about the plans to redevelop the Ashley HomeStore (former Puritan Furniture) store, and it's a unique situation that allowed the town to apply for the brownfield grant that will be a pass-through to the developer who will be making dramatic improvements to a property that I would think most would agree is neither attractive and in good condition, nor currently the best use of the site. Please read the whole story (not just the headline) by clicking here.
I'm glad to have provided a laugh (at my own expense) so I didn't change the introduction to my Facebook post which noted the MDC's boring machine completed its journey through the tunnel from Hartford to West Hartford last week. The tunnel boring machine is anything but boring, and you can read the full story here.
West Hartford now has a universal mask requirement – not just an advisory – in effect in all public buildings. Details can be found here.
Remember, if you have any business news to share, add it in the comments section below or email Ronni Newton at [email protected].
Like what you see here? Click here to subscribe to We-Ha's newsletter so you'll always be in the know about what's happening in West Hartford! Click the blue button below to become a supporter of We-Ha.com and our efforts to continue producing quality journalism.