A round-up of openings, closings, and other news about West Hartford businesses. 
Business Buzz is sponsored by NBT Bank, and we are very thankful for their support!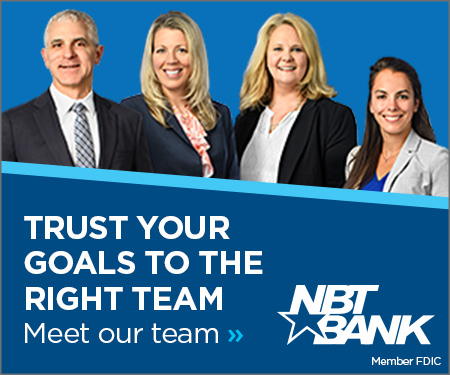 By Ronni Newton
I started to write that I hope everyone stayed dry on Sunday, but I know that's not the case because I drove around town late Sunday morning to take a look at some of the flooded roads. The below photos were taken just after 11:15 a.m., and while some of the most flooded roads had cleared by then, these were among the 20 or so that a Public Works employee told me were still closed off.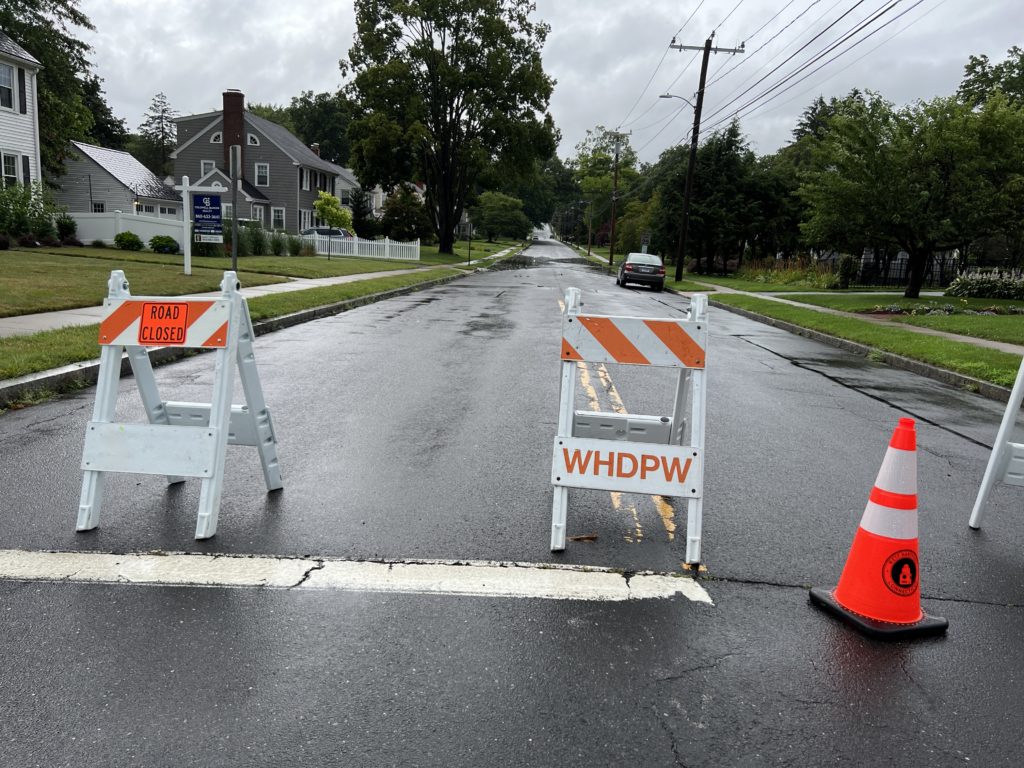 I did a crazy thing last week, but the complete details will have to wait until the end of this month, when the entire "24 Hours in West Hartford" project appears in the pages of the August issue of West Hartford LIFE. I photographed one scene per hour, beginning just after 12 a.m. on Wednesday, July 12, and going straight through until the 11 p.m. hour that same day.
It was definitely more mentally challenging than I thought it would be, and required a good deal of planning because you can't just walk into someplace in the middle of the night and start taking photos (although in one case I did that because my initial plan didn't work out). It was also physically challenging, and other than three short naps (40 minutes was the longest; the others were about 15 minutes) I was awake for 41 straight hours since I decided I had to be authentic and do this project all on the same date and had woken up at 6:15 a.m. on Tuesday. Below are a few outtakes, and I will share the entire project after it's published in LIFE. Thanks to all who agreed to let me take photos, who spoke to me (especially in the middle of the night), and to those who put up with my obsessive planning for this project! I lured Ted into hanging out with me for the last few hours with the promise of dinner at a restaurant of his choice in the Center, plus ice cream at Kilwins, and since he did the driving from that point I did allow myself a margarita at dinner.
While I am still catching up on my sleep – and recovering from my foot injury – I'm happy to be back to a somewhat regular workout routine, and went for a 3-mile run in very hot and humid weather on Saturday, and attended the "Summer Sweat" series at Westfarms on Sunday (drove through probably the worst of the rain to get there, and luckily I live close by), which you can read more about below.
Saturday night's casual dinner was at GastroPark, where we finally had a chance to sample the fare from Hindsight BBQ. The burnt ends, pulled pork, and fries were delicious!
If you're looking for news about West Hartford in print please note that many stories from We-Ha.com, as well as other local news, is published in the twice-monthly issues of the West Hartford Press.
If you have information to share about local businesses, please provide details in the comments or email Ronni Newton at [email protected].
**************************************************
Here's this week's Buzz:
I was so excited to learn last week that Soul Bowls is planning to open in the Elmwood Plaza, at 1128 New Britain Avenue in the former CT Organic Pasta space! I was checking on another building permit for that shopping center (see bullet point below), when I saw one for Soul Bowls, and I followed up with West Hartford native (Conard class of 2012) Willie Fair, who owns the Hartford-based "new American soul food" restaurant along with Chef Hughann Thomas (also a Conard grad, class of 2014), and Malik Golden of Hartford, who confirmed that the lease has been signed (despite the for lease poster in the window) and build-out will be getting underway. The first step is the HVAC work, and overall it will be a few months. "We hope to o pen sometime this fall," said Fair. The West Hartford location will have pretty much the same menu as the location on Wethersfield Avenue in Hartford, he said, "but we will add a few things here and there." The menu, in a nutshell, starts with your choice of a base of white or soul rice – Spanish rice doctored with Chef Hughann Thomas's secret mix of spices – then pick a protein of fried chicken bites, fried or sautéed shrimp, or Pernil (pork shoulder). Choose two sides, including Krack & Cheese (their addictive version of macaroni and cheese), soul veggie mix (peppers, broccoli, carrots, and chickpeas), candied yams, or collard greens. You can also order extra sides of veggies, French fries or soul rolls (a fried spring roll filled with Krack & Cheese and yams). If you're still hungry, a slice of cheesecake will take care of that. While the Hartford location is take-out, the West Hartford space will also have seating in booths or at a counter. They will also do catering throughout the area out of the West Hartford location. Fair said they looked at a variety of spaces in the area for their next location, "but once we narrowed it down to Elmwood we knew it would be great for us" and would provide the opportunity to add a dine-in experience. "We're excited that people have a desire to stay, and enjoy the environment and vibe, and there's more than enough parking and seating." Fair said he was already familiar with the space after having eaten at HB Seafood, one of the previous restaurants in that location which has also been a restaurant called Noodie, and many years ago, before the space was divided (I think in 2005) it was a portion of Carmine's Pizza. For anyone interested in sampling Soul Bowls in advance, Fair said to check out the Hartford location at 489 Wethersfield Avenue. You can also read more about Soul Bowls and its founders in this story Tracey Weiss wrote last summer.
The reason I had been checking the permit records for Elmwood Plaza shopping center is because when I was driving by I noticed some construction on the end of the building near Pepe's Pizza. Back in June of 2020, the Town Council had approved some changes to the Special Development District for that shopping center – which allowed the former Chalkboard space to be transformed into Zaytoon Mediterranean Kitchen, and also allowed for expanding the façade along the side of the building and transforming 2,330 square feet of former storage space into a service business, like a physical therapy clinic. West Hartford Economic Development Coordinator Kristen Gorski confirmed that a PT business has indeed now leased the space (according to the architectural plans for the build-out it appears to be TBD Physical Therapy), and three years after it was approved, the work is underway.
As I mentioned in the introduction above, I participated in the Summer Sweat Series at Westfarms on Sunday morning. It was a great and definitely challenging workout – a HIIT, kickboxing, cardio combination – and I most definitely built up a sweat during the 45-minute class despite the air conditioning. The class – which was free – was led by the team from West Hartford's Knockout Fitness, and was held in collaboration with Athleta, which offered a post-class shopping discount at the Westfarms store. The next class (click here for the eventbrite link) will be at 9:30 a.m. on Sunday, Aug. 27, and will be a collaboration with Tory Burch.
Chefs from throughout the area, including many from West Hartford, are teaming up for a fundraiser next Sunday called "Chefs for Sub-Edge," supporting the certified organic farm that's on the border of Farmington and Avon, and provides fresh, organic produce to many restaurants throughout the area, and also participates in area farmers markets. I saw a photo of one of the Sub-Edge Farm fields completely under water after Sunday's torrential downpours, so the fundraiser is more important than ever. Participants include DORO Restaurant Group, Butchers & Bakers, Zephyr's Street Pizza, Artisan West Hartford, New Park Brewing, Hopmeadow Brewing, Hot Taco, and more. The proceeds (100%) will support low-income CSA programs. The event is at Sub-Edge Farm, from 1-5 p.m., and more details can be found here.
As far as I know since earlier in the spring there haven't been any further study sessions by the Design Review Advisory Committee (DRAC) for a proposal to create a transit-oriented development at 579 New Park Avenue, but the property, which is currently occupied by Gozzo Design and Remodel, recently changed hands. A deed was filed on June 14 marking the sale of the property from Pinnacle Mtn LLC to Hexagon New Park LLC, for $590,000. The application, by Li Brothers Construction, would be for redevelopment of 579 New Park Avenue, including demolition of the existing building and the construction of a new five-story, mixed-use building along with site improvements. Because the property and the project are within the town's new Transit-Oriented District, they will be able to obtain administrative approval. I'll definitely continue to keep track of the progress of the application!
Doyle Specialists will be back in West Hartford on Wednesday, July 19, at the Berkshire Hathaway HomeServices New England Properties office at 970 Farmington Avenue, evaluating jewelry, art, and silver for auction, consignment, or purchase. Doyle, a leading New York-based collector, estate executor, curator, dealer, and auctioneer of fine art, jewelry, and furniture. Appointments are required, and can be scheduled by contacting Jenny Pitman, director of Regions, at 212-427-4141, ext 208 or

[email protected]

.
Natalia Gryn of MoyaUkraine Charity and Tatiana Kharina, Mrs. Connecticut America and World Vision ambassador, are organizing a fundraiser to help children of

Ukraine

on Thursday, July 20, from  5-9 p.m., in Blue Back Square. There is no cost to attend, but donations will be accepted. The event will include a special guest speaker, photos with Mrs. Connecitcut, live entertainment by Ukrainian singer Olga Olichka, raffles, face painting, and food. More details can be found on the Facebook event page.
Among the Acres, a musical group from West Hartford, will be featured during Old Sturbridge Village's first-ever Taste of New England: Summer, scheduled for the evenings of July 21, 22, and 23. Old Sturbridge Village, the largest outdoor living history museum in New England, said in a news release that they are "tapping into Connecticut's own history by serving foods and beverages inspired by traditional recipes, tours of historic buildings representing each state, and talks from costumed historians about industry and traditions and their origins." Live bands will appear on three stages, and , Among the Acres will be on the Main Stage on Saturday, July 22, at 6:15 and 8:15 p.m.
West Hartford-based Northstar Wealth Partners (NSWP), along with LPL Financial, announced last week that Michael Riley, CFP, has joined the firm as a wealth advisor and LPL investment advisor representative. Riley has more than 30 years of investment and wealth management experience committed to his clients and their success. According to a news release, Riley will provide the full spectrum of advisory and financial services including asset allocation, retirement and estate planning strategies, business succession and risk management services. A native of Connecticut, Riley has served a diverse clientele of established entrepreneurs, professionals, and multi-generational families in his almost 30 years with Ameriprise in Middlebury, CT. In addition to the West Hartford office, Riley plans to open an office in the greater Waterbury area in the coming months. "As a native son of Connecticut and a selfless advisor who unequivocally places his clients' needs above all else, I have a great amount of respect for Michael and his approach to investment management and wealth advisement," said Robert Laraia, founder and partner of NorthStar. "The financial planning industry continues to evolve, and as an advisor you have to be willing to change with it. In Michael, I am confident we have found an advisor who brings a level of honesty and dedication to the Northstar team that I am confident will benefit Northstar and his own clientele for many years to come."
Remember, if you have any business news to share, add it in the comments section below or email Ronni Newton at [email protected].
Like what you see here? Click here to subscribe to We-Ha's newsletter so you'll always be in the know about what's happening in West Hartford! Click the blue button below to become a supporter of We-Ha.com and our efforts to continue producing quality journalism.