A round-up of openings, closings, and other news about West Hartford businesses. 
Business Buzz is sponsored by NBT Bank, and we are very thankful for their support!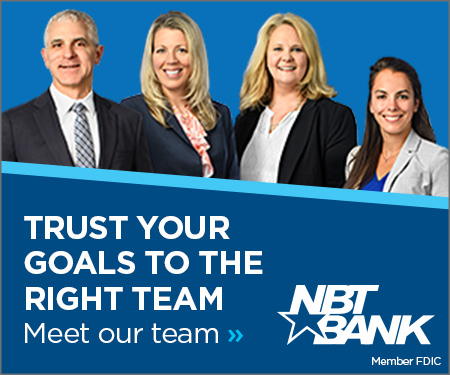 By Ronni Newton
It certainly didn't feel very summery this weekend – but Thursday was the start of meteorological summer. I am really craving the lazy days of summer and the chance to enjoy the weather a bit. There has been so much activity packed into the past few weeks, and so many events coming up during the next few weeks, but then I am hoping we all get some downtime.
Last week was a short week for some people, but the We-Ha.com team (I am so grateful for all of the hard work of intern Bridget Bronsdon, as well as the always-productive sports reporter Paul Palmer) covered the Memorial Day parade and ceremony on Monday, and I also put together a rare Wednesday edition of Business Buzz last week.
Lt. Gov. Susan Bysiewicz closed out Asian American and Pacific Islander Heritage Month on Wednesday with a visit to Maruichi Japanese Food & Deli in West Hartford's Blue Back Square. She was joined by Mayor Shari Cantor, and both also shopped – as did I! I enjoyed the spicy tuna rolls for Wednesday's lunch and they were were delicious!
Thursday was one of those days where nothing went as planned – including the proper operation of my car (thanks to Modern Tire for the new ignition coil and spark plug!) – but it was great to have an impromptu dinner with Linda Geisler at Gran Gusto. Definitely a much better place than Town Hall for a Celebrate! West Hartford discussion!
The final eating experience of the weekend (other than a wonderful Sunday night celebration with family at home, with dinner prepared by Ted) was a birthday dinner on Saturday night at Salute in Hartford. It was my first time there, and we very much appreciated the recommendation (and gift card) from Katie and Matt. Everything was delicious and the service was wonderful, and we will definitely return! We were so stuffed that we had to take the tiramisu to go.
No more COVID-19 updates here, because the state has phased out reporting as of June 1. Going forward, the state's plan is to report on COVID-19 seasonally, like the reporting of influenza.
If you're looking for news about West Hartford in print please note that many stories from We-Ha.com, as well as other local news, is published in the twice-monthly issues of the West Hartford Press.
If you have information to share about local businesses, please provide details in the comments or email Ronni Newton at [email protected].
**************************************************
Here's this week's Buzz:
I love reporting on the opening of retail businesses – and the eclectic 485 New Park is one of my favorite places in West Hartford – so I am so excited to share the news that Refill Vintage has opened a showroom in that building! Sam Waszkelewicz and Dominika Tanaka opened the showroom about two weeks ago in what had been the HiFi Museum. "We both just have a passion for Mid-Century Modern and vintage decor. That's how we furnish our own home," Sam said. The West Hartford residents had acquired quite the collection (way beyond their own living space) and decided it was time to start selling it, which they did a few years ago primarily through Instagram (@refill.vintage) – which will continue to be a major source of business since they now have clients all over the country and even internationally. As for where the inventory comes from, "We source things from all over New England, the Mid Atlantic … We work with real estate agents, online auctions, and we make a lot of house calls," Sam said. For me, a visit to the showroom was like a visit back to my childhood home (the panther is exactly the same one that used to sit on top of my father's credenza in our living room, across from the gold, curved, burlap couch!) and I wish we had the foresight to save some of those things. "It is about repurposing, sustainability. It's better for the environment," said Dominika. The vintage versions are often much better made than today's imitations, she said. While the showroom is currently open on Saturdays only (11 a.m. until 4 p.m.) or by appointment, it's also serving as home base as well as a perfect space for photo shoots for Instagram. Showroom hours will expand in the fall. "We live in West Hartford, and it made sense to be part of the community," Dominika said. As for the prices of the items for sale, they are comparable to retail, she said, with low-end items as well as higher-cost pieces available. "We also source a lot of very unique pieces that you will never see again," she said. And while they may be vintage, nothing looks used. While they do not typically do consignment, anyone with items to sell can contact [email protected], call 860-798-3800, or visit the website.
Another happening at 485 New Park is the transition in ownership at WIP Fitness! Mary Kate Doyle and Laura Keever, who opened "Work in Progress" in 2013, posted the following thank you note on their Facebook page last week as they turned over the ownership of the business to longtime coach Paul Ducey and his wife, Julia, as of June 1. Paul and Julia actually met at WIP when he was coaching and she was a client (more on that great story to come): "Hello Fellow WIPsters: Where do we start? The past 10 years have been…everything! We've met so many amazing people, burned so many calories, stayed true to our original core values and remained amazing friends through it all; we are very proud. We have heard from many of you since the announcement, it's been soul affirming. From people that have worked out from the beginning, to those who haven't been to WIP for some time. Hearing about your WIP memories and the impact it had on your lives has been incredible. Thank You so much for sharing with us. We are incredibly grateful for those who supported us on this crazy road. Two 'regular moms' opening a gym with coaches who had never coached, it was really insane when we look back. But right from the start we knew we were on to something special and the fact that we got to be stewards to that magic isn't lost on us. Paul and Julia are the perfect duo to take on and continue with the magic that has started. We ask you to support them the way you supported us. Buy a class card (anytime after June 1), like a post, bring a friend, it all matters. Thank You for letting us build this beautiful sweaty place together. It has been incredible." For more information about WIP Fitness, visit their website.
Bohdii was featured in this column a few weeks ago, and on Friday they had a ribbon cutting with owner Justice Pellegrino, the Chamber of Commerce and Mayor Shari Cantor, with the grand opening taking place on Saturday. Bohdii is located in the space that was formerly Philip David Jewelers at 968 Farmington Avenue and features a curated "Boho-Chic" collection of clothing and accessories at a moderate price point. Bohdii has two other locations (East Longmeadow and South Boston) and has become known for carrying casual, everyday styles, event dresses, athleisure, footwear, jewelry, hats, and much more for women of all ages. They opened the store quietly on Friday at the time of the ribbon cutting, and Sydney Lyons was all smiles as she happened to be shopping in the Center and ended up being the first customer. (I also bought something, as did the mayor and several others who were at the ribbon cutting.) For more information about the business, check out their website.
More Than Just Sharkbite also had its grand opening on Saturday at 1037 Boulevard and while I was not able to visit on Saturday I stopped by on Sunday afternoon and met with owners Lonnie Arnold and Shawn Mack (Courtney Pavlick is also an owner). "Yesterday you couldn't even park here," Mack said about the successful grand opening day. "They showed a lot of love yesterday," agreed Arnold. "Today was good, too," he added. The restaurant is an offshoot of Arnold's successful Sharkbite New England food truck, which offered fried seafood and fish and operated in Hartford, combined with Pavlich's successful More Than Just Lobster operation. More Than Just Sharkbite offers a combination of menu items that includes seafood steamed in bags with vegetables, lobster rolls, fried lobster tails, fried scallops, and other dishes made from fresh fish. Everything is fresh, not frozen in what is primarily a grab and go restaurant. And – they have a menu item called the "WeHa" that I am absolutely going to try! It's fried whiting, egg, and cheese on Texas Toast. More Than Just Sharkbite is open daily.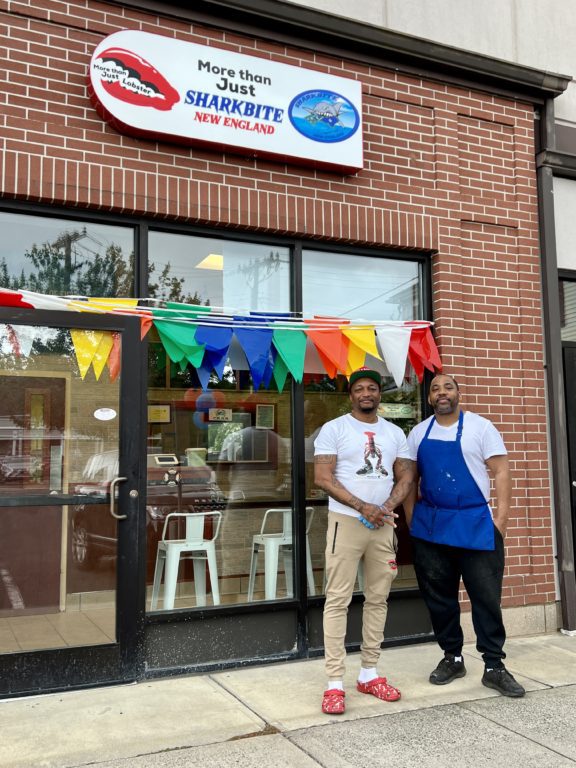 The Statement Group – led by founder and CEO (and West Hartford resident) Gina Luari, has opened its highly-anticipated restaurant RAW* in downtown Hartford, located at 280 Trumbull Street, right across from Hartford Stage. At the last minute I was not able to attend the grand opening last week (but look forward to visiting very soon, and do have these details provided in news release which notes that "RAW* defaces the traditional seafood and raw bar concept, stripping tables of white linens and stuffiness and instead infusing the space with graffiti art, aqua-colored neon lights, and industrial design elements for an experience in the edgiest, and still fanciest, version of Poseidon's lair seen yet." Luari said in the release: "In a nutshell, if Poseidon had an attitude and threw a party, RAW* would be it. RAW* is the first boutique brand The Statement Group is launching after The Place 2 Be, and we couldn't be more thrilled to bring it to fruition. Helping to invigorate Hartford with a fresh new take on a seafood concept and bringing another audacious brand to the community is something we've been looking forward to." The Statement Group's Corporate Chef Chantheoun Thanh has created a menu of "impressively plated seafood fare as well as whimsical craft cocktails served in on-theme glassware. Dining menu items give a new spin to the classics like the Lobster Mac n Cheese, where the mac n cheese is stuffed onto a whole, flayed lobster. There are beef options for non-seafood-fans as well. The beef tartare is served with caviar and an egg yolk for an elevated version of the classic, and the petite filet mignon is also available to order. Craft cocktails highlight Chef Thanh's creativity in the libations department as well, with highlights including the Mermaid Tail (butterfly pea flower-infused tequila, lemon, and sparkling yuzu served in a mermaid tail glass), which changes color with the drops of acidity, and the Shuck It Dirty (vodka, dry vermouth, and a whole oyster served in a deconstructed martini glass on a bed of seaweed) among others with bold, cheeky names." The cocktail and raw bars both have happy hour from 4-6 p.m., with "buck a shuck oysters" and "5 for $5" (five ounce pours of wine or beer), as well as happy hour versions of shareable. Christian P. Arkay-Leliever (of design atelier Arkay-Leliever) designed the interior, with plenty of input from Luari, and Connecticut graffiti artist E.S. Barraza created one-of-a-kind murals throughout the space – including in the restrooms. RAW* is open daily from 11 a.m. until 11 p.m.
Thanks to the support of the community, West Hartford-based Shimkus, Murphy & Lemkuil, Inc. has officially awarded a $10,000 donation to Connecticut Brain Tumor Alliance (CTBTA), a local organization dedicated to providing hope and support to brain tumor patients and caregivers. The $10,000 award will help CTBTA to support their patient Assistance Funds and continued research. Susan Lemkuil, Executive Vice President of Shimkus, Murphy & Lemkuil, Inc, originally received a $5,000 donation for CTBTA thanks to a submission process with Liberty Mutual and Safeco Insurance through their 2023 Make More Happen Awards. A story of their local partnership was featured on the official Make More Happen microsite, www.agentgiving.com/Shimkus-Murphy-Lemkuil

, 

where 

Shimkus, Murphy & Lemkuil had the opportunity to raise an additional $5,000 by conducting a local awareness campaign for the nonprofit. Together with the community, the goal was met increasing the total donation to $10,000 for CTBTA!

Throughout 2023, Liberty Mutual and Safeco Insurance will select up to 37 independent agents nationwide for a Make More Happen Award donating up to $370,000 to the nonprofits they support. Agencies became eligible for the award by submitting an application and photos demonstrating their commitment to a specific nonprofit. 
The Connecticut Education Association (CEA) has received national recognition for its public awareness advertising campaign – "Because of a Teacher, Every Profession is Possible" – highlighting the positive influences of teachers on the personal, academic, and professional achievement of students. The campaign has won a prestigious Telly Award, the CEA announced last week. Connecticut residents featured in the ad campaign include tax manager Christopher Bortolan, of Newington; attorney Michael Brown, of Wethersfield; nurse practitioner Marina Creed, of West Hartford; diversity, equity, inclusion, and engagement coordinator Jackie Davis, of Portland; photographer's assistant Noelle Esposito, of Northford; paralegal Melissa Janick, of Suffield; nurse Alice Lam, of West Haven; town councilman and auto sales general manager Shamar Mahon, of Bloomfield; pediatric physical therapist Danielle Novak, of Southington; sports account executive Anthony Sanders, of West Hartford; real estate agent Jessica Starr, of Simsbury; and former State Treasurer Shawn Wooden. "It's because teachers make every profession possible," said Creed. According to the CEA, the ad includes students from West Hartford as well as current students attending public schools in East Haddam, Glastonbury, Hartford, Marlborough, Stamford, Suffield, and West Haven. "Winning the Telly award has brought national recognition and respect for Connecticut's educators at a time when it is so badly needed," said CEA President Kate Dias. "With a worsening teacher shortage and attacks against them, the emphasis on celebrating educators and enhancing the teaching profession is more important than ever."

The sign is now up for Cha Papi, which offers "tea and sweets" and will be opening in the Shield Street Plaza at 150 Shield Street, a few storefronts down from the A Dong Supermarket.
ICYMI, there was a ribbon cutting last week, celebrating the opening of the completely-leased 540 New Park development. Click here for the full story and photos.
Cut Out Cancer will now take place at the Mandell JCC in West Hartford, and the organization just gave out several awards. Click here for the details.
Lt. Gov. Susan Bysiewicz closed out AAPI Heritage Month when she joined Mayor Shari Cantor and Fuji Mart VP Joshua Nakama for a tour of Maruichi Japanese Food & Deli in West Hartford's Blue Back Square last week. Click here for the complete story.
Remember, if you have any business news to share, add it in the comments section below or email Ronni Newton at [email protected].
Like what you see here? Click here to subscribe to We-Ha's newsletter so you'll always be in the know about what's happening in West Hartford! Click the blue button below to become a supporter of We-Ha.com and our efforts to continue producing quality journalism.