A round-up of openings, closings, and other news about West Hartford businesses.
By Ronni Newton
Spring is here, and while I could do without the relentless wind, I'm loving that many days next week will be at or near 70 degrees. I'll take the pollen (and I am allergic) over shivering any day.
A special shout out to my son, Sam, who celebrated his 23rd birthday on Saturday! As he finishes up his second semester of graduate school and looks forward to a great internship with the Connecticut Department of Economic and Community Development in the fall, and as he finally is able to return to some more normal 20-something activities (other than hanging out at home with mom and dad and attending online grad school in the basement), he's looking forward to a wonderful year ahead.
I've been able to enjoy more and more "normal" activities as well, including taking a friend to lunch last week to celebrate her birthday. We ventured slightly outside of West Hartford to Parkville Market (I hadn't been there since the fall, and she had never been), and enjoyed a delicious lunch from Mofongo. We both had a pork dish, one as mofongo and the other as a rice bowl, and sat in one of the private dining spaces on the second floor.
Ted and I didn't go out to a West Hartford restaurant Saturday night because we attended the Ron Foley Foundation's fundraiser, Ron's Run for the Roses, at Folly Farm in Simsbury. It was a great night, and a fabulously successful fundraiser for the organization. I'm not sure if this is the final tally, but it was what flashed up on the screen at the end of the silent and live auctions.
There was a mint julep bar, and the picnic fare – provided by Russell's Creative Global Cuisine (of West Hartford) – was delicious, too. The meal (pictured below) included cornflake crusted fried chicken with peach chutney, cucumber and tomato macaroni salad, and tangy green beans with a black bean pimento salad and mustard vinaigrette. For dessert there were apple cinnamon cupcakes. There were also hors' d'oeuvres (gazpacho and an everything biscuit with country ham and maple bacon butter), but I hadn't had lunch and was so hungry when I got there that I ate mine before taking a photo!
*******
We hope you've been following our Keeping it in the Community feature, which is a collaboration with the West Hartford Chamber of Commerce and the town's Economic Development Department.
We don't have one business to spotlight this week, but rather an initiative! "Small Business Week" kicked off Sunday, and watch for ideas about ways to support local businesses by following the West Hartford Chamber of Commerce (@whchamber) and West Hartford Economic Development (@westhartford_econdev) social media pages as well as #SmallBusinessWeekWeHa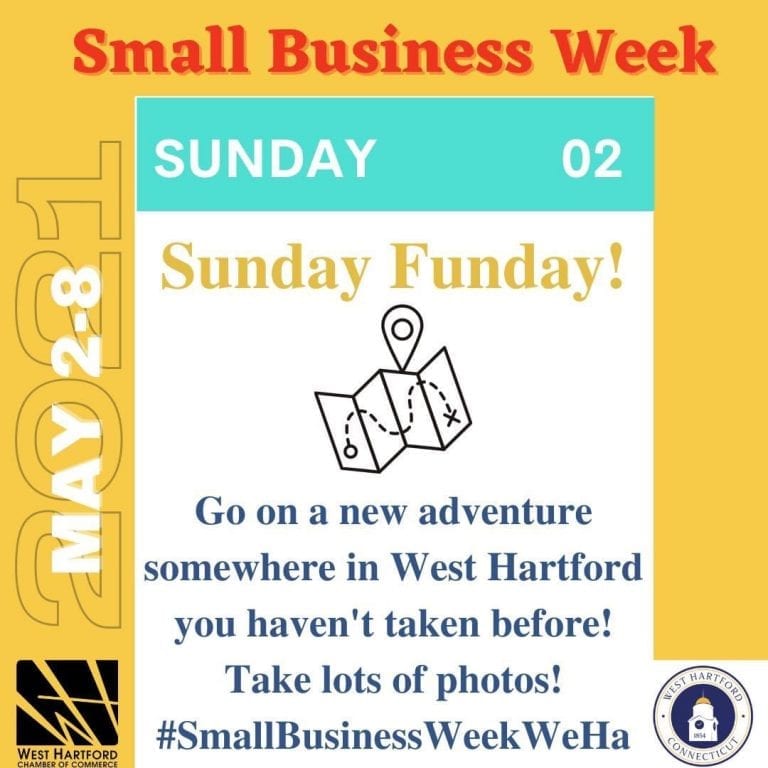 *******
Please continue to support our local businesses, and please wear your masks if you are in public places (just a little while longer), and stay safe and healthy.
If you have information about businesses changing their operations due to COVID-19, or doing something worth sharing, please provide that information in the comments or email Ronni Newton at [email protected].
Here's this week's Buzz:
I like to think I'm observant (and that's supposed to be part of my job, plus this is about a half mile from my house), but I actually hadn't realized that the Taylor and Modeen Funeral Home building at 136 South Main St. was empty until very recently. I had heard more than a year ago that there were plans for Sheehan-Hilborn-Breen to take over Taylor and Modeen's West Hartford operations, but then COVID happened. David Skinner, who now runs Sheehan-Hilborn-Breen following the retirement of Charlie Hilborn (who still remains involved there and with the Elmwood Business Association), provided me with the details. Taylor and Modeen, which has been in business in the Hartford area for more than 110 years, officially merged their local business with Sheehan-Hilborn-Breen as of Dec. 1, 2020, Skinner said. The plan had been in the works for a while, as Andy Taylor (who ran the West Hartford location) was looking to transition to a new career as a teacher in Vermont. But then, in the midst of the COVID pandemic, the building sold quickly. "Andy Taylor moved [his business] to New Britain Avenue, and we were both operating out of 1084 New Britain Ave. through COVID, which was the worst time ever for funeral directors," Skinner said. They planned to make an announcement about the merging of the businesses, but it just didn't seem appropriate during the pandemic. While the challenge appeared to be great, "really the transition was one of the smoothest ever," said Skinner. "We had no choice, with COVID, the numbers the added caution." Families have long-standing attachments to funeral homes, especially those that have been around for generations, but Skinner said most of those who were accustomed to working with Taylor and Modeen were very open to the transition to another local business. Bob Kennedy, a longtime Taylor and Modeen funeral director, has transitioned along with the business. "Our goal is to serve people to the best of our ability, and we want to continue to that trust and service," Skinner said. Taylor and Modeen still operates its funeral home under that name in Jupiter, FL, run by the Taylor family, but the Taylor and Modeen name is being phased out in Connecticut. And as for building, more to come this week when the new owner said he will be able to share the details. What I can say now is that the 1.31-acre parcel (zoned commercial) sold about a year ago for $2 million, and the building is being demolished soon and will be replaced with an office building. There was a rumor it was going to be a gas station, but that is not true!
I don't have many details about this one, other than what I can find online, but both Shehrazad's Cafe and Grill and 1001 Arabian Nights at 134 Park Rd. have closed permanently, and according to town records, there is a permit request to convert the space into 1001 Arabian Bites. I'll share more details when they become available.
We thought (hoped) that Place 2 Be would be open by now, but I was finally able to catch up with owner Gina Luari last week and it looks like the opening of the over-the-top brunch/lunch place known for its bottomless mimosas is still a week or so away. Luari said they are still working on final details with the fire and health inspectors as well s with the building department. "As soon as we have sign-offs we'll be good to go. It's looking like after Mother's Day based on their timelines," she said in a message. That will also mean opening about the time that restrictions on restaurants are lifted, so the silver lining is that will be able to accommodate more diners.
The #CTDrinksOnUs campaign will launch on May 19 – the day all COVID-19 restrictions (other than the indoor mask mandate) are set to expire – and more than 100 restaurants have already signed up to participate since Gov. Ned Lamont announced the initiative last week. The program, organized by the Connecticut Restaurant Association and promoted by the state, is aimed at encouraging both vaccine uptake and patronage of the state's restaurants by providing a free drink (alcoholic or non-alcoholic) to diners who order food and can prove they have received at least one dose of a COVID-19 vaccine. Thus far in West Hartford Place 2 Be and Union Kitchen are on the list, which is being continuously updated. To see the complete list of participating restaurants – or if you are a restaurant owner and want to sign up – click here. For the full story about the campaign, click here.
The Cotton On kids store opened at Westfarms in March (lower level, former Gymboree space), and the women's and men's Cotton On store is also now open, located on the upper level next to Bath & Body Works. Cotton On, which launched in 1988, is Australia's largest global brand, focused on cotton clothing, and with a strong commitment to ethical operations. More about Cotton On can be found on the company website.
Congratulations to West Hartford resident Susan Shimkus Lemkuil, recipient of the Greater Hartford Association of Realtors' inaugural "Good Neighbor Award" in recognition of her work with the Connecticut Brain Tumor Alliance. CTNewsJunkie.com has the full story here.
NBT Bank Connecticut Regional President Andreas Kapetanopoulos announced in a news release that Heather Piteo has joined the company as Vice President and Cash Management Sales Representative. She will be based at NBT's permanent Connecticut Regional Headquarters in West Hartford at Corporate Center West, 433 South Main Street, Suite 244, set to open during the second quarter, pending regulatory approval. "Heather's extensive local experience and knowledge in helping Connecticut businesses of all sizes manage cash flow with treasury management products and services will strongly complement our growing team's capabilities," said Kapetanopoulos. Piteo has more than 20 years of financial industry experience, including her most recent role as Treasury Management Sales Officer for People's United Bank in Hartford. She earned a bachelor's degree from University of Hartford and is an active volunteer with Junior Achievement of Southwest New England.
The Bishops Corner Neighborhood Association is continuing with its annual planter program to help beautify Bishops Corner along North Main Street, partnering again with Knox, Inc. which places and manages the beautiful planters. The BCNA relies on contributions by businesses and individuals to fund the program ($240 per planter), and complete details can be found on the PDF at the bottom of this column.
It's been kind of like the Wild West parking on Farmington Avenue over the weekend. Parking and lane patterns will be changing this week when the expanded outdoor dining corrals are installed (MDC has finished its project so all corrals will be installed Wednesday) and the new markings have been outlined. It seems like whoever parks first in the morning sets the pattern for the rest of the day, and in some places there was still parallel parking while in other parts of the roadway drivers were following the newly-sketched lines. The footprint of the corrals will be a bit smaller this year, and while parts of Farmington Avenue will be narrowed to one lane in each direction with angled parking there will be two lanes eastbound approaching the intersection with North/South Main Street, and also a dedicated left turn lane headed westbound to access the Farmington Avenue surface parking lot. To see details of the location of the corrals, and an overview of parking, click here. Photos of what it looked like Saturday are below.
ICYMI, the Town of West Hartford is looking for input from the public regarding plans to amend zoning in the New Park Avenue corridor to create a Transit-Oriented Development zone. Click here for more information and to participate in the survey.
West Hartford resident Liz Pang launched Luna Tree Care nearly a decade ago, and remains one of the few female business owners. in the tree care industry. Read the full story here.
Remember, if you have any business news to share, add it in the comments section below or email Ronni Newton at [email protected].
Like what you see here? Click here to subscribe to We-Ha's newsletter so you'll always be in the know about what's happening in West Hartford! Click the blue button below to become a supporter of We-Ha.com and our efforts to continue producing quality journalism.