A round-up of openings, closings, and other news about West Hartford businesses. 
Business Buzz is sponsored by NBT Bank, and we are very thankful for their support!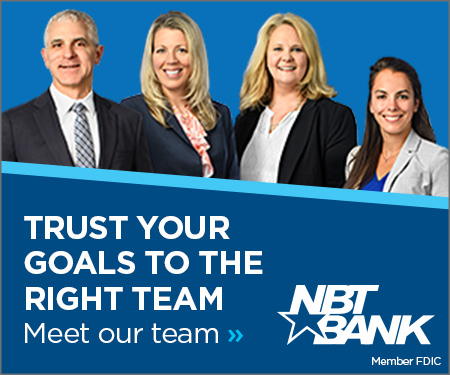 By Ronni Newton
I wrote most of my last column on a Saturday, and I'm writing this one – a rare Wednesday edition of Business Buzz – on Tuesday since the We-Ha.com newsletter took a Memorial Day holiday.
I went to Nantucket for a few days last week, although I did return home Sunday night in plenty of time to report on and photograph West Hartford's Memorial Day parade and to take photos of the Memorial Day ceremony to go with the article that Bridget Brondson wrote. Both were wonderful events – and meaningful in very different ways. And while I did have a chance for a beach walk every day (Millie would have insisted, even if it had been bad weather), and had some great visits with my mother-in-law, we (Ted and I and my brother- and sister-in-law) spent much of the time getting the house ready for the summer rental season. Among the work I personally did was planting 11 window boxes and spending way more time vacuuming in a three-day period than I spend here in a year (or maybe in a couple of years).
My only restaurant dining (not counting the Nantucket Bake Shop doughnut Ted procured for me) last week was on Monday when I had some of my favorite tacos on the patio of Bartaco during a lunch that was also an interview for one of the business items below.
Also photo-worthy, however, was the watermelon salsa my sister made and brought over for a barbecue on Monday. It's a tradition at our first "summer" barbecue. We usually have it on Labor Day weekend as well, but I definitely don't want to think about that any time soon.
Today is the last column where I mention the COVID-19 map, which is being phased out as of June 1 – and West Hartford was not on the map this week, meaning there are fewer than five cases in town. Going forward, the state's plan is to report on COVID-19 seasonally, like the reporting of influenza.
If you're looking for news about West Hartford in print please note that many stories from We-Ha.com, as well as other local news, is published in the twice-monthly issues of the West Hartford Press.
If you have information to share about local businesses, please provide details in the comments or email Ronni Newton at [email protected].
**************************************************
Here's this week's Buzz:
Glenn Marcella is very excited about the opening of Gym 67, with that number "67" having important significance, even fortuitously becoming the planned opening date of June 7. A longtime West Hartford resident, Marcella has been a fixture in the fitness industry in the area for more than 30 years, and said when he celebrated his 30th anniversary in the business last spring, it led to some self-reflection. "I have this new approach, and it's come full circle," he said. If you've lived in West Hartford long enough and/or are old enough (and I am one of those who fits both requirements) you'll likely remember a gym he previously owned – The Center Studio – and the ubiquitous "TCS" magnets (maybe they were even stickers) which graced many family vehicles in the late 1990s and early 2000s. Newly married and starting his own family (he has three children, the oldest of whom graduated from UConn in 2022), Marcella started that business to meet the needs of his wife's circle of friends. "These new moms wanted to get back in shape fast, and they did," he said of the TCS members whom some called the "cult" or the "hot moms" club. As their kids grew up, Marcella then launched the "Girls in Stride" program, and he later ran training programs for middle, high school, and college athletes. "I've been following the progression of my original core people and their children," said Marcella, and now it's come full circle. Gym 67 (he expects many future members to have been born circa 1967, or maybe be close to age 67) to focus on the needs of adults who are 50-plus or older, but interested in committing to an old-school style of fitness with the "subtle feeling of nostalgia" it brings. "People can do more, they want to do more," he said. Gym 67 is not where you will find a "silver sneakers" program for seniors, but rather where you can find programming for those who want to increase their athleticism and functional movement. Marcella said that at some boutique fitness studios, "everything is so visual, but there is a still a really strong segment of people who are intimidated by this, frightened really." So they don't work out. "Let's treat people like athletes," he said, and that's what he plans to do at Gym 67, with group fitness classes as well as personal training by dedicated and skilled instructors. For the past several years Marcella has been doing personal training for people of all ages, including high school and college students, at various facilities around the area, and will continue to work with those individuals as well. Gym 67 is located in the former CT Hart Cheer (which is closing its doors for good) space at 215 Newfield Avenue, on the West Hartford/Hartford line. For more information, visit the website.
West Hartford resident Alex Booker has been making jewelry since she was 12, and now as a busy mom, she has now turned it into a business – Honey Designs. She didn't necessarily plan to turn her creativity into a business, but started making pieces for her own use. "When I can't find something I need or want, I visualize it and create it," she said, but her friends loved the pieces she created. In fact, she said, she would go to an event wearing several of her creations but come home without them because she would give them away to those who admired them. Now, she said, she makes unique necklaces, bracelets, ankle bracelets, and bag charms on commission, with specific people in mind. "It's all about the little, little, little things," she said, putting beads with your initials on the back of a necklace, for instance. Many of the pieces are inspired by the sea or shoreline – and Booker said the workshop in her West Hartford home overlooks a pond which also gives her inspiration. She's particularly fond of working with pearls – "something beautiful that forms around an irritation," she said. "I love the story of how they exist, a tiny piece of sand – irritation – throws a curveball at an oyster. Instead of pretending the grain of sand doesn't exist, the oyster holds onto it, and builds something beautiful out of what was once a problem for it," she said. She has started working with oyster shells as well as other shells, and loves that they represent eternity and connection. "To have my friends [and that extends to any customer, who she quickly considers a friend] wearing a little piece of something I made, makes me feel like they're wearing a little piece of me," she said, and that connection is so gratifying. For more information and to see examples of Booker's work, follow @honeybunsthings on Instagram or visit her website, honeydesignsllc.com.
Intimissimi is now open at Westfarms on the upper level of the Nordstrom wing – the brand's first boutique in Central Connecticut. Intimissimi was launched in Italy in 1996, and is one of the companies owned by the Calzedonia Group – led by founder and billionaire Sandro Veronesi. Intimissimi represents high quality sophistication, romance, and glamour, as well as comfort and performance with an unmistakably Italian style. Specialities includes bras, panties, lingerie, knitwear, and pajamas for women, as well as underwear and pajamas for men. The company has a strong commitment to sustainability through recycling fabrics and avoiding the use of disposable packaging, as well as providing information about the origin of fibers used to create each item they sell. According to their website, 94% of the items sold at Intimissimi are created in one of their 22 owned factories.
Congratulations to Essie Labrot, West Hartford's former town clerk, who was honored by CT DEMS with the "Women's Leadership Award" in recognition for her "service and commitment to the Democratic Party." She was recognized at the Women's Leadership Brunch on May 21.
A commercial building on roughly a third of an acre of land sold for $1.185 million according to a deed filing with the Town of West Hartford. The property occupied by Cats Limited at 1260 New Britain Ave. is now owned by Keeper – West Hartford LLC, a real estate investor in veterinary clinics. I also found the following message posted on the Cats Limited website: "Dear Friends, This year Cats Limited celebrated 28 years since it opened its doors in January of 1995! Since then, much has changed in our lives and in the world. Throughout the years I have been honored to be part of the community, helping you and your feline family members. In January, I stepped down as medical director and Dr. Hester and Dr. Haining have taken on the role as co-medical directors. They have done a fabulous job alongside Shannon, our practice manager, and the rest of our talented team. Knowing the hospital is in such good hands has allowed me the opportunity to retire in May 2023. I will fill in periodically when other doctors are away from the practice, but I will no longer be seeing patients on a regular basis. We have developed strong ties over the years while I have watched the Cats Limited family grow. Many of the children who visited with their parents years ago are now clients with their own cats. The years have flown by! As I enter this new chapter in my life, I want to thank you for all your trust and support over the years and wish you all the best. I will truly miss seeing all of you and your cats. With warmest wishes, Dr. Diana Lafer"
Another even larger real estate transaction – for $6.9 million – was recorded in West Hartford on May 25. The property at the corner of Farmington Avenue and Dale Street (994-1000 Farmington Avenue and 75 Brace Road) has been sold by David Brown to Lewis Real Estate – one of the tenants in the building. Other tenants include West Hartford Apothecary and The Fix.
There are several news items that I thought were worth mentioning here even thought they are not technically in West Hartford. One is that the Goodwill store in the former Connecticut Beverage Mart space (I think it has a New Britain address) is now open.
Right down the road, across from the Target store in New Britain, a new location of BIRDCODE (which originated on Park Road in West Hartford in 2020) is planned. The shopping center at 488 Hartford Road will also include a Starbuck's, Mattress Firm, and other as-yet-unnamed tenants according a Facebook post by The Connecticut Scoop.
For those missing City Steam (942 Main Street in Hartford), it's reopening today according to an email announcement. City Steam has been closed since sustaining extensive damage from a burst pipe in February, and underwent extensive repairs and renovation. More information can be found on the website.
ICYMI, there are some new resident food trucks parked at GastroPark – which is now open seven days a week! Read the full story here.
Remember, if you have any business news to share, add it in the comments section below or email Ronni Newton at [email protected].
Like what you see here? Click here to subscribe to We-Ha's newsletter so you'll always be in the know about what's happening in West Hartford! Click the blue button below to become a supporter of We-Ha.com and our efforts to continue producing quality journalism.