A round-up of openings, closings, and other news about West Hartford businesses. 
Business Buzz is sponsored by NBT Bank, and we are very thankful for their support!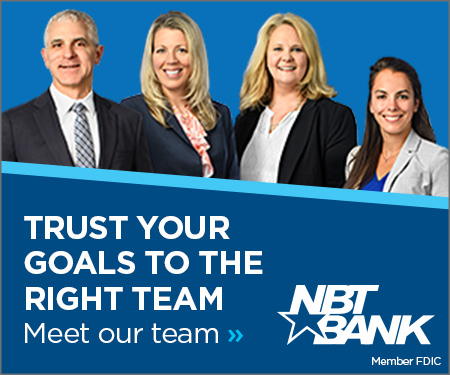 By Ronni Newton
This is the week of Election Day – a busy time for not just the candidates but also for journalists who cover government news.
It's a municipal election – but that's not a reason to snooze on your civic responsibility. Local government officials impact day-to-day life the most because they are the ones who make decisions about things that directly affect residents – like the town budget, operation of schools, trash pick-up, development, roadway improvements, and zoning.
I urge everyone to consider the people who are running for the volunteer positions on the Town Council and Board of Education, and to try to look at the people beyond their party affiliations. Click here for all of the important details about Election Day – including links to the completed candidate questionnaires that everyone running in this election completed for We-Ha.com, as well as a map of all of the polling place. We will have the results published in time for Wednesday morning's newsletter.
Another election-related note is regarding letters to the editor. We've had an amazing outpouring of letters this election season, mostly positive letters outlining reasons to support a particular candidate. There are so many letters that the last ones to arrive had to be grouped together under one umbrella "Additional Letters in Support of Various Candidates" to be included in today's newsletter, which is the last one prior to Election Day. (The newsletter template only allows a certain number of posts, and automatically leaves off the oldest items if we exceed that amount.)
In the future, please be sure to not only get your letters in early, but also send them to me directly by emailing [email protected]. For some reason, a few people posted letters as messages through the "Contact Page" portal (there are instructions on that page that request letters be submitted by email), and also did not include their phone numbers for verification. Messages sent through the contact page do not go directly to me – they go to our sales director – and not only is there at least some delay in meh receiving them but it also means those submitting them did not receive my vacation response as an automated reply and know to send urgent items to Keith Griffin, who was serving as our interim editor from Wednesday through Saturday.
Major thanks to Keith for doing a fantastic job managing the site, a role that included not only posting myriad letters to the editor but also editing and publishing various other submitted articles and photos as well as covering the Morley Red Wagon food drive. Thanks also to Sam's friend who did a great job house- and Millie-sitting for us!
While Ted and I do often travel to visit family those are generally working vacations, and I appreciate that Keith made it possible for us to spend a few days in Savannah, GA – where I barely touched my laptop. We walked everywhere (8-plus miles for two of the days), ate a lot of great food, learned some fascinating history, and even enjoyed a "to-go" peach sangria while sitting in one of the city's squares on a warm and sunny afternoon. I also read an entire novel ("Lessons in Chemistry," which I loved)!
Photos below are a few highlights of our favorite meals (Vic's on the River where the food and service were amazing, and the Funky Brunch Café), our favorite historical tour (Owens Thomas House, where they did an excellent job telling and interweaving the stories of the enslaved residents as well as the wealthy owners of the home), and one of the ginormous barges that cruised by our hotel on the Savannah River several times per day. Each is able to transport 4,600 TEUs (twenty-foot equivalent units), and they are deepening the channel to expand the capacity barges that can transport 8,700 TEUs.
If you're looking for news about West Hartford in print please note that many stories from We-Ha.com, as well as other local news, is published in the twice-monthly issues of the West Hartford Press.
If you have information to share about local businesses, please provide details in the comments or email Ronni Newton at [email protected].
**************************************************
Here's this week's Buzz:
I know the feature photo that heads this column is not a new photo, but I don't like to lead this column with an image that's just words, and this is really about West Hartford Center businesses and the impact they can have on an important local nonprofit organization while supporters can also enjoy some significant savings and maybe get a jump on holiday shopping. This is about the West Hartford Center Business Association and the Ron Foley Foundation presenting the 2023 We Care Card Event that begins this week – on Thursday, Nov. 9 – and runs through Sunday, Nov. 19. The Ron Foley Foundation will benefit from the sixth annual We Care Card event, with donations supporting pancreatic cancer patients and their families. We Care Card donations start at $50 – which all benefit the chosen charity – and in turn provide customers with the opportunity to save up to 20% off at all participating businesses for the entire 10-day duration of the event. Present your card for discounts and special offers as often as you like during these 10 days. Barbara Foley, Founder & President of the Ron Foley Foundation, spoke about partnering with The Center, and said, "From the day the Ron Foley Foundation opened our doors in West Hartford, we have felt a part of an amazingly warm and supportive community. What an honor it is to again be the We Care Card partner in 2023. We want to thank everyone for helping us raise awareness and funds for pancreatic cancer patients in need." With discounts in most participating businesses at 20%, this is the best time to shop, dine, stroll, and GIVE in West Hartford Center. "This is a great way for all of us to give back. We are really building something special with the Ron Foley Foundation. With November being Pancreatic Cancer Awareness month, it's such a perfect fit," said Kimberly Moster of Kimberly Boutique. "We have more stores participating this year than ever before – plus getting the Max's [Burger and Oyster Bar] and Bricco to join us is a big boost for everyone" Festivities start on Nov. 9 with the 'Rock Away Pancreatic Cancer' event at New Country Mercedes-Benz in Hartford. Guests will enjoy BBQ, cocktails, live music, and line dancing – country western attire is encouraged! We Care Cards will be available to purchase on-site and all proceeds from the night benefit the Ron Foley Foundation. To purchase tickets, click here. We Care Cards are available for purchase starting Nov. 9 at Kimberly Boutique and other participating locations: BK & Co, Bohdii, Beckers, Bridgewater Chocolates, Central Optica, Daswani Clothiers, Fleet Feet, French Cleaners, Hope & Stetson, J.McLaughlin, Kimberly Gift, Lil Hope, Lux Bond & Green, Pompanoosuc Mills, Sight, and Store 52. You can also purchase your We Care Card online here.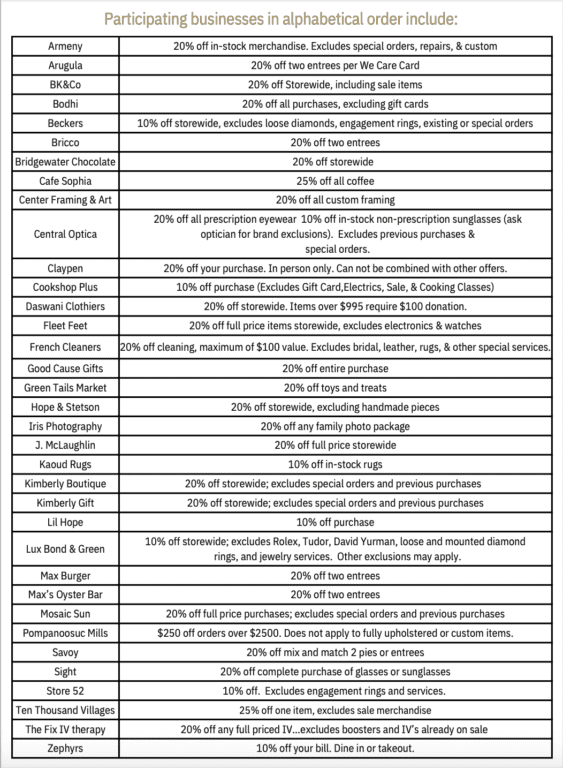 Shelves are in the process of being stocked and buybuy Baby has announced a grand opening date of Saturday, Nov. 18, with a celebration planned from 10 am. until 1 p.m. in the store that closed over the summer but is reopening with the same name but under new ownership in The Corbin Collection. "Join us for a day of interacting with your favorite brands, experiencing our store's new look, and learning about the new must-have products. Plus, attendees will be eligible to win prizes, enjoy delicious treats, and go home with a gift bag!" states a post on the buybuy Baby Facebook page asking people to register via Eventbrite for the celebration. All buybuy Baby stores nationwide had closed earlier this year, but the intellectual property and 11 of the store leases – including the least for the location in West Hartford – were purchased this summer by Dream on Me.
There's lots of exciting news coming very soon to Westfarms – where Jordan's Furniture will soon be opening in the former Lord & Taylor store. Jordan's Furniture announced last December that they would be opening a more-than-120,000-square-foot store at Westfarms, and spokesperson Heather Copelas confirmed to me that the store is slated to open in December. "However, we are not ready to release any new information at this time, including the timeline, entertainment, and food," she said in response to my request for additional details. It does appear likely, however, that Sally's Apizza will be the "food"! Jordan's Furniture is in the Farmington section of Westfarms, and on Oct. 20 a representative of Sally's applied for a permit for "interior tenant fit-out" within the former Lord & Taylor space. The Farmington Fire Marshal's office issued a preliminary approval of the plans on Oct. 27, according to Farmington town records – and I'm fairly confident reporting this even though Sally's has not provided any details. Sally's Apizza, which is in expansion mode, has recently announced plans to open two other locations nearby – in Newington and Wethersfield. Readers may recall that Sally's had wanted to open in West Hartford where Jared's is located in Corbin's Corner, but Jared then decided to reoccupy their space that still had an active lease and reopen the store that had been closed for a few years.
O'Reilly Auto Parts has started construction of their 7,600 square foot building at 983 New Britain Avenue – in the parking lot of the shopping center where PriceRite is located. The plans for the outbuilding were initially approved by the Town Council in 2021.
There was a question raised on Facebook last week about what business was opening in the former Caribe restaurant space (prior to that the Prospect Cafe) at the northwest corner of Park Road and Prospect Avenue and the answer is that it's Sweetspot, West Hartford's second cannabis retailer. The existing ordinance that permitted cannabis retailers to open in West Hartford caps the number at two, so unless that changes Sweetspot – which is working on buildout but to the best of my knowledge has not set an opening date – will be the only other retailer besides Budr to be allowed to open in West Hartford. There are multiple open permits and plenty of activity at the site working on the build-out. Details to come when the opening is announced.
Congratulations to the West Hartford Garden Club for the six awards received by the organization and its members at the annual Federated

Garden

Clubs

of CT Awards Luncheon at the AquaTurf! Awards included:

The

T

ribute Award in Civic Development

to Janice Schnabel for her lead in establishing the

f

ree

 Seed Library i

in collaboration with the

 West Hartford Public Library; T

he 

Conservation Award

 was presented to the

club

for 

members' 

efforts at Spicebush Swamp Park

 as part of a long-term key project to restore this ecologically important site

, thanks to Madeleine

Hexter's foresight;

The Therapy

Gardens

Award for extra large

clubs

, was awarded to the

club

in recognition of the work of the

club

's

Garden

Therapy Committee, led by Susan Lindberg and Marjorie Johnson. T

he team provides ongoing small individual flower arrangements and outdoor plantings

 

at 

WH Health & Rehab and Alfred E. Plant Housing; A

Good Deed Citation 

was awarded to Gina 

Trusiewicz 

for her work at Spicebush

 and her support of the

 Seed Library, 

and in recognition of her pastel artwork 

based on Spicebush plantings, which have been used for notecards sold by the

club

to support civic projects; A Luckner

Club

Citation was awarded to the

club

in recognition of the Junior Gardener Committee's work

, overseen by Tanya Guadlupe, 

at Hillcrest Avenue Neighborhood Outreach Center, where they design indoor and outdoor

gardening

and environmental activities for kindergarteners through sixth graders; and a

n

 I

ndividual Citation for Conservation 

was awarded to Beth Ann 

Loveland Sennett 

for organizing Spicebush 

Swamp Park 

invasive plant removal parties

,

 for providing a compost education program at the West Hartford Public Library, and for promoting other sustainable initiatives within the

garden

club

and beyond.
ICYMI, there was recently a grand opening celebration for One Park – the 282-unit multifamily development which included an adaptive reuse of the former chapel and residence of the Sisters of Saint Joseph of Chambery property at the corner of Park Road and Prospect Avenue. Click here for the full story and lots of photos.
Those who live in the neighborhood near the former UConn campus – as well as many other members of the community – are extremely interested in the progress of the plans by West Hartford 1 LLC to develop Oakwood Park on the site. The Town Plan & Zoning Commission had planned a hearing on the wetlands applications for the project tonight, but that discussion has been postponed until Nov. 29. The complete story, including details of the plan, its status, and the reasons for the postponement, can be found here.
Remember, if you have any business news to share, add it in the comments section below or email Ronni Newton at [email protected].
Like what you see here? Click here to subscribe to We-Ha's newsletter so you'll always be in the know about what's happening in West Hartford! Click the blue button below to become a supporter of We-Ha.com and our efforts to continue producing quality journalism.