A round-up of openings, closings, and other news about West Hartford businesses.
By Ronni Newton
This is the week of Election Day – a busy time for not just the candidates but also for journalists who cover government news.
The weather on Election Day is going to be nice – cooler than the summery weather we've had the past few days (which I have loved) – and won't be an excuse for not voting. John Lyons and I hosted a roundtable discussion on Thursday night with Town Clerk Essie Labrot to review the updated polling places and other important election details, and you can find the link to that video, as well as everything else you need to know about voting this year, by clicking on this link.
We've also had a ton of letters to the editor related to candidates over the past several weeks. You can review them all by clicking here for the "Letters to the Editor" category on the We-Ha.com site. Sunday was the last day for candidate-related letters to be submitted so they could be included in today's newsletter. While we are not in general permitting comments on letters, I did approve one late Sunday because there was not the ability for the writer to send a separate letter of rebuttal.
Last week was quite a tumultuous week, and ended for me with not only a shooting to report on but also the news Friday morning that my elderly father (who lives in Florida) had fallen and fractured a vertebrae in his neck. Although he is still in the hospital, thankfully he seems to be doing okay.
While I know this coming week will be busy, but I hope it's at least calmer. In addition to coverage of the election, look for stories this week about a few things I covered last week but haven't been able to write about yet – including the ceremony naming the gym (now known as "The Jim") at the University of Saint Joseph in honor of legendary coach Jim Calhoun.
Friday night's weather was fantastic for enjoying another UConn Huskies football win, and while I spent quite a bit of time working over the weekend, I was glad that at least one event was outdoors – the official opening Saturday of West Hartford's dog park (read story here)! Millie even got to accompany me to that event.
Before Saturday night's dinner, Ted and I grabbed a beer at GastroPark and sat on the swings, and then enjoyed an absolutely delicious meal at Nummy. We've ordered takeout from there multiple times, but this was the first time we had eaten inside the restaurant since before the pandemic, and I definitely appreciate the food even more when it's at its hottest and freshest, and beautifully presented. We do have leftovers – and I do look forward to reheating those as well.
There were 44 positive cases COVID-19 in West Hartford over the past seven days (as of Sunday), and a positivity rate of 13.1%. The numbers have been staying in the same range lately, but we're really just hitting the season of respiratory viruses. (Click here for more information from the West Hartford-Bloomfield Health District about the symptoms of various viruses and how to protect yourself.) One day I hope to be able to delete this paragraph completely, but in the meantime, please continue to have patience since not everyone has the same level of comfort, continue to look out for each other, support our local businesses – and stay safe and healthy.
If you're looking for news about West Hartford in print please note that many stories from We-Ha.com, as well as other local news, is published in the twice-monthly issues of the West Hartford Press.
If you have information to share about local businesses, please provide details in the comments or email Ronni Newton at [email protected].
**************************************************
Connecticut Physical Therapy Specialists is the sponsor of this week's Business Buzz!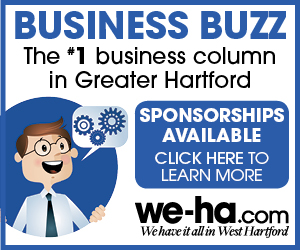 Here's this week's Buzz:
As some readers may have heard, Toro Taberna (14 Oakwood Avenue) has closed in order to undergo a transformation. I spoke with chef and co-owner Tony Camilleri, who provided the scoop on the reopening and the new concept – Park Road Pasta Kitchen, also to be known as PK. When Camilleri and his team (which includes Stretch Altenhein, who is also the owner of Nautilus Tattoo, and James LaFond, who is also the owner of Grey Matter IT) first opened Toro Taberna in February 2021, it was primarily Spanish-style tapas, building off a portion of the menu at the group's flagship Toro Loco in Farmington. In January, they transitioned Toro Taberna to a Mexican theme, while at the same time also operating the very successful but very casual Toro Mexican Street Food that had opened last fall on Raymond Road. "I've been talking about Italian comfort food for a while," Camilleri said. "I miss cooking Italian food, I have a strong background," he said, and he and his partners had been looking at spaces throughout the area. They were getting together for a meeting, and craving old school Italian food, when they realized it's a concept that could be a great fit for West Hartford, particularly outside the Center, so they decided to transform the Toro Taberna space. The restaurant shut down on Oct. 29, and there is some primarily cosmetic renovation taking place (like painting, redecorating, reconfiguring the bar, and installation of new booths), with plans to reopen as Park Road Pasta Kitchen as soon as Nov. 15. "We feel pretty good about it," Camilleri said. I stopped by on Sunday, while Stretch was working on the space, and he is pretty confident the transition will be done before the end of the week. "Everything on the menu will be single portions, but we will also have family style," Camilleri said – the kind of food one might expect for traditional Sunday meal, like a big Caesar salad and calamari to share, plates of chicken parmigiana or chicken marsala, or spaghetti and meatballs. They will also have "Franklin Ave" chicken, beef, or veal cutlet grinders. Prices will be reasonable, with entrees starting at about $15. "We want to make it family friendly," Camilleri said. "We're really looking forward to it." While the menu won't be completely gluten-free like the "Toro" restaurants are, Camilleri said there will be plenty of gluten-free options available. I'll definitely sample the new menu and report back as soon as I can!
Also on Park Road, Mike Walker, owner of WeHa Fit, said moved into his new space at 261 Park Road (former Degras location) and is busy setting up with the target of opening by the week of Thanksgiving. Walker, who is a certified personal trainer and also a nutrition coach, has been working with clients at their homes, outdoors, and in other spaces, but will be very happy to have a brick and mortar training studio to call his own at last. Walker's philosophy, as posted on his website, is: "Getting in shape is not meant to be a torturous endeavor. There may be a sore muscle or two along the way, but I believe getting fit should be enjoyed, not dreaded. I get to change lives for a living, which is not only a privilege but incredibly fulfilling and rewarding," He can be reached at 646-384-8332 or follow WeHa Fit on Facebook or Instagram (@mikewalkerfit).
West Hartford has received an application for the town's first recreational cannabis retailer! Derrick Gibbs Jr., owner of BUD-R, has submitted a site plan that received administrative approval by the town planner late last week for the retail operation to open at 1037 Boulevard. The roughly 5,000 square foot property, at the corner of Boulevard and Prospect Avenue right on the Hartford line, had formerly housed a Subway and a Dunkin' Donuts as well as other franchise businesses, but has been vacant for quite a while. It is located in a commercial zone (BG), and meets all of the other criteria that the Town Council established when it approved an ordinance in late May to permit cannabis retailers and producers to open in town, subject to certain conditions. The ordinance allows only two retailers, and Town Manager Rick Ledwith said he is "not aware of any others" that have submitted site plans for approval. Renovation of the space has not yet started and there is no word yet on when the business plans to open. Gibbs is originally from Hartford, and is the CEO of Middletown-based Change Inc., according to his LinkedIn profile. According to the Hartford Courant, he had initially hoped to open a retail establishment in Hartford, near the Convention Center in the building formerly occupied by the Blind Pig, but those plans fell through amid opposition from the Capital Region Development Authority (CDRA). Budr Hartford Holding LLC was approved for a provisional license in August by the state's Department of Consumer Protection as an Equity Joint Venture. According to online records, other principals of Budr Hartford Holding LLC include Carl Tirella of Nyack, NY, and Nacine Crump of Middletown, CT.
Pregenzer Urology, which already has an office in Enfield, will be opening a 5,100 square foot office at 345 North Main Street, Suite 200, in West Hartford's Bishops Corner on Nov. 14. "We will have increased availability to see new patients, follow ups, Botox, Urolift, vasectomies, biopsies, cystoscopies, shockwave treatment, and more," Chief Administrative Officer Lauren Vierra said. "We are a center of Excellence for Urolift (treatment of BPH) and also Axonics (treatment for Overactive Bladder). We see a lot of patients with neurogenic bladder either with Multiple Sclerosis, post stroke or other neurologic indications. Therefore our office is handicap accessible with big exam rooms, wide hallways, and a Hoyer lift for safe transferring," she said. For more information, call 860-962-6600.
I'll include another reminder as the day nears, but if you can come out to Union Kitchen on Giving Tuesday, Nov. 29, between 4 p.m. and 7 p.m., and I would be glad to pour you a drink. I'm honored to be asked to be a celebrity bartender at an event that will be raising funds for the CT Brain Tumor Alliance. Other bartenders will be Bob Maxon from NBC-CT, Alyssa Taglia from News 8, Jim Altman from FOX61, Brian Schactman fromWTIC-1080, Stephanie Simoni from WFSB, and Joe D'Ambrosio from WJMJ. Click here for more details.
I stopped by at the open house for Club Pilates on Sunday afternoon – a fitness business that is preparing to open in mid- to late-December in the Corbin Collection, right next to REI. They are aiming for Dec. 22, General Manager Brooke Strobino said. The local franchise is a family-owned business, and her sister, Taylor Strobino, will be the lead instructor. The space, which is roughly 1,700 square feet, will have 12 Pilates Reformer machines, and will offer 50-minute group classes as well as private training. Free (shorter) introductory classes will also be offered for those who would like to test out the workout before committing. Paige Karban (who is the owner of the business as well as the mother of Brooke and Taylor Strobino), noted that each of the 12 stations will have not only a Reformer, but also all of the other equipment (mat, Bosu ball, etc.) so that participants don't need to move around the facility to complete their workout. The studio will be open from 6 a.m. until 8 p.m., and they will also have a small retail space offering Alo, Freepeople, and Lululemon attire and merchandise. Club Pilates has special offers for those who become members prior to the open, and more details can be found by calling 860-214-7055 or visiting the website, or on Facebook.
I realized, when I was at the open house for Club Pilates, that I was mistaken about the location for Crumbl Cookies. It's literally right next door, as can be seen from this photo. No word on the opening date but they are starting to hire management, and I will definitely keep readers posted!
While driving down Park Road on Sunday taking other photos, I stopped to take a closer look at the construction of the apartments at One Park Road. It looks like construction is progressing – particularly on the western portion of the project.
b. kind Boutique said in an email that they are going to have a special selection of products available at WeHa Brewing and Roasting Company (141 Shield Street) as of this weekend. Visit the b. kind website for more details.
West Hartford resident  Daniel M. Howell, has recently published a children's book, and here are some details that were provided in a news release:  "At the end of the day, every child needs the comfort of a bedtime routine before falling asleep. Author and father of three Daniel M. Howell has written "The Four Bees – Bee 4 Goodnight," a lively read-along story that follows a family of four honeybees as they buzz through their nighttime routine, which includes The 4 B's: Bath, Brush, Book, and Bed. As a pandemic stay-at-home Dad, Howell became passionate about processes, structures, routines, and sing-alongs. Noticing their positive impact on his three young children, he began creating educational materials for other families. 'The Four Bees – Bee 4 Goodnight provides parents and children with visually engaging and developmentally appropriate rituals that enable the successful transition to bedtime. The book reinforces evidence-based routines that facilitate health and wellness for every member of the family,' said Dr. Anthony De Jesús, Associate Professor of Social Work, University of Saint Joseph. The '4 B's of bedtime' concept has been widely researched and endorsed by The American Academy of Pediatrics. 'The Four Bees – Bee 4 Goodnight' is the first installment in his new series of children's books, which introduces the 'Bee 4' concept, derived from the word 'before.' defined as 'the preparation of a result.' Fundamental to this preparation is routine, and the series has been created where each theme has four essential concepts related to regular transitions of daily life – getting ready, encouragement, and social engagements, all introduced in a fun, engaging, and repetitive style. In 'The Four Bees – Bee 4 Goodnight,' we join the Comb family of honeybees, Poppa, Mama, sister, and brother, Wana-Bee, for their nightly bedtime routine. In this brilliantly illustrated book, we see the close-knit worker-bee family come together to make bedtime a comforting and positive experience."
The Children's Museum is reopening on Wednesday at its temporary space at 180 Mohegan Drive. I will definitely plan to visit and take some photos, but please note that they did include the following information in the announcement: "The building is an older building with a number of stairs. The building is grandfathered and does not require accessibility. The

museum

's temporary space is not handicap accessible, wheelchairs can not enter and strollers are not allowed. There are no elevators or ramps entering or within the

museum

." Further details can be found here.
The 2022 Best of West Hartford event (which includes food, drink, comedy, and winner announcements) is tonight at the Mandell JCC and some tickets are still available. Click here for details.
ICYMI, West Hartford's small business and nonprofit COVID recovery grant program has reopened. Details can be found here.
Remember, if you have any business news to share, add it in the comments section below or email Ronni Newton at [email protected].
Like what you see here? Click here to subscribe to We-Ha's newsletter so you'll always be in the know about what's happening in West Hartford! Click the blue button below to become a supporter of We-Ha.com and our efforts to continue producing quality journalism.