A round-up of openings, closings, and other news about West Hartford businesses. 
By Ronni Newton
Happy October!
I'm no longer able to deny it's fall, and I don't so much mind it cool at night as long as the days warm up like they did over the weekend. We're holding on to our outdoor dining experiences for as long as possible, and that includes at home where several mornings  Ted turned on the fire pit (it's propane, and was a Father's Day present which we use way more than our previous wood fire pit) so we could continue our morning tradition of coffee on the patio.
I heard from a few dozen people regarding the intro to this column after asking for feedback last week, mostly by email but a few posted in the comments to the article. Three or four people asked me to stop sharing personal information (a few were not all that kind about expressing their opinions either), but I received many more wonderful messages from people who say they like the personal touch – so it's staying. I'm keeping the line of asterisks so those who don't care to read the intro can more easily skip it and see where the bullet points begin.
This was a weekend full of activities in West Hartford, and in addition to gathering the material for this column I reported on the Park Road Parade on Saturday, and also completed my story about Matt Warshauer's 2021 Halloween House.
Personal weekend highlights include having Sam's wonderful girlfriend visiting for a few days, and Millie attending the Blessing of the Animals at St. James's Church on Sunday morning. We are really the ones who are blessed to have her.
Although you'll find short blurbs in this column about different businesses opening, I like to wait until I can get a really complete story, and multiple good photos, before I do a feature. So in addition to the photo of this fabulous Caesar salad with salmon that I had for lunch at Restaurant Bricco on Monday while conducting an interview, I'm also sharing the photos from the dinner Ted and I had Saturday night at Toro Mexican Street Food (22 Raymond Rd.) I mentioned the opening in last week's column, and will have a full feature very soon. (And the feature on Zephyr's Street Pizza – where I attended the "friends and family" opening last Wednesday and took the pizza photo below, but didn't rush to write a full story – is also coming as soon as I finish my interview with owner Dante Cistulli. The restaurant is closed until Wednesday due to his attending a family wedding.)
Please continue to support our local businesses, wear your masks indoors (regardless of vaccination status) – and stay safe and healthy.
If you have information to share about local businesses, please provide details in the comments or email Ronni Newton at [email protected].
**************************************************
Here's this week's Buzz:
A large space in the Central Building at 970 Farmington Ave. in West Hartford Center has been empty since Cosi closed in December 2019 – but it will soon be filled with the fresh and authentic tastes of Mexico City – amid a cool and cosmopolitan ambiance – when El Santo opens its doors. Xiomara Zamudio and her husband, Daniel Chavez (who are also co-owners of Frida on New Britain Avenue) have partnered with two friends who are investors, and plan to open the Mexican restaurant in early 2022. "We are very happy to announce this very beautiful and unique project in West Hartford Center," Xiomara said during a photo interview Sunday. She and her husband, natives of Mexico City, are industry veterans, but brought their friends – who are new to the restaurant business – to visit the city, where they were "100% inspired" and are excited to bring El Santo to West Hartford. "We're going to bring new ideas, fresh ideas. It will be very cool," she said. "It's a dream for us," said Xiomara, an accomplished chef who before Frida worked at DORO Restaurant Group's Zohara. The restaurant business is in her blood, Xiomara said, and after exploring educational programs in the medical and education fields she realized her true calling, and said she loves everything about the restaurant industry and working in all of the positions, cooking as well as serving. El Santo will be distinct, she said, cosmopolitan but for families, not just the young crowd. "It's a good addition to the Center," she said of El Santo, and she is committed to everything being distinctive and high quality, from the uniforms, to the quality of the food, to the service. The space is large, and will seat 120, plus there will be patio seating and, she hopes, seating along the alley. While bartaco is right across the street, Xiomara said the places will be very different and she doesn't see them as competitors. El Santo will also be very different from Frida, she said, with new recipes. Although she will spend some time at El Santo, Xiomara is not abandoning Frida and the head chef will be brought in from Mexico. The namesake of the restaurant is Mexican luchadores El Santo, a masked professional wrestler (and an actor) whose legendary career lasted more than five decades. Xiomara recalls seeing him on Sundays at the coliseum when she was young. The "El Santo Tequila & Mezcal" will be served at the bar – a full bar featuring margaritas, infusions, and mescalitas – in his honor. The margaritas will be prepared table side like they are in Mexico City, Xiomara said. She is excited for the opening, and expressed her thanks to all who have made the opportunity possible, including Marc Lewis of Lexham Investors (building owner), and Mike Mahoney of RLMCo.
Off Center Salon has been located at 141 South Main St. for more than 10 years, but as of this past May has new ownership. Patricia Bonsignore, who has worked at the salon for nine-and-a-half years is now one of the owners, along with Alberto Viveiros (a stylist at Off Center Salon for five years), Kevin Irish, who has worked there as a stylist for two years, and Carlie Porter, an administrator who has worked at the salon since day one. The previous owners didn't want to continue the business, said Bonsignore, and "I did not want someone new to come in here." It's an ideal spot, she said, with a huge, free parking lot. "We saw a lot of untapped potential," she said. "We're close to the Center, walking distance," added Viveiros. The new owners have done some renovations and upgrades – new paint, flooring, and lighting, adding to the aesthetics. "We want our clients to feel special. It's all about the experience," said Bonsignore. Off Center Salon operates under the booth rental model, and they are ready to bring in new stylists who are committed to education and team building. "We're looking to bring some new people here who are looking to strengthen their own business," Bonsignore said. Viveiros said the salon's core business is color, cut, and styling. There's an aesthetician who does facials, peels, eyelash extensions, and Reiki treatments, and stylists are also skilled at smoothing treatments. Off Center Salon is open Tuesday through Saturday. More information can be found on their website.
As noted above, a full feature story is in the works for Zephyr's Street Pizza, which officially opened Thursday at 968R Farmington Ave., the space in the Brace Road parking lot that was most recently occupied by Barb's Pizza. Owner Dante Cistulli hosted a friends and family soft opening on Thursday night, and the photo below is of the delicious OG Street Taco pizza that I ordered that night. (Yes, that's one of my favorite beers in the background, too.) The restaurant will reopen Wednesday (Dante's sister-in-law is getting married so he is engaged in some much-needed family time), and look for the full story soon.
The West Hartford Town Council, following a public hearing on Sept. 28, unanimously approved the application of Floor & Décor to make requested changes to the Special Development District that applies to the former ShopRite store at 46 Kane St., where they wish to locate. Changes are primarily to the façade on south and east side of the building, and addition of an area where customers can pick-up their purchases, and new landscaping. The retaining wall along the east side of the property will have fencing added for safety purposes, and ADA accommodations will also be made to the site. The space is 71,285 square feet, and Mayor Shari Cantor expressed her thanks Tuesday before the vote to the owners who permitted the town to use the vacant store as a large-scale COVID-19 vaccination site during the spring. "This is a wonderful addition," she said of Floor & Décor. People are investing in their homes, Cantor said, "and we appreciate your investment in West Hartford." According to the Floor & Décor website, the company "is a leading specialty retailer of hard surface flooring, offering the broadest in-stock selection of tile, wood, stone, related tools and flooring accessories at everyday low prices. Founded in 2000 and headquartered in Atlanta, Floor & Decor is one of Fortune's 100 fastest-growing companies. At Floor & Decor, homeowners and professional contractors have access to superstore selection at warehouse prices with showroom quality," with an extensive selection of in-stock products.
West Hartford resident Bruce Feldman has invented a new product, the "Ultimate Leaf Lifter," and is looking for town residents who are willing to test it out and endorse the project if they like it. Feldman's reason for the invention: "Sometimes it's just a matter of observing the world around you. In this case I was watching a neighbor struggling to get leaves into a bag by sandwiching them between two rakes so he wouldn't have to constantly bend down. Clearly, it's a significant strain on the back. I graduated college with a degree in mechanical engineering, so I started conceptualizing a functional and simple design. Before long I was thinking about the heavy steel tongs used during the 1800s and early 1900s to deliver ice to the ice boxes that were the first refrigerators. I figured that a much lighter version of the tongs would be the perfect device to grab leaves. So, I made the Ultimate Leaf Lifter out of aluminum and plastic. It weighs less than three pounds. Unlike most of the leaf grabbers on the market – which are designed like pooper-scoopers – my device has a higher pivot point that allows most of the work to be done by the tongs of the rake instead of the user's arms. Additionally, the rake itself bends inward to maximize its lift efficiency which makes the process of grabbing leaves and scooping them into a bag much easier." Feldman is selling the Ultimate Leaf Lifter through Butler's Garden Center on Park Road and through Amazon, but he's also looking for people to conduct real-world trials of its effectiveness. "What I'm trying to do is get the word out about a practical device that people have never seen before to help them do a chore that most people don't like. So, I'm trying to find a few dozen area residents to borrow the Ultimate Leaf Lifter through the end of this year. I'm hoping they will post about their experience on Amazon or Google Reviews or elsewhere online.  I can be reached by email at

[email protected]

or by calling 860-216-6505.  There's no obligation and I'll be happy to arrange to get a leaf lifter to anyone who is interested," he said. I've got one in my garage now waiting for the leaves to start falling!
Congratulations to West Hartford resident Larisa Kottke who has been appointed president and CEO of Leadership Greater Hartford. She was previously VP of Finance & Operations, and in the spring was appointed president and CEO in an acting capacity. "During the last several months, it became abundantly clear that Larisa is the right person to lead LGH into its next chapter. In many ways, her work is already well underway. Her passion and dedication to the LGH team, our communities, and our region, as well as her extensive background in business operations and organizational management, make her the right fit for this time of great opportunity for the Greater Hartford region and for LGH. We are excited and proud to have Larisa at the helm as we continue to build leaders throughout the Greater Hartford community," Board Chair Tisa Rabun-Marshall and Vice Chair Jennifer Sager said in an email. More details about Kottke can be found here.
Congratulations to West Hartford resident Dr. Bill Zempsky, MD, who is one of two Connecticut Children's Medical Center physicians installed in newly-endowed chairs. Zempsky has been installed as the "Francine L. and Robert B. Goldfarb-William T. Zempsky, MD, Endowed Chair for Pain & Palliative Medicine," one of only a handful of endowed chairs in Pain & Palliative Medicine in the country.
Several West Hartford restaurants, as well as several hospitality employees, have been nominated for the Connecticut Restaurant Association "Crazies" awards. West Hartford nominees include Delicacy Catering (caterer of the year), Jason Gould of Fleming's Steakhouse as server of the year, both Arugula and Shu as restaurant of the year for the north region, and the Place 2 Be as "people's choice." The awards gala will be held on Monday, Dec. 6.  You can vote here.
The Delamar West Hartford got a mention in Forbes on Sept. 29 as a "swanky" place to stay. "It's chic, soigne and it offers stellar, silken service," the article states, and West Hartford got some good props as well. You can read the article here.
Sadly, the outdoor dining corrals in West Hartford Center and Blue Back Square are coming down Oct. 25. "On the morning of October 25, the town will remove the on-street outdoor dining enclosures in Town Center. We are removing the on-street dining enclosures a few weeks earlier than we did last year to allow the MDC to complete the final pavement and sidewalk restoration work related to its recently completed water main installation along Farmington Avenue. Congratulations to our restaurateurs upon another successful outdoor dining season!" Town Manager Matt Hart said during his report at last week's Town Council meeting. Hart told me that every attempt will be made to preserve the painting on the corrals while they are in cold storage for the fall, winter, and early spring, in anticipation for their return next year.
Congrats to the West Hartford Art League for a great inaugural Fine Art Festival the last weekend of September. I was not able to attend, but a reader shared the photos below and said it was wonderful. Executive Director Roxanne Stachelek has already said the second annual event will be held next year, on Sept 24 and 25.
The West Hartford Chamber of CommerceBoard of Directors and committee leaders were profiled in the the most recent issue of West Hartford Magazine, and we are going to spotlight one of them each week in this column. These are the people who are working hard – often behind the scenes – to facilitate support for our area businesses. See the profile below of Board Chair Amy Babich. You can find all of their headshots and bios (beginning on page 48) by clicking here.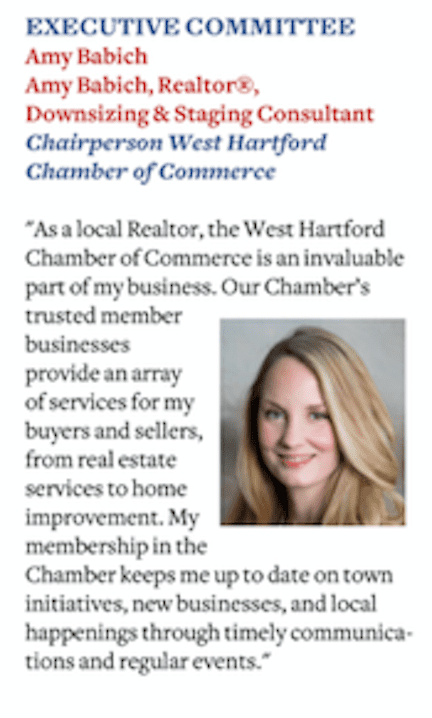 The Salvation Army donation center in Crossroads Plaza in Bishops Corner is closed – and according to the website its temporary. I wasn't able to find out anymore details, but if you know anything more about it, please comment below or email

[email protected]

.
ICYMI, the West Hartford Town Council unanimously approved a change to the ordinance related to restaurant drive-throughs, expanding the areas of town where they are now permitted. Click here for the complete story.
Remember, if you have any business news to share, add it in the comments section below or email Ronni Newton at [email protected].
Like what you see here? Click here to subscribe to We-Ha's newsletter so you'll always be in the know about what's happening in West Hartford! Click the blue button below to become a supporter of We-Ha.com and our efforts to continue producing quality journalism.