The Noah Webster House & West Hartford Historical Society's summer lecture series begins June 29.
Submitted
This summer, discover three new stories with the Noah Webster House & West Hartford Historical Society's History Series. In June, July, and August, the museum will present three new lectures on West Hartford farms, Benedict Arnold, and Eleanor Roosevelt.
On Wednesday, June 29, at 7 p.m., Executive Director Jennifer DiCola Matos will discuss several of the most influential farms from West Hartford's agricultural past. Although now a well-known residential suburb, West Hartford began as a rural agricultural town and remained so into the 1930s. Local residents such as Charles Beach (of Beachland Park), Philip Corbin (of Corbin's Corner), and Wilton W. "Mike" Sherman (founder of Rockledge Golf Course) farmed hundreds of acres of land throughout town. "At one time, West Hartford was home to more cows than people. During the 1920s, many farmers began to sell off their property to developers," said Matos, "The town quickly quadrupled its population and became an important commuter community for Hartford."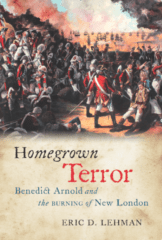 The July lecture will take place on Tuesday, July 26, at 7 p.m. Author Eric Lehman will discuss his book Homegrown Terror, which is about Benedict Arnold's role in the American Revolution. Later in life, Noah Webster purchased Arnold's New Haven home. On September 6, 1781, Connecticut native Benedict Arnold and a force of 1,600 British soldiers and loyalists took Fort Griswold and burnt New London to the ground.  Lehman will highlight Arnold's transformation- the point where he went from betraying his comrades to massacring his neighbors. In doing so, Lehman will shed light on the ethics of the dawning nation, and the way colonial America responded to betrayal and terror.
The Tuesday, August 16 will take place at Connecticut Historical Society. West Hartford Town Historian Dr. Tracey Wilson will discuss Beatrice Fox Auerbach and Eleanor Roosevelt's surprising friendship. Auerbach became president of G.Fox department stores in 1938 and was a noted philanthropist and humanitarian. She and Roosevelt maintained correspondence for many years and Roosevelt visited her at Auerfarm. In addition, Wilson will discuss the connection between these two women and local artist Sylvia Davis Patricelli.
The Noah Webster House & West Hartford Historical Society is grateful to the Greater Hartford Arts Council and the Hartford Foundation for Public Giving for their continued support.
The Noah Webster House & West Hartford Historical Society is a cultural destination where citizens can learn to understand and appreciate the past. The museum preserves the birthplace of Noah Webster, the founding father, educator, author, and lexicographer who taught generations of Americans what it means to be American. This National Historic Landmark is also a repository for the history of West Hartford, the community that molded Noah Webster's future and is still thriving over 250 years later. The historic house and exhibit spaces are open daily 1 p.m. until 4 p.m.For information on the museum's extensive school and public programs, please visit www.noahwebsterhouse.org or call (860) 521-5362.