On June 19, 2022, the Town of West Hartford will hold the third annual Juneteenth CommUNITY Celebration in Blue Back Square.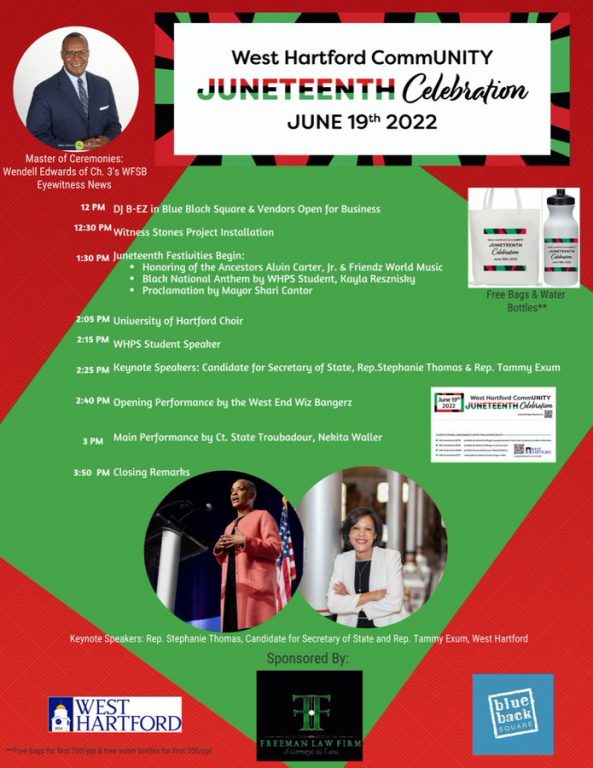 By Ronni Newton
West Hartford observed Juneteenth for the first time in 2020, and on Sunday – which is actually June 19th – the town will host its third annual celebration of the day marking the effective end of slavery in the United States.
On June 19, 1865, the last group of enslaved people in Galveston, TX were freed by the Union Army – more than two years after President Abraham Lincoln signed the Emancipation Proclamation, declaring freedom for all who had been enslaved.
"We are so excited to be hosting our third Juneteenth event," said Adrienne Billings-Smith, chair of the town's Juneteenth Committee. "Every year the community has come out to support something so significant that many of us didn't know about it until recent years."
Billings-Smith, founder of Concerned Parents of Color of West Hartford, advocated for the town's first event to be held in 2020. Even in the midst of the early days of the COVID-19 pandemic, that first celebration was a resounding success.
The 2021 Juneteenth Celebration was even bigger, and included the re-dedication of the town green as Unity Green and unveiling of West Hartford's MLK39 mural, as well as music, inspirational speeches, and a Witness Stones dedication. Last week, Gov. Ned Lamont and state officials celebrated the establishment of Juneteenth as an official state holiday in Connecticut.
"One day we will all look back and think why did it take so long, but be so thrilled that it made its way across the nation to educate us, our children and our grandchildren on how important and robust American history is – the good, the bad and the ugly," Billings-Smith said. "And Juneteenth is the good that came out of a bad thing."
West Hartford's celebration will include inspirational messages, music, art, and other activities for people of all ages. The day will begin with a special service at First Church West Hartford, 12 South Main Street, led by guest preacher Reverend Fredd Ward. The service will be followed by a social hour and marker dedication to Rev. Lemuel Haynes, son of West Hartford and the first credentialed African-American clergyman in the United States.
Music will begin, courtesy of B-EZ, a local DJ, and vendors will open for business at noon in Blue Back Square. The celebration will continue until 4 p.m.
Commemorative West Hartford Juneteenth bags, water bottles (first-come-first-served for the first 200 people), and the traditional "red' beverage from Avery's Soda will be available at the main table in Blue Back Square.
"I'm excited with the lineup and the participation from vendors to performers and local speakers who care dearly about this nationally recognized and statewide recognized holiday," Billings-Smith said. 
Fourteen new Witness Stones will be dedicated at 12:30 p.m., honoring former enslaved individuals who helped build and support life in West Hartford, but whose history has previously been untold. Their biographies will be read, and students and others in the community who have conducted research through the Witness Stones Project of 50 former enslaved people from West Hartford will read their names aloud.
Hartford Poet Laureate Frederick Douglass Knowles, III will also read an original poem created specifically for the occasion.
The new street sign for Dinah Road will be unveiled during the town's Juneteenth celebration. A group of students, along with Town Historian Tracey Wilson, led a drive to rename New Street in Blue Back Square in honor of Dinah, a former enslaved woman in West Hartford, and her daughter, also named Dinah. The Town Council unanimously approved the renaming the street in May, and Dinah Road will be the first street in West Hartford specifically named after an African American.
The official program will begin in Blue Back Square at 1:30 p.m., with Wendell Edwards of WFSB serving as emcee. The celebration will include traditional African dancing and drumming by Alvin Carter Jr. and Friends of World Music, keynote speakers including Stephanie Thomas, a candidate for Connecticut secretary of the state, and state Rep. Tammy Exum (D-19th).
Tatyahah Datil, a rising senior from Conard High School, will be the student speaker.
Connecticut State Troubadour Nekita Waller is the headline performer, and the University of Hartford Gospel Choir and West End Wiz Bangerz will also perform.
As part of the town's observance of Juneteenth, an art exhibition is also on display at the Noah Webster Library, 20 South Main Street, through Aug. 1.
West Hartford restaurant The Russell will be offering a variety of authentic Caribbean dishes as part of the Juneteenth celebration. The menu can be found here, and meals can be be preordered by calling 860-519-0138. (Mention "West Hartford Juneteenth" when ordering).
Billings-Smith expressed her gratitude to the entire Juneteenth Committee. "I'm so fortunate to work with an amazing team, people from all over town, who believe in and are committed to the importance of commemorating the historical relevance of the Juneteenth holiday."
The Juneteenth 2022 Celebration is sponsored by Freeman Law and is the result of a community partnership that includes Concerned Parents of Color of West Hartford (CPCWH), DJ B-EZ, First Church West Hartford, Noah Webster House & West Hartford Historical Society, Posh Paint CT, School of Rock West Hartford, The RiseUP Group, Town of West Hartford, West Hartford African American Social & Cultural Organization (WHAASCO), West Hartford Arts Commission, West Hartford Public Library, Witness Stones West Hartford, and volunteer community members.
More details and updates can be found on the Facebook event page.
Like what you see here? Click here to subscribe to We-Ha's newsletter so you'll always be in the know about what's happening in West Hartford! Click the blue button below to become a supporter of We-Ha.com and our efforts to continue producing quality journalism.