A round-up of openings, closings, and other news about West Hartford businesses. 
By Ronni Newton
What a great March Madness season it's been so far! Of course I'm a bit partial since two of my favorite teams (the Duke men and the UConn women) have been playing great and winning.
I'm writing this on Sunday afternoon, on the Nantucket ferry while returning from a quick trip to visit my in-laws that included watching lots of exciting basketball games (we loved having the chance to watch the UConn women with Ted's parents who are longtime fans), and enjoyed some windy walks on the beach. There weren't many seagulls to chase, but Millie amused herself just running along the sand and trying to grab her leash out of our hands. [Normally the ferry ride is uneventful but today my reporter's ears have been perking up following some sort of incident between kids and a dog that I didn't see because I was facing in the other direction. I did hear a yap, and a growl, and a lot of raised voices and accusations that caught the attention of a State Trooper on board.]
We weren't in West Hartford for our weekend dinner out, but in between basketball games we did enjoy a delicious casual dinner at one of our favorite Nantucket restaurants, Fusaro's. It's very much off, off season on Nantucket right now, and we were very happy that the restaurant we wanted to go to was one of the few that was open.
I also enjoyed a yummy lunch at Hartford Baking Company early last week before leaving town. The impetus for the visit is detailed below, but in the spirit of sharing my dining experiences in this space, here's the curried chicken salad on ciabatta.
The universal indoor mask mandate was lifted in West Hartford as of Thursday, Feb. 10 (click here for the details) as of today masks will be optional in schools, libraries, and other town buildings (click here for details). Some business owners, however, may still ask that their customers wear masks. And many people will choose to wear masks in a variety of settings. Please have patience with each other and our choices, continue to look out for each other, support our local businesses – and stay safe and healthy.
If you have information to share about local businesses, please provide details in the comments or email Ronni Newton at [email protected].
**************************************************
Here's this week's Buzz:
It's been nearly three years since I reported that BiCi Co. planned to open in the ground floor commercial space at 616 New Park and although the plans initially stalled for a variety of reasons, and then COVID happened, I'm excited to report that BiCi Co., a social enterprise organization initially created by the Center for Latino Progress in June 2015 to provide an opportunity for hands-on bicycle education and service learning projects for 30 summer youth interns, is planning to expand from their Hartford roots into West Hartford. Last week I caught up with Jacob Sheppard-Saidel, shop and service manager for the West Hartford location, and got a peek at what will be the bike shop and service center which he said they hope to open in late April. The shop will offer bicycle sales (new and used, for a varied customer base including casual cyclists and commuters) as well as service, and will also sell parts and accessories. BiCi Co. organizes rides out of the Hartford location, and will offer rides starting from the West Hartford ship as well. Prior to the official opening, BiCi Co. West will be hosting a series of bike repair workshops for "women, trans folks, and non-binary folks" at the 616 New Park Ave. space on Tuesday evenings, from 5-7 p.m., beginning April 5. The sessions will include fixing a flat, adjusting brakes, shifting adjustment, and hub adjustment and overhaul, Sheppard-Saidel said. The 3,250 square foot space is designed to also include a coffee shop, and while there is not yet an operator in place for that, during the programs there will be do-it-yourself coffee and other refreshments available for participants.
The Town Council voted unanimously last Tuesday to amend the Special Development District for Prospect Plaza (245 Prospect Ave., corner of Prospect and Kane Street) to allow the owners to enter into leases with businesses that are allowed in the underlying zone, without having to seek permission from the Town Council each time. The existing Special Development District, which had been formed in 1966, was the only one in town that was so limiting. "It's become difficult for Prospect Plaza to market the property to certain tenants," Kari Olson, an attorney with Murtha Cullina representing the property owner, told the Town Council during the March 22 meeting. "But at least knowing what uses are permitted would give a level of comfort," she said, and would help the owner attract prospective tenants. Other major retail centers in town do not have the same restriction, and the change is still consistent with the purpose of the Special Development District, with Town Council approval still be required for façade changes and other more significant modifications. Two new tenants are planned for the plaza which will now be able to move forward: Planet Fitness (in the vacant Hibachi space) and a DoorDash DashMart (the delivery hub and a pick-up location for convenience store type items) in a long-vacant storefront.
Updated: Due to extraordinary cold weather, there will be a delay until Wednesday, March 30, when Isham Road in Blue Back Square will be converted to one-way northbound between Memorial Road and New Street. The transition will begin first thing Monday morning and new signage and markings should be in place by the end of the day. According to Blue Back Square General Manager Robyn Rifkin, the new traffic pattern is expected to be in place for a one-year trial period.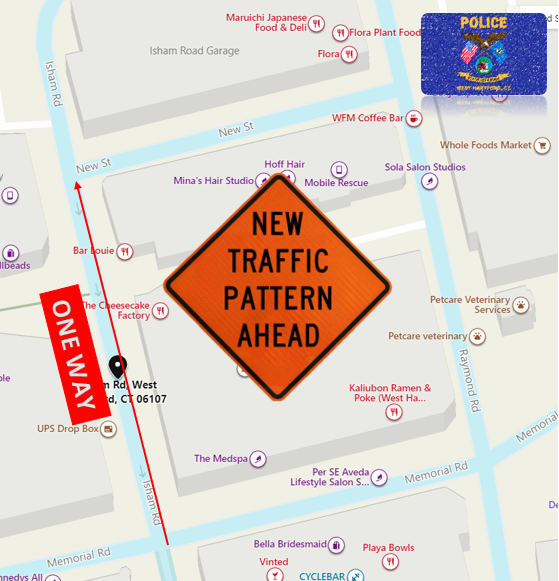 The AutoZone store at 510 New Park Ave. is now open, but does not impact operations at the existing store at 997 New Britain Ave. which remains open as well.
Hartford Baking Company celebrated the fifth anniversary of their West Hartford Center (965 Farmington Ave.) store on March 22. Owner Scott Kluger said he never could have imagined what would transpire over the past five years, but has been happy that since day one the West Hartford Center store has been busy, and he figures he has sold "hundreds of thousands" of loaves of bread since the opening of the location. "When we transitioned from New Park [when the original Hartford Baking Company location became Citizen Chicken and Donuts last winter], we definitely noticed an uptick," he added. The most popular items sold at the Farmington Avenue store, Kluger said, are croissants, cranberry-orange scones, sourdough breads, avocado toast, and the E-BAT (egg, bacon, avocado, tomato sandwich). Hartford Baking Company has had a liquor license for the Center location for a while, Kluger said, but hasn't used it. "I would like to do something more creative with the upstairs," he said, noting that closing at 4 p.m. doesn't take advantage of the late afternoon and evening crowd. "We will see this summer … We're really happy to be a big part of this community," he said, expressing his thanks to the town administration as well as customers for their support. "We're looking forward to experiencing West Hartford Center in non-pandemic times," said Kluger, adding that they are planning to be part of Celebrate! West Hartford this June with something very cool.
Another five-year anniversary celebration to note last week is New Park Brewing! West Hartford's first craft brewery officially opened on March 25, 2017, the culmination of a years-long journey by brewery owners John Doyle, Alex Dee, and Tom Atkins. Since then, New Park has expanded its brewing operation several times, added a kitchen, started delivery operations during the pandemic, won numerous awards, and established itself as a core element of the West Hartford community.
West Hartford resident Tricia Raiti will be renting space at the Lisa Matias Dance Centre (635 New Park Ave., Building No. 2) to offer Jazzercise classes. She will be hosting a free demo class on April 3, from 9:30-10:30 a.m., open to all levels and ages, and will be offering a regular class schedule starting in May.
Here's a local business success story about someone who won't even be old enough to obtain a driver's license for years. Fitness Class Training (FCT) was started in August 2020 by then 8-year-old George Udal, said his mom, Betsy Udal. "George told his parents one night that he was going to teach them fitness classes for $5 a month, with the money being donated to a local dog rescue organization," and since then "Coach George" has had many friends and family members join in the backyard fitness fun, she said.​ In September 2021, FCT was granted 501(c)(3) status. "Hundreds of lunges have been performed, while thousands of dollars have been passed on to local charities, and food items have been donated to the West Hartford Food Pantry. His charity was even featured on all CrossFit social media this fall when he helped to raise over $10,500 for Open Doors Outdoors with CrossFit Hartford and Fleet Feet." According to Betsy Udal, FCT has supported Dog Star, Dog Star Veterans Program, Open Doors Outdoors, and Run for the Wild at the Bronx Zoo. FCT just finished a kids winter running group which raised $1,100 for Dog Star Veterans Program (DS4V), and just received a $450 grant from the Rocky Hill Elks for that program that will also benefit DS4V. In the spring, he is offering a running group that will support both Westmoor Park and Dog Star Veterans Program, she said. FCT is fully insured, and will run fitness classes at people's homes, or organize kids' fitness sessions. "Fees are low, and all proceeds will be given back to the local community," Betsy Udal said. More information can be found at Fitnessct.org.
Sonny Chen, owner of Black Bamboo and Pokéworks in West Hartford, said he is opening up another Pokéworks location, hopefully within the next few months, in the Whole Foods Plaza in Glastonbury. The build-out is underway for Chen's latest project in West Hartford – the relocation, planned for this fall, of Black Bamboo to a building he purchased at 766 Farmington Ave.
West Hartford-based Environmental Systems Corporation (ESC), a leading provider of building technology solutions throughout Connecticut, announced in a news release that it has expanded its energy solutions capabilities to include solar power. "We've seen increased interest in solar energy across the board," said Jack Cunningham, director of energy solutions sales. "It used to be that when we went to see a customer, they wanted to talk about lighting and mechanical system upgrades. Now, the conversations almost always involve solar." Cunningham correlates this uptick in demand with the ambitious targets set by Connecticut and other New England states to decarbonize and reduce the use of fossil fuels. "There have been some big changes in available financing options to help organizations adopt solar power to fund electric vehicle (EV) charging stations and related energy efficiency projects. And there's been rapid improvement in the technology, so that today's solar arrays produce way more power than those of even a few years ago," said Cunningham. With solar installation experts on staff, ESC is positioned to provide comprehensive energy solutions as a complement to its full suite of integrated building automation and technology services.
West Hartford United Methodist Church (aka the "Pumpkin Church") will be holding a diaper drive during the month of April to support the West Hartford Food Pantry. Anyone who can participate is asked to drop off donations in the bin by the front door of the church (1358 New Britain Ave.). Diapers of all sizes, especially sizes 4, 5, and 6 are needed along with wipes and feminine hygiene products, organizers said. Donations of toiletries,  including toothpaste and toothbrushes, deodorant, soap, shampoo, shaving necessities and other related items, as well as toilet paper, tissues, and other related products are needed as well.
Konover Commercial Corporation (KCC) has advised that two tenants have recently been welcomed into newly renovated medical space at 342 North Main Street in Bishops Corner. Greater Hartford Family Medical Group (GHFM) moved into part of the top floor of the 3-story building occupies nearly 4,000 square feet on the top floor of the three-story building, a space that includes a bright reception and waiting area along with exam rooms, lab, and office space, a KCC representative said. "Moving to our new space has been a very positive experience for our growing medical practice," said Debbie Rodriguez, practice manager for GHFM. "The building's location is accessible and convenient for patients and staff. Management places great attention to detail in common areas and office space with high standards throughout our suite." GHFM is part of Prime Healthcare, PC, which has over 20 practice locations throughout central and northern Connecticut. "We are very much enjoying the new space and location for our medical practice," Rodriguez said. Quinones Medical Group also moved into space on the third floor with more than 3,500 square feet of space that includes office, exam, procedure, and break rooms. "We are very happy to have the opportunity to move into this new space," said Dr. Quinones. "Since we have been here, the building staff and management has been very welcoming and attentive to our needs." Previously, Quinones Medical Group, which is part of Trinity Health of New England, was located in West Hartford Center.
The work that CDM Smith of East Hartford did on the "Accelerated Water Main Replacement

Project" – the recent

 replacement of the 140-year-old water main with a new 24-inch pipe in West Hartford Center – earned the business a National Recognition Award for exemplary

engineering

achievement in the American Council of

Engineering

Companies' (ACEC) 55th annual

Engineering

Excellence Awards (EEA). "Speed was of the essence, as the town wanted to avoid construction-related interference with the 2021 outdoor dining program at West Hartford Center. The

project

team also had to weave the new pipeline through a web of underground utilities, not all of which were fully documented," CDM Smith said in an announcement of the award. The project began in October 2020 and required extensive nighttime work to maintain traffic flow and prevent disruption to businesses. "The

project

was completed on time and more than 25 percent under the $5.8 million budget," CDM Smith said. Other

project

participants included Snyder Civil

Engineering

, LLC, and Ludlow Construction Co. The project was chosen for the award from among 194 entries and the official recognition will be given at the 2022 EEA Gala, to be held in the Grand Hyatt, Washington, DC, on Tuesday, May 24, 2022.
West Hartford Center-based YHB Investment Advisors Inc. is excited to welcome Wanita Parent as a portfolio administrator. Parent has an associate degree from Briarwood College and has held various positions at banks. Most recently, she worked for Farmington Bank/People's United Bank for 12 years as a commercial loan assistant where she supported portfolio managers and worked directly with clients.
ICYMI, congratulations to the winners of the 2021 Best of West Hartford! The compete list of winners and runners-up can be found here.
West Hartford is working on its own revisions to the town's expanded outdoor dining ordinance, but the state last week issued an extension to the program that has been in effect since 2020, making it simpler for restaurants to receive permission to provide seating on patios, sidewalks, and in rights of way. Details can be found here.
Gov. Ned Lamont visited GastroPark in West Hartford last week to tout the gas tax suspension. Click here for the full story.
Remember, if you have any business news to share, add it in the comments section below or email Ronni Newton at [email protected].
Like what you see here? Click here to subscribe to We-Ha's newsletter so you'll always be in the know about what's happening in West Hartford! Click the blue button below to become a supporter of We-Ha.com and our efforts to continue producing quality journalism.