A round-up of openings, closings, and other news about West Hartford businesses.
By Ronni Newton
If you've got today off for Indigenous Peoples Day or Columbus Day, I hope you have a chance to enjoy what looks like some fairly nice fall weather!
While schools are closed Monday, and so is Town Hall, there is no trash delay this week and I have confirmed that the Yard Waste and Recycling Center on Brixton Street is open.
John Lyons and I will be hosting statewide Democratic candidates Stephanie Thomas (secretary of the state) and Sean Scanlon (comptroller) in a We-Ha Roundtable show today at 10 a.m. on West Hartford Community Interactive and Facebook Live. Please tune in if you can, or look for the recording later. We're hopeful that several Republican candidates will be joining us in the next week or two for a show as well.
I have a second TV/streaming appearance this week when I will be providing post-debate analysis on Tuesday evening for CT Public following the 1st Congressional District debate between incumbent Democratic U.S. Rep. John Larson and Republican challenger Larry Lazor. The debate, moderated by Ray Hardman, will take place live at Manchester Community College, and begins at 8 p.m. Tuesday, Oct. 11. It will be broadcast/streamed on all Connecticut Public platforms, including CPTV, ctpublic.org, YouTube and Facebook Live, as well as the League of Women Voters of Connecticut website and YouTube channel.
I'm still a bit sore from Saturday's half marathon. It was my 19th half marathon, and I completed it in just over 2 hours and 12 minutes – far from my fastest time, but quite a bit faster than the last half marathon I ran, which was a virtual race in 2020 that I did by myself on a day where winds were gusting our 30 mph. I did not quite stick to my plan of starting out slowly on Saturday, and then got even more excited when halfway through I was keeping up a sub-10-minute-per-mile pace. As a seasoned runner I should know better, but the weather was great, the crowd support was fantastic, and it was hard to keep the excitement at bay … at least until I started running up the hill on Albany Avenue and my pace was suddenly 30 seconds per mile slower. Everything about the day was inspirational, however, and I am so thankful to my coaches from Fleet Feet, and my running partners (especially Laurie and Kitty) for motivating me to do this race, and for their constant support. On my ascent out of Elizabeth Park on Saturday I swore this would be my last half marathon, but by the time I reached the beer tent in Bushnell Park we were already talking about next year, so who knows …
My sister ran the half marathon as well (Ted skipped it this year, but provided great crowd support!), and we had our traditional post-race celebratory burgers (the wrap was Ted's) at Beachland Tavern on Saturday night, preceded by cauliflower tempura.
A few housekeeping notes … I got a notice this week informing me that We-Ha was a winner in the 2022 West Hartford Award Program. Other businesses have received the same type of notice and please be warned that this is a SCAM and please do not fall for it. The Best of West Hartford is an actual contest, operated by 2020Media, with an actual awards ceremony that involves actual West Hartford companies in attendance, and voting is currently underway. The so-called "West Hartford Award Program" is just a ploy to get businesses to purchase a meaningless award for display.
Also, this past week someone emailed a business I was working with on a story and told the contact that they partnered with We-Ha.com for covering West Hartford, and provided a link to "My Site 1." I didn't want to click on the link and I've reported this to our IT specialist, but although I don't yet know what this is all about, I assure you it is not coming from us. Someone also recently told a business owner (in person) that any content that goes onto We-Ha.com has to be funneled thought them – which is also untrue. Unfortunately we haven't yet figured out who the person was who made that statement. As managing editor, please know that I manage the content that is on the site – whether it is being produced by me, or a freelancer, or an intern, or submitted by a member of the community. If you get a strange request, please email me at [email protected] and let me know.
On Tuesday, Kristen Gorski will deliver her annual Economic Development Update. Look for lots of forthcoming business news from that report!
There were 44 positive cases COVID-19 in West Hartford over the past seven days (as of Saturday), and a positivity rate of 8.7%. The numbers have gone up and down a bit over the past few weeks, but over the past week have remained fairly steady in West Hartford as well as statewide. One day I hope to be able to delete this paragraph completely, but in the meantime, please continue to have patience since not everyone has the same level of comfort, continue to look out for each other, support our local businesses – and stay safe and healthy.
If you're looking for news about West Hartford in print please note that many stories from We-Ha.com, as well as other local news, is published in the twice-monthly issues of the West Hartford Press.
If you have information to share about local businesses, please provide details in the comments or email Ronni Newton at [email protected].
**************************************************
Connecticut Physical Therapy Specialists is the sponsor of this week's Business Buzz!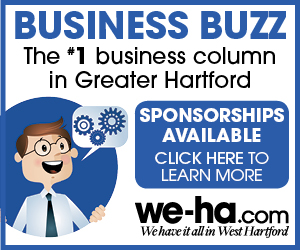 Here's this week's Buzz:
Central Rock Gym (CRG) has announced that construction is now underway for their West Hartford location, which will be opening in early 2023 in the former Workout World (WOW) space at 99 Shield Street. "CRG is very excited to bring its proven expertise in creating world class climbing facilities to the West Hartford area climbing community," the company said in a news release. "The facility will provide members with a modern climbing space that is open and community centric. The terrain will have all the features of a best in class bouldering gym from amazing overhangs to delicate slab climbs. There will be climbing specific training stations with hangboards, campus boards, and several other complimentary cross training exercise stations. There also will be a fitness room with weights and cardio equipment, as wells as a yoga room." The overall space is 22,000 square feet, of which 10,000 will be dedicated to climbing, with terrain that is targeted to a variety of skill. "The facility will boast 400 linear feet of bouldering terrain. All of the climbing routes will be reset regularly by our full-time route setting staff, giving members a constant flow of new climbs to try," the news release states. There will also be programs, events, parties, and competitions held at the facility, CRG said. Membership, which starts at $75 per month, will allow access to all Central Rock locations, and day passes ($22 and up) will be available. Currently there are 17 CRG facilities in the Northeast, with the nearest in Glastonbury. A virtual tour and construction and opening plan updates can be found on the website.
A very large real estate transaction in West Hartford has recently taken place – the sale of the Bishops Corner Crossroads Plaza shopping center where Big Y is located … to Big Y. Town of West Hartford real estate records indicate that Springfield, MA-based grocery store chain Big Y Foods, Inc., which in 2010 took over what had been a Waldbaum's store in that shopping center, under the management of Edens, has purchased 714, 772, and 774 North Main Street for $22.4 million from Sea Crossroads West Hartford LLC, based in Columbia, SC, which had purchased the property in 2002 for $9,698,000. The deed was filed with the town on Sept. 30. The 8.44-acre property includes the roughly 110,000 square foot multi-story building that houses Big Y as well as the Crossroads Plaza businesses on the east side lower level, and the separate building where the Webster Bank is located. Big Y did not respond to multiple requests for comment about the transaction.
Plans for the redevelopment of 1051 and 1061 New Britain Ave. are moving along, with the Ashley HomeStore Outlet having completed liquidation. West Hartford Economic Development Coordinator Kristen Gorski reported at the Elmwood Business Association meeting last week that the existing buildings on the property may be demolished by the end of the year. Sami Abunasra purchased the 2.97-acre property in 2020, and the town obtained a $953,646 Municipal Brownfield Grant earlier this year for remediation of environmental hazards. Abunasra has had several informal study sessions with the town's Design Review Advisory Committee (DRAC) regarding plans to pursue construction of a roughly $34 million mixed-use residential and commercial development on the site. The property, which is less than a quarter-mile from the Elmwood CTFastrak station, falls within the Transit-Oriented Development zone adopted by the Town Council in June 2022, and following the receipt of a state permit as a TOD project can be approved administratively by the town planner, rather than undergoing the Special Development District process.
Roni Rodman, operating partner of The Medspa (65 Raymond Rd.) announced last week that she and Dr. Glen Brooks will be selling their practice to Greenwich Medical Spa. "The Medspa has had over four successful years growing our business from our humble beginnings sharing one room at The Delamar Spa, to our luxurious Blue Back Square location with its multi treatment spa like rooms and its amazingly talented and caring staff. When The Greenwich Medspa approached us, we felt honored that a medspa with over a 16-year heritage would consider us one of the best in the state to purchase," Rodman said in the announcement. The award-winning GMS (winner of Connecticut Magazine's "Best Medspa for 2022), which already had locations in Fairfield and Westchester (NY) counties, will now have six locations, including West Hartford and Glastonbury. "Coupled with the best technology in the industry, GMS prides itself in offering 5-star patient experiences through award-winning patient care, personalized service and result driven treatments. This combination has made GMS one of the most trusted, beloved, and recommended medical spas in the country and they fit exactly in line with our beliefs," the announcement states. Rodman said the transition will be gradual, and many of the same people – including her – will still be there. "We are confident that over the next weeks and months you will be delighted with the benefits and contribution GMS will bring to your overall experience. We sincerely thank you, our patients, our friends and our family for all you have done to make The

Medspa

one of the most successful destinations in CT and for welcoming our new friends at The Greenwich

Medspa

to continue to serve your needs."
West Hartford Cleaning Services has partnered with the nonprofit Cleaning for a Reason, and are offering their services – two home cleanings of two hours, free of charge – for cancer patients. West Hartford Cleaning Services has been in business for seven years, owner Kalita Pillonetto said, and had been informally offering free cleanings prior to the official relationship with the national nonprofit earlier this year. Pillonetto said so far they have 10 clients in the program, and with October being Breast Cancer Awareness Month she wanted to be sure to spread the word that there are openings available to others who may need the service. "We want to keep it as local as possible," she said. "We're trying to get more awareness about this project, really trying to give back to our community," and serve those who are facing challenges in their lives. She while the work is not glamorous, their employees are really proud to be giving back. Cleaning for a Reason was founded in 2006, and since then has provided free home cleaning for more than 44,750 cancer patients and their families across all 50 states. "So, whether you are or know someone battling cancer, please message us or visit our website. We promise that the only thing we want is to support and help those who need us," Pillonetto said.
LobsterCraft originally opened at 981-A Farmington Ave. in West Hartford Center about a year ago, but owners Michael Harden (aka "Captain Mike") and Tommy Gordon celebrated their official ribbon-cutting with the Chamber of Commerce and town officials last week. While lobster rolls, and lobster bisque, and other lobster-related menu items are available year round, LobsterCraft has also introduced the new fall/winter menu, which includes a meatloaf sandwich with mac and cheese on a bianco roll with sweet potato fries, St. Louis-style ribs with tots and lime-cilantro coleslaw, and a pickle-brined fried chicken sandwich with honey mustard mayo on a pretzel roll, with tots. (I sampled the chicken sandwich and it was delicious!) There are a number of soups on the menus well, including tomato, Cuban black bean, and corn and potato chowder. In addition to West Hartford, LobsterCraft has locations in Greenwich, Fairfield, and Sarasota, FL. Visit the LobsterCraft website for more details.
The fourth Annual Makerspace event, hosted by local nonprofit Friends of Feeney and Elmwood Makerspace will be held on Saturday, Oct. 15, from 1-3 p.m. at the Elmwood Community Center, and will be "a community day of play and building with cardboard and duct tape." Eric Feeney said this year there will be the addition of a tie dye station sponsored by High Meadow Day Camp, as well as cotton candy and popcorn sponsored by The Base Teen Center from The Bridge Family Center, and live music will be provided by School of Rock West Hartford.
Congratulations to SockStarz on the third anniversary of their opening at 18 LaSalle Road in West Hartford Center. The novelty sock retailer is a social enterprise owned by Harc, which is also celebrating National Disability Employment Awareness Month throughout October – an annual campaign that takes place each October to educate the community about disability employment issues and celebrate the many and varied contributions of America's workers with disabilities. "Harc, Inc. is proud to be a part of this year's National Disability Employment Awareness Month," Dan McLaughlin, Interim President & CEO, CFO, said in a news release. "We want to spread the important message that we value all perspectives, including those of individuals with disabilities. Being able to celebrate the third anniversary of SockStarzduring this month highlights the incredible employment opportunity it has given our individuals." SockStarz provides employment opportunities for people with intellectual disabilities, and also provides revenue to support Harc's mission. The store is open Monday through Saturday, from 11 a.m.-6 p.m., and Sunday from noon-4 p.m.
It looks like the transit-oriented development mixed-use project 540 New Park is getting close to completion. The location of the building makes it difficult to get a good photo, but I snapped this one last week from the intersection of Talcott Road and New Park Avenue. The project has been under construction for more than a year, and when complete will provide 52 apartments, roughly an even mix of one- and two-bedroom units, of which 41 will be workforce housing available to those with incomes 60% or less of area median income.
Farmington-based financial planning and investment advisory firm Connecticut Wealth Management, LLC (CTWM) has announced that West Hartford resident Jessica Dodge has joined the company as the director of Momentum for Business Owners. Dodge has more than a decade of experience offering strategic advice and support to small growth-stage businesses, and is passionate about developing programs that address the specific challenges of Connecticut business owners, the company stated in a news release. "We are so excited to have Jessica join our team and watch her craft and grow this new service offering," commented Denis Horrigan, CFP, CEPA, Partner & Co-Founder of CTWM. "At CTWM, we continuously strive to find new ways to add value for our business owner clients. Jessica has a unique background that will allow her to support the unique needs of our business owner clients, with a level of warmth, professionalism and authenticity that has become the hallmark of our work." Momentum for Business Owners ia new service offering a strategic blueprint that closely ties into the long-term goals of business owners, whether they be growing the business, developing a solid business succession plan, or creating a better work-life balance – with the end goal of helping to provide clarity around the intersection of both personal and business finances. "I'm excited to take the foundation of my previous work and cater this to the needs of more established companies that still need help but maybe just don't know it yet," said Dodge. "In the end, my goal is to make business owners overcome their isolation so that they can continue to be successful – professional and personally." Dodge previously worked at Connecticut Innovations and then went on to become a senior leader at CTNext, a subsidiary of CT Innovations, where she continued to support entrepreneurs across the state by assessing their needs and providing guidance, resources, networking, and access to capital to help accelerate their growth and success. She is a graduate of the University of Connecticut, a Certified Exit Planning Advisor (CEPA), a member of the Women's Leadership Council Steering Committee at the University of Saint Joseph, and co-president of the PTO at her children's elementary school in West Hartford.
Remember, if you have any business news to share, add it in the comments section below or email Ronni Newton at [email protected].
Like what you see here? Click here to subscribe to We-Ha's newsletter so you'll always be in the know about what's happening in West Hartford! Click the blue button below to become a supporter of We-Ha.com and our efforts to continue producing quality journalism.