A round-up of openings, closings, and other news about West Hartford businesses.
By Ronni Newton
I hope everyone had a nice weekend!
While Sunday was a bit gloomy (fitting for the 21st anniversary of 9/11), Saturday was one of those sparkling September days that started off refreshingly cool and ended up hot and sunny.
My Saturday was quite a whirlwind of activity – with a step total of 26,346 for the day! Our Fleet Feet Half Marathon Training group met at 7:30 a.m. Saturday for an 11-mile run (which ended up being 11.39 miles, and yes we are counting) that traversed a portion of the Hartford Half Marathon course. I've so appreciated being part of this group, which has provided wonderful motivation and support, and the coaches even injected some fun into a long run by "requiring" everyone to take their turn going down the slide at the Ana Grace Love Wins playground at Elizabeth Park. It was about mile 9 of our run and at the end of a long hill, but there was 100% participation by the 40 or so of us who were running with the group Saturday morning!
Before we set off, however, we had a few solemn moments talking about the tragic death of Eliza Fletcher, a woman from Memphis, a wife, mother, and teacher, and a member of the Fleet Feet community who was abducted and murdered while on an early morning run just over a week ago. One of the very first news stories I covered in West Hartford was about a resident who was sexually assaulted while on a morning run in town in 2010. I almost never run in the dark, but many runners don't have the luxury of a flexible schedule and incidents like this are terrifying.
Many of us wore pink and purple on Saturday morning, the colors Eliza was wearing on her final run, and we added our mileage to the official "Finish Eliza's Run" initiative, as a show of solidarity.
While the run was exhilarating, and exhausting, I made a quick transition from sweaty shorts and tank and headed down to the shoreline for the wedding of a friend's daughter. Quite a few of those steps I accumulated on Saturday were on the dance floor, because tired legs are, in my opinion, not a good excuse to refrain from dancing!
No dinner out on Saturday night because of the wedding, but I had already had a great dinner at West Hartford's newest restaurant, Sparrow, on Wednesday. I think the Cali-Flowerchild is going to be one of my favorite pizzas, but I still have a few more to try! (See story here.)
Commenters: This week alone I received five submitted comments from people who didn't include a full name. A few didn't even seem to use their first name. (At least I don't know anyone named "I" or "Most.") I left the items in the queue and emailed all of those who attempted to comment, and the two of the emails that were returned as undeliverable because they came from fake email addresses were immediately deleted. One person provided their full name in response to my request and I posted their comment. The others will be deleted from the queue if I don't hear back within a week.
One other important note prompted by a comment stream on Facebook: Please know that I endeavor to mention all new businesses in this column, but I can't personally visit all of them. I am very thankful to the readers who send me tips, and blurbs about new businesses as well as closings (but I like openings better!). The best way to ensure that your new business, or change in operations, or event that benefits a nonprofit, gets mentioned to your liking in this column is to email me a few sentences with the details, and include a photo or two – not 27 photos, or just a flyer, or links to multiple websites or to a story in another publication. And please note that contrary to what a reader and business owner stated on Facebook, we NEVER make getting a mention in this column (or having a feature story written) contingent on purchasing an ad. Our sales operation is separate from editorial for good reason. And as managing editor I decide what businesses or issues warrant a full story, but please know that depending on the type of business, a mention in this column is often just as effective, if not moreso, since it's consistently the best-read feature on the We-Ha.com site.
Some companies mine this column for sales leads (you know who you are), and we can't control that, nor can we control the other media outlets who use the blurbs they find here to develop a full story. None of that is with our permission, but there are no grounds to stop it. Also, please note that something which is highly unethical – the "West Hartford Award Program" – has nothing to do with either We-Ha.com or West Hartford Magazine, or the annual "Best of West Hartford," for which voting will begin in a few weeks. The "West Hartford Award Program" is an attempt to sell you a plaque for a non-existent award, aka a scam.
Can't get rid of the following paragraph yet …
There were 53 positive cases in West Hartford over the past seven days (as of Saturday), and a positivity rate of 11.7%. The numbers have gone up and down a bit over the past few weeks, but have hovered in the same zone. It's been more than a week since school has resumed, and there has not been an uptick in cases. Statewide metrics have been relatively stable as well. One day I hope to be able to delete this paragraph completely, but in the meantime, please continue to have patience since not everyone has the same level of comfort, continue to look out for each other, support our local businesses – and stay safe and healthy.
If you're looking for news about West Hartford in print, many stories from We-Ha.com, and other local news, is published in the twice-monthly issues of the West Hartford Press.
If you have information to share about local businesses, please provide details in the comments or email Ronni Newton at [email protected].
**************************************************
Connecticut Physical Therapy Specialists is the sponsor of this week's Business Buzz!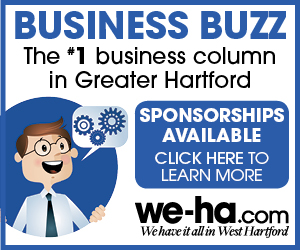 Here's this week's Buzz:
We usually try to be very clear about the location of our featured business, but in this case part of the fun of The Bunker is that its whereabouts is deliberately a bit of a mystery. Owned by West Hartford resident Aaron Sarwar, who called me from Africa, where he is deployed with the Connecticut Air National Guard (he's currently a captain), to provide some details. The Bunker is sort of a speakeasy (without the password, and without the fancy cocktails), and it's a military-themed casual place where patrons can grab a beer, play some pool, Golden Tee, PacMan, or Mortal Combat, and enjoys a hot dog (chili cheese dogs coming soon, too) or popcorn. "If you can find the alley you can find The Bunker," said manager Ellie Novick, who gave me a tour before the space opened up on Friday evening. Many may know her from Savoy, and she said she left what was intended to be a summer sabbatical early to help Sarwar with this project since he was deployed right as it opened about two weeks ago. The Bunker, which is located through a door in a now cleaned up alley on LaSalle Road, is currently only open on Wednesday, Thursday, and Friday nights, from 6 p.m. until last call. The Bunker is below another restaurant, and was formerly a driving school and storage area, and Sarwar believes at one time it may have actually been used as a shelter. An image of the C-130 he navigates is painted on the wall, and Sarwar said when returns to West Hartford he wants to further promote the military theme of The Bunker by collecting memorabilia from veterans for the "patch wall." Alicia Mora is the bartender, there are five draft lines, and Novick said it's a relaxed space that already has some regulars who stop by to relax after work, or want an uncrowded and unpretentious place to hang out with friends. You can also follow The Bunker on Instagram (@thebunkerweha).
This item is a combination good-news-bad-news, not all bad news, so I'm not pushing it to the end of the column. While it originally appeared as if Arethusa (975 Farmington Ave., West Hartford Center) had closed its doors for good, they reopened on Friday and for the at least the rest of the month will be open Friday and Saturday from 1 until 9 p.m. and Sunday from 1 until 8 p.m., serving ice cream only (and milkshakes). There are also items in the dairy case for purchase – not a full selection, but I was able to stock up on some butter on Friday afternoon! According to a source at the store, Arethusa is planning to relocate in West Hartford and is finalizing the details. Arethusa originally opened the West Hartford location in June 2020, and sadly one of the business' owners, George Malkemus, died last September. I was assured that was not the reason for the scaling down of the West Hartford operation, but rather it was just that the space was too large and they wanted to get back to their roots of ice cream and dairy rather than a full-scale cafe. Details about the new location, once that is announced, will be posted on the Arethusa website.
For those following the progress of the proposed Arapahoe Group LLC project for an infill luxury condominium development and apartment building with workforce housing in the Center, which had been on the Town Plan and Zoning Commission (TPZ) agenda for last Thursday and had a public hearing scheduled before the Town Council meeting on Tuesday, Sept. 13, the proposal has been withdrawn without prejudice. The project had been rejected by the town's Design Review and Advisory Committee (DRAC), and a letter to the Town Council from Attorney Robin Pearson, who represents the applicant, states the "applicant believes the proposed development will benefit from additional time to consider and improve upon certain design elements of its proposal before re-applying and presentation to the Town Council."
I would love to try this and definitely need to find out more, but I've recently seen some social media posts about Maki Night, a new business started by Chef Sara that is currently being operated at Koma Japanese Steakhouse in Bishops Corner (345 North Main St.). On Thursday, Friday, and Saturday nights you can learn to make your own sushi (and then eat it!) at an event that is entertaining and includes a live demo and a history lesson about sushi. The menu rotates, it's appropriate as a family activity, and drinks are available to participants. For more information or to register for a class, visit the website, or follow on Facebook or Instagram (@maki.night).
Multiple people have asked for an update on Chop't Creative Salad Company (333 North Main St. in Bishops Corner), and while it's not obvious from the exterior there is plenty of work going on inside. It will likely be at least a month or so before they are ready to open, and I will certainly be eager to share any news that becomes available. For those not familiar with the restaurant, Chop't has a menu of classic and "light" salads, more than two-dozen dressing options (some also sold by the bottle), warm bowls, and the opportunity to also customize salads with an extensive choice of greens, fruits and veggies, cheese and dairy, crunch, and other toppings. While the stores are all corporate owned, the company prides itself on community involvement, both supporting frontline workers and sourcing ingredients. According to their website, "When it comes to supporting our local communities, we strive to form long-term partnerships with local food artisans, farmers, small businesses, and producers with better food and better practices. This approach, along with our commitment to source the freshest produce available, enables us to create the most flavorful salads and bowls around."
Last time I was at Westfarms I noticed that OFFL/NE by Aerie, a sister store to Aerie, is now open on the lower level near Center Court, in the space formerly occupied by Aerie. The activewear and accessories brand, which launched in July 2020 and is "built for movement, comfort, and real life," is the evolution and expansion of Aerie's popular leggings collection and includes sports bras, tops, workout dresses, and skirts made for movement.
Ten Thousand Villages (967 Farmington Ave., West Hartford Center) has announced that they will be holding a Community Shopping Event for Hands on Hartford's Backpack Nutrition Program, from Monday, Sept. 12 through Thursday, Sept. 15. The store will be donating 15% of customers' purchase anytime they mention they mention at checkout they are shopping to benefit the Hands on Hartford program, Manager Teri Osborne said. Kids who rely on free lunches and breakfast at school may struggle over the weekend, and the Backpack Nutrition Program supports those families with backpacks containing four meals, drinks, and snacks. The backpacks are distributed each Friday during the school year, and also include weekly enhancements like fresh fruit and school supplies.

Congratulations to Maura Keating of West Hartford's Keating Agency Insurance, who – along with Dr. Agnes Quiñones of the Connecticut Department of Education and reSET's food incubator – has been named one of Leadership Greater Hartford's Polaris award winners for 2022. The winners will be honored at a celebration on Oct. 25, at Infinity Hall in Hartford. More details can be found here.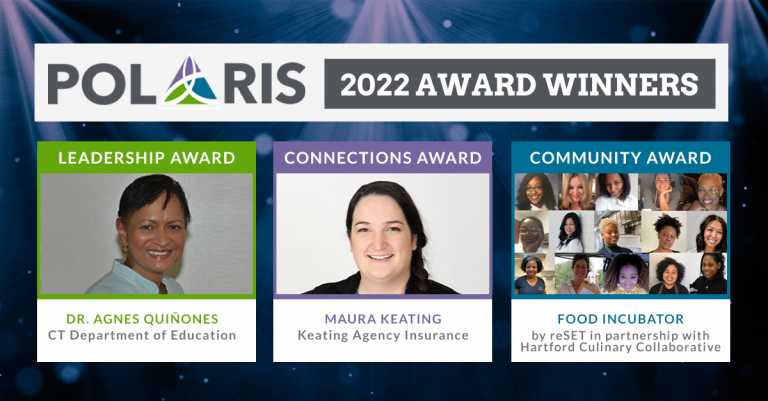 Bob Dignoti, owner of Sunrise Country Kitchen at 526 New Park Ave., posted the following update regarding the reopening of the restaurant, which has been closed since early July: "Hi All, Unfortunately we did not make our target date of September 6. We are hoping to reopen sometime in October but please stay tune and I will have a definite date soon. We look forward to seeing everyone very soon and we appreciate your patience."
Now for the sad news, and this one doesn't have a good news side to go with it. "Store closing" signs appeared at West Elm in Blue Back Square (91 Memorial Rd.) on Thursday morning. Representatives from Blue Back Square referred all requests for comment to West Elm, and West Elm's corporate offices have not yet responded to my request for a statement. According to a store employee, currently all merchandise other than furniture and rugs, is 20% off with all sales final, and in-stock furniture and rugs will be added to the sale shortly. The store will remain open until all merchandise is sold, or until the end of October, whichever comes first. I'll update if I get a statement.
Remember, if you have any business news to share, add it in the comments section below or email Ronni Newton at [email protected].
Like what you see here? Click here to subscribe to We-Ha's newsletter so you'll always be in the know about what's happening in West Hartford! Click the blue button below to become a supporter of We-Ha.com and our efforts to continue producing quality journalism.