A round-up of openings, closings, and other news about West Hartford businesses. 
Business Buzz is sponsored by NBT Bank, and we are very thankful for their support!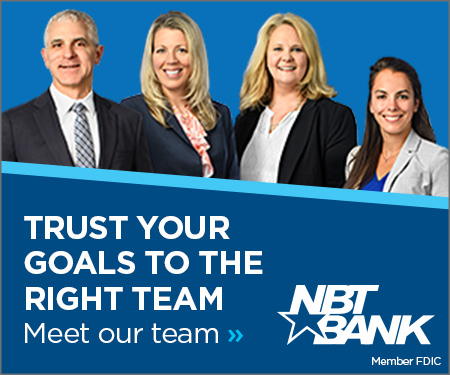 That was certainly a long week.
It was the first full week of back-to-business – in some people's eyes the first week of non-summer, but summer doesn't officially end in my book until very early Saturday morning, and I wore white pants several times last week.
It was a week full of humidity, flooding, early morning phone calls while in the middle of a run (happened twice), hosting roundtable shows on WHCi (A Connecticut Party candidates and Republican candidates were last week, Democrats are coming up), Ted transitioning back to the office three days a week, and several days of no hot water. I ran 11.31 miles as part of my half marathon training on Saturday. Sadly, two people I know died way too young this past week.
As for the hot water, who knew a furnace could suck up water from a flooded window well? We didn't. On Wednesday, after attending the Breakfast on the Bridge at Town Hall (congratulations to Helen Rubino-Turco on receiving the Build No Fences award), there was torrential rain. When I finally made a mad dash out of the building, I drove around taking photos of some of the flooding that occurred on West Hartford roadways, but I wasn't particularly worried about my own home which is on fairly high ground.
There's a corner of our basement – the unfinished part, where there is a sump pump – that has gotten wet a few times this year, but there's nothing there that could get damaged, or so we thought. We figured the water was coming in through a leaky seal at the bottom of the window well. Once before, a number of years ago when the ground was frozen and then it rained really hard, that window well filled up and water was really flowing into the basement and I was outside with a bucket trying to bail it out.
But I was washing the dishes after dinner on Wednesday night, and the water wasn't getting hot. Our nice new gas furnace that was installed just over a year ago has on-demand hot water, but it wasn't responding to my demand. "We've got a problem," Ted said when I returned from recording the WHCi roundtable. He had checked on the furnace and found not just a flashing red control panel but also a puddle of water inside the panel area even though the ground below was not wet.
It was ultimately determined (after multiple calls and visits from a technician) that the window well must have filled with water during Wednesday's downpour, and that water, along with mulch from the landscaped area in front of the window well, got sucked into the furnace's intake pipe. The repairman drained several cups of water from the system and had to clean out the mulch and install a new motherboard before finally getting it working again. It was fixed by about 7 p.m. Friday, and we are thankful that the part that was needed arrived via FedEx, and I am thankful for family in town so I could take a warm shower.
I know people have had much worse problems from flooding, but this was such a crazy thing that I thought I would share it in case anyone else has an intake pipe in a vulnerable location. The furnace company is going to extend our pipe so it's farther above the base of the window well – and we plan to have the drainage in the well fixed, too.
After needing to drop off Ted's car at Modern Tire on Thursday night (where it received four new tires the next morning), a beer, pretzel, and casual dinner at World of Beer was just the antidote.
We went to the UConn football game on Saturday (nuff said, except to add that our 7-week-old grandchild, who stayed for the entire game, was calmer about it than the rest of us were). Rather than going out to dinner after that, take-out Chinese from the always-delicious Black Bamboo ended up being the perfect choice.
I'm including this commenting info again, because I've gotten quite a few more attempts this past week from people trying to post comments without providing their full names. A few didn't even seem to use their first name. I can see the email addresses in the back end of the site and email all who attempt to comment, and when a few of the emails were returned as undeliverable (because they came from fake email addresses), those were immediately deleted. One person provided their full name in response to my request and I posted their comment. The others have been informed that theirs will be deleted from the queue if I don't hear back within a week. The person who submitted a comment laced with profanity didn't provide a full name, but that one couldn't have been posted even with a name.
If you're looking for news about West Hartford in print please note that many stories from We-Ha.com, as well as other local news, is published in the twice-monthly issues of the West Hartford Press.
If you have information to share about local businesses, please provide details in the comments or email Ronni Newton at [email protected].
**************************************************
Here's this week's Buzz:
I have a long list of businesses that are getting very close to opening, as well as a few that have signed leases but don't want the information made public yet, but one that we do know will open its doors imminently is Boqueria. "We're on track for an October opening," a spokesperson for the Spanish restaurant opening at 46 South Main Street (right next to Fleming's in Blue Back Square) that specializes in paella and tapas, as well as creative cocktails, and is also known for a festive atmosphere. The signage is all in place, and while you can't tell from the photos, the interior looks to be complete – including being set up with tables and chairs – and hiring has been taking place for front- and back-of-house positions over the past few weeks. The next time I write about this restaurant will hopefully be a feature story about the opening, complete with a report about the food – which I am very eager to sample!
Marty Kenny didn't live in West Hartford, but his work has certainly made a major impact on this town, along with Hartford and many other communities, and it was very sad to learn of his sudden death Saturday morning from a heart attack, as reported by the Hartford Courant. The founder of Lexington Partners, Kenny partnered with Alan Lazowski of LAZ Parking, on several projects in West Hartford, including the major redevelopment of the Sisters of St. Jospeh of Chambery property into One Park – the 292-unit complex which started leasing earlier this year and is nearly complete. Through the Lex-Laz partnership with Lazowski, Kenny was also a partner in LaSalle Road Partners II, which owns many of the former Sinatro buildings in the Center. Lexington Partners Chris Reilly told the Courant that Kenny's projects and his legacy will continue, with the involvement of another generation – his sons Patrick and Kevin, who have joined the business. Funeral details have not been announced.
Build-out is underway for Sweetspot, West Hartford's second cannabis retailer, in the former Caribe (and prior to that, Prospect Cafe) space at the corner of Park Road and Prospect Avenue. The photo below is of the exterior taken on Sunday, and the rendering with the signage is from the town's website. Based on my reading of the plans, the main entrance/reception area will face Prospect, and the retail area will face Park Road.
Blue Back Square will be hosting the first ever Blue Back Burger Bash (and reportedly the first burger bash in the state) on Thursday, Sept. 28, from 5-7 p.m. According to a media alert about the event: "All full-service restaurants at Blue Back Square including Gran Gusto, Rosa Mexicano, The Place 2 Be, Vinted, Boqueria, and World of Beer will grill-off and cook-out their own signature slider burger in a competition to win the coveted People's Choice for Best Burger award. And Boqueria, the hottest new restaurant coming to West Hartford, will also be on-site showing off their famous Spanish style Hamburguesa as a sneak preview to their new menu." There will be celebrity judges (I volunteer for next year!!) who will include emcee Renée DeNino from iHeartRadio and representatives from WFSB, and burgers will be judged in various categories including "Most Creative" and "Best Overall." The burgers will be available for sampling by the public, and all voters will be entered into a drawing for a $250 gift card to the Blue Back Square restaurant of their choice. There will also be plenty of free activities, including music and other entertainment for kids and people of all ages. And, all proceeds from the evening will be donated to Connecticut Foodshare, which is partnering with Blue Back Square for the event. More information can be found on the Blue Back Square website.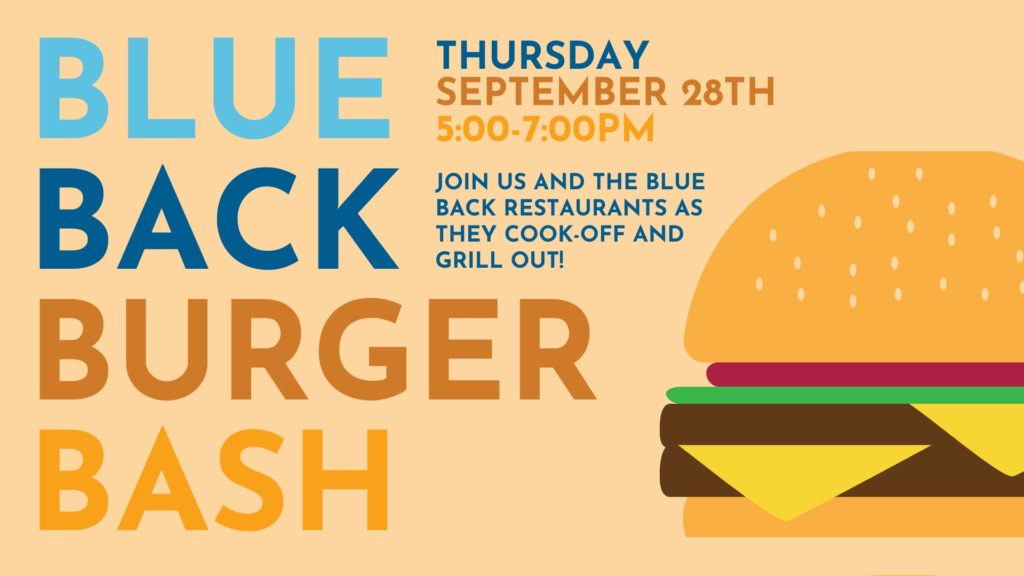 Graphic design business Hunter Design Studio has relocated to new office space in West Hartford, within the Spaces co-working complex at 71 Raymond Road. Owner and founder Danielle Hunter, whose business will celebrate its five year anniversary in December, also recently expanded her staff. She said she is looking forward to being part of the larger co-working space, which offers a balance between a private workspace and comfortable areas for brainstorming or client meetings. "Like most people during the pandemic, I was predominantly working from home the last few years, When I visited the private offices at Spaces, I knew this was the perfect next step for my studio," she said. "It's been so nice to collaborate in person, talk to other business owners, walk downtown for lunch, and have a commute home again (who knew we would ever miss that?)" she added. She said she is very excited to for the future and has "always felt the right environment has the power to create momentum and inspire great work." Hunter had 10 years previous experience before branching out on her own, and offers services that include logo design, brand identity, website design, and ongoing marketing collateral to ensure consistent visual identities and brand messaging across all touch points. For more information, email

[email protected]

or visit the website.
Juniper Homecare will officially unveil the newest mural by Ben Keller on its building at 1100 New Britain Avenue on Tuesday, Oct. 3, at 11 a.m. It's also the organization's 25th anniversary, and the event – which includes appearances by Javier Colon (whose image is on the front of the building), Dennis House, Lt. Gov. Susan Bysiewicz, and Mayor Shari Cantor – is open to the public.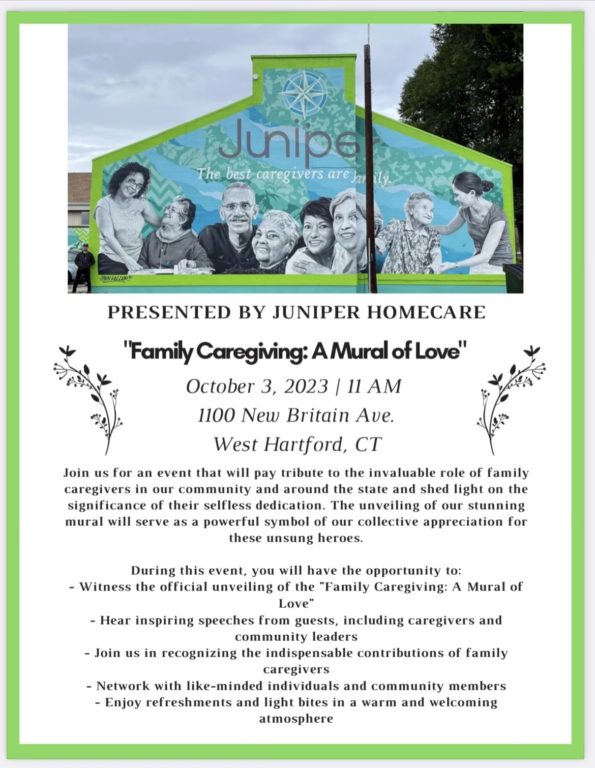 I've been checking on the progress of some other openings/build-outs, and see that work is underway for Soul Bowls (1128 New Britain Avenue in the Elmwood Plaza shopping center), which we reported on in July, and which will be a second location for the Hartford-based "new American soul food" restaurant owned and operated by Conard grad Willie Fair, Chef Hughann Thomas (also a Conard grad, class of 2014), and Malik Golden.
Also progressing in the Elmwood Plaza shopping center since I last checked on it in July. is build-out of a physical therapy clinic on the end of the building alongside Pepe's Pizza.
Lil Hope looks to be close to opening! The spin-off of Hope & Stetson, which will feature items for babies and toddlers as well as some maternity clothes, will be located at 18 LaSalle Road, right next to the new Green Tails Market. I peeked in the window and set-up is underway so watch for the opening news to come!
West Hartford-based Aurora Women & Girls Foundation headed to Capitol Hill last week and participated in the first-ever Feminist Philanthropy Hill Day with Senate and House leaders to talk about advancing gender equity and justice in our state and around the world. More than 150 gender justice funders and advocates allied on Capitol Hill this week at the advocacy event organized by The Women's Funding Network in partnership with the National Women's Law Center and the Global Fund for Women, said Jenny Steadman, Aurora's executive director, whom with staff from the offices of Connecticut's senators and congressional representatives. "Until the Women's Funding Network offered this opportunity, I had never thought about coming to the Hill. We have been focusing on our state legislature, but WFN helped me think bigger and gave me the tools to be successful. This provided a way for us to act collectively as women's funds, but also to speak up for the women we serve back home," said Steadman.
It's not in West Hartford, but nearby and qualifies for a mention because General Manager Elizabeth Ackerman is a West Hartford resident: The Shops at Farmington Valley are excited to announce the addition of new outdoor amenities and interactive experiences at The Shops, including the new "Putt at The Shops" a custom designed 9-hole mini-golf course with themed golf holes, outdoor Sunset Socials special event fundraisers, and A Place for Art with a new abstract sculpture titled "Family" by artist John Guthrie. "We are so excited to add some really fun experiences to The Shops for our guests to enjoy outdoors this fall like the complimentary custom designed mini-golf course, which is a nod to our history as a former public golf course, and features whimsical themes at each hole, like The River Bend, The Barnburner (aptly designed after our red barn), a menagerie maze, and a hole with a cute dog-theme design," Ackerman said in a news release. "Guests are also welcome to enjoy updated outdoor seating options, the new art display featuring a beautiful, bright red sculpture designed by abstract artist, John Guthrie, and new special events like our Sunset Socials." I was particularly interested in "Putt at The Shops" – which is being billed as "a fun, interactive experience for guests of all ages, featuring a 9-hole custom designed mini-golf course with themed golf holes" that is free and has been created in partnership with Golf Lounge 18. "Putt at The Shops" is  open to the public, from Monday-Sunday 10 a.m.-7 p.m. Guests interested in playing can pick up their mini-golf clubs and balls at Golf Lounge 18. Guests are encouraged to pre-register through The Shops website.
ICYMI, Crown Market in Bishops Corner has new owners and general managers who are West Hartford residents. Some updates have already been made, and more to come but with a promise to maintain the well-loved legacy of this iconic business and community gathering spot. Read the complete story here.
Welcome to Harlan Levy, who is writing a weekly consumer column for We-Ha.com sharing his experiences, thoughts, and tips about every day situations. The columns will appear in our Wednesday newsletter. Read about phone scams here.
Remember, if you have any business news to share, add it in the comments section below or email Ronni Newton at [email protected].
Like what you see here? Click here to subscribe to We-Ha's newsletter so you'll always be in the know about what's happening in West Hartford! Click the blue button below to become a supporter of We-Ha.com and our efforts to continue producing quality journalism.