A round-up of openings, closings, and other news about West Hartford businesses.
By Ronni Newton
Fall arrives this week (Thursday, Sept. 22, 9:04 p.m. to be exact). Sigh.
There were a few chilly mornings already last week.
I will admit that I was happy for the fall-like weather on Saturday morning. In fact it was downright chilly (it was technically mitten weather by my rules since it was below 50 degrees, but my hands were bare and I was wearing shorts) when the Fleet Feet Half Marathon Training Group met for the 7:30 a.m. start of a 12-mile run along the Vernon Rail Trail.
Along with the scenery and camaraderie, the cool temperatures made our final long run a positive experience. The surprise cookout hosted by Fleet Feet at the parking lot was a bonus, too. I am very glad to have made the commitment to training with this group and have met so many great people, and feel much more prepared for the race (just under three weeks to go) than if I had been following my own training program.
Toward the end of our run Saturday a group of us somehow got on the topic of French fries, so some sort of fries were definitely on my mind for Saturday night's dinner with Ted. Tavern in the Square delivered! The Picante burger and tots were delicious (although I could only finish half of each!) and starting off with fried pickles and a "Be Hoppy" was a good choice, too.
Last week was a busy week of meetings (including a coffee meeting with a new resident), a press conference, Town Council, and the return of the Breakfast on the Bridge. There's a busy week coming up as well so look for plenty of news to read.
There were 55 positive cases COVID-19 in West Hartford over the past seven days (as of Saturday), and a positivity rate of 10.4%. The numbers have gone up and down a bit over the past few weeks, but have hovered in the same zone – even though it's been a few weeks since school resumed. Statewide metrics have been relatively stable as well. One day I hope to be able to delete this paragraph completely, but in the meantime, please continue to have patience since not everyone has the same level of comfort, continue to look out for each other, support our local businesses – and stay safe and healthy.
If you're looking for news about West Hartford in print, many stories from We-Ha.com, and other local news, is published in the twice-monthly issues of the West Hartford Press.
If you have information to share about local businesses, please provide details in the comments or email Ronni Newton at [email protected].
**************************************************
Connecticut Physical Therapy Specialists is the sponsor of this week's Business Buzz!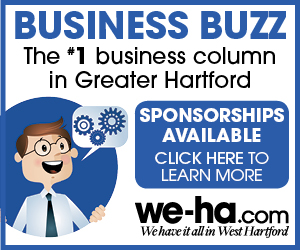 Here's this week's Buzz:
One of the most frequent questions I've been getting lately is regarding the opening of Rosa Mexicano in Blue Back Square. The plans for the New York-based upscale Mexican restaurant to open in the former Bar Louie space at 51 Isham Road were announced late last November, and while the spring 2022 opening goal was not met, the wait is nearly over! Build-out has continued to progress (I peeked inside that open door last week), and according to a Blue Back Square spokesperson, Rosa Mexicano will be training staff beginning Oct. 10, with the goal of having a grand opening late the following week. Stay tuned for details – and photos of the interior and the food.
In other Blue Back Square news that I learned during a meeting with the center's representatives last week, Gran Gusto, the restaurant that announced in April it will be opening in the former Rizzuto's space at 111 Memorial Road, is about to begin their build-out of the space – which are not extensive so hopefully won't take long – and Muse Paintbar will be holding an Adult Paint Night outdoors in the square, which will also be a fundraiser for RiseUp CT, on Sept. 29 at 6 p.m. Plans are already getting underway for this year's holiday display, that include all new lighting for the poles.
The industrial park area at 635 New Park Avenue (down the alley past GastroPark) is home to quite a few fitness businesses and also some hair salons, but it's also now the site of Warehouse 635 (located at the end of building 2). According to the website, Warehouse 635 is an "event venue that offers an open space with industrial finishes that can be tailored to fit the style or theme of your gathering," and features an exposed ceiling, white walls, and adjustable lighting that is essentially a blank slate for any type of event, with a capacity of up to 150 and the ability to bring your own food and drink. Tables, chairs, and linens are included in the rental fees, and parking is free. Check out the website for more details.
Congratulations to The Place 2 Be and founder and CEO Gina Luari (who is a West Hartford resident) on the announced expansion of their business to Dallas! The saying that "everything is bigger in Texas" is true here, with the first location of The Place 2 Be outside of New England planned for a sprawling 6,900 square foot space with a rooftop patio and bar. It's across the street from American Airlines Arena, home of the Dallas Mavericks, and Maverick Tim Hardaway Jr. co-announced the news on his Instagram (@timmyjr10). TP2B is part of The Statement Group, the only female-only owned restaurant group in Connecticut. Leading the culinary team are two Food Network Chopped champions – Chef Xavier Santiago (director) and Chef Maurice "Mo" Major (assistant director). "Dallas represents a big step for us," Luari said in a statement. "For the first time ever, we are taking The Place 2 Be outside of New England – the first of more national locations to come. We couldn't be more excited to share our brand's bold and cheeky brunch experience with such an iconic city and its amazing community; a community's whose passion is a defining trait, as it is for TP2B." In addition to a location in Blue Back Square in West Hartford, TP2B has restaurants in the downtown and South End areas of Hartford, the Naismith Memorial Basketball Hall of Fame in Springfield, as well as two other locations in the works.
This coming Sunday, Sept. 25, from 10 a.m. until 1 p.m., there will be an "Electric Showase" in the Town Hall Parking lot. It's being hosted by the West Hartford Clean Energy Commission, Sierra Club CT, and PACE, and will feature electric vehicles, e-bikes, and electric lawn care equipment.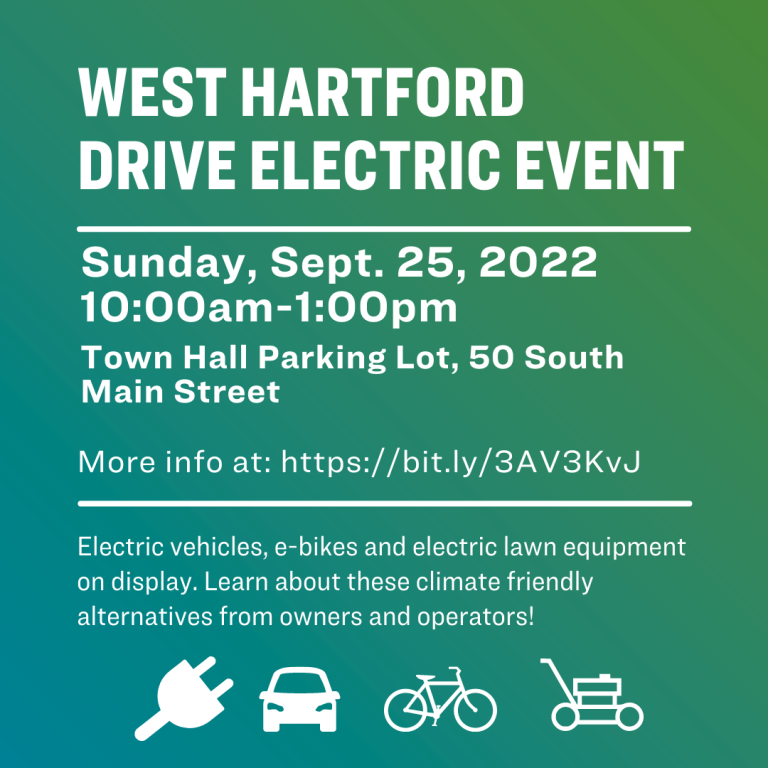 Another question I hear often is about the opening of Cake Gypsy at 1123 New Britain Avenue. I touched base this week with owner Deanna Damen and she shared the following: "Cake Gypsy is hoping to open in late October/early November. We are 99% ready and beyond excited to be a part of the awesome West Hartford community. We are currently hiring for our West Hartford location. Applications are available at our Avon and Granby stores." Further updates to come as that opening date nears!
After nearly 22 years, Corner Pug owner Ted Vetter plans to retire and has. put the restaurant up for sale. "He hopes the next operator will continue the traditions and the neighborhood atmosphere," a Corner Pug spokesperson said when I asked about the plans for the sale of the business. One of the very first articles I wrote for what was at the time "Living in West Hartford" magazine (at the time Keith Griffin was the editor, and I later took over as editor) was about Tapas and the Corner Pug, both owned by Ted Vetter, as the "bookend" restaurants of Elmwood. It was written in 2002, not long after the Corner Pug has replaced "The Corner Pub," with just the one letter changed and the restaurant an homage to Vetter's pug, Mac. (I had not remembered the "pub" to "pug" change, but actually unearthed a print-out of the original story!) The sale listing for the business can be found here. Tapas closed the West Hartford location in 2018, and that space is now the location of Frida.
More than 100 viewers tuned in to the Jewish Federation of Greater Hartford's virtual annual meeting on Wednesday, Sept. 7, to celebrate community accomplishments, recognize outstanding service, and elect new leadership, the organization announced in a news release. "Out of the crises of the last two years – including COVID-19, rising anti-Semitism, and the devasting war in Ukraine – our community has not only risen to the challenges – we have grown stronger," remarked David Waren, president and chief executive officer of the Jewish Federation of Greater Hartford. "Thanks to the work of so many across our community, we have not only bounced back, we have also grown stronger. We are incredibly optimistic about the future of this amazing Jewish community." Dana Keller, Chair of the Federation's Board of Directors, said, "For all of the challenges we have faced over the past two years, today we are strong, vibrant, and growing. In so many ways, our community has made that possible." Two community members (both West Hartford residents) – Kathy Fishman and Ronit Shoham – received the Henry M. Zachs Spirit of Judaism Award for their contributions to Jewish life in Greater Hartford. This award was established eight years ago by the Zachs family to highlight the volunteer and professional "unsung heroes" of Jewish Greater Hartford. Fishman was recognized for her professional service as executive director of Voices of Hope, where she empowers the community to stand up against hatred through Holocaust and genocide education and remembrance. Shoham was recognized for her many remarkable initiatives benefiting young people and neighbors in need – both within the Jewish community and Greater Hartford as a whole. The meeting also welcomed First Vice Chair Jill Dulitsky and board members Russ Benblatt, Lee Gold, David Scheinerman, Adam Steinberg, and Leesa Wallace. Newly elected Life Community Trustees include Sheila Fox, Cary Lakenbach, Randi Piaker, Alan Rosenberg, and Phyllis Ulreich. Jewish Federation of Greater Hartford has been supporting and transforming the Jewish community since 1945. From educating children to caring for seniors, Federation touches every aspect of Jewish life here, in Israel and in 70 communities around the world. To learn more, please visit www.jewishhartford.org.

West Hartford-based care management and advocacy provider Sage Solutions, LLC has announced a partnership with UR Community Cares, Inc, a statewide nonprofit organization that connects older adults with volunteers in their own communities. Sage Solutions said in a news release that it will actively connect its clients with volunteers vetted by UR Community Cares by assisting them with registering and accessing all of the resources that UR Community Cares can bring to West Hartford residents. This partnership also allows Sage Solutions to spread awareness of the great work UR Community Cares is doing and support its mission of connecting volunteers with local community members who need assistance with everyday tasks, such as running errands, cleaning, gardening, and more. "This is a win-win for both older adults living in West Hartford as well as the many local volunteers who have so much to give. We are thrilled to partner with such a mission-driven organization," Kathryn Freda, MA, CMC, CDP, owner of Sage Solutions, LLC.
Westfarms has announced that its third annual Mall-O-Ween event will be held on Saturday, Oct. 29, from 9:30-11:30 a.m. Children are invited to come dressed in costume and walk the Boo-levard at Westfarms. Open to the public and free of charge, members of the community will receive Mall-O-Ween bags to collect candy along the route from Westfarms retailers. Participants will also be eligible for surprise and delight giveaways. Westfarms said in the announcement that they are pleased to partner with Comcast Xfinity, Goodwin Magnet Schools, and the local fire and police departments. Mall-O-Ween is part of Westfarms larger Community First initiative to thank our local community for its ongoing support of Westfarms and its retailers.
ICYMI, a developer intends to transform the property now occupied by the West Hartford Inn, and formerly also home to Los Imperios, into affordable housing. For the complete story click here, and there are also a few letters to the editor about the project posted on We-Ha.com.
A fundraiser has been launched to pay for the move of Conny the whale from its site on the grounds of the Children's Museum on Trout Brook Drive. Details can be found here.
Remember, if you have any business news to share, add it in the comments section below or email Ronni Newton at [email protected].
Like what you see here? Click here to subscribe to We-Ha's newsletter so you'll always be in the know about what's happening in West Hartford! Click the blue button below to become a supporter of We-Ha.com and our efforts to continue producing quality journalism.