West Hartford resident Matt Warshauer's chose the war in Ukraine as for this year's Halloween display at his North Main Street home this season.
By Ronni Newton
The tableau created by Matt Warshauer on the front lawn of his North Main Street home in West Hartford is jaw-droppingly terrifying, but although the subject is horrific, it's somewhat less likely than many past displays to spark partisan controversy in the community.
As he considered his plans earlier in the year, Warshauer, a professor at Central Connecticut State University and a political historian who has become known for the elaborate and message-laden Halloween displays he has created for nearly two decades, said he had been considering a focus on the war in Ukraine, but wondered if he should instead choose a domestic theme.
With the temperature of the county, the politics, Warshauer said he just wasn't sure. And after crowd-sourcing ideas through a Facebook post earlier this summer, his decision was confirmed.
"I was originally going to do something related to Ukraine, but things in the US are so bleepity bleep bleep messed up, I'm wondering if I should focus on America, and then, on what!?! Please understand that over the years I've received a fair share of threats and I just don't need the headache anymore. So, what do I do as a theme?? Send [me] your best ideas! Best quotes…" Warshauer posted on his Facebook page in mid July. There were 67 comments, and a wide range of suggestions including many pushing for Roe v. Wade, as well as climate change, midterm elections, banned books, and mass shootings. He decided to stick with the war in Ukraine.
"I just really wanted to build a tank," Warshauer said. "I really enjoyed building that helicopter," he said, referencing his favorite display – an apocalyptic Vietnam War display he constructed in 2015 featuring a downed Huey helicopter – which commemorated the 50th anniversary of the U.S. involvement in Vietnam.
"It's not as divisive an issue in America," Warshauer said of Ukraine. When Russia attacked and invaded Ukraine in February 2022, most Americans condemned Vladimir Putin, and there was so much outpouring of support for the Ukrainian people, including locally where a rally was held at Town Hall in March, and countless fundraisers have been held to support humanitarian aid.
Until some recent happenings – like Russia's conscription and vote to annex territory in Ukraine – Warshauer said it seemed Ukraine had somewhat disappeared from the newsfeed of many Americans.
Warshauer put up his display on Sunday, Oct. 3, delaying it for a day due to Saturday morning's rain. Everything had been staged in his driveway and garage, and was ready to go.
The faces of those driving by who saw the tank – and it's impossible to miss – were wide-eyed with wonder.
The tank is 6 or 7 feet long, about two-thirds scale, he said. It's placed in front of a backdrop that makes it appear even larger.
Once he decided to create the tank, Warshauer said he began the design work. "I knew that any scale I would do would have to be based off the wheels," he said, and he went in search of hubcaps. He went to a few salvage yards, but newer vehicles don't have hubcaps, so there were few to be found – and he needed six of them.
He finally found a salvage yard with hubcaps – six that matched, which was important – and when asked what they were for he told the owner it was an art project. The owner donated the hubcaps to the project.
Warshauer built the frame to hold the hubcaps in a row, and then created the tread from double-wrapped cardboard pieces and scrap wood, glued and clamped together. The rest of the tank followed – framed with wood and constructed mostly of cardboard.
He built a turret, and scoured his house and garage for other items that would add to the effect. There are parts of an old weed whacker, a part of an old light, drawer pulls.
With the addition of a smoke machine, the dramatic vision of a bombed-out tank was complete.
"It's garbage art at its finest," he said.
Warshauer can't help but be proud of the tank. "It just looks so cool," he said.
The rest of the display is not to be – and cannot be – overlooked.
Behind the tank a Ukrainian flag hangs from a 16-foot-by-12-foot image of a bombed out building, complete with some broken windows – a backdrop that makes the tank even more dramatic.
To erect the "building," Warshauer said he pulled his van onto his lawn and stood on the roof to push the pieces into place while his helpers, standing on ladders on the other side, secured the walls. This year's helpers included Warshauer's daughter, Samantha, who is taking a gap year before continuing her studies in opera singing at Bard College. It was so much fun working with her, and she also created TikTok videos of the display, he said.
Warshauer's displays also never fail to include a history lesson, and an assortment of relevant quotations, and this year is no exception.
"Only the dead have seen the end of war," reads one famous quote painted on the side of the building. It's a saying many incorrectly attribute to Plato, but is actually by Spanish philosopher George Santayana.
"Putin isn't immortal. Fight on!" is scrawled on another panel.
The display is large, but it's ready to remain on Warshauer's lawn all month. "It's structurally sound," Warshauer said. He plans on the possibility of at least two major storms happening during October, and said the display should withstand heavy rain as well as 50 mph winds.
Warshauer's cadre of skeletons has returned to action, including one is armed with a javelin anti-tank missile which was constructed from parts of an old leaf blower, a fan, an electrical box, and plumbing supplies.
One skeletons holds a Polish flag out as a blanket, ready to envelop a skeleton family, complete with a baby. "What Poland has done for the Ukrainian people …  They've opened their borders, opened their homes," Warshauer said.
There's a graveyard, and above that a wall with some more contemporary political commentary. "When fascism comes to America it will be wrapped in the flag and carrying a cross," reads one panel. There's a quote by Ulysses S. Grant and an excerpt from Cassidy Hutchinson's testimony to the January 6th Committee.
Last year's display, featuring skeletons staging a simulation of the Capitol insurrection, prompted quite a bit of commentary, but he's not anticipating as much controversy this year.
In 2020 Warshauer tackled two issues – which he said were both equally important and alarming – COVID-19 and Black Lives Matter. Four of his previous displays, he said, were actually a prologue to that one:
Of all his displays, Warshauer said the most complicated to construct was the pirate ship in 2017.
Warshauer's house is located at 115 North Main St. in West Hartford, just north of Fern Street. There is no parking on North Main Street, but parking is available on some other side streets, including Hilltop Drive.
The North Main Street road diet – which was in its trial phase last Halloween but has now been adopted as permanent – runs right by Warshauer's house. Traffic was already moving a bit slower through the area, but now people are slowing down to glance at his display.
Warshauer regularly checks every year for broken glass or other signs of a crash in front of his house that may have been caused by people trying to view the display while driving. "To my knowledge there has never been an accident caused by the display," he said.
For more information about Warshauer, and his past displays, visit his website.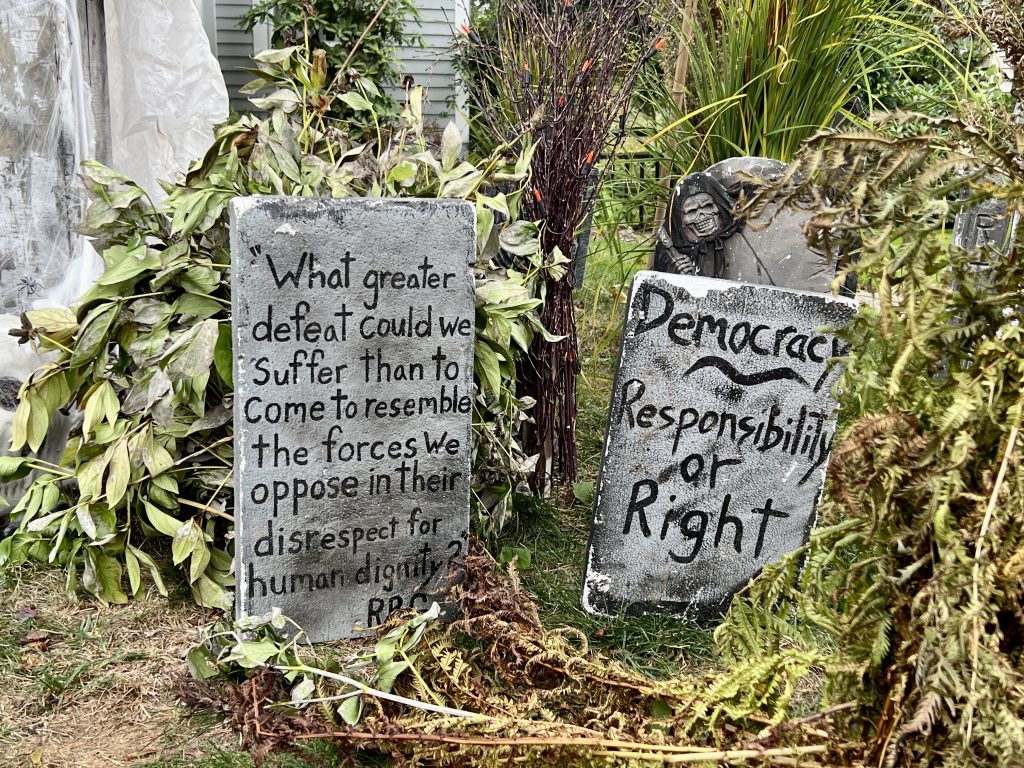 Like what you see here? Click here to subscribe to We-Ha's newsletter so you'll always be in the know about what's happening in West Hartford! Click the blue button below to become a supporter of We-Ha.com and our efforts to continue producing quality journalism.