A round-up of openings, closings, and other news about West Hartford businesses.
By Ronni Newton
I definitely appreciated the extra-added bonus week of warm weather we just had, but now that we are less than two weeks away from Thanksgiving and looking ahead to a week where temperatures won't even be close to 50 degrees, it's time to acknowledge that we are smack in the middle of November and winter will soon be upon us.
I think at least two or three weeks worth of activities were crammed into last week, which was even crazier than the prior week. (I appreciate so many people asking about my father, who is recovering from his fractured vertebrae and is out of the hospital and back at the skilled nursing facility where he was living previously.)
This past week started the Best of West Hartford – where I was honored and humbled (as well as shocked and embarrassed) to have been named "best cheerleader" for the town. I need to dig out the felted "R" from my days as a cheerleader at Roxbury Elementary School – which I know is somewhere in the attic because it was part of a Halloween costume a number of years ago! Look for the complete list of winners on the site today.
Tuesday was Election Day, and Wednesday I ended up with five events to cover – six if you count that the signing of national letters of intent at Hall had to be broken up into two separate ceremonies due to student schedules! On Thursday, as a member of the Connecticut Foundation for Open Government Board, I attended the Mitchell W. Pearlman Freedom of Information Award reception at the Mark Twain House (congratulations to all of the winners!), and Friday featured two Veterans Day events, a visit to Santa at Westfarms (that was work, too!).
We've also had lots of sports to cover this past week or two. Thanks to Paul Palmer for attending many playoff games, and to Hall student Howie Lam for his great reporting on Hall cross country.
In addition to juggling work commitments, Ted and I saw "Fences" at Playhouse on Park this past week. The show runs through Nov. 20, and is an amazing and powerful performance and important social commentary that I highly recommend. Mayor Shari Cantor and her family attended Sunday's show, and she posed for a photo with the cast after the performance.
Saturday we went to the very exciting UConn football game (it's no longer an oxymoron to include "exciting" with "UConn football") where I embarrassed my family by insisting on joining thousands of others who stormed onto the field after the win.
I had a week of eating random "meals" at random times, and thought my only food photo for this column might be the plate of scrambled eggs (made on the portable grill) and cornbread from our tailgate on Saturday, but we topped off our busy week at the St. James's auction and Chef (aka Rector) Bob Hooper prepared an amazingly delicious and also quite photogenic international spread! Credit for the photo of me taking photos of the food goes to the renowned David Owens – formerly a Hartford Courant breaking news reporter.
I can't help but share a photo of Millie proudly showing off her new teal leash.
There were just 24 positive cases COVID-19 in West Hartford over the past seven days (as of Sunday), and a positivity rate of 7.3%, and those are the lowest numbers, we've had in a long time. We are, however, just entering the season of respiratory viruses. (Click here for more information from the West Hartford-Bloomfield Health District about the symptoms of various viruses and how to protect yourself.) One day I hope to be able to delete this paragraph completely, but in the meantime, please continue to have patience since not everyone has the same level of comfort, continue to look out for each other, support our local businesses – and stay safe and healthy.
If you're looking for news about West Hartford in print please note that many stories from We-Ha.com, as well as other local news, is published in the twice-monthly issues of the West Hartford Press.
If you have information to share about local businesses, please provide details in the comments or email Ronni Newton at [email protected].
**************************************************
Connecticut Physical Therapy Specialists is the sponsor of this week's Business Buzz!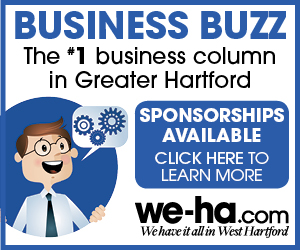 Here's this week's Buzz:
Barricades are in place and construction is fully underway on the build-out of

Arhaus

, a rapidly growing lifestyle brand of luxury home furnishings and décor, ranging from modern to traditional, that will be opening at Westfarms in mid-2023.

Arhaus, which was founded in 1986,

 offers an exclusive assortment of heirloom quality products that are sustainably sourced, lovingly made, and built to last. "We chose Westfarms because we do perform very well in the Northeast and we realized [this area] is undersaturated with luxury furniture," Nikkee Edmiston, the director of Real Estate Operations for Arhaus, told the Town Council before they voted on changes to the Special Development District in May that paved the way for the project to move forward. In addition to opening a roughly 11,000 square foot store, the retailer will also be creating a two-story façade and exterior entrance facing New Britain Avenue, replacing the current monochromatic appearance of the upper level area (which is a service corridor) as well. Pupo described the Arhaus façade as incorporating "clean modern lines" with natural materials for the brand's signature style. The only other Arhaus store in Connecticut is in South Norwalk. For more details about the brand, click here.
Also at Westfarms, Abercrombie & Fitch is nearly ready to open. "We're excited to welcome them back," Westfarms spokesperson Amanda Sirica said. "Abercrombie & Fitch really resonates with our shoppers. It's a fantastic brand," she added. The store, which is on the lower level of the Nordstrom wing and encompasses several boxes, should be open before next weekend. Their social media is already active, and follow @westfarms_abercrombie on Instagram for updates. Westfarms is 99% leased, and ready for the holiday retail season, Sirica added. Details, including locations of stores and special deals, can be found at shopwestfarms.com.
Before leaving the subject of Westfarms – last Friday I had a chance to meet with Santa, who has arrived in his giant sleigh at Santa's Flight Academy and will be meeting children through Dec. 24. Look for a complete story later today, or check the Westfarms website for details on reserving a visit time.
IHOP officially opened Sunday morning in the former GoldRoc Diner space at 61 Kane Street with a ribbon cutting by Mayor Shari Cantor that was attended by family and friends. Mustafa Ayaz, who lives in Southington and owns several gas station properties in Connecticut, purchased the building and an IHOP franchise in August 2021 that will be operated as a family business. It has been their dream for the past eight years, he said at the ribbon cutting, and they are really looking forward to being part of the community. "We are so proud of you and we welcome you with open arms," Cantor said.
From the Fern Street Food Pantry: "We really need the help of our local community! Our numbers are growing every month and we are working hard to find volunteers who are able to pick up food once a month from Foodshare, in Bloomfield. To be honest, we are desperate to find new volunteers and so we are reaching out to the church community, friends and anyone who may be able to help! This volunteer commitment is for once a week or a Thursday or Friday between 8 a.m. and 11 a.m. We would need someone with an SUV. The volunteer would need to be able to put food items in the car and then deliver them to Fern Street Universalist Church. It would take about an hour. Anyone  interested  can contact Tai Feaster (Social Action and Food Ministry Coordinator at the Universalist Church) at 860-233-3669 or by email at 

[email protected]

g." Food donations are also welcome. "During this season of giving West Hartford has always been generous and we are so thankful to our local community for all the support!"
Jennifer Jensen from Artisan Restaurant in West Hartford was one of four bakers chosen to participate in an Election Cake Bake-Off sponsored by the Connecticut Democracy Center in Hartford. "Election Cake is nothing new – the original Election Cake was a spice cake baked with local ingredients and made in huge batches to serve communities that would come together to celebrate an election. For this contest, cakes needed to be carried into Connecticut's Old State House by one person and remain nonpartisan. All cakes were to be decorated with an election or voting theme and all contestants must be professional bakers that work in a ServSafe certified kitchen/bakery with relevant Department of Consumer Protection licensing," states a news release about the event. Jenna D'Amico from Sweets by Jenna in Rocky Hill. A photo of Jensen and her cake is below.
This always makes me sad to report … West Hartford Center and Blue Back Square will once again be transformed into winter mode, with the removal of outdoor dining barriers beginning today. Town Manager Rick Ledwith told the Town Council last week that crews from the Department of Public works will begin the process "in preparation of winter storm operations." They plan to being at 6:30 a.m. Monday, weather permitting, and it may take a few days. Restaurants and businesses have been asked to remove furniture and fixtures. "Traffic patterns are not changing. LaSalle Road and Isham Road will remain one way. Parking on Farmington Avenue will stay as-is with a combination of parallel and head-in angle parking," Ledwith said. The West Hartford Center Infrastructure Master Plan is under development, which may ultimately result in some changes to the outdoor dining scene, but in any case the Town Council will be considering updates to the outdoor dining ordinance before next spring's outdoor dining season to comply with state requirements.
Congratulations to West Hartford resident Fernando Ferro, a filmmaker from Caracas, Venezuela who is now a West Hartford resident, on being named to the Board of Theaterworks Hartford. According to a news release, Ferro ­­started his career directing national television campaigns for Yum brands, co-creating a political satire show, "

The

Rick Sanchez Show" for Mira T.V, and directing and producing

theater

for "Paseo De Las Artes", a

theater

company based in Miami which is co-run by Miguel Ferro. He has produced or directed over 15 plays for "Paseo" in Miami, nominated for numerous awards for his work. Most recently, Fernando wrote, produced, and filmed his theatrical directorial debut," 

The

Big Feed". Fernando has served as Vice President of Content Strategy for

the

film financing and production company, Foton Pictures.  His work for Foton produced critically acclaimed films that were shown around

the

world. "Pink Skies Ahead" and "

The

Birthday Cake" to name a few. Fernando formed "Mini Mach Media" with his producing partner, Emerson Machtus. With over 20 years of collective experience in

the

entertainment industry, Mini Mach Media is a multicultural studio committed to empowering talent and delivering diverse content across all platforms. Other new Board members include Christopher Hayes, Stephanie Johnson and Christopher White.
Congratulations to West Hartford resident Matthew Udal, a financial advisor with Waypoint Wealth Solutions, a private wealth advisory practice of Ameriprise Financial Services, LLC in Farmington, who has earned Certified Military Financia Advisor Certification. According to a news release, "Ameriprise Financial partnered with Dalton Education to create the CMFA certification, which equips financial advisors with knowledge and expertise to help military members maximize resources and achieve their financial goals with confidence. Udal successfully completed the CMFA requirements that include over 40 hours of training and learning development modules, which provide advisors a deep understanding of the unique life circumstances and the benefits available to Veterans, active duty, Reserve, National Guard and their families. Udal graduated from the University of Connecticut with a degree in accounting. He has 23 years of experience with Ameriprise Financial. For more information, please contact Matthew Udal at 860-470-0244 or visit his website.
Congratulations to UConn professor Jeffrey Cohen of West Hartford, who has been named a Research Fellow for the Federal Reserve Bank of St. Louis, where he will work on issues involving real estate and economic inequality. "Cohen, who is the Kinnard Scholar in Real Estate at UConn, earned the prestigious appointment after serving as a visiting scholar for the Fed for 20 years. The honor is bestowed on only a handful of academics each year," a news release states. "I'm very interested in questions of how real estate wealth accumulated differently over time for Black and Latino homeowners and residents, compared with others, and what can be done to try and remedy any potential inequalities that are found,'' Cohen said. "Cohen's most recent research studied how proximity to highways affects home values in Connecticut, including how the interstate system, built between 1940 and 1960, destroyed some communities and created value for others. Cohen found a direct correlation between the proximity to Interstate 84 and increased home values, which disproportionately benefitted Caucasian families. Cohen, who joined the UConn School of Business in 2014, teaches in both the undergraduate and MBA programs and he will continue with those and all his other responsibilities," the news release states.
Congratulations to Lisa Matheny of West Hartford who has been appointed AVP, Member Sales and Service Center at American Eagle Financial Credit Union (AEFCU). According to a news release, "Matheny joined American Eagle in 2022 following a 30-year career leading teams in financial services, annuities, claims, customer experience and operations. She earned her B.A. in Psychology from the University of Saint Joseph and holds a Connecticut Real Estate License. A resident of West Hartford, CT, Matheny serves on American Eagle's Wellness Committee and is a member of the National Association of Realtors."
From the Town of West Hartford: Government Finance Officers Association is pleased to announce that Town of West Hartford, Connecticut, has received GFOA's Distinguished Budget Presentation Award for its budget. The award has been presented to the Department of Financial Services. "The award represents a significant achievement by the entity. It reflects the commitment of the governing body and staff to meeting the highest principles of governmental budgeting. In order to receive the budget award, the entity had to satisfy nationally recognized guidelines for effective budget presentation. These guidelines are designed to assess how well an entity's budget serves as: a policy document; a financial plan; an operations guide; and a communications device. Budget documents must be rated "proficient" in all four categories, and in the fourteen mandatory criteria within those categories, to receive the award." More than 1,700 entities participate in the Budget Awards program.
Ten Thousand Villages will be holding a fundraiser for the Jewish Association for Community Living (JCL) from Monday, Nov. 14 through Thursday, Nov. 17. "Customers who mention that they are shopping to benefit JCL will have 15% of their purchase price donated to JCL," Store Manager Teri Osborne said in an email. JCL, which is open to people of all faiths, helps people with developmental disabilities participate in community life as independently and safely as possible and offers a number of programs including group homes, supported living, day support, and Judaic programs. Visit jcl-ct.org for more information.
Remember, if you have any business news to share, add it in the comments section below or email Ronni Newton at [email protected].
Like what you see here? Click here to subscribe to We-Ha's newsletter so you'll always be in the know about what's happening in West Hartford! Click the blue button below to become a supporter of We-Ha.com and our efforts to continue producing quality journalism.