A round-up of openings, closings, and other news about West Hartford businesses.
By Ronni Newton
Happy October!
I've finally given in to the reality of fall and have been wearing closed-toe shoes the past few days. I may have to break out the mittens for the half marathon next weekend because I do see a forecast for temps in the high 30s for Friday night.
Ted and I have had a season subscription to Playhouse on Park for many years, and saw "Lady Day at Emerson's Bar and Grill" on Friday night. The story (based on Billie Holiday's final concert) is intensely emotional, and Danielle Herbert's portrayal of Billie Holiday is amazing. More details about the show, which runs through Oct. 16, can be found here.
Saturday's schedule was totally discombobulated by the weather canceling a number of our planned activities (Park Road Parade being the big one), but we did go to the UConn football game and saw a great upset of Fresno State. And for a West Hartford connection, the first two scores for UConn on Saturday were field goals kicked by Hall High School graduate Noe Ruelas.
We were able to get back in time to attend a casual dinner at a friend's house Saturday night, feasting on the fabulous pulled pork and baked beans prepared by St. James's Episcopal Church Rector Bob Hooper. Both items were intended to be served at the church's fall fest on Saturday evening, but that had been canceled earlier in the day due to the weather forecast.
Bob Hooper excelled in another important role on Sunday morning – leading the "Blessing of the Animals" in celebration of the Feast of St. Francis of Assisi. It was mostly dogs who were brought to be blessed (one other animal was in a carrier but I'm not sure what it was), and they ranged in size from two adorable dachshunds to a handsome brindle mastiff that at age 6 months already weighed 105 pounds. There was a good bit of barking – surprisingly not from Millie who even behaved for her blessing. We know we are blessed to have her as part of our family.
My only meal purchased at a West Hartford restaurant was a poké bowl from Pokéworks on Tuesday. I could honestly eat a poké bowl almost every day and not get tired of it.
There were 45 positive cases COVID-19 in West Hartford over the past seven days (as of Saturday), and a positivity rate of 10.2%. The numbers have gone up and down a bit over the past few weeks, but over the past week have remained fairly steady in West Hartford as well as statewide. One day I hope to be able to delete this paragraph completely, but in the meantime, please continue to have patience since not everyone has the same level of comfort, continue to look out for each other, support our local businesses – and stay safe and healthy.
If you're looking for news about West Hartford in print please note that many stories from We-Ha.com, as well as other local news, is published in the twice-monthly issues of the West Hartford Press.
If you have information to share about local businesses, please provide details in the comments or email Ronni Newton at [email protected].
**************************************************
Connecticut Physical Therapy Specialists is the sponsor of this week's Business Buzz!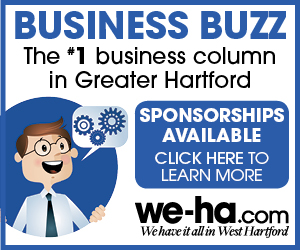 Here's this week's Buzz:
"We are just beyond excited to come to West Hartford," Meghan Hayden, owner of Glastonbury's very popular and highly-regarded River Bend Bookshop, told me in a phone interview this week. The feeling on behalf of the West Hartford community is definitely mutual based on the comments in regard to a press release that a few people shared on Facebook after the news was made public last Wednesday. River Bend will be opening at 161 Park Road, in a space that had been the Hair Gods Salon and Barbershop. "I think the Park Road neighborhood suits us so well," said Hayden, whose Glastonbury location is similarly on the ground floor of an older building that also has apartments above. The West Hartford location is between Zaytoon's Bistro and the driveway to Toro Taberna, and since Hayden said she pays her husband, Greg – who has a full-time job but provides an enormous amount of assistance – in tacos, the assortment of restaurants in the immediate area only adds to the ideal nature of the space. River Bend, which opened in 2018 at 2217 Main St. in Glastonbury, was closed to browsing during the pandemic, actually was closed for browsing for 14 months because the space is quite small and they instead focused on fulfilling online orders. "During that period we couldn't wait to get out, so our winter project (in 2020-2021) was creating the Book Truck," she said. And their visits to events and schools in different towns made her realize that there might be more options for River Bend beyond the single shop. As for West Hartford, River Bend already had a relationship with Playhouse on Park that started prior to the pandemic when a blind solicitation for sponsors by the Playhouse noted "creative opportunities available." "We were so new that we didn't have money for advertising," she said, but they collaborated for a pop-up lobby bookshop during the run of a contemporary version of Pride and Prejudice – and once Playhouse on Park reopened they've been back to hosting pop-ups. Hayden also had an existing relationship with Gary Holmes of West Hartford-based Gariphic, who created their logo, and WeHa Candle Company which makes the bookshop's signature scented candle. Many West Hartford customers supported River Bend throughout the pandemic, and about a year ago Hayden started seriously considering opening in town. She knew she wanted to be on a certain part of Park Road, and near the Playhouse, and said in a "completely serendipitous moment" she started a search on loop net, and found the posting for 161 Park Road that was only a few days old. The landlord, who lives nearby, has already been great, she said. Custom bookshelves are in the process of being built, and Hayden said they are planning a November opening, with a grand opening the weekend after Thanksgiving. "We at Playhouse on Park have been partnering with River Bend Bookshop since March 2020. Our patrons absolutely love it and it has truly enhanced one's experience while at the Playhouse," said Tracy Flater, executive director of Playhouse on Park and co-president of the Park Road Association, who is thrilled about River Bend opening a shop in town. "Through this partnership, River Bend has gained many fans who will be thrilled to have the new shop just down the street from Playhouse on Park. This is a huge win for Park Road. Meghan and her team are amazing and River Bend is a true independent book store with so many additional enhancements, events, etc.  We just can't wait to welcome them into the Park Road Neighborhood," said Flater. The 161 Park Road shop is 1,200 square feet and will include fiction and non-fiction books as well as gifts, stationery, puzzles, and games. They are planning to host local authors for signings and eventually book talks, as well as story times and other events. "We will try some new things," Hayden said. They're leaving some space in the shop to see what's of interest to the neighborhood. "Bookshops are wonderful places where the act of pulling a book off the shelf can spark a conversation that leads to authentic and meaningful connections. We look forward to continuing the conversation with our new neighbors in the shop," Hayden said in the press release. Many of the Glastonbury employees, including manager Audrey Beatty, will work in both locations at least for a while, and new staff will be hired as well. It's been well over a decade since West Hartford had a full service independent bookstore. Bookworm, which was on Farmington Avenue, closed in 2010 when its owner retired, and The Next Chapter, which is operated by the West Hartford Public Schools post-secondary students, is open only during the week, and sells donated gently used books.
Gong cha will have its grand opening on Saturday, Oct. 8, at 11 a.m., in the space formerly occupied by Subway at 932 Farmington Ave., in West Hartford Center, franchise (and building) owner Sonny Chen said. They will be offering BOGO bubble tea and – this was news to me – they serve waffles, too! "We're excited to finally be open, and to share this with the community," said Chen, who also owns West Hartford's Black Bamboo and is co-owner of the Pokéworks franchise in the Corbin Collection. Training is going on this week, and watch for a soft opening earlier in the week. He's hoping for a good crowd at the grand opening, too. "Gong cha is known across the world for its signature Milk Foam. Its creamy, sweet and savory flavor balance and whipped texture make it the perfect complement to our freshly brewed teas. Our delicious milk foam is hand-crafted for each customer and made from the freshest milk and highest quality, signature ingredients," the website states. More information, including a menu of the different types of teas, can be found here.
Artist Corey Pane has completed his "Greetings From West Hartford" mural on the expansive wall of 977 Farmington Ave., where it can be viewed from the sidewalk as well as while driving into (or walking down the driveway) to the Farmington Avenue surface parking lot. The mural was commissioned by LaSalle Road Partners II, owner of the building, in collaboration with the West Hartford Art League. I spoke with Pane last week as he was completing the final details – which include a "mini-mural" snippet of the MLK39 mural he created on the West Hartford Library's Noah Webster branch, as well as other images that are important to him in West Hartford. Photos of the completed mural are below, and more details about Pane and the mural can be found here.
FWJ (Fitness with Jonathan) plans to officially open the new studio at 1045 New Britain Ave. in mid-October, owner Jonathan Davis said in a message. "This studio offers: circuit classes, HIIT workouts, strength training classes, personal training, cardio kickboxing, indoor cycling, TRX, and combination classes. We are one-stop shop of fitness," he said. The existing location at 589 New Park Ave., will not be closing for good, but rather will be re-opening in November and will be the spot for kids yoga, kids movement/fitness classes, adult yoga, and the member clubhouse. Davis said they have also hired a new licensed nutritionist and dietitian who will be providing nutrition services.
The Connecticut Restaurant Association (CRA) announced several award winners as well finalists for the 2022 CRAzies Awards Gala, and several West Hartford restaurants and individuals are among the finalists. They include Kevin Masse of Small State Provisions as a finalist for Baker of the Year, Melissa Cannon from Restaurant Bricco as Server of the Year, Delicacy Catering and DORO Catering & Events as Caterer of the Year, Mecha Noodle Bar (which has fie locations) as a People's Choice Award finalist, and Arugula and Cora Cora as finalists for Northern Regional Restaurant of the Year. Congratulations and good luck to all! More information about the finalists, as well as the link to vote for favorite or purchase tickets or sponsor the awards gala, can be found here: www.craziesawards.com.
Congratulations to Able Made, which opened in Westfarms about a month ago (see details here from their feature in this column) and is owned by West Hartford resident Suzanne McKenzie, on their very successful grand opening celebration on Saturday evening. I wasn't able to attend, but McKenzie shared the following details and some photos. "Guests enjoyed bites and mocktails by Flora restaurant's Chef KC Ward, with Hot 93.7's DJ Billy Busch spinning the beats. They shopped Able Made's latest, perfect-for-fall new drops: cozy socks and certified organic hoodies, button down shirts, bodysuits, leggings and more. The store features a permanent foosball table for shoppers, and an Able Made Foosball Tournie winner took home the gold (and a sweet Able Made gift package). Sale proceeds during the celebration (and everyday) support city-youth soccer & health camps in Hartford and Boston via the award-winning Ucal McKenzie Breakaway Foundation. This special event took place in partnership with Taubman Properties and Flora Restaurant.
Congratulations to The Next Chapter which is celebrating its first anniversary! The used bookstore (also mentioned in the write-up above about River Bend) is operated by students in the West Hartford Public Schools post-secondary program and provides them with the opportunity to establish occupational skills in a positive environment, providing a "next chapter" for the students as well as the gently used books. The store opened on Oct. 4, 2021, and on Tuesday, Oct. 4, 2022, from 10 a.m. to 5 p.m., the celebration will include readings and give aways. "The book reading at 11 a.m. has won the 2022 Distinguished Favorite; NYC Big Book Award!" store manager Nancy Pereau said.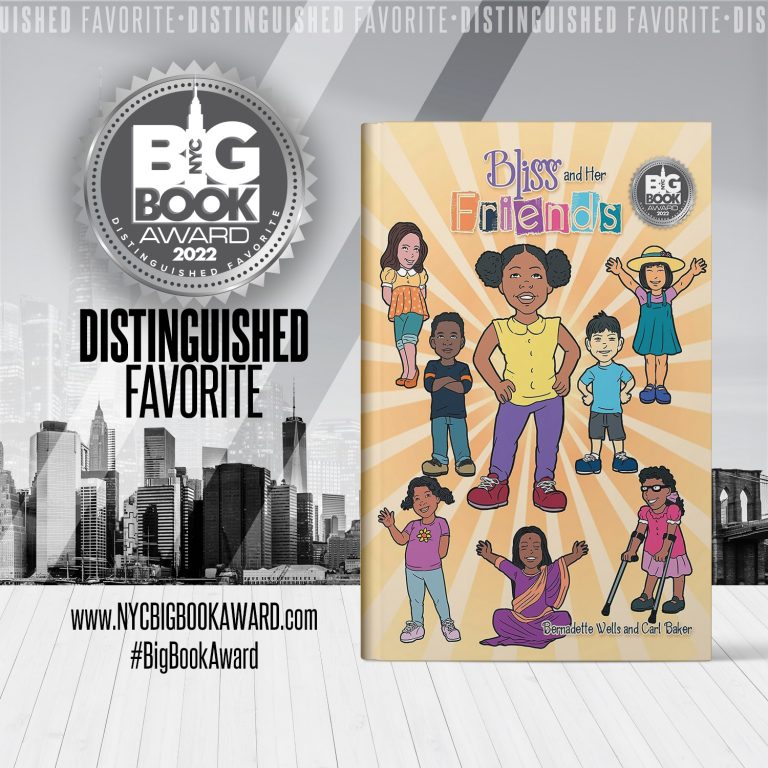 Congratulations also to WeHa Brewing and Roasting (141 Shield Street) on their first anniversary and is planning a celebration on Saturday. Follow them on Facebook for additional details.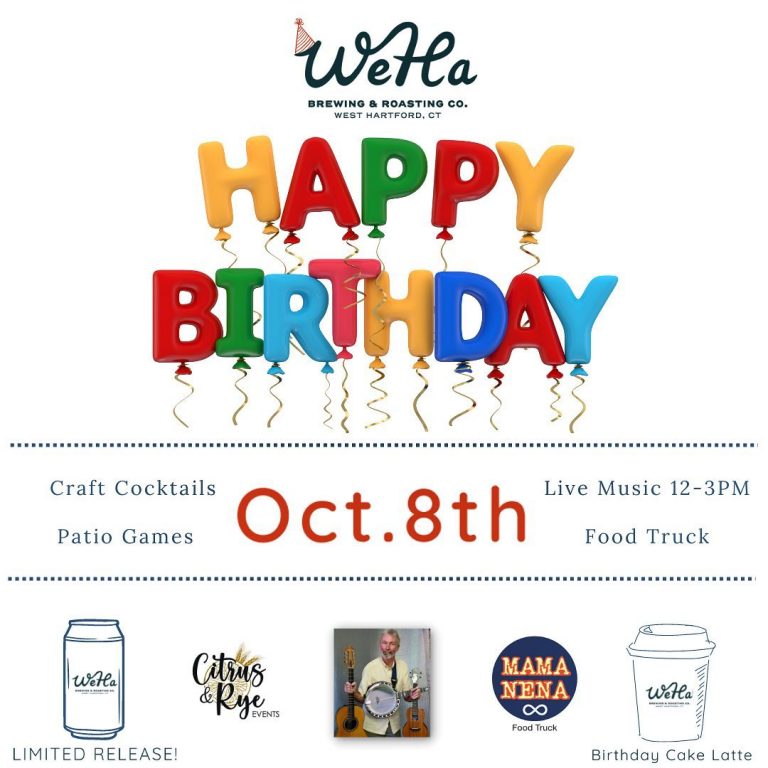 GastroPark is also celebrating an anniversary next Saturday (their second) and those details are also available on Facebook.
In photo below (from left) John Prescod, Senior Manager of Community Investment, United Way of Central & Northeastern Connecticut; Ted Cutler, CEO of Tecton Architects and Chairman, Big Brothers Big Sisters of Connecticut Board of Directors; Andy Fleischmann of West Hartford, President & CEO of Big Brothers Big Sisters of Connecticut; state Sen. Catherine A. Osten; and West Hartford resident Ryan Matthews, Vice President of Programs at Big Brothers Big Sisters of Connecticut. Big Brothers Big Sisters of Connecticut recently awarded its 2022 Children's Champion Award to Osten "for going above and beyond to help Connecticut's children in need reach their highest potential. Big Brothers Big Sisters called attention to the role Sen. Osten played as Senate Chair of the Appropriations Committee in spearheading the largest investment in children's mental health and preventions services in decades."
I'm continuing to follow the imminent opening of Rosa Mexicano! The signs are now up, and the opening is on track for the third week of October as reported in the Sept. 19 Business Buzz column.
Remember, if you have any business news to share, add it in the comments section below or email Ronni Newton at [email protected].
Like what you see here? Click here to subscribe to We-Ha's newsletter so you'll always be in the know about what's happening in West Hartford! Click the blue button below to become a supporter of We-Ha.com and our efforts to continue producing quality journalism.