A round-up of openings, closings, and other news about West Hartford businesses.
By Ronni Newton
I know I often grumble about the arrival of autumn, but it's because I know what comes next. In a few weeks the landscape will be barren and gray, but in the meantime the fall foliage this year has been outstanding!
I haven't even had the chance yet to take a real hike this season (and hope by the time I do there will still be leaves left on the trees), but below are a few photos I took just around my neighborhood last week!
Election season has just a few more weeks to go, and I for one am looking forward to political advertising on TV coming to a close. We-Ha.com continues to receive many letters to the editor – and while we encourage all perspectives, we are trying to ensure that any statements made by letter-writers that are stated as "fact" have their sources also noted. Letters from candidates themselves must be submitted by Tuesday, Oct. 25 at the latest, but letters from others in support of candidates can be accepted up until the Sunday prior to Election Day. They will be published on a space-available basis (our newsletter has a limit of 12 items) and must comply with our letters policy outlined here. Also, we won't publish letters that are already published in another news outlet, and that includes letters self-posted to Patch.
I finally got a chance to introduce Ted to Sparrow on Saturday night. Even though he usually prefers thicker-crust pizzas, he really enjoyed the Carnitas Pizza at Sparrow, as well as the piece of my "Beat Bobby Flay" that I shared. And we both enjoyed the Brussels Sprouts appetizer which I hadn't previously had a chance to try!
There were 47 positive cases COVID-19 in West Hartford over the past seven days (as of Saturday), and a positivity rate of 13.8%. As has been the case for weeks, the numbers continue to fluctuate slightly, but remain in the same range in West Hartford as well as statewide. One day I hope to be able to delete this paragraph completely, but in the meantime, please continue to have patience since not everyone has the same level of comfort, continue to look out for each other, support our local businesses – and stay safe and healthy.
If you're looking for news about West Hartford in print please note that many stories from We-Ha.com, as well as other local news, is published in the twice-monthly issues of the West Hartford Press.
If you have information to share about local businesses, please provide details in the comments or email Ronni Newton at [email protected].
**************************************************
Connecticut Physical Therapy Specialists is the sponsor of this week's Business Buzz!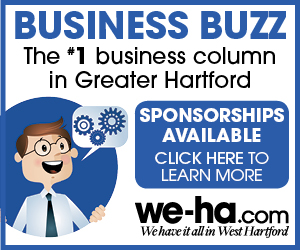 Here's this week's Buzz:
Awaken180º Weightloss, which offers nutrition-based weightless with one-on-one coaching, has just opened their first Connecticut location in West Hartford's Blue Back Square at 66 Memorial Rd. Managed by Michael Lowe, there are four people in the 1,500 square foot West Hartford location. I stopped by last week and met several members of the staff including Peter Dovidaitis, one of the coaches, who explained that when they work with clients the focus is not just on weight, but also on body fat and visceral fat, with the goal of bringing all three metrics into healthy ranges. A scale inside Awaken180º Weightloss – which is much more than just a regular scale – utilizes bioelectrical impedance analysis to obtain each client's body fat, body water, and muscle mass. He said that programs, the length of which depends on the client and typically range from four to 20 weeks, can help reverse Type 2 Diabetes, weaning clients off medication within a few weeks. Most clients utilize Awaken180º Weightloss' food (stocked in bins inside the facility) to satisfy the breakfast, lunch (with two cups of vegetables added), and two snacks on their customized menus. Clients prepare their own dinners, with a recommendation of animal protein plus two cups of vegetables. Shopping lists provide suggestions, plus foods to avoid, and according to Dovidaitis the overall plan is low in carbohydrates, moderate in protein content, and includes a high level of healthy fat. There are vegetarian and gluten-free options as well, and Awaken180º Weightloss hopes to partner with area restaurants in the West Hartford area, which is something that they have done elsewhere. As for why the company, which currently has seven locations in Massachusetts, chose West Hartford for their expansion into Connecticut, "Awaken180° Weightloss chooses all of its locations firstly on convenience, ease to get to/from. Weight loss shouldn't be difficult, it can be convenient in all aspects: the commute, guidance during both the weight loss phase and keeping the weight off during maintenance, the ability to travel, eat out, drink out, and continue living your life to the fullest," a company spokesperson said. The Blue Back Square location provides walkability to other businesses that clients can frequent during their weekly visits.  "Awaken180º strives to change how clients approach foods in everyday, real-life situations, the spokesperson said. Awaken180° Weightloss also has an At-Home program which offers virtual coaching and a specialized home body composition analysis scale. More information can be found on the website Awaken180WeightLoss.com.
Lids has now opened at Westfarms, and is located on the lower level in the Nordstrom wing next to the AT&T Experience store.
In other Westfarms-related news – and just in time for the holiday season – Toys 'R Us is now open inside Macy's.
Best Cleaners is celebrating its first anniversary at 17 Sedgwick Road (their 14th environmentally-friendly dry cleaning and tailoring site) and said to celebrate their "warm welcome and successful 12 months of operation" the store will be holding a special community appreciation day will take place on Saturday, Oct. 29 from 8 a.m. to 5 p.m. Customers and community members are invited to join Best Cleaners owners, managers, and staff for food, fun and prizes throughout the day. They are also encouraged to drop off gently-used coats to donate to Best's annual Coats for Connecticut collection, which kicks off on Wednesday, Nov. 2 and runs through Saturday, Nov. 12. Winter coats and jackets for all ages and sizes are needed. Best will clean and deliver them to local Salvation Army centers and shelters for distribution directly to families in need. "Our first year in West Hartford has been a great experience for all of us at Best. We wanted to show our appreciation to our customers and the entire community in a fun way," Best Cleaners Owner and President Shawn McCann said in a news release. "We love the opportunity to get to know people and say thanks face to face." The Sedgwick Road space, previously Victoria Cleaners and before that Sedgwick Clearers, had been vacant for some time before Best renovated to establish their "cornerstone GreenEarth Cleaning method, same-day service, tailoring, and free delivery." Last year the 67-year-old, Middletown-based operation collected, cleaned and delivered more than 137,000 coats to those in need in Connecticut, and also made a $1,000 donation to Westmoor Park in support of its educational and recreational programs at last year's West Hartford grand opening ceremony. More information can be found at bestcleaners.com or by calling 888-950-BEST (2378).
Here's a milestone anniversary for a business, and for six of their employees! On Oct. 18, Crate & Barrel marked the 15th year since opening the store at Blue Back Square in 2007, and six of the original employees are still on staff! Happy anniversary to Linda Wallach, Peri Pogson, Lynn Leone, Dennis Hicks, Audrey Kaplan, and Paul Girouard! Wallach said she recalls stocking the shelves while the finishing touches on the store were stilling made. "I started working at Crate a year before I retired from the West Hartford Public Schools as a secretary in 2008, after 40 years," Wallach said. Their first manager, Melissa, she said, is still with Crate & Barrel and works in the corporate office. Founder Gordon Segal attended the opening, Wallach recalled. She said the name of the store was taken from the original Chicago shop opened by Segal and his wife, Carole, where their displays were literally the crates and barrels that their merchandise was delivered in.
Several events are coming up at Artisan Restaurant (at the Delamar Hotel) which are in support of area nonprofits. A portion of the proceeds from the "Chef's Harvest Dinner" on Thursday, Nov. 3, at 5 p.m., will be donated to Interval House in support of Domestic Violence Awareness Month. The event will include "a beautiful evening to celebrate the harvest of our local farmers and onsite garden with an elegant five-course, farm-to-table dinner complemented with private label Artisan wine. This exclusive tasting menu will be prepared by Chef Frederic Kieffer & Chef Michael Giai of Artisan Restaurant who will share their inspiration behind each dish," Artisan announced. The Chef's Harvest Dinner will take place under the Garden's Pergola with live music, and will include a Delamar preferred rate to stay the weekend for Friday, Saturday, or Sunday evening. Click here for tickets or more information.
Also coming up at Artisan is a special evening hosted by LUX Lifestyle Magazine and the Delamar Hotel on Wednesday, Nov. 16, from 5-8 p.m. The Power of Food "illustrates the capacity of food to nourish our bodies, our minds, and our communities," and will include a cocktail hour in the Delamar lobby followed by passed Hors d'oeuvres, seasonal food stations and LUX magazine columnist speaker of "The Power of Food" at Artisan restaurant. A portion of the evening proceeds will benefit West Hartford's A Town that Cares Fund. Click here for more information or to purchase tickets.
Congratulations to West Hartford resident Todd Rosen, who has joined May, Bonee & Clark Financial Services in Glastonbury as a financial consultant and wealth manager, the company announced. He has more than 20 years of experience in the financial services industry, and most recently was with Voya Financial in Windsor. "Todd brings strong market knowledge and economic insight to our group, along with a focus on forming lasting relationships with his clients. His ability to guide individual clients and 401K plans to pursue their goals and manage risk is essential under today's market conditions," said Dan Clark. "We wanted to expand our team to provide the best service possible for our clients, and are excited to have Todd join us." Rosen earned his Accredited Wealth Management Advisor and Chartered Retirement Planning Counselor designations from the College of Financial Planning. He lives in West Hartford with his wife, Hadley, and two young children.
Pratt & Whitney, the internationally known and Connecticut-based aircraft engine manufacturer, recently donated 10 brand new BMX bicycles and safety helmets to mentees enrolled in the programs of the Big Brothers Big Sisters of Connecticut youth mentoring organization. The bikes were built by Pratt & Whitney's 13-member Strategy and Transformation Team. They were then checked-out and certified to be rider-ready by Biker's Edge of Bristol. One of the lucky bike recipients was 11-year-old Little Brother (mentee) Adam from West Hartford. Adam is pictured below with his Big Brother (adult mentor) Isaiah Alvarado, who lives in Hartford. Adam couldn't be happier with his new ride. He was anxious to put the bike through its paces on West Hartford streets as well as a few of the more challenging landscapes around town.
This isn't really business, but I thought it was a worthwhile announcement by an organization that sings for terminally ill patients at their bedside, that should be included: "The Greater Hartford Threshold Choir is welcoming new singers. Our members are invited to sing in small groups at bedside. Our goal is to bring ease and comfort to those at the threshold of living and dying. A calm and focused presence at bedside with gentle voices, simple songs, and sincere kindness can be soothing and reassuring to clients, family, and caregivers alike. For more information, check out the national Threshold Choir website at ThresholdChoir.org."
We've got a couple of closings to announce this week including that the West Elm store is officially gone from Blue Back Square. The signs were already down last week.
Esquire Cleaners has closed their Bishops Corner location at 2538 Albany Ave. There was no answer when I tried to call the store to confirm (and no answer at the Newington store either), but I did confirm that any remaining items that had not been picked up are now available for pick-up at Best Cleaners at 17 Sedgwick Road (860-270-0880). See bullet point above for some other news about Best Cleaners!
The Yoga Shop is moving from Bishops Corner (345 North Main St. to 124 Simsbury Road, Avon) and West Hartford resident Melissa Weinstock, who has operated athleisure clothing boutique grace+GRIT inside the Yoga Shop, is closing her doors at the end of December. She posted the following on her Facebook page on Thursday: "The past six years have been a wild ride, actually more like a dream come true. I jumped at the opportunity to open my own store, my very own small business inside The Yoga Shop, a revered studio within walking distance of my home. Yes, it was a leap of faith, but Kim and Annie wrapped their arms around me, and I jumped. I learned, I grew and I made lots of mistakes along the way, but I've truly loved the journey that took way more GRIT than I knew I had. grace+GRIT has always been so much more to me than selling stretchy pants. It's been about community, partnering with amazing people, and giving back- all with the goal of helping people feel good in the clothes they wear and hopefully feeling better about themselves. I'm forever grateful for all of it and of course, for all of you, my beloved customers and friends. So as The Yoga Shop evolves and moves to a WOW-worthy spot, I am choosing to take a PAUSE on this wild ride, rather than moving my store to Avon. The Yoga Shop holds a special place in my heart so trust me, you will still see me in classes, but I'm going to take this move as an opportunity to open my heart and see where my grace+GRIT takes me. I promise, that's not a cryptic clue- I genuinely don't know what's next at this point in my life, but I'm just so grateful and excited to find out… Wish me luck and stay tuned!"  The Yoga Shop is scheduled to open in its Avon location on Dec. 17, according to a Facebook post.
ICYMI, the votes are in and the winners will be celebrated at the 2022 Best of West Hartford event at the Mandell JCC on Nov. 7. Click here for details.
Adrienne Billings-Smith submitted her resignation from the West Hartford Town Council, with the announcement last week that she is becoming the equity coordinator for the town. The complete story can be found here.
The town is continuing to solicit feedback for the West Hartford Center Infrastructure Master Plan, and the survey period has been extended through Oct. 28.. Click here for the information and link to participate.
Remember, if you have any business news to share, add it in the comments section below or email Ronni Newton at [email protected].
Like what you see here? Click here to subscribe to We-Ha's newsletter so you'll always be in the know about what's happening in West Hartford! Click the blue button below to become a supporter of We-Ha.com and our efforts to continue producing quality journalism.